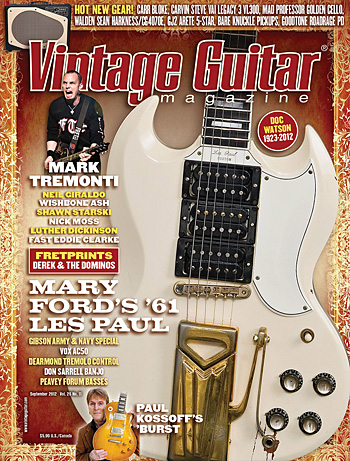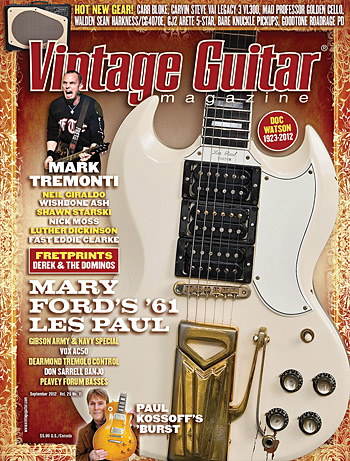 We tell you about Gary and Gail Nichols, a guitar-collecting couple who recently added a nice historical touch to their gathering. We also speak with Mark Tremonti, the hard-playing co-founder of Creed and Alter Bridge, whose latest project puts him out-front. We then catch up with Paul Kossoff's famed sunburst Les Paul, and deliver the usual array of detail-laden goodness, with George Gruhn and Walter Carter examining the Gibson Army & Navy Special, Michael Wright schooling us on the Don Sarrell banjo, Willie Moseley explaining why Peavey's Forum basses deliver on their builder's promise, Michael Dregni talking about the "quaint electromechanical device" known as the DeArmond Tremolo Control, and Dave Hunter examing the beginnings of the Vox AC50.
We talk more new music with Shawn Starski, Nick Moss, Luther Dickinson, review the life and times of Doc Watson, and talk summer tours with Neil Giraldo, Wishbone Ash, and Fast Eddie Clarke.
We deliver the usual objective look at some great new gear, including the new Carr Bloke, Grover Jackson's  GJ2 Arete 5-Star, Bare Knuckle Pickups, Carvin's Steve Vai Legacy 3 VL300, the Walden Sean Harkness/CG4070E, Goodtone's Roadrage PD, and the Mad Professor Golden Cello!
And of course, Dan Erlewine, Wolf Marshall, Will Kelly, Dan Forte, and Michael Dregni do the usual bang-up job.
---

Couples Connection
Mary Ford's '61 Les Paul Custom Finds a New Home
From a low-end Yamaha acoustic to a prime set of PRS Dragons, instruments of many ilks have been welcomed to the wood-and-wire gathering of guitars belonging to Gary and Gail Nichols. Last January, they added a guitar that gave the collection instant historical-heavy-hitter credibility. By Ward Meeker
Mark Tremonti
Rock Star, Amp Snob!
Many guitar heroes spent more than their fair share of time stowed away in their bedrooms, playing guitar while other kids in the neighborhood played baseball, kick the can, or spin the bottle. The hard-charging co-founder of Creed and Alter Bridge is another member of that "lone wolf" club. His latest project puts him out-front. By Ward Meeker
The Legend of Paul Kossoff's Burst
The story of Paul Kossoff's famed sunburst Les Paul begins in 1974 with a band that opened for Free in the U.K. Handling guitar for Beckett at the time was a young Wearside lad named Arthur Ramm. By Pete Prown
The Gibson Army & Navy Special
Gibson's history is filled with unusual instruments, from Orville Gibson's lyre mandolins to electric banjos to self-tuning guitars. For the ultimate combination of unique design, rarity, and historical importance, this double-soundhole version of the Army & Navy Special would be hard to equal. By George Gruhn and Walter Carter
The Don Sarrell Banjo
Don Sarrell was an electrical engineer by trade, but music was in his blood – especially old-timey bluegrass. Not only could he play the music well enough to win several high-profile competitions, but this instrument, which he built in 1999, is the work of someone who very much knows their way around a wood shop. By Michael Wright
Peavey Forum Basses
This line, launched in the '90s, exemplified the builder's efforts to adhere to its founder's mantra of "quality equipment for working musicians at fair prices." By Willie G. Moseley
The Vox AC50
Where the evolution of guitar amplification traces musicians' needs to be louder, the history of Vox follows, in particular, that need for one band – The Beatles. This amp was the result of a desperate effort by founder Tom Jennings and engineer Dick Denney. By Dave Hunter
The DeArmond Tremolo Control
A quaint electromechanical device, hidden within its small metal box is an electric motor with a spindle that shakes a vial containing electrolytic liquid. Signal runs through the fluid, and as it sloshes up and down, it allows more or less signal to pass, thus modulating the signal's output volume. The result? True voodoo! By Michael Dregni
---

Reader Mail
News and Notes
MPI Hosts Duane Eddy; Waukesha Museum Gets Les Paul Items; Cowtown Guitars Helps Autism Charity; Vai, Musicians Foundation Offer Scholarship; In Memoriam, More!
Neil Giraldo
Road Routine
By Ward Meeker
Wishbone Ash
Powell, Manninen, and Elegant Stealth
By Willie G. Moseley
Ask Zac
By Zac Childs
Shawn Starski
His Own Rules
By John Heidt
VG on Facebook
Nick Moss
Musical Horizons Beyond Chicago
By Willie G. Moseley
Luther Dickinson's acoustic Odyssey
By Oscar Jordan
Doc Watson
1923-2011
By Rich Kienzle
The Return of Fast Eddie Clarke
The Art of Intense Guitar
By Oscar Jordan
---

Vintage Guitar Price Guide
Builder Profile
Rice Custom Guitars
Dealer showcase
Vintage Guitar Classified Ads
Dealer Directory
Readers Gallery
---

The (Way) Back Beat
'60s Guitar Adventures at Ampg, Part 2: From Studs to See Throughs
By Peter S. Kohman
Q&A With George Gruhn
Acousticville
Doc Watson… And Flat Picks
By Steven Stone
Guitars With Guts
Salvador Ibáñez
By R.E. Bruné
Fretprints
Derek & The Dominos
By Wolf Marshall
---

Dan's Guitar Rx
Fixing a Southerner's Jumbo
By Dan Erlewine
Shop of Hard Knocks
Re-Purposed for Tone, Part 2
By Will Kelly
---

The VG Hit List
CD and DVD Reviews: Oscar Aleman, Heart, Pat Metheny, Tedeschi-Trucks Band, Albert King, Allan Holdsworth, Way Down: Playing Bass with Elvis, Dylan, and Doors, & More, more!
Check This Action
Reduce, Reuse, Recycle, Reissue
By Dan Forte
Vintage Guitar Gear Reviews
Carr Bloke, GJ2 Arete 5-Star, Bare Knuckle Pickups, Carvin Steve Vai Legacy 3 VL300, Walden Sean Harkness/CG4070E, Goodtone Roadrage PD, Mad Professor Golden Cello
Gearin' Up!
The latest cool new stuff!