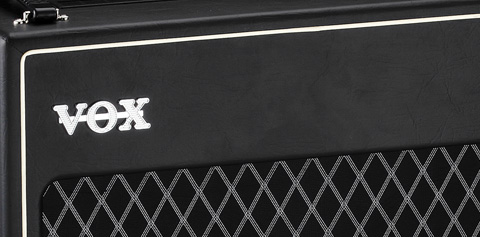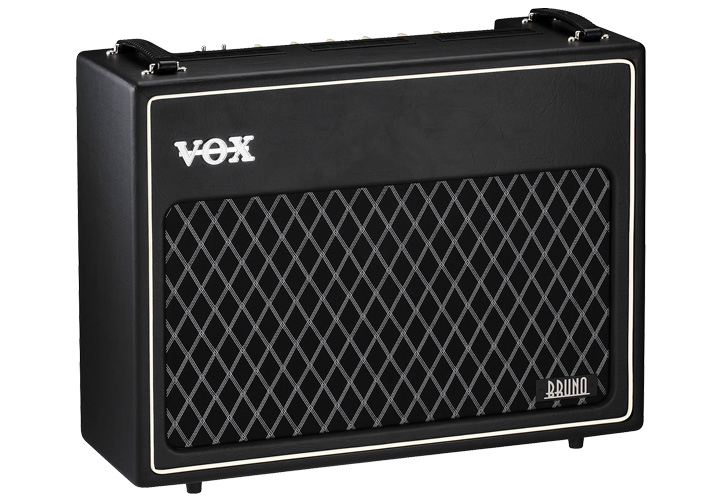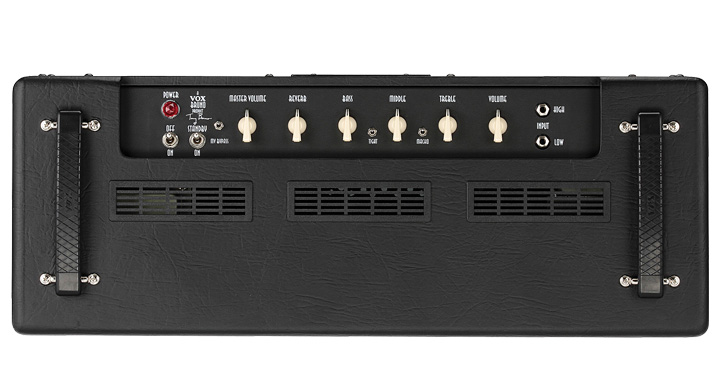 When it comes iconic guitar tone – especially "British" tone – Vox and its flagship AC30 are at the top of most players' list. After all, the Vox AC30 is one of the most widely recorded amps, used by countless artists in nearly every genre, on both sides of the pond. Vox recently partnered with American amp builder Tony Bruno to design an amp with a decidedly "American" signature – the TB35. Bruno is known as one of the leading boutique builders in the U.S., and has worked with Vox in the past on projects including the lunchbox-sized Night Train.
The Vox Bruno does not sport the EL84 power tubes Vox uses in most of its amps. Rather, it employs tubes more at home in a Fender – 6V6s. More specifically, four of them that help the amp produce 35 watts of output. Aiding the effort are a trio of 12AX7 preamp tubes, a 12AT7 and a 12AX7 in the reverb circuit, custom-wound transformers, an Accutronics spring reverb. and a birch plywood cabinet. The Bruno has a modern look, with a smooth cover and a cleaner, more stealthy control panel. It retains classic Vox features including a top-mounted control panel with chickenhead knobs, dual handles, Vox's diamond pattern grillecloth, white piping, and a Vox badge. The control layout for the Bruno's single channel include High and Low 1/4″ input jacks, Volume, Treble, Midrange and Bass tone controls, a Macho (mode) switch, Bass boost, Reverb level, and a Master Volume with Bypass switch, along with the standard switches for Power and Standby.
The Bruno is available in two cabinet/speaker configurations; the TB35C2 is fitted with a pair of 12″ Celestion G12-65s, while the TB35C1 has just one. Both have a set of 1/4″ jacks with an impedance selector for external speaker cabinets, a 1/4″ jack for their single-button footswitch, and a nylon dust cover.
We checked out the Bruno 2×12″ with a Fender Custom Shop Stratocaster and a Gibson Les Paul Standard Plus, both with stock pickups. With the Bruno's Master Volume, Bass Boost and the Macho circuit bypassed (leaving only the tone stack engaged), the Strat offered a lively clean tone with full round low-end response, crisp highs and even harmonically rich mids (even if they were more subtle). Dialing up the volume, the harmonics filled in even more, and a smooth lively, light overdrive took shape with excellent touch sensitivity. Once the overall volume got to be too loud, the Master Volume control reigned it in, with no major tonal degradation until we really dialed it back to "apartment" volume, where it was a bit washed out if the preamp Volume was set too high. We ran mostly with the Master Volume bypassed, and the amp sounded a bit more open and uninhibited.
The Bruno's tone stack interacted well with both the Strat and the Les Paul, allowing for quick dial-in with each instrument. Even though the amp has a Bass Boost circuit, the 2×12″ didn't seem to need it; its low-end was plenty full, though at higher volumes, the Strat's bridge pickup didn't mind the help.
With a quad of 6V6s and the two-speaker configuration, our test Bruno had plenty of headroom and muscle, keeping clean with either guitar when asked. The Macho circuit not only adds substantial gain and midrange (for a very usable solo boost), but adds a bit of classic in-your-face British midrange, giving the Bruno added versatility. The amp's tube-driven reverb circuit also has an American texture to its sound, with a crisp, clean dwell and a long decay – anything from a deep, wet surf reverb to a subtle, ambient tone.
The Vox Bruno produces an excellent, Yankee-inspired tone, and offers quality construction, useful features, and enough classic Vox personality to make it interesting, fun to play, and versatile.
---
VOX BRUNO TB35
Price: $1,399 (2×12″ street)/$1,199 (1×12″ street)
Contact: www.voxamps.com
---
This article originally appeared in VG July 2011 issue. All copyrights are by the author and Vintage Guitar magazine. Unauthorized replication or use is strictly prohibited.
---