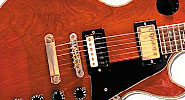 One of the more successful Japanese-made guitar brands of the 1970s was Electra, the brand name used for electric guitars sold by St. Louis Music of St. Louis, Missouri.  If prices on eBay are any indicator, it's clear that guitar aficionados have little appreciation about how good and innovative these guitars were. Let's take this remarkable 1978 Electra MPC Standard X320 into evidence!
St. Louis Music (SLM) is actually one of the oldest remaining music distributors left in the U.S., most of the venerable examples of this institution having disappeared by the '70s. SLM was founded by a violinist named Bernard Kornblum in 1922 as an importer of European string instruments. The company met with success and continued to grow. Other instruments followed, including Magnatone amplifiers and a variety of guitars, including Kays. SLM eventually developed its own brand, made by Kay, called Custom Kraft. Kay-made Custom Krafts were really pretty interesting and made until Valco/Kay went out of business in 1968, and, indeed, a few might have been made for a bit thereafter.
With the onslaught of European and then Japanese imports in the '60s, SLM began exploring its options. Circa '66, SLM began importing a line of Japanese-made electric guitars named Apollo. Following the Greek pattern, there were a few, apparently unadvertised models named Electra. The demise of Valco/Kay ironically coincided with a low-point for imported guitars. The 1968 NAMM show was the watershed. Japanese manufacturers had begun "copying" its European competition by the mid '60s. This story is apocryphal, but Shiro Arai of Aria guitars visited NAMM, which was the show where the Gibson Les Paul Custom "Black Beauty" was reintroduced. "It's a copy," he thought, and relatively primitive copies of American designs followed shortly.
Arguably, the "copy era" kicked into gear in 1970. In '69, Ampeg hired Dan Armstrong to design a novel new design and, in keeping with their penchant for alternative materials, the result was the See-Through guitar. The following year, a slew of Japanese companies offered variants, including Aria, Ibanez, and SLM, with its The Electra guitar.
Electra became the official brand name of SLM's Japanese imports. The earliest Electras are most interesting because many were made by the Matsumoku Motto factory of Matsumoto City. There have been a lot of excellent Japanese manufacturers over the years, but Matsumoku is legendary for its quality and innovation. Even by the time of early Electras, it was making surprisingly good guitars.
However, the breakthrough for Electra came in '75, when SLM hired a budding designer named Tom Presley to take over its guitar department. Presley, a local, had gone to the coast only to find his dreams didn't come true, and returned to St. Louis, where he landed the SLM gig. Sometimes things work out for the best after all!
While Presley may have offered advice on the woodworking side, his primary contributions were to the electronics. First of all, Presley began making their Super-Magnaflux humbucking pickups – indeed the whole wiring assemblies – in the U.S. These proved to be so good a bunch of Nashville pros started using them in their better-known guitars. Next was the Tone Spectrum Circuitry. This basically was a five-way variation on Gibson's Bill Lawrence-designed six-way Varitone switch found on its L-6S guitars. Tone Spectrum gave you in- and out-of-phase, series, parallel, and access to two more toggles wired to tone capacitors. This was introduced on the Electra Omega. Pretty groovy!
Presley's next project was the Modular Powered Circuit (MPC) series, introduced in '76. By the mid '70s there was enormous interest among guitarists for sound effects. Distortion, phase shifting, reverb, flanging, you name it. Gibson was just introducing its wonderful Maestro effects. Presley's idea (well, with his engineers) was to miniaturize the various effects circuits and encase them in a cigarette-pack-sized block of epoxy (later a plastic case). They put two shielded cavities in the back of the guitar for two sound modules, plus a space for a 9-volt battery (and a spare!). The humbuckers were hooked up to the Tone Spectrum Circuitry. Replacing the dual tone toggles were two on/off toggles activating either or both sound modules. A master Volume and Tone control ruled the pickups, while each sound module was given its own Volume and Intensity control.
It requires a bit of dexterity to juggle all this in the middle of a song, but once you get the hang of it you have a remarkable arsenal of sounds at your fingertips! Quite a number of pros endorsed the MPCs, including Peter Frampton, Rick Derringer, and Leslie West.
The first MPCs were modeled after Gibson's Les Paul and had a "copy" open book headstock. Following the 1977 Norlin vs. Elger (Ibanez) lawsuit, the more common wave head was used. Eventually, a variety of MPCs appeared, including an Explorer-style, the potato-shaped Outlaw, a Les Paul variant, and a thinline. By far the most common MPCs were based on the Les Paul design.
The Les Paul-style MPCs came in a variety of grades, most with mahogany bodies, maple caps, and set-in necks. These ranged from opaque finishes on plain guitars to fancy curly maple tops to the X340 with a one-piece rosewood veneer top. Like most Japanese Les Paul-style guitars of the '70s, these are "arched" (bent), not carved, tops. The guitar shown is an MPC Standard X320 with a one-piece mahogany top (possibly veneer) over a one-piece mahogany body. Everything is bound and the block inlays are a green-pink abalone. The tuners may be Grovers, but in any case they're top-flight. The brass fittings were typical of the times. It's not sure who made this model, but it may have been Matsumoku or possibly Kasuga. This guitar is just a joy to play. No serial number is evident, but it seems to be early. Prior to '77 or '78, Electras had "copy" headstock designs.
The MPCs stopped being promoted around the time this guitar was made, though they could have lasted a bit longer. The MPC concept lived on beyond the guitars, of course, because their development led to the introduction of Crate amplifiers.
Is this a rare a guitar? It's difficult to say. The fancier Les Paul-style models are rarer, and the rosewood ones the rarest. The other shapes do not appear very often, but it's doubtful any Electra MPC is truly a rare bird. The sound modules are a whole different matter and can set you back a pretty penny! But play one, and you're likely to want one!
---
This article originally appeared in VG Septenber 2009 issue. All copyrights are by the author and Vintage Guitar magazine. Unauthorized replication or use is strictly prohibited.