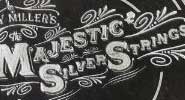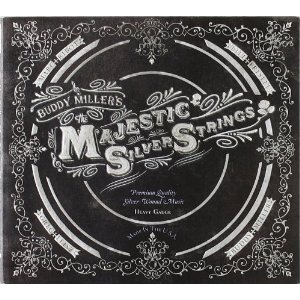 Miller takes a number of risks here. First, he enlists six guest vocalists, not counting wife Julie, with whom he's recorded a number of duo albums. Second, the repertoire consists mainly of country standards associated with everyone from Eddy Arnold to Lefty Frizzell to Dean Martin. Finally, an arsenal of egoless guitar accompanists has the potential to be as boring as a G3 notefest.
The album is also heavily weighted toward ballads, with only three of its 13 songs being up-tempo. By track 11, it's refreshing to hear Buddy rip into George Jones' rockin' "Why Baby Why." It's enough to make you wonder if calling in favors from Emmylou Harris, Patty Griffin, Lee Ann Womack, and Shawn Colvin was necessary or desirable. Granted, the set's high point is the complete re-imagining of Roger Miller's "Dang Me," sung by Chocolate Genius. It successfully transforms the novelty hit, bringing out the dark side in lines like "I've been out all night and I've been runnin' wild, while my woman's back at home with a month-old child." But, not to diminish Chocolate Genius' contribution, Miller could have doubtless handled the vocal as well, maybe better.
The song also raises the problem having four guitarists – Miller, Marc Ribot, Bill Frisell, and Greg Leisz – who specialize in sounds and textures as much or more than in "lead guitar." When the logical break for a solo comes in "Dang Me" (a perfect guitar vehicle, one would think), each takes a stab, but no one really steps forward.
Hearing their different approaches intertwine on the instrumental arrangement of Libba Cotten's "Freight Train" is a treat, and would have made a nice addition to a conventional Buddy Miller solo album – meaning one where he writes most of the songs, sings most of the leads, and plays most of the solos, a la 2002's Midnight And Lonesome.
This article originally appeared in VG's June '11 issue. All copyrights are by the author and Vintage Guitar magazine. Unauthorized replication or use is strictly prohibited.