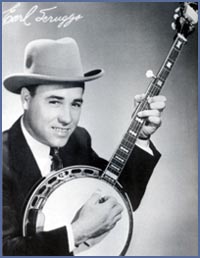 Earl Scruggs, the man renowned for developing the three-finger banjo-picking style that bears his name, died of natural causes March 28 at a Nashville hospital. He was 88.
Scruggs was born in 1924 in Shelby, North Carolina. Every member of his family played a musical instrument, but he rose to prominence after being hired by Bill Monroe in 1946 to play banjo in the Blue Grass Boys. Within a few years, the work of Scruggs, guitarist Lester Flatt, and fiddler Chubby Wise became what is widely regarded as the first group in the bluegrass style, built on the vocal harmony and interplay of Monroe's mandolin with Scruggs' banjo. In '48, he and Flatt formed the Foggy Mountain Boys, which became famous after it recorded the theme to "The Beverly Hillbillies." One of the group's instrumentals, "Foggy Mountain Breakdown," was used in the 1967 film Bonnie and Clyde. Both tracks stand as testament to Scruggs' technique pushing the banjo to the forefront as a melodic instrument, equal to the fiddle and mandolin.
Flatt and Scruggs won a Grammy for "Foggy Mountain Breakdown" and were inducted to the Country Music Hall of Fame in 1985. Scruggs was an inaugural inductee to the International Bluegrass Music Hall of Honor in 1991, and in '92, he was awarded the National Medal of Arts. Also in '92, he received the National Medal of Arts. In 2002, he won a Grammy award for a recording of "Foggy Mountain Breakdown" that featured all-star players including Vince Gill and Albert Lee on electric guitar. In '05, "Foggy Mountain Breakdown" was selected for the Library of Congress' National Recording Registry. And in 2008 he was awarded the Lifetime Achievement Award at the 50th Annual Grammy Awards.