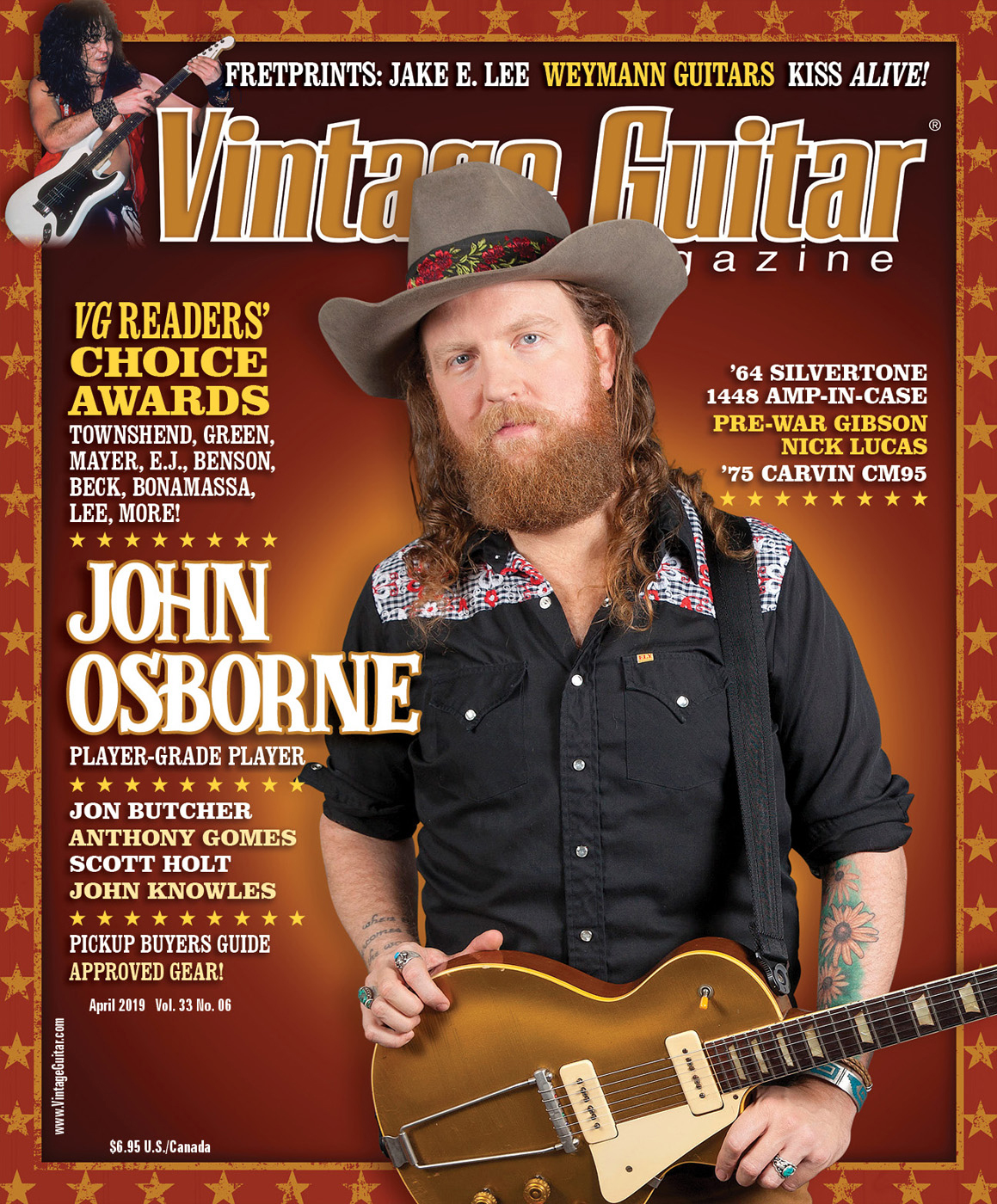 He's the riff-writing musical chaperone of country's hottest act – and a devotee of road-ready vintage guitars. Meet John Osborne! We also introduce you to this year's winners in the VG Readers' Choice awards and VG Hall of Fame inductees. Fan favorites all, we're proud to honor Pete Townshend, Peter Green, Roger Mayer, Eric Johnson, George Benson, Jeff Beck, Joe Bonamassa, and Albert Lee.
Plus, we tell you about new musical projects with Jon Butcher, Scott Holt, Anthony Gomes, John Knowles, Mike Molnar, Jorge Calderon, and Christone "Kingfish" Ingram. This month's "Pop 'N Hiss" speaks with Ace Frehley about the greatness that is Kiss Alive! and our instrument profiles dig into the '64 Silvertone 1448 Amp-in-Case, Gibson's pre-war Nick Lucas, Weymann guitars, and the '75 Carvin CM95.
Our "Hit List" reviewers screen music worth a listen, including the latest from Rolling Stones, Joe Satriani, Lefty Frizzell, Glen Campbell, Lindsey Buckingham, and others. And to help you choose the best new stuff for your rig, there's VG Approved Gear. It's all in the April issue, available now!
Table of Contents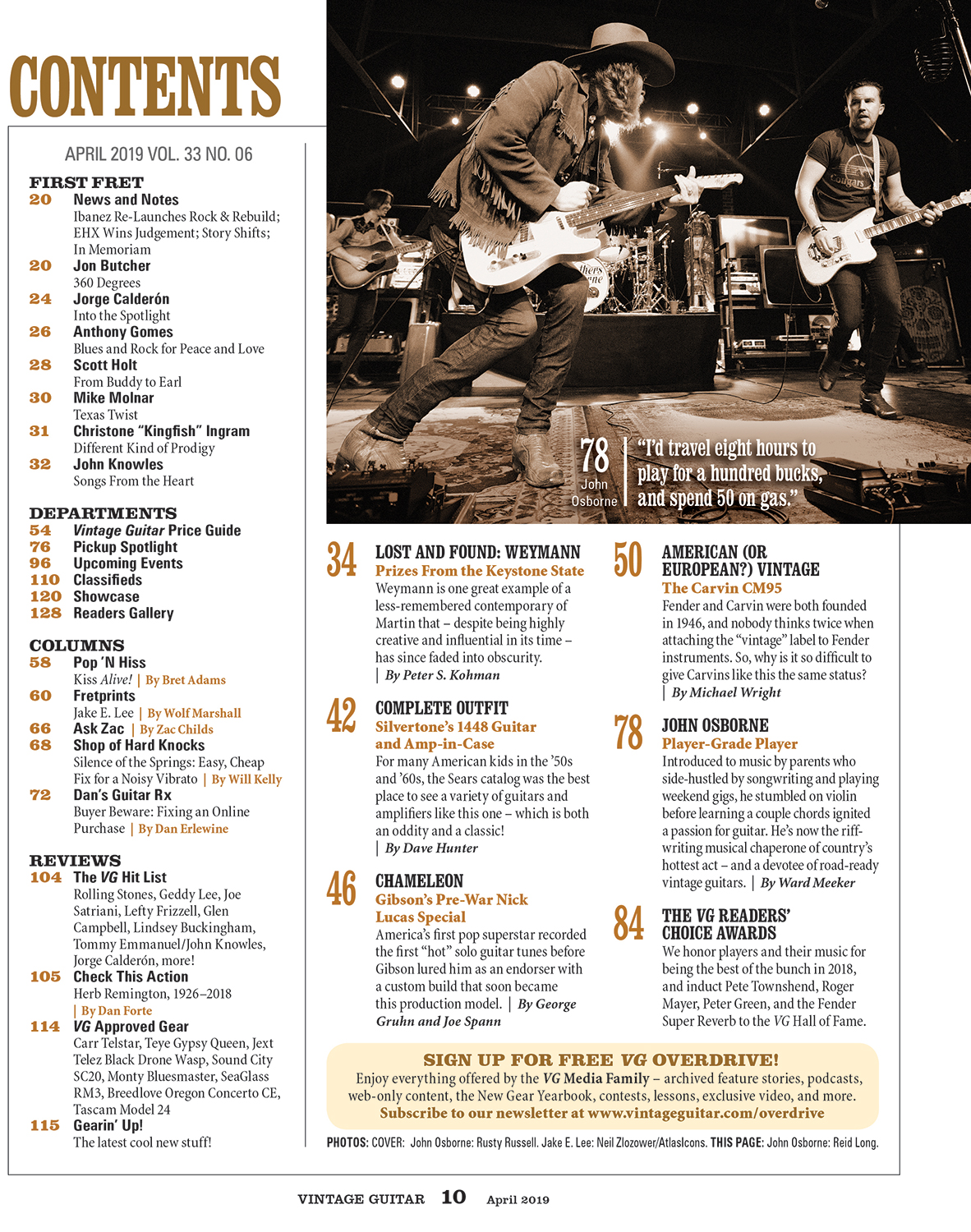 GET YOUR VG FIX
BEST OFFER ↓

Print & Digital Subscription

FREE digital with the print copy!
1 Year (12 issues) $24.95
2 Years (24 issues) $46.95

Print Subscription

70% off newsstand price!
1 Year (12 issues) $24.95
2 Year (24 issues) $46.95

Digital Subscription

88% off newsstand price!
1 Year (12 issues) $9.95
2 Year (24 issues) $18.95
Print Copies Order print copies of the current issue or back issues in the VG Store.
Digital Edition Read for FREE in a web browser (Chrome, Firefox, Safari, etc.). The browser edition works on most computers or hand-held devices. Digital FAQ
Gift Sub Gift a subscription to a business you'd LOVE to share Vintage Guitar magazine with. The next wait will be the highlight of your day! Call to mind the local barber shop/beauty salon, dentist, doctor, veterinary, car dealership, auto shop, tax preparation… 1 or 2 year term for just $24.95/year. You name it, we'll get VG there! GIFT NOW →
Over time, Vintage Guitar magazine has become much, much more than the vibrant print magazine in your mailbox. Jump-start that passion for guitar with VG's Media Family the best and brightest selections from VG's vast archive of interviews, instrument profiles, and reviews of the hottest new gear and outstanding new music. See it all →
FROM READERS
Reader Mail Send letters to ward@vintageguitar.com or mail to: Vintage Guitar, Inc. Attn: Reader Mail, PO Box 7301, Bismarck ND 58507.
Readers Gallery Send your photos to: ward@VintageGuitar.com or mail to: Vintage Guitar, Inc. Attn: Readers Gallery, P.O. Box 7301, Bismarck, ND 58507. Readers submit photos with the understanding that they may be used in any VG, Inc. project. Due to the volume of photos we receive, we are unable to return them, please do not send us your only print.
Guitar Shows
Click on an event to see more information. Submit your upcoming event info to this form. See full calendar and past show photos at www.VintageGuitar.com/Upcoming.