Current Issue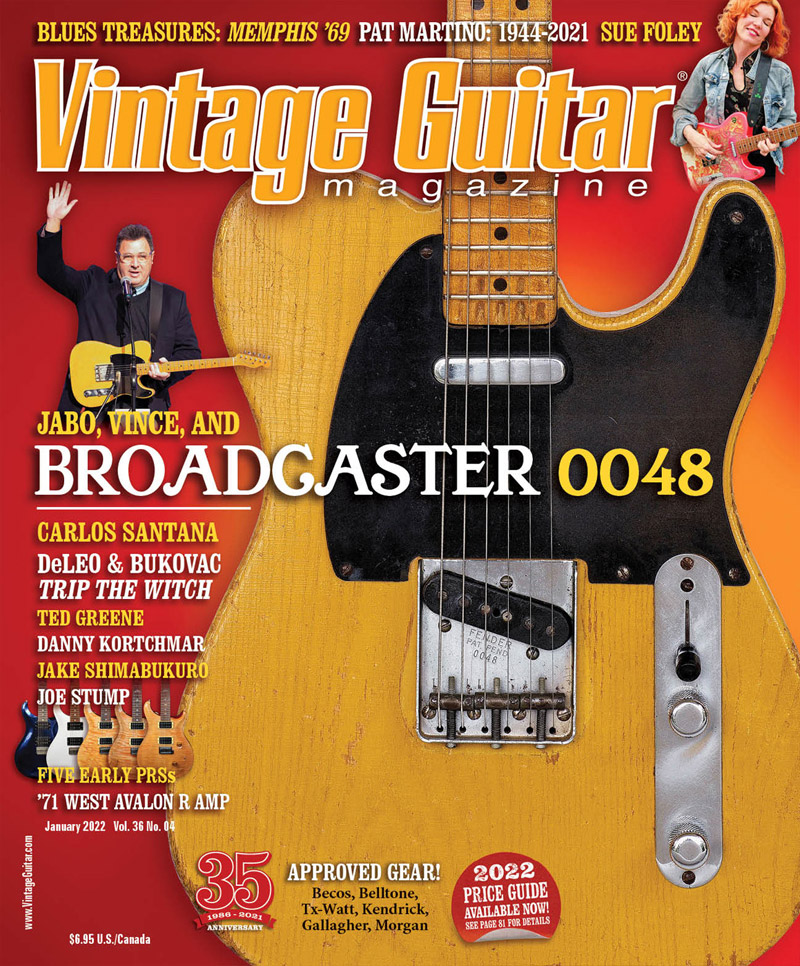 Vince Gill sees his share of classic guitars for sale; this Fender Broadcaster helped him shine light on a near-forgotten Nashville great. Carlos Santana's creative drive is obsessive, restless – and relentless. For his latest album, he pooled the cosmic energy of family and a few superstar guests. There's little reason to connect rock guitarist Dean DeLeo to Nashville session ace Tom Bukovac. Strange times, though, can lead to great things like their new album.
In decades past, amp makers faced challenges reaching a broader market; Dave West had a solid product and a star client, and his West Avalon R almost made it big. As a buyer for his family's chain of music stores, Sammy Ash recognized something special when a young Paul Smith showed up with hand-made guitars in 1984. Instinct told him to set aside a few of the first PRS instruments. See them in this month's "Classics."
We pay homage to jazz legend Pat Martino, then talk new music with Danny Kortchmar, Jake Shimabukuro, Jules Leyhe, Sue Foley, and Joe Stump.
"Pop 'N Hiss" reveals why Earth, Wind & Fire's That's the Way of the World, was a breakthrough – and the band's crowning achievement. Wolf Marshall's "Fretprints" tells the story of Ted Greene, and Dan Forte's "Check This Action" describes the blues treasures unearthed in the new documentary Memphis '69.
Our knowledgable "Hit List" music-review staff sits with the latest from Santana, Asleep at the Wheel, Immediate Family, David Crosby, Billy Joe Shaver and Kinky Friedman, and many more!
Our "Approved Gear" reviews are honest and objective; learn about the latest from Becos, Belltone, Collings, Tx-Watt, Kendrick, Gallagher, and Morgan. 
It's all in the January issue of Vintage Guitar!
Table of Contents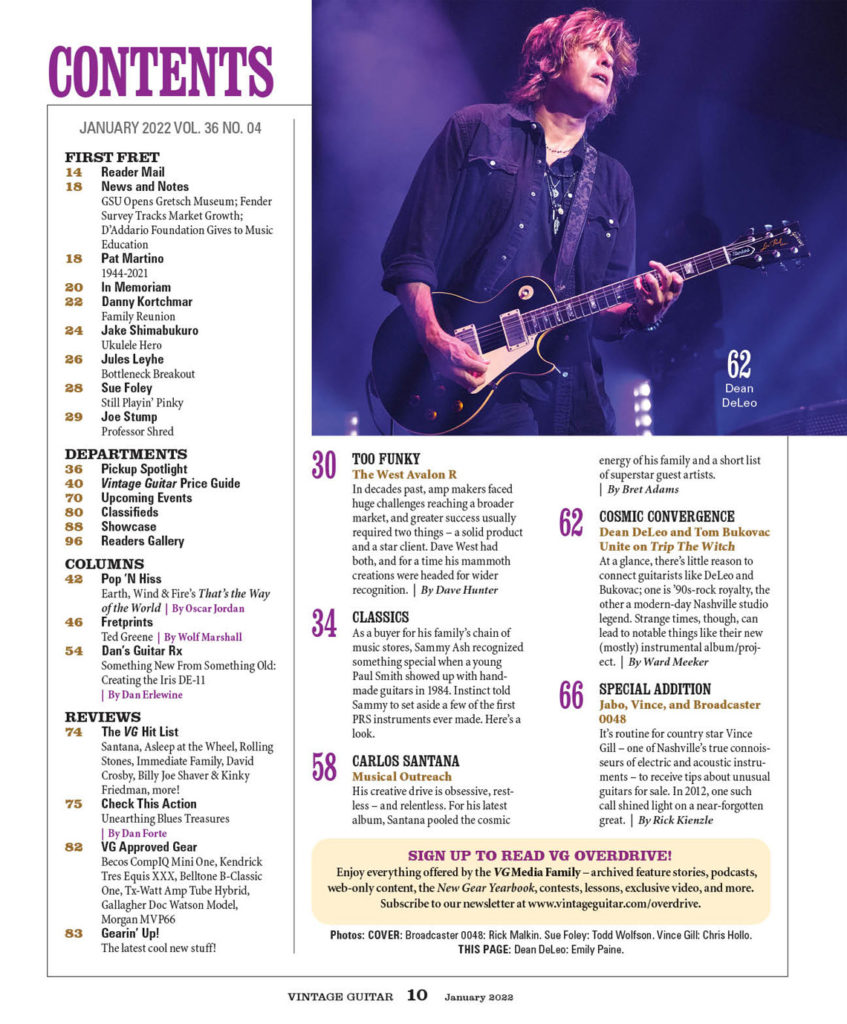 GET YOUR VG FIX
Your complete guitar coverage all starts with a new subscription to VG!
Print Copies Order print copies of the current issue or back issues in the VG Store. Vintage Guitar's 33 year archive of the best guitar related info is a customizable tribute to the memories shared with your best friend, band mates, you name it. Commemorate a life event by gifting Vintage Guitar magazine from an exact month and year. Browse the covers and descriptions of over 250 issues for a specific guitar or player. A well thought-out gift awaits.
Digital Edition Read for FREE in a web browser (Chrome, Firefox, Safari, etc.). The browser edition works on most computers or hand-held devices. Digital FAQ
Over time, Vintage Guitar magazine has become much, much more than the vibrant print magazine in your mailbox. Jump-start that passion for guitar with VG's Media Family the best and brightest selections from VG's vast archive of interviews, instrument profiles, and reviews of the hottest new gear and outstanding new music. See it all →
FROM READERS
Reader Mail Send letters to ward@vintageguitar.com or mail to: Vintage Guitar, Inc. Attn: Reader Mail, PO Box 7301, Bismarck ND 58507.
Readers Gallery Send your photos to: doug@VintageGuitar.com or mail to: Vintage Guitar, Inc. Attn: Readers Gallery, P.O. Box 7301, Bismarck, ND 58507. Readers submit photos with the understanding that they may be used in any VG, Inc. project. Due to the volume of photos we receive, we are unable to return them, please do not send us your only print.
Guitar Shows
Click on an event to see more information. Submit your upcoming event info to this form. See full calendar and past show photos at www.VintageGuitar.com/Upcoming.

VG Youtube Uploads