Current Issue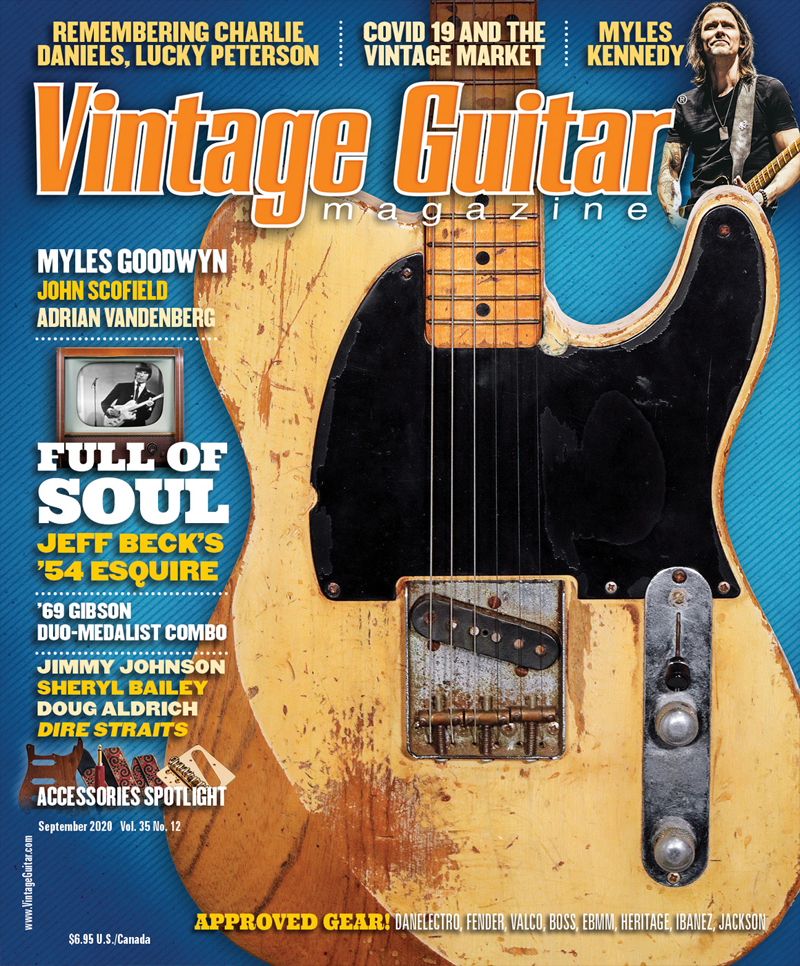 Famous for helping create the fuzzy riff that cuts through the Yardbirds' "Heart Full of Soul," we take a look at Jeff Beck's '54 Fender Esquire. We also sit with legendary Canadian rocker Myles Goodwyn, who guided April Wine to stardom in the '80s. After asking dealers worldwide, we share our findings on the effect of Covid-19 is having on the vintage market. And we dig for the meaty details on the Gibson Duo-Medalist 1×12 combo. Wolf Marshall breaks down the defining licks of Sheryl Bailey, we pay homage to Charlie Daniels and Lucky Peterson, and talk new music with Doug Aldrich, Albert Cummings, Jimmy Johnson, Myles Kennedy, John Scofield, and Adrian Vandenburg.
Our "Approved Gear" reviewes offer test the best new stuff, including the Danelectro Back Talk, Fender 70th Anniversary Broadcaster, Valco BloodBuzz, Boss Acoustic Singer Live LT, EBMM Purple Nebula Majesty, Heritage Artisan Aged Dirty Lemon Burst H-15, Ibanez GB10EM, and the Jackson X Series SLX DX Soloist.
Longing to hear new jams? Our "Hit List" music-review staff is ready with suggested listening, like the latest from Dion, Steve Earle, Phish, Jim Capaldi, John Scofield, Doc Watson, 13th Floor Elevators, and many others. Check it out in the September 2020 issue.
Table of Contents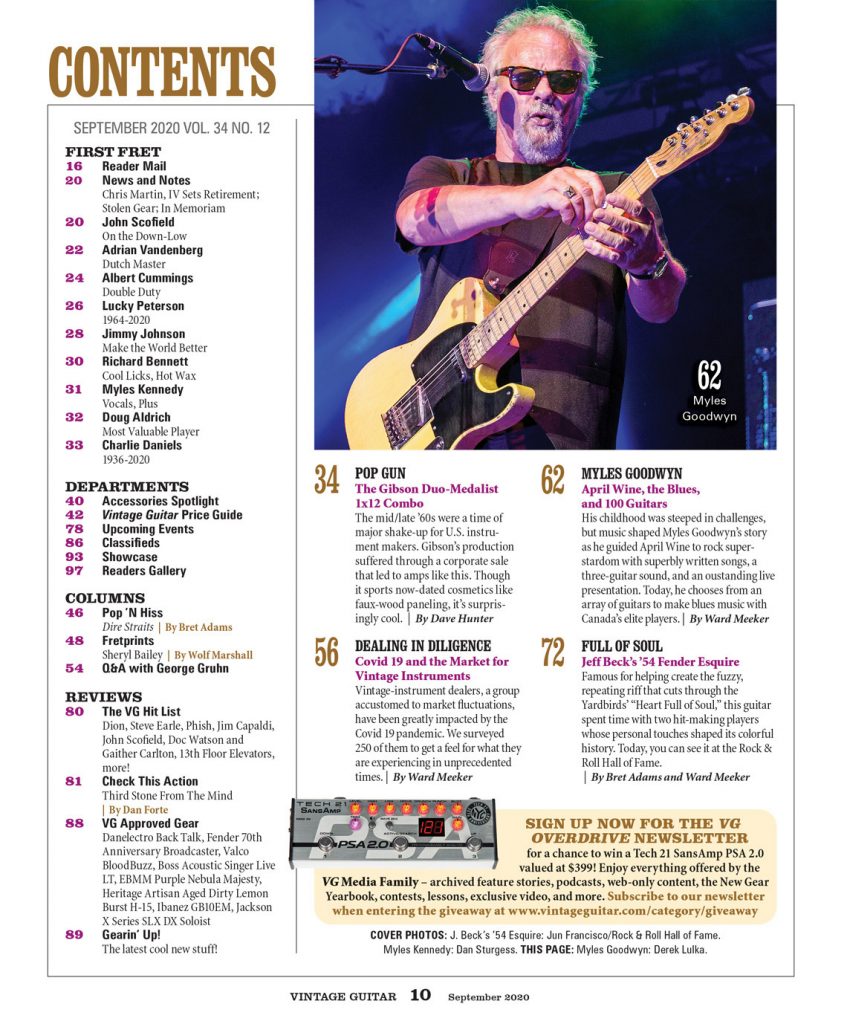 GET YOUR VG FIX
Your complete guitar coverage all starts with a new subscription to VG!
Print Copies Order print copies of the current issue or back issues in the VG Store. Vintage Guitar's 33 year archive of the best guitar related info is a customizable tribute to the memories shared with your best friend, band mates, you name it. Commemorate a life event by gifting Vintage Guitar magazine from an exact month and year. Browse the covers and descriptions of over 250 issues for a specific guitar or player. A well thought-out gift awaits.
Digital Edition Read for FREE in a web browser (Chrome, Firefox, Safari, etc.). The browser edition works on most computers or hand-held devices. Digital FAQ
Over time, Vintage Guitar magazine has become much, much more than the vibrant print magazine in your mailbox. Jump-start that passion for guitar with VG's Media Family the best and brightest selections from VG's vast archive of interviews, instrument profiles, and reviews of the hottest new gear and outstanding new music. See it all →
FROM READERS
Reader Mail Send letters to ward@vintageguitar.com or mail to: Vintage Guitar, Inc. Attn: Reader Mail, PO Box 7301, Bismarck ND 58507.
Readers Gallery Send your photos to: doug@VintageGuitar.com or mail to: Vintage Guitar, Inc. Attn: Readers Gallery, P.O. Box 7301, Bismarck, ND 58507. Readers submit photos with the understanding that they may be used in any VG, Inc. project. Due to the volume of photos we receive, we are unable to return them, please do not send us your only print.
Guitar Shows
Click on an event to see more information. Submit your upcoming event info to this form. See full calendar and past show photos at www.VintageGuitar.com/Upcoming.

VG Youtube Uploads