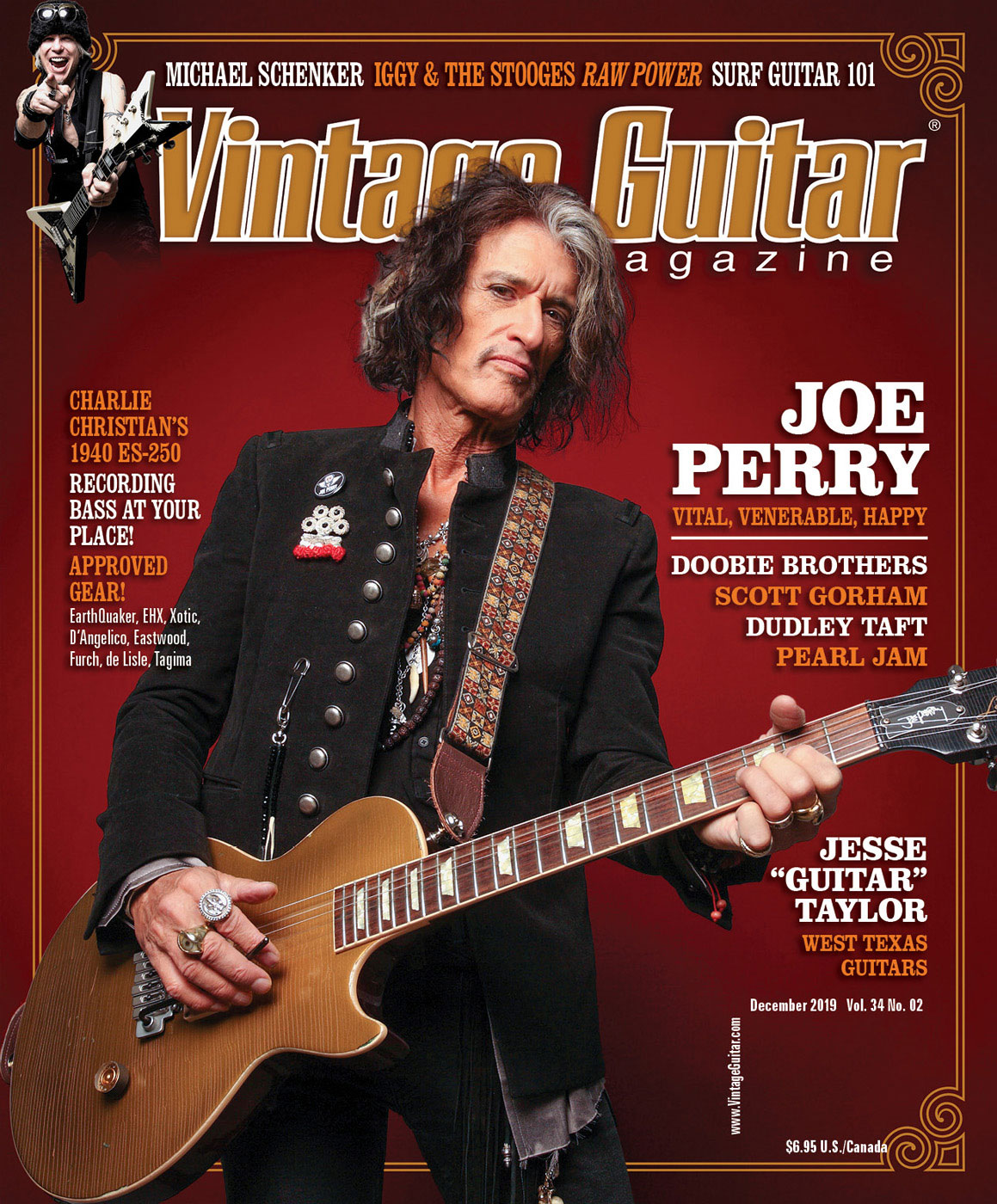 Aerosmith co-founder Joe Perry reflects on how he was drawn to the guitar as a child, being influenced by the Beatles, Cream, and Hendrix, and his latest work with The Hollywood Vampires. We also study Charlie Christian's 1940 Gibson ES-250, and reveal the story of Raphael Ciani – the ghostly great-uncle of NYC builders. Turning south, we dig into the roots-rock guitar scene of West Texas, including a look at three special guitars built by Ted Newman Jones. Dave Hunter shows how to record bass at your place. We offer a pictorial on the Surf Guitar 101 Convention, then pay homage to tube-amp legend Aspen Pittman and guitarist Neal Casal.
No other mag talks new music like Vintage Guitar! This month, we rap with Scott Gorham, Michael Schenker, Dudley Taft, and Sunny War.
This month's "Pop 'N Hiss" classic vinyl column features Iggy & the Stooges Raw Power, Wolf Marshall's "Fretprints" breaks down three key licks in the Pearl Jam catalog, and our gear reviewers offer honest feedback on EarthQuaker's Rainbow Machine Polyphonic Pitch Mesmerizer, the Electro-Harmonix Attack Decay Reverse Simulator, Xotic's Super Sweet Booster, the D'Angelico Deluxe Bob Weir Bedford, Eastwood's TB64, the Furch Red Master Choice, the de Lisle Quadralux Reverb, and Tagima's Stella.
When it's time to chill with great new music, start by reading our reviews of the latest from Paul McCartney, Marc Bonilla, Pat Travers, the Allman Brothers, Bad Company, CCR, Nat Turner Rebellion, Ronnie Earl, more!
Table of Contents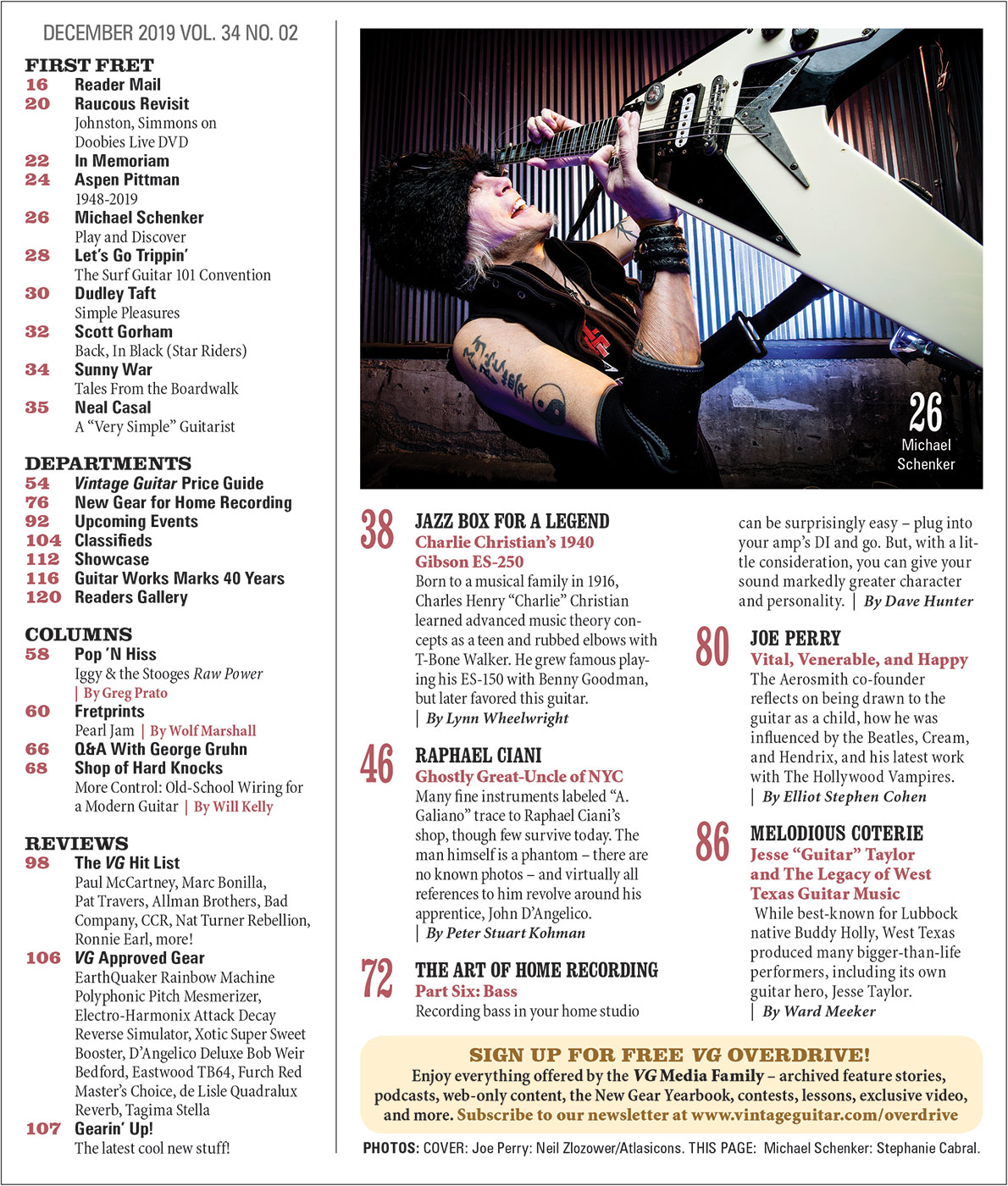 GET YOUR VG FIX
Your complete guitar coverage all starts with a new subscription to VG!
Print Copies Order print copies of the current issue or back issues in the VG Store. Vintage Guitar's 33 year archive of the best guitar related info is a customizable tribute to the memories shared with your best friend, band mates, you name it. Commemorate a life event by gifting Vintage Guitar magazine from an exact month and year. Browse the covers and descriptions of over 250 issues for a specific guitar or player. A well thought-out gift awaits.
Digital Edition Read for FREE in a web browser (Chrome, Firefox, Safari, etc.). The browser edition works on most computers or hand-held devices. Digital FAQ
Over time, Vintage Guitar magazine has become much, much more than the vibrant print magazine in your mailbox. Jump-start that passion for guitar with VG's Media Family the best and brightest selections from VG's vast archive of interviews, instrument profiles, and reviews of the hottest new gear and outstanding new music. See it all →
FROM READERS
Reader Mail Send letters to ward@vintageguitar.com or mail to: Vintage Guitar, Inc. Attn: Reader Mail, PO Box 7301, Bismarck ND 58507.
Readers Gallery Send your photos to: ward@VintageGuitar.com or mail to: Vintage Guitar, Inc. Attn: Readers Gallery, P.O. Box 7301, Bismarck, ND 58507. Readers submit photos with the understanding that they may be used in any VG, Inc. project. Due to the volume of photos we receive, we are unable to return them, please do not send us your only print.
Guitar Shows
Click on an event to see more information. Submit your upcoming event info to this form. See full calendar and past show photos at www.VintageGuitar.com/Upcoming.

VG Youtube Uploads