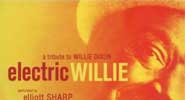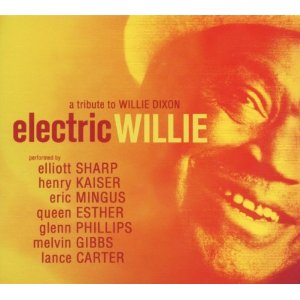 Avant-garde guitarists Elliott Sharp, Henry Kaiser, and Glenn Phillips share a love for the blues, so when a threeway collaboration was suggested, it morphed into a tribute to Willie Dixon. To differentiate it from a mere blues collection, the trio modeled it loosely after Chess Records' much maligned but oddly attractive late-'60s albums Electric Mud and This Is
Howlin' Wolf's New Album by Muddy Waters and Howlin' Wolf. So it's also a nod to Miles Davis alum Pete Cosey, whose fuzz and wah were featured on both of those LPs.
Vocals are shared by Queen Esther and Eric Mingus, son of the late jazz icon Charles Mingus. Sharp's liner notes explain, "As guitarists, we tried to go over the top while relying on Melvin and Lance [bassist Gibbs and drummer Carter, respectively] to keep us connected to terra firma, whether rock solid or in temblor mode."
"Over the top" is an understatement, as Sharp and Phillips (interspersing some clusters of "gnat notes," as Zappa would call them, amidst some remarkably vocal-like squalls) illustrate in "Which Came First." But the guitarists can also play lowdown and authentically, as demonstrated by Sharp's intro to "Backdoor Man" and Kaiser's sweet slide solo on "Pie In The Sky."
Recorded live at New York's Tonic club, the set eschews Dixon warhorses, for the most part, in favor of lesscovered compositions like "It Don't Make Sense (You Can't Make Peace)" and "Eternity" (co-written by Bob Weir). The dirge-like "Same Thing," however, from Muddy's repertoire, is the perfect canvas for the guitarists to stretch out and stretch the boundaries of the blues – Sharp wrestling an eightstring Fender Stringmaster console steel into submission, Kaiser delivering an impassioned break with remarkable sustain, Phillips viciously employing volume swells, whammy shakes, and soulful bends. Willie and Muddy would no doubt smile in approval.
This article originally appeared in VG's May. '11 issue. All copyrights are by the author and Vintage Guitar magazine. Unauthorized replication or use is strictly prohibited.