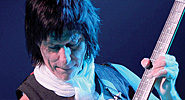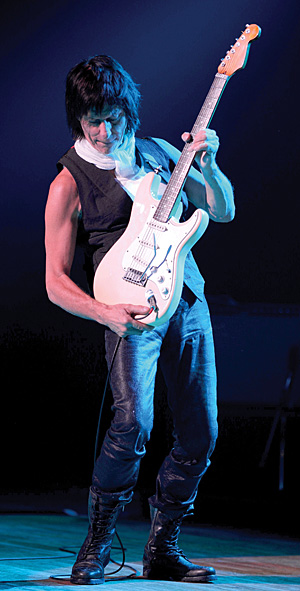 In 1985, speaking of the '83 Action Research into Muscle Distrophy (A.R.M.S.) Tour that united Yardbirds alumni Jeff Beck, Jimmy Page, and Eric Clapton, the latter stated, "At that time and for many months after that, I began to think of Jeff as probably being the finest guitar player I'd ever seen. And I've been around. I still think that way, if I really sit down and mull it over."
Of Beck's gunslinger image, he added, "There's something cool and mean about Becky that beats everyone else."
But Beck was anything but cool and mean when he celebrated the music of Les Paul and such early rock and roll heroes as Gene Vincent & The Blue Caps at Paul's former home base, the Iridium nightclub in New York City – preserved on the DVD Rock 'N' Roll Party, Honoring Les Paul and its CD counterpart of the same name. Decked out in a tailored outfit identical to the powder blue, pleated pants and three-tone blue shirt-vest Vincent wore in his favorite movie, The Girl Can't Help It, Beck couldn't wipe the smile off his face. He more than did justice to eight of Les Paul's best-known songs (on a Gibson Les Paul, of course) and rock and roll classics from Vincent's "Cruisin'" to the Shangri-Las' "Walking In The Sand," the Shadows' "Apache," Big Joe Turner's "Shake, Rattle & Roll," and, of course, the Rock 'N Roll Trio's "Train Kept A-Rollin'," which Beck made famous in 1965 with the Yardbirds. The evening also included lively cameos from Brian Setzer (on Eddie Cochran's "Twenty Flight Rock") and Gary "U.S." Bonds (on his 1960 hit, "New Orleans").
A perennial in any guitarist's short list of all-time greats, the 66-year-old is currently enjoying perhaps the biggest crossover success and recognition of his 45-year career. And, like all things Beck, he's achieving it on his own terms, doing things that shouldn't equate to mass appeal: an album of mostly instrumentals backed by full orchestra, followed by a stroll (more accurately a drag race) down memory lane, wrapped around a tribute to a guitar legend a generation older than him.
Even fans who've followed Beck's twists and turns from the beginning were slack-jawed when they watched Beck's contribution to Martin Scorsese Presents The Blues: A Musical Journey. In the 2003 PBS series' British chapter, Red, White & Blues, directed by Mike Figgis, Beck sat on a couch next to Tom Jones, accompanying the Vegas star on uncanny readings of Ray Charles tunes and played Hubert Sumlin to Jones' Howlin' Wolf.
Though it didn't air on TV, the CD's version of "Cry Me A River" featured Lulu in the role of Julie London, and this time Beck nailed Barney Kessel's sophisticated chordal jazz accompaniment. "So what else is hidden in his arsenal?" fans wondered.
"Well, I fell in love with Julie London, of course, from the movie The Girl Can't Help It," he says of her recurring, ghost-like presence in the film. "Then I found out it was Barney Kessel on guitar, so I went out and bought a Barney Kessel record. I thought, if I could just get close. His stuff was brilliant. So it led me to getting other Barney Kessel albums and other Julie London records."
Pretty complex stuff for a 13-year-old whose description of formal learning is, "I used to go to the music shops in Charing Cross Road and look through the window, and sometimes go in and play when they'd let me. And the salesmen at the guitar shops, like Jennings, had to be pretty good, to demonstrate different styles while selling guitars. So I'd watch them."
What was also a revelation for viewers of the PBS installment was that Beck, who'd staked his claim in the annals of rock guitar by not sounding like other guitar players, could get inside another stylist's skin so completely.
Then came last year's Grammy Awards telecast, where, at the end of the In Memoriam section, Beck paid tribute to the late Les Paul by playing Paul's signature tune, "How High The Moon," note for note. Needless to say, 99 percent of all rock-star guitarists couldn't do that if you put a gun to his or her head.
"I first heard Les when I was six," Beck reveals. "Later on when I heard rock and roll, like Elvis and Carl Perkins, the guitar had a similar trebly, bright sound, with the slapback."
He got to meet and play with Paul in '83, thanks to Billy Squier. "He was doing this 'Rock & Roll Tonight' TV show in Pasadena, and he called and asked if I'd like to do a couple of numbers with Les Paul! I thought it was a hoax."
As if being one of the instrument's strongest individuals with an uncanny ability to mimic his heroes wasn't enough, 15 to 20 years into his career, he completely reinvented himself. He not only changed stylistically, he radically altered his technique – only to earn even more respect among his peers.
When Jimmy Page gave the induction speech for Beck's second trip to the podium at the Rock And Rock Hall Of Fame in 2009 (having been ensconced as a Yardbird in '92), he said of his former bandmate, "He'd just keep getting better and better, and he still has, all the way through. You know, he leaves us mere mortals – believe me – just wondering and having so much respect for him. Jeff's whole guitar style is totally unorthodox to the way that anybody was taught. He's really developed a whole style of expanding the electric guitar and making it into something that is just sounds and techniques totally unheard of before. And that's an amazing feat – believe me."
One major change is his approach to the guitar was abandoning picks to play with his fingers while integrating the Strat's whammy bar more seamlessly than perhaps any guitarist before him (see sidebar, where guitar tech Stevie Prior details Beck's fingers-and-whammy technique and gives the lowdown on every component in his boss' signal chain).
To take a stab at fully understanding Jeff Beck, you need to see The Girl Can't Help It, because it's an obsession with him. The Jayne Mansfield vehicle, which reached England in '57, included lip-synched appearances by Vincent, Little Richard, the Treniers, Eddie Cochran, the Platters, Fats Domino, and others, along with London's recurring "Cry Me A River." "My older sister and her friends went to see it, and afterwards she told me I needed to go," recounts Beck. "It was like a door opening. That film was a masterpiece – in Technicolor, just everything about it. John Waters, the director, has stated it's his favorite film." Indeed, for Pink Flamingos, Waters copped the scene where Mansfield wiggles down the street to Little Richard's title track, except he cast plus-size transvestite Divine in place of Mansfield.
Being stuck in dank, gray England, to a kid of 13, America must have seemed like an exotic oasis, filled with rock and roll and blond bombshells – all in Technicolor. Also, Beck was at an impressionable age when Bill Haley, Elvis Presley, and the Everly Brothers began infiltrating radio that had been dominated by easy listening – music for parents. "My older sister brought home lots of rock and roll records, which were totally different from what had been on the radio prior to that," he enthuses. "She also brought home records by the vocal, doo-wop groups, and I liked that, as well. It's funny to listen to now, because there are a lot of 'discords' in the harmonies. But it's still great. Songs like 'I Only Have Eyes For You.' Who was that – the Flamingos?"
Beck's exposure to blues didn't come until he started playing in bands. "Blues was a big thing, and in the beginning the Yardbirds really wanted me to play blues," he says.
They soon broke out of their own pigeonhole, especially when Beck replaced Clapton as lead guitarist in March '65, when he was 20 years old.
When he first hit the scene with the Yardbirds, Beck immediately went to the front of the line in the hierarchy of guitar heroes. In fact, the term didn't even exist at the time. Clapton was unknown, at least on this side of the Atlantic, and would remain so thanks to albums that featured his playing but didn't credit him. And it should be said that, as good as Clapton was at the time, his style hadn't yet coalesced to the point that it inspired "Clapton Is God" graffiti around London. While Clapton holed up, soaking up blues records, Beck wasted no time taking the Yardbirds to greater heights.
In typical slice-and-dice fashion, the band's U.S. label, Epic, cobbled the Yardbirds' first two American albums from singles, live tracks from the band's British debut (which remained unreleased in the States for years), and other odds and ends. To clear up any confusion: although Clapton wasn't even named (and Beck was named and pictured) on 1965's For Your Love, he played on all of the album's cuts except for "I'm Not Talking," "I Ain't Done Wrong," and "My Girl Sloopy," which featured Beck. Only four months later, Having A Rave-Up was released. Live cuts from the Clapton-era Yardbirds' U.K. debut, Five Live Yardbirds, comprised Side Two (though, again, Clapton wasn't pictured or named), while Side One consisted of English singles featuring Beck and U.S.-only material recorded while the band toured America.
Thus, America's true introduction to Jeff Beck was via six of the most envelope-pushing, in-your-face cocktails of musicality and bravado that rock and roll had ever seen. There was the Indian-tinged, fuzz-laden "Heart Full Of Soul" and the Gregorian chant-based "Still I'm Sad." "You're A Better Man Than I" and "Evil Hearted You" proved perfect vehicles for Beck's blend of dynamics and melodicism. His solo on the aforementioned "Train" was 30 seconds of perfectly crafted spontaneity (never a contradiction with Beck), while "I'm A Man" deconstructed the Bo Diddley blues, as Beck went beyond flashy chops, or effects like distortion, and entered a realm of sonic exploration that took rock guitar to another level. In concert, songs like "I'm A Man" may have started out as blues, but they transformed into crazed rockers by the third chorus. "We played this armory-type place where there were bars along the ceiling, and the fans would swing on them like monkeys" Beck laughs. "The wilder we played, the crazier they got, pushing us to take it further."
When the Yardbirds hired Beck, he didn't have a guitar. "They loaned me the red Telecaster that Eric had played," he explains. "I think the band owned it and would lease it out. It was a rosewood-fingerboard, but I really wanted a maple-neck. In '65, we were on tour with the Walker Brothers, and John Walker had one, and I asked if I could buy it. He wanted 75 pounds for it." That maple-neck Esquire was on "I'm A Man," "Over Under Sideways Down," "Shapes Of Things," and numerous others.
When the band entered the studio to (finally) record its first full-fledged album, as opposed to a collection of A-sides and flipsides, Beck and the boys were arguably at their eclectic best. The album was called The Yardbirds, but was nicknamed "Roger The Engineer" after rhythm guitarist Chris Dreja's cover drawing. (A truncated version, re-titled Over Under Sideways Down, was released in the States.) Beck handled the varied repertoire in grand fashion – from "Over Under Sideways Down" (an Indian-tinged follow-up to "Heart Full Of Soul") to the country drone of "I Can't Make Your Way" and the uncategorizable "Hot House Of Omagarashid." His instrumental feature, "Jeff's Boogie" (with nods to Chuck Berry and Les Paul), became a trial by fire for guitarists in high-school garage bands everywhere. Unfortunately, his vocal contribution, the Elmore James styled "The Nazz Are Blue," was trimmed off the American release.
After leaving session work, Page – Beck's friend since their early teens – replaced bassist Paul Samwell-Smith. He eventually switched roles with rhythm guitarist Chris Dreja, but the dual-lead concept lasted barely two months before Beck was fired, in November '66.
But sacked or not, of the guitar royalty that passed through the Yardbirds, Samwell-Smith later said that the Beck period was the band's most creative.
Around this same time, a new gun in town appeared in the form of Jimi Hendrix. In the posthumous documentary, A Film About Jimi Hendrix, Pete Townshend tells a story about Beck coming out of a club Hendrix was playing just as Townshend was heading in. According to the Who guitarist, Beck groused, "He's stolen all your stuff." "Yeah, that did happen," Beck confirms, "But I did also say, 'We're finished.' It wasn't meant in a negative way; I just meant that he was doing gymnastics with the guitar, the way Pete had been doing. After Pete saw him, he had even more of a smackdown than I had," Beck laughs.
Beck soon got to know Hendrix, and there was a lot of mutual respect between them. "He really opened everybody's ears up to what could be done with an electric guitar," states Beck. "I'd been doing similar things, but not so ostentatious. Even before Marshalls and before I went to America, I was actually using feedback. I used to turn it up until it started feeding back, then leave the guitar on top of the amp, feeding back, and find another one and play along with it. So I didn't come along at the back end of that, no."
Supporting the notion that Beck had raised the profile of the lead guitarist, in terms of playing as well as image, is the fact that his first album as a leader was greeted with such anticipation when it was released nearly two years after his departure from the Yardbirds, with only three singles in between. Truth, released in August '68, found Beck leading a quartet that provided singer Rod Stewart's first exposure to American audiences. Though he auditioned as rhythm guitarist, Ron Wood was switched to bass, with drummer Micky Waller rounding out the rhythm section.
The majestic instrumental "Beck's Bolero" was written by Page, who played 12-string rhythm on it, along with John Paul Jones on bass, future JBG member Nicky Hopkins on piano, and Keith Moon on drums. It was originally the flipside to Beck's vocal on "Hi Ho Silver Lining," and in his liner notes Beck acknowledged the repeat, saying, "We couldn't improve on it." In concert, Rod would strap on a guitar for the only time of the night – a Telecaster fitted with a Danelectro Bellzouki 12-string neck – while Beck wailed on his sunburst Les Paul.
Two of the album's standout cuts were done in a heavy blues style that anticipated Led Zeppelin – a fuzz/wah tour de force on Howlin' Wolf's "I Ain't Superstitious" and Muddy Waters' "You Shook Me" of which Beck wrote, "Last note of song is my guitar being sick – well, so would you if I smashed your guts for 2:28."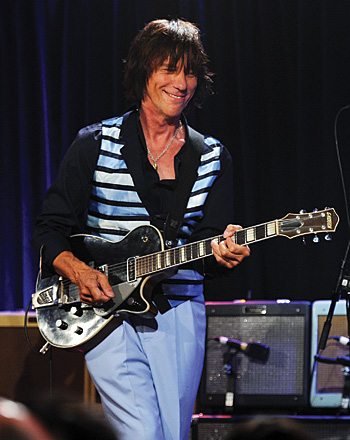 The original Jeff Beck Group broke up after its second album, 1969's Beck-Ola, which annotator Charles Shaar Murray notes was "just before hard rock became heavy metal."
The beginning of the '70s started with a completely new JBG lineup, featuring drummer Cozy Powell, keyboardist Max Middleton, and singer/guitarist Bob Tench. Veering away from hard rock, the band settled into more of a jazz-funk feel, and their two albums weren't received well.
Next, Beck teamed with Vanilla Fudge's rhythm section for Beck, Bogert & Appice, a return to heavy rock without the nuance of the original, Stewart-fronted JBG.
But big things were just around the corner. Recorded in 1974 and '75, Beck flirted (and scored) with the jazzy fusion of Blow By Blow. Produced by George Martin, the all-instrumental LP found Beck in the Top 10 album chart for the first time, and his versions of Middleton's "Freeway Jam" and Stevie Wonder's "'Cause We've Ended As Lovers" have become staples of his concert repertoire.
During the sessions, he got a visit from pickup wiz Seymour Duncan. "He had a couple of guitars," Beck recounts. "And he asked if I still had the old Esquire. I said, 'Yeah.' He showed me this Tele with a very heavy ash body, with two humbuckers in it – so it was the best of both worlds between the Fender and Les Paul. I ended up using it on ''Cause We've Ended As Lovers.' He asked if I could bring the Esquire the next day, so I did, and he said, 'Do you want to swap?' So I made the swap, because the Tele he'd loaned me was a much better guitar than the Esquire – although it occurred to me that I was losing my old workhorse."
Wired (1976) was an even more overt jazz-fusion outing, featuring Jan Hammer's synthesizer, Narada Michael Walden's drumming, and plenty of Beck's Stratocaster.
During the '80s and '90s, Beck released only five albums, but was more unpredictable than ever. For Flash, he surrounded himself with vocalists, including Rod Stewart's reading of "People Get Ready"; then Jeff Beck's Guitar Shop's bass-less trio (with drummer Terry Bozzio and keyboardist Tony Hymas) took to the road for a co-headlining tour with Stevie Ray Vaughan & Double Trouble. In '93, fearing that his hearing was getting dangerously bad, he broke out his '50s Gretsch and a small amp and cut Crazy Legs with England's Big Town Playboys – a tribute to Gene Vincent with Jeff in the role of the Blue Caps' phenomenal guitarist Cliff Gallup. Next, of course (for him), he embraced techno on Who Else. It and its followup, You Had It Coming, featured Michael Jackson guitarist Jennifer Batten.
In a 1993 interview about Crazy Legs, when asked where the inevitable "Jeff Beck twist" was, he proclaimed, "There is none. The whole point of it was, 'Hey, this guy Gallup was it! I see myself like an evangelist; 'Listen to the gospel of Cliff Gallup.' I'd have made the album just to have it for my car, you know. So I could say, 'Hey, want to hear me play like Cliff?'"
A purist in the extreme, he adopted Gallup's unorthodox technique of using a thumbpick in combination with fingerpicks on his middle and ring fingers. The album was really the first instance of Beck obviously paying homage to someone – although, in hindsight, "Jeff's Boogie" contains some Les Paul by way of Gallup (along with the obvious Chuck Berry format). He says his previous bands didn't allow him to delve too deeply into his rockabilly roots. "The closest I could come with the Yardbirds was Paul Burlison with the Rock 'N Roll Trio, on 'Train Kept A-Rollin'.' Or actually, Grady Martin, I later learned, played on that. Paul Burlison was more than happy to take credit for it, but there's this one Grady Martin record where you can really tell it's the same guy as on the Rock 'N Roll Trio stuff.
"Only recently, I discovered that Les and Cliff were really influenced by Django Reinhardt," he continues. "There's this lick that both Les and Cliff played, and I discovered a Django record where he plays the same lick – somewhere in Django's catalog. So where did he get it? And I think they were both influenced by Charlie Christian."
Accustomed to playing stadiums and arenas, Beck played five nights in 2007 at London's famed jazz club, Ronnie Scott's – capacity 220. For the Grammy-winning CD and platinum DVD of the event, Beck gathered the same lineup he used at Clapton's 2007 and 2010 Crossroads Guitar Festivals: drummer Vinnie Colaiuta, keyboardist Jason Rebello, and the tasty bass playing of Tal Wilkenfeld.
Beck has played all three Crossroads Fests. Though he only got to play one song in '04 (a planned finale with him, Clapton, and ZZ Top was scrapped when a thunder storm rolled in), he all but stole the shows in '07 and '10.
Colaiuta, Rebello, and Wilkenfeld form the nucleus on most cuts on Emotion & Commotion – even when Beck's guitar is wailing like the greatest vocalist ever, in front of a string orchestra on pieces ranging from "Over The Rainbow" to "Corpus Christi Carol," which he heard by Jeff Buckley, or from Puccini's "Nessun Dorma" to "Serene," featuring opera singer Olivia Safe.
Needless to say, "Baby, Let's Play House" might be an exact 180 from Puccini, but, by all appearances, for Beck it's as natural as changing lanes on a highway. And any adjustment is impossible to detect, as he switches guitars on the DVD – ultimately using his white signature Strat, Gibson ES-175, Gretsch Duo Jet, Fender Nocaster, and, of course, a Les Paul.
Of the latter, Gibson Entertainment Relations staffer Pat Foley details, "The Les Paul he's using on the tour is one we loaned to Jeff for the Grammy Awards last year, and he took a liking to it. It's a '58 Custom Shop reissue that was one of two we built for Mark Knopfler. Mark chose the one he preferred, and this is the other. We built two just to let Mark try. He doesn't like flame-tops – and neither does Jeff, actually – so he chose the one that had less flame on it. The one Jeff's using has a push/pull knob on one of the tone pots that splits the rear pickup to make it a single-coil or a humbucker. It has a slightly slimmer neck than a standard '58, so it's kind of like Pearly Gates – more a '59-style neck. So it's kind of a hybrid of a '58 and '59 reissue.
"The ES-175 is a standard reissue, in blond," Foley continues. "Jeff was doing a Scotty Moore tribute and wanted to use kind of a rockabilly guitar. We loaned him a 295 and a 175, and he took to the 175, which is on the cover of the Rock 'N Roll Party DVD."
Beck first became interested in Imelda May after seeing a picture of her outside Ronnie Scott's. The Irish songstress, described by Beck as "just amazing," was a member of Blue Harlem before cutting her solo debut, Love Tattoo (Verve Forecast), in '08. Coincidentally, she's the wife of English singer/guitarist Darrel Higham, an Eddie Cochran fanatic who, in addition to a dozen solo CDs, had been a member of the Big Town Playboys – who previously had backed Beck on Crazy Legs. So in addition to May (who also contributes a vocal to Emotion), Beck had Higham on rhythm guitar and handling the male vocals.
As with Crazy Legs, one component that had to be just so for the Les Paul tribute to sound right was that it had to be played at low volume. "Definitely low," he nods, "It just wouldn't sound right through a Marshall."
Although he's been quoted as saying he played the Iridium through a pair of Super Champs, Fender's Shane Nicholas clarifies, "Those were Pro Juniors. One was finished in Sonic Blue to match a Custom Shop guitar at the NAMM show, and somehow Jeff ended up with it."
The dialed-down approach definitely benefits the instrumentals "Apache" and "Sleep Walk," where Beck gets a clean, round tone a la Hank Marvin of the Shadows on the former, and does a scary-good job of imitating Santo Farina's steel guitar on the latter, by way of his Strat's whammy – even playing parts of the main melody with the whammy, instead of moving his fretting hand, while displaying flawless intonation.
After the dazzling Les Paul portion of the set – including "Bye Bye Blues," "Mockin' Bird Hill," "Vaya Con Dios," and "The World Is Waiting For The Sunrise" – Beck and the combo waste no time diving into a scorching rendition of "Peter Gunn," a dramatic arrangement of the Shangri-Las' "Walking In The Sand," the Treniers' "Rocking Is Our Business" (which they performed in – what else? – The Girl Can't Help It), the Little Richard theme to said movie, and Bill Haley's "Rock Around The Clock," with Beck duplicating Danny Cedrone's well-known (but hard to play) solo.
Beck made a concession and grabbed a flatpick for certain songs, that being one of them. "I usually play that [up-and-down picking] style using my index fingernail, but it was getting too torn up. So yeah, that was with a pick. I love that original solo."
Conceding that it's impossible to predict what Beck will do in the future, it's near impossible to keep up with what he's doing now. As he was picking up three Grammy Awards for Emotion & Commotion (bringing his career total to eight), he was touring in support of the Rock 'N Roll Party, Honoring Les Paul CD (on Atco) and Eagle Vision DVD releases. This interview was conducted during that tour, but on April 13 he regrouped his lineup of 2010 – drummer Walden, keyboardist Rebello, and bassist Rhonda Smith – for more emotion, commotion, and who knows what else.
In 45 years of gigging, Beck has experienced many instances when his playing suddenly takes flight and comes up to another level. "Yep," he nods. "That happens. I don't know how it happens. Vinnie really recognizes when that happens – and keeps track. He can tell you when it happened in which song – Tal, too. A lot of it depends on the sound onstage."
Asked what those special moments feel like, Beck lets out a deep sigh. "Ahhh! It's heaven," he smiles. "You want to stay there forever."
---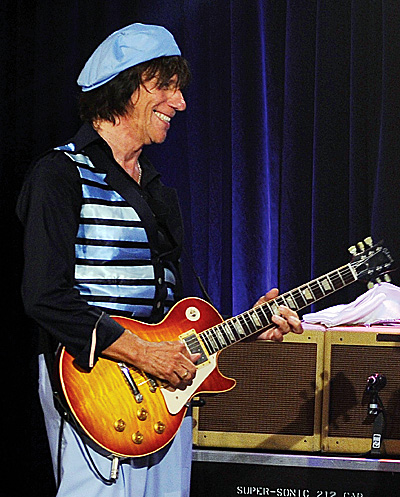 Beck's Keeper Of The Flame (Top) – And Everything Else
Nobody is more qualified to talk about Jeff Beck's gear than Stevie Prior – not even Beck himself. Beck's job is to be the six-string sorcerer he has always been. Prior's job is to make sure he has the tools he needs to do so, even when that might mean a complete overhaul from one tour to the next.
This spring, Beck began what Prior calls his "normal" or "own" shows – backed by drummer Narada Michael Walden, bassist Rhonda Smith, and keyboardist Jason Rebello – almost immediately after finishing his "Rock 'N Roll Party" tour, with singer Imelda May. Here, Beck's guitar tech of 12 years details every component that went into his boss' sound – as Beck paid homage to Les Paul and his early rock and roll heroes.
It starts with the Fender Custom Shop's Jeff Beck Signature Stratocaster. "All of Jeff's Signature Strats are slightly modified from the ones you'd find in a guitar shop," Prior reveals. "The main, white one is a '95 basswood-body made by J.W. Black, with a J.W. Black neck from '93, and John Suhr pickups, which there are really only two sets of in existence – that main guitar and then the Surf Green spare. Obviously, Fender would like to get those back so they could try to replicate those pickups, but that'll never happen, because you'd never get the guitar out of Jeff's hands long enough. But I'm now using Fender Custom Shop Alnico N3 pickups made by Michael Frank-Braun in all the other [backup] Strats. They're much more true to the Strat-like tone, in that they're Alnico II, III, and V – that's neck, middle, bridge – although they're Noiseless, which we obviously rely very heavily upon. He hates that 50- to 60-hertz buzz with single-coils. They're probably a bit brighter, because the Surf gets a quite dark midrange sound. He quite likes that brilliance and shimmer he gets from the N3s."
The Strat's vibrato is also customized to suit Beck's plectrumless technique. "It's got three of the springs, in a fan arrangement from the center pegs on the claw branching out to the outermost on the back of the trem block itself. It's a two-point vibrato, floating, and the bar is bent much more than on a store-bought model. Because the block is kicked up, the arm has to be at a much greater angle. There are five things to do with his right hand before you even think about what to do with his left hand. He uses the back of the palm of his hand for a kind of vibrato effect on the back of the block, the little finger is on the Volume control and sometimes hits the selector switch. Then he lifts the bar with his ring finger, presses it down with his middle finger, and uses the index and thumb for picking. He only very occasionally uses a pick. He hates them."
Beck used two hollowbody models for the tour and Iridium DVD. "The [Gibson] ES-175 is a stock 1990 reissue," Prior notes. "Then, for the Cliff Gallup/Gene Vincent songs in the set, it's an original '56 Gretsch 6128 Duo Jet – the same one he used on the Crazy Legs album. He's got a fixed-arm Bigsby on it and the same strings that have been on it for probably 13 years – D'Addario medium flatwounds. He's got two [6128s] from the late '50s, and I got him two Custom Shop Relics, but he doesn't like them; they're too new for him."
He's also carrying two Telecasters. "One is a very early Custom Shop Relic '51 Nocaster – about 15 or 16 years old – with Lindy Fralin pickups and, obviously, more-conventional wiring instead of the Nocaster wiring. The other one is also a '51 Nocaster reissue, done for the NAMM show two years ago."
It's well-known that the Fender Esquire Beck played with the Yardbirds was later traded to pickup guru Seymour Duncan, and that Fender is now making a limited edition replica of it. "Jeff's not involved with that; it's Seymour's deal," says Prior. "Jeff swapped the Yardbirds guitar – the Esquire – to Seymour for two Telecasters, one of which had two humbuckers – a modified Esquire. Jeff didn't really care for the Yardbirds guitar very much, which is the reason he swapped it. The '54 Tele that was part of the deal, we call that the Blue Caps guitar, because Jeff got some of Gene Vincent's Blue Caps to sign the back of it."

Naturally, to do justice to "How High The Moon," Beck needed to break out a Gibson Les Paul (see Pat Foley's comments in the feature regarding Beck's Paul of choice). For backups, he has a pair of the Gibson Custom Shop's Jeff Beck '54 Oxblood Les Pauls. Part of Gibson's Vintage Original Spec (V.O.S.) series, it's a re-creation of a modified '54 Les Paul Beck purchased in Memphis decades ago. It was depicted on the cover of Blow By Blow. Before coming into his possession, the guitar's gold finish was stripped and replaced with chocolate-brown, and the P-90s were replaced with humbuckers. Also, the neck profile was made slightly thinner. Prior says, "The backup Oxblood repros are the first prototype and the number one guitar. His original is at home with the same five strings it had 30 years ago when he stopped playing it."
Then there's the arsenal's ugly duckling: "We're also using a white Supro Dual Tone for one song, 'Poor Boy.' It wasn't featured on the DVD because Jeff forgot to send it out, but it's all original; he paid $12 for it. It's a wooden-body, and it's got four controls just under the second scratchplate – Volume and Tone for each pickup. The switch is just two-way, so it's either pickup, no middle position."
Whatever the guitar, Beck typically turns the Bass control on the amp all the way off. "He actually controls the tone from his guitar," Prior explains. "He'll roll off all the highs if he doesn't want anything sounding too bright and in-your-face. He generally likes a lot of midrange, a lot of top and presence, but he doesn't really like a lot of bass – probably due to his tinnitus. So the first thing he does with a Marshall amp is the Bass goes all the way off."
On the DVD, Beck is playing through a pair of Fender Pro Juniors. "The Sonic Blue one has a Jensen P10R Alnico I retrofitted just to get a bit more treble. On the tour now, we're using these marvelous Lazy J amps built by Jesse Hoff – effectively a 20-watt tweed Deluxe. Pretty much based on the 5E3 circuit, but they have Heyboer transformers and they're 6L6-based, so they have a bit more clean headroom. Jesse built both for me, but Jeff likes them, and the PAFs would just drive the Pro Juniors too hard. As opposed to the 10″ speakers in the Pro Juniors, the Lazy J has a 12″ speaker. They're loaded with an English-made Alnico speaker called a Tayden Ace 25. It's very much like a Celestion Blue – a bit more musical sounding than the Celestion Alnico. They have just a Tone control, but it's a concentric pot. When activated, it gives a little extra midrange, adds a bit of color to the middle. They have a very clever power-scaling circuit, which we don't actually use, but it allows you to get the amp sounding good, and then you just dial down the amount of grid volts going to the output tubes – which effectively allows you to turn the overall volume down. One of the amps has a valve (tube) reverb and a valve tremolo that come as add-on units bolted to the back of the box."
"The Lazy J 20 is based on a tweed Deluxe," adds builder Jesse Hoff. "When I played music for a living in the '90s, I had a tweed Deluxe. But I thought it had significant shortcomings in terms of being a live amp. I started changing it, but without drilling holes in a piece of vintage equipment. When I moved to England, I built one myself. Since it was new – not vintage – I could do anything I wanted. That started about two and a half years ago, and evolved into making them for other people, then starting a company. There's a version of the amp I called Lazy J 20H that has about five extra watts, so it sounds a little bit snappier. Jeff has one of each version; his 20H doesn't have the reverb or tremolo. They have two 6L6 power tubes, a GZ34 tube rectifier, and a variable voltage attenuator. The Tayden speakers are changed a little bit for my purposes, so they have a little more snap than regular Ace 25s. They make speakers under the name Audio Loudspeakers – Tayden is only one part of what they do. The circuit is different from a Fender tweed Deluxe's 5E3, to have a less-broken-up sound. It gives it a bit more power and clarity. Tweed Deluxes break up very early, and that's why people love them for recording. But that also makes them a bit less useful, live. I've been trying to make an amp that wouldn't lose the inherent character of the 5E3 tweed Deluxe but gave the clarity to make it more useful in a variety of situations."
"I'm also running a pair of reissue Marshall JTM 45s," Prior continues. "I've stuck them to Marshall custom-made floor wedges, which are 4x12s loaded with Greenbacks, split into two boxes. So one of the JTM 45s runs a pair of wedges downstage, which are effectively a 16-ohm load, and one of the JTM 45s runs a Greenback-loaded 1960BX cabinet onstage. I run all amps through a couple of buffered, isolated splitter boxes, which allow me to run however many rigs I need to. They were built by a guy in the U.K. who worked for Marshall for 30-odd years – now Mike Hill Services (MHS)."
For Beck's "own" shows, Prior controls an offstage rack that includes such things as a Maestro Ring Modulator, a Mu-Tron octave divider, and an old, gray MXR Power Flanger, "like Eddie Van Halen used." A pair of limited-edition Marshall JTM 45 100s – "essentially the front end of a JTM 45 with two output stages" – is also employed.
Prior details the rockabilly shows' signal chain: "I do prefer Evidence cables, but he kind of thrashes them with his big engineer's boots, so that seemed kind of wasteful. So I make my own Mogami cables with Switchcraft jacks. That goes into a Snarling Dogs Super Bawl Whine-O-Wah. Kenny Segall is the man behind that. Next, it's into a Klon Centaur Overdrive, out of that and into a delay – literally just for the slap echo, a single repeat – and into a reverb. We haven't really finalized which delay we're going to use, but there's a company called Strymon that makes an El Capistan, which is a very clever digital version of an Echoplex. And I've also got a Strymon Brigadier, which is kind of a dBucket remake of the Boss DM-2 or Ibanez AD9 – any of those old-school, fairly dark-sounding delay pedals from the '80s. It does all those, but brilliantly. And we also have a Way-Huge Aqua-Puss, the Brad Paisley signature delay, and then a [Strymon] Blue Sky, an amazing reverb pedal. From all that, it goes into the MHS buffered, isolated splitting box, then into however many amps we're using. And we put a pair of Sennheiser 509s on the amplifiers, and generally a 57 or something like that on the 4x12s."
Radical gear shifts from one tour to the next don't bother Prior. "Jeff doesn't really care for the technical side of it, so he just leaves it to me to give him the best I can. When you start talking about amps, he just kind of glazes over. And it doesn't really matter what you give him, he'll always sound like Jeff. Quite often, I'll just give him the Strat and pedalboard, and he can plug into literally anything; it'll sound like Jeff. It's between his ears, and then that unique explosion that happens in his mind transfers to his fingers, into whatever wood and wire he's holding at the time. It doesn't matter if he's playing an old plastic Maccaferri at home; he'll still come up with the most extraordinary stuff. That's part of the greatness of the man – he can literally do anything. He could play the theme to Star Wars on a whoopee cushion." – Dan Forte
---
This article originally appeared in VG July 2011 issue. All copyrights are by the author and Vintage Guitar magazine. Unauthorized replication or use is strictly prohibited.
---
You can receive more great articles like this in our twice-monthly e-mail newsletter, Vintage Guitar Overdrive, FREE from your friends at Vintage Guitar magazine. VG Overdrive also keeps you up-to-date on VG's exclusive product giveaways! CLICK HERE to receive the FREE Vintage Guitar Overdrive.
---