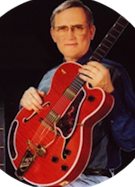 Guitarist Paul Yandell passed away this morning. He was 76 and had been battling cancer.
Yandell grew up in Western Kentucky and was an accomplished guitarist while still in high school. In 1955, he moved to Nashville, where he played for the Louvin Brothers, including on many of their hits. In '59, he entered the U.S. Army. After serving, he joined the Kitty Wells show from 1961 to 1970, then became a member of Jerry Reed's band. In '75, he began the affiliation with Atkins, which lasted until the a latter's passing in 2001.
Other artists with whom Yandell worked included Dolly Parton, Steve Wariner, Hank Thompson, Perry Como, Roger Whitaker, Les Paul, Woody Herman, The Everly Brothers, and Mary Chapin Carpenter. He also appeared on TV shows such as "The Dinah Shore Show," "The Tonight Show," "The Today Show," "The Merv Griffin Show" and others.
After Atkins died, Yandell recorded a solo album titled Forever Chet, which included many songs  Atkins had performed throughout his career.
In August, Atkins' family bestowed on Yandell the last official granting of the title "Certified Guitar Player," which Atkins had used to describe an artist who personified performance skill and musical quality. In all, the honor was awarded to only five players – Yandell, Reed, Wariner, Tommy Emmanuel, and John Knowles.
Yandell's final album, Drive On, was released in 2006. He is survived by his wife, Marie, a son, and a daughter-in-law.