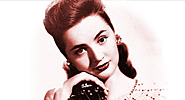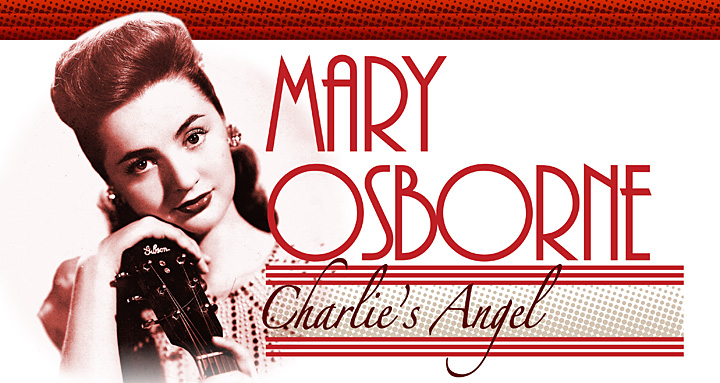 Jazz guitar pioneer Mary Osborne was the only female guitarist to realize a significant impact on jazz in the 1940s and '50s – and many aficionados agree that her swinging style earned her confirmation as one of the early architects of R&B and rock and roll.
Born July 17, 1921, in Minot, North Dakota, Osborne enjoyed a career that spanned the decades from the late '30s until her death in March, 1992. And she called Charlie Christian her mentor; perhaps no other guitarist was more directly influenced by his genius.
The tenth of 11 children, Osborne grew up in a musical environment. Both of her parents played guitar; her mom sang and, though her dad was a barber by trade, he was also a bandleader. At the age of four, Mary was strumming a ukulele around the house. A few years later, she joined her dad's group on banjo, then became precociously adept at singing, tap dancing, as well as playing the violin, bass fiddle, and guitar. In a 1974 interview in Guitar Player she told writer Leonard Ferris, "When I picked up that first guitar, that was it. I knew that's what I wanted to play the rest of my life."
Today, her son, Ralph Scaffidi, Jr., remembers how, "By her mid teens, she was good enough to play jazz and sing in an all-girl trio on radio and in the clubs around Bismarck [North Dakota, about 100 miles from Minot]. And she was really captivated by the playing of Django Reinhardt, Eddie Lang, and Dick McDonough."
At age 17, Osborne's life and approach to playing changed profoundly. Musician friends encouraged her to drop by a local club called The Dome to hear the Al Trent Sextet, a territory band that included guitarist Charlie Christian. "It was the most startling thing I had ever heard," she said to Ferris in GP. Christian playing a Django-influenced version of "Honeysuckle Rose" was something she'd never forget. "I heard what I took to be a tenor saxophone," she remembered. "I asked where the guitarist was, then realized the saxophone sound was coming from a crude amplifier attached to a guitar. I was so inspired, all I wanted to do was imitate him."
She later recalled that some of the figures Christian was playing that night evolved into the tunes he recorded with Benny Goodman – "Flyin' Home," "Gone With What Wind," and "Seven Come Eleven." In the May '02 issue of Just Jazz Guitar, writer Molly Cort cited Osborne's recollection. "I watched how he played double notes… if you never had a lesson, it was clear what he was doing." Osborne watched Christian for a few nights before approaching him, asking, "Those were Django's chord changes on 'Honeysuckle Rose,' weren't they?" She said he smiled and said, "Anyone who knows those were Django's chords has to be a guitar player."

That brief exchange was a plot point in Osborne's life, as recalled by her son. "They struck up a very nice friendship and, after he listened to her play, they jammed together and he gave her pointers and musical ideas," he said. Christian then hipped her to a store that sold the Gibson ES-150 like he played, and told her where she could get an amp. Though it would be another year before jazz pianist Mary Lou Williams would recommend him to producer John Hammond, Christian was making a name for himself in jazz's "Kansas City School." Osborne was nonetheless impressed to find the guitar in a window display with a sign proclaiming, "As played by Charlie Christian, featured in the Al Trent Sextet." The ES-150 cost her $85, and the amp another $45.
The Gibson archives tell us that until the introduction of the ES-175 in 1949, all Gibson archtops were made with solid arched tops, and the ES-150, introduced in '36, was no exception. That was probably because no one, including Gibson, was sure if the electric guitar would catch on. The ES-150 was a lower-mid-level model with dot position markers, single-ply binding, a flat back, and little adornment. It did, however, have a reasonably large 161/4″ body with a carved spruce top, and its single-coil pickup was attached to an unusually large magnet mounted beneath the center portion of the top and held by three screws. It could accommodate a bold, percussive attack and produced surprisingly good definition.
There's no doubt that pickup helped define and shape Osborne's sound and contributed to the consensus of her being the doyenne of female jazz guitarists. She soon joined the small coterie of late-'30s electric-guitar pioneers that, besides Christian, included Eddie Durham, who recorded with Count Basie's Kansas City Six, Eldon Shamblin with Bob Wills, and George Barnes, who first went electric recording with Big Bill Broonzy in 1938.
Excited about her new sound, Osborne hit the road for many months with the Winifred McDonnell Trio, playing mostly dance tunes, jazz, and Andrews Sisters pop songs. Because Osborne was a minor, McDonnell, who remained a lifelong friend, became her legal guardian. The trio traveled around North Dakota and Minnesota appearing on radio shows and in clubs before landing a daily show on KDKA in Philadelphia.
After a year in Philly, the trio was hired to appear in the stage show of actor-turned-bandleader Buddy Rogers. In a 1991 interview with Karen Schoemer of the New York Times, Osborne said, "He liked us so much he hired us. He was a very good musician and… looked like a movie star. Of course I was impressed. I thought musicians were movie stars, anyway." But after several weeks on tour, Rogers dissolved his band after an appearance in New York City, where Osborne found herself embarking on the next phase of her career.
The Big Apple, Take One
Now a seasoned performer, Osborne took advantage of her surroundings. Almost immediately, she began exploring the New York music scene and meeting other jazz musicians. Back on it own, The Winifred McDonnell Trio found a gig where they were staying – the Piccadilly hotel in the Theater District on 43rd Street, west of Broadway. The Piccadilly was among many hotels during that era that catered to musicians. It was there that singer Johnny Drake introduced Mary to trumpeter Ralph Scaffidi, her future husband. Scaffidi, who was with the Dick Stabile band, was taken with Mary's looks and demeanor. But when she mentioned that she played electric guitar, he wasn't at all eager to hear her play.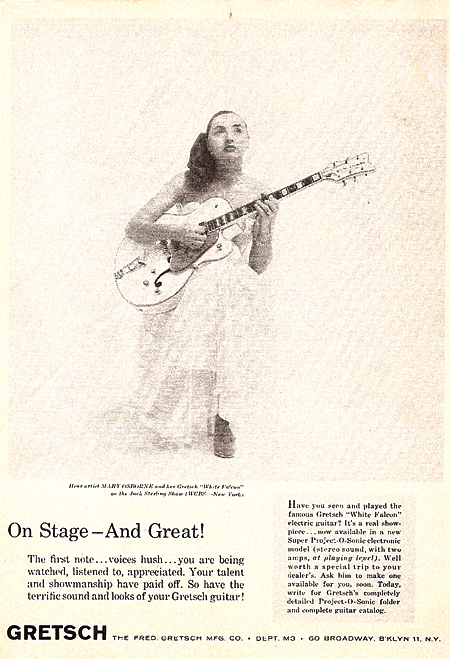 "My dad automatically assumed she played Hawaiian steel in the style of Alvino Rey, or some hillbilly stuff," said Ralph, Jr. "Finally, when picking her up for a date, he heard her playing through her hotel room door and was stunned – and of course, very interested."
As fate would have it, in the following weeks, romance blossomed for all the girls, subsequently bringing the trio's career to a coda. All three had met their future husbands. The breakup was amicable, but no doubt bittersweet.
After an introduction from Ralph, Dick Stabile eagerly hired Osborne, but she was disappointed in not being featured. So she left for a Florida tour with yet another all-girl band led by Jean Wald. But a few weeks in the Sunshine State proved too similar to the road grind she'd already endured, so Osborne returned to New York.
She found a gig, again because of Ralph, with the Bob Chester band. But Chester wanted Mary for just four dates over a two-week period. She was puzzled because the band already had a guitarist and female vocalist. Her being hired didn't make sense. The final date of her ad hoc employment was for prom night at Columbia University. So the event could feature continuous music, the college hired two musical acts and billed it as a "battle of the bands" contest. She arrived at the gig to find they were on the bill with Benny Goodman and his Orchestra, featuring her old friend, Charlie Christian. "She just cringed," said Ralph, Jr. "She'd finally figured out she'd gotten the gig only because Chester wanted an electric guitar player for that appearance." Osborne was, "…embarrassed, but Charlie was tickled about it." It was the last time they would ever see each other.
The early '40s in New York was a productive time for Osborne. In addition to recording with Bob Chester and Terry Shand, she worked with a number of name bands. She also landed a gig on Saturday afternoons in the house band at Minton's Playhouse, where great players would jam. It was at Minton's she first played with Coleman Hawkins, Ben Webster, Dizzy Gillespie, and Art Tatum, all of whom would later hire her for gigs and recordings.
Finally realizing enough stability to marry, Scaffidi and Osborne tied the knot in late '42. By this time, Scaffidi was working with jazz violinist Joe Venuti's stage show, featuring singer Kay Starr and the Andrews Sisters. The show had previously featured guitarist Eddie Lang, who was a big drawing card for Venuti. Lang had died and Venuti, who knew the value of a flashy guitarist, had never found a suitable replacement. Scaffidi naturally suggested Osborne. A skeptical Venuti honored the request, but probably had an agenda; a legendary practical joker, speculation had it that Venuti was going to teach the young girl how "real" musicians play. But what happened was similar to the birth-of-fire audition Benny Goodman had put Charlie Christian through by trying to lose him with the tune "Rose Room."
After a show at the Capitol Theater, Venuti had Mary come by for an audition. "Word got around that Joe was going to humiliate some gal who plays guitar," said Ralph, Jr. "So a crowd of musicians gathered outside his dressing room. Venuti chose some obscure tune like 'Wild Cat' or 'Chop Suey' – a tune from the '20s. When my mom asked for the key, Venuti said, 'I'll just start and you follow.' So he kicked it off at a frantic tempo but she started following him through the changes. He got to where he'd pull a key change every four bars, but she'd follow right along. This went on for 10 or 15 minutes before Venuti said, 'You're coming with me on the road!'"
Now in his new stage show, Venuti would have Kay Starr sing, followed by the Andrews Sisters. Then he'd call out Osborne and the two of them would duet for 20 minutes or more.
Venuti had a tour of the West Coast scheduled, and implored Osborne to join him. He said, "We'll make records and it'll be great. If you come with me, I'll give you Eddie Lang's guitar." Osborne, however, remained in New York because she wanted to be with Ralph, who was very much in demand there.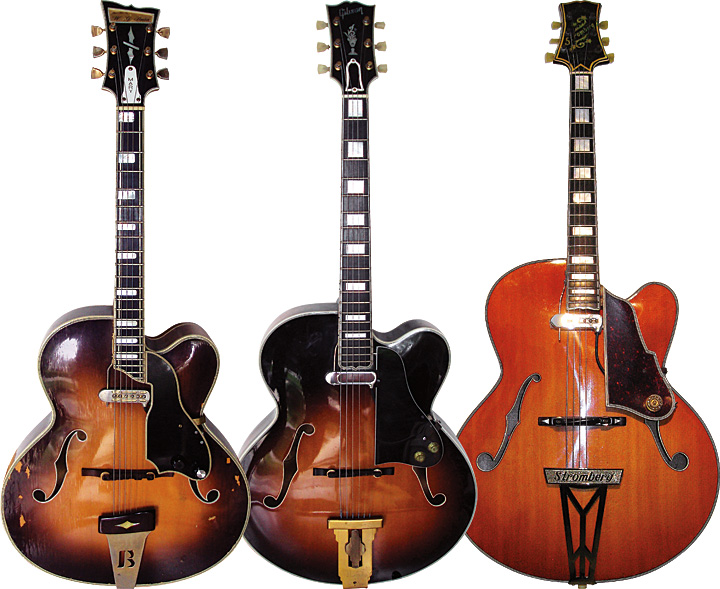 (LEFT TO RIGHT) Osborne's W.G. Barker was made circa 1962 with a single DeArmond pickup with Tone and Volume controls hidden under the pickguard. Osborne's 1952 Gibson L-5, with DeArmond pickup. Osborne's Stromberg cutaway.
The Windy City
Soon, an even better opportunity presented itself. The couple was offered a gig with the Russ Morgan Orchestra, featuring keyboardist Joe Mooney's quartet. Mooney, a jazz guy at heart, in turn featured Osborne singing and laying down very hip lines on the guitar. Morgan had the orchestra in residence at Chicago's Edgewater Beach Hotel. And it was there he had Osborne introduce his song "You're Nobody 'Til Somebody Loves You," which would become a major hit for Dean Martin 20 years later.
World War II was raging, and Scaffidi, at 28, was still eligible for the draft. So he decided to enlist and serve in the entertainment corps at Great Lakes Naval Base in Chicago. Those few months were a rather romantic time for the young couple, with Osborne at the Edgewater Beach and Scaffidi in the Navy Band. Russ Morgan, however, wanted to move on, but Osborne elected to stay in Chicago with Scaffidi. But after a year or so, Navy brass decided there was too much talent concentrated at Great Lakes and shipped out many of the players to other venues. Scaffidi was sent to Newfoundland, where he became a bandmaster.
Osborne then began a series of Chicago club dates, including several at the prestigious Chez Paree. She also recorded sides with jazz violinist Stuff Smith including, "Blues in Mary's Flat, "Blues in Stuff's Flat, "I Got Rhythm," and "Sweet Lorraine."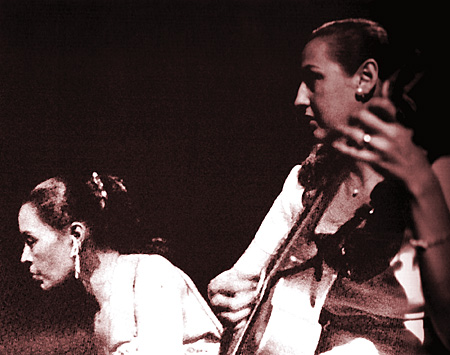 Big Noise in the Big Easy
During this time, Osborne was befriended by writer and promoter Leonard Feather. She met Feather in New York circa 1940… "probably at Minton's. So he knew how good she was," recalls Ralph, Jr.
Feather's far-reaching influence got her an appearance at the Esquire magazine All-Star Concert in New Orleans on a national radio network hookup. The show featured broadcasts from New York, Los Angeles, and New Orleans – a big deal in those days. Osborne was billed as a jazz newcomer. She sang "Embraceable You" and played a killer version of "Rose Room." That broadcast got her deserved recognition from a national audience, and she was then in the rarified air of Esquire All-Stars including Duke Ellington, Louis Armstrong, Benny Goodman, Red Norvo, Billie Holiday, and Teddy Wilson.
Big Apple, Take Two
With the notoriety of that 1945 broadcast and the end of the war, Scaffidi and Osborne headed back to New York. "New York was the place to be… you got to play with every wonderful musician in the world," Osborne once remarked. The couple focused on building a life for themselves and getting established enough to think about starting a family. Scaffidi began playing studio gigs and Osborne formed her first trio with pianist Sanford Gold and bassist Frenchy Couette. She also made "soundies" and took a gig for a year at Kelly's Stables, a popular nightspot. By this time, Scaffidi was on staff at CBS, and eventually worked "The Ed Sullivan Show," "Your Hit Parade," and wherever else he was needed.
Osborne's trio had signed with Signature Records and also cut sides for Decca. But after difficulties with management, booking agents, and personnel changes, the trio broke up. Osborne lamented at the time, "the better sides are still on the shelf." Still, she was in constant demand for session work and recorded with many great artists, such as Mel Torme, Clark Terry, Tyree Glenn, Art Tatum, Dizzy Gillespie, Ben Webster, Mercer Ellington, Mary Lou Williams and Coleman Hawkins. And her hard-driving, aggressive, yet soulful style was a perfect fit for sides with early R&B artists Wynonie Harris and Big Joe Turner. Leonard Feather produced the Harris sides "Mr. Blues Jumped the Rabbit," "Rugged Road," "Come Back Baby," and "Whiskey and Jelly Roll Blues," in late 1946. And her recordings with Turner – "Roll 'em Pete" and "Ice Man Blues" – are coveted examples of early R&B.
Osborne achieved more national acclaim with an appearance on TV's "Arthur Godfrey's Talent Scouts" and got regular work with Godfrey's stage shows at the Capitol Theater. Then, in '52, she began a 10-year stretch on "The Jack Sterling Show," a daily morning radio show on CBS.
"I remember she had a job on the Sterling show, where she had to play Al Cohn arrangements, but she was an excellent reader," guitarist Bucky Pizzarelli told VG. "I used to listen to her in the morning on the way to work when she was at CBS. Johnny Smith was at ABC and I was at NBC. She recorded with Coleman Hawkins and Ben Webster and won a lot of jazz polls. And she'd always play clubs at night, as well. Every time she appeared, I'd go out to see her and she'd come to see me play in New Jersey. Believe me, she played like Charlie Christian. He was her main guy."
"I hear Christian's influence in so many great players of that era," added Ralph, Jr. "But I think my mother had the strongest link to his style without being a copycat. She could play some of his licks if you asked her to, but she never did when soloing. Her solos were close to what Charlie did, but it was not intentional, it's just how it was. And though her playing evolved over the years, you could always feel Charlie's influence."
In the late '50s, Osborne was offered an advertising/endorsement deal with Gretsch.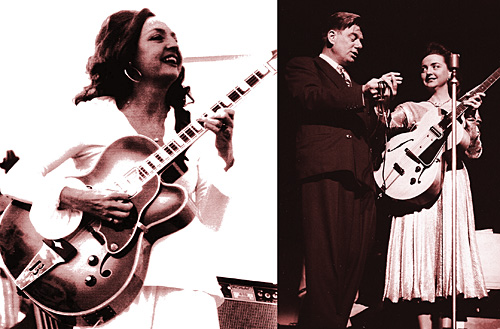 (LEFT) Osborne onstage at the Concord Jazz Festival, July, 1973. (RIGHT) Osborne onstage with Arthur Godfrey in 1949, when Osborne was part of the "Godfrey's Talent Scouts" revue.
"Gretsches weren't her favorites at all – she usually played a Gibson L-5 or her Stromberg on gigs," said Ralph, Jr. "In fact, her custom Stromberg is supposedly one of only seven cutaway models ever made." She had an unwritten agreement to never be photographed with anything but a Gretsch even though she wasn't necessarily playing one. Osborne was usually seen with a Country Club or, later, a White Falcon. This was before she opted for a Bill Barker custom guitar in '64. Barker, from Chicago, was a Stromberg protege who built Osborne an instrument. After she started to use the Barker, she ended her ostensible exclusivity with Gretsch.
In addition to a full schedule, Osborne gave birth to three children between 1955 and '59. In fact, A Girl and Her Guitar, her first non-78-rpm album, was recorded while she was expecting the third. The cover shows a very attractive Osborne posing with a Gretsch White Falcon.
When the Sterling show was finally cancelled, Osborne felt the need for a change. She had become bored with playing, and from 1963 to '68 studied classical guitar with Albert Valdes Blaine. "She bought a Velazquez guitar but never used it professionally. She studied classical just for her personal enrichment," said her son, Pete. Perhaps it was symptomatic because Osborne and Scaffidi had both become disenchanted with the music scene in the '60s, and began looking for opportunities away from New York. Scaffidi knew the days were numbered for staff musicians.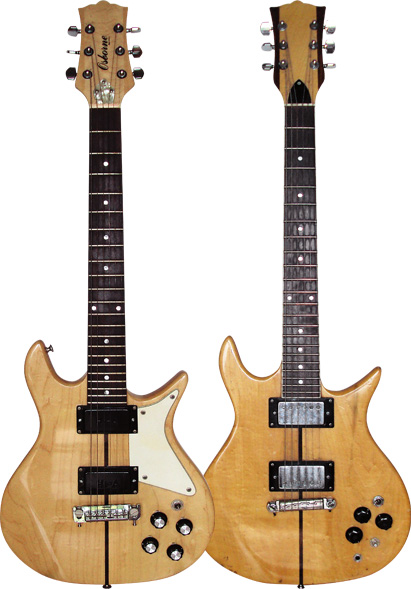 (LEFT) The Osborne Sound Laboratories guitar has a maple body, rosewood fingerboard, and rosewood inlay running vertically across the body. It boasted fine touches including mother-of-pearl fretboard markers, Schaller tuning machines, two Hi-A humbucker pickups, and a Leo Quan Badass bridge/tailpiece combination. (RIGHT) The Osborne Sound Laboratories looked much like the production version, but had rosewood edges on its headstock, a wider fingerboard (with binding), and chrome Ibanez humbuckers.
Bakersfield
In September of 1967, Scaffidi got a call from Phil Brenner, a musician acquaintance who was working for the Mosrite Guitar Company. Brenner thought that Scaffidi's personality and knowledge of music would make him a good sales rep. So, after a trip to Bakersfield to get acquainted with the Moseley brothers, Scaffidi took the job. Glen Campbell, Buck Owens, the Ventures, and a few other major artists were playing Mosrites and Scaffidi thought the opportunity might be what he was looking for. Plus, both Scaffidi and Osborne believed they could rejuvenate their playing careers on the West Coast, and they joined the Professional Musicians Local 47 union in Los Angeles, though the Moseleys preferred Scaffidi live closer to the factory. Consequently, the Scaffidi family reluctantly settled in Bakersfield.
"Mosrite had a lot of internal management problems and it became apparent the company wasn't functioning as well as dad had been led to believe," Ralph, Jr. said. At the 1968 summer NAMM show in Chicago, Scaffidi indeed saw trouble developing and stayed on only until early October. His assessment was astute. In '69, Mosrite filed for bankruptcy.
Rosac Electronics
Scaffidi did, however, glean an idea from the Mosrite electronics division. Eddie Sanner, Mosrite's electronics engineer, wanted to develop a better fuzz box, but the company wouldn't go for it. So Scaffidi found investors Morris Rosenberg and Ben Sacco to fund a new company, Rosac Electronics. Scaffidi and Sanner developed the Nu-Fuzz, and it did well. But their best product was the Nu-Wah, a cast-aluminum pedal with sturdy steel gears. It was the Nu-Wah that created the famous guitar sound on Isaac Hayes' recording, "Shaft."
The company also made amplifiers and PA gear, but market competition was fierce, and Rosac simply couldn't hang on; it closed in the mid '70s. According to Ralph, Jr. his parents then founded the Osborne Guitar Company with the intent of building solidbody electric guitars and basses. "They hired guitar builders with many years in the industry," he said. "And Mom was involved with the design of the neck and the fingerboard, as well as the overall balance and feel of the instruments." Unfortunately, much like Mosrite, they had trouble cracking the market, in part due to Fender's domination at the time.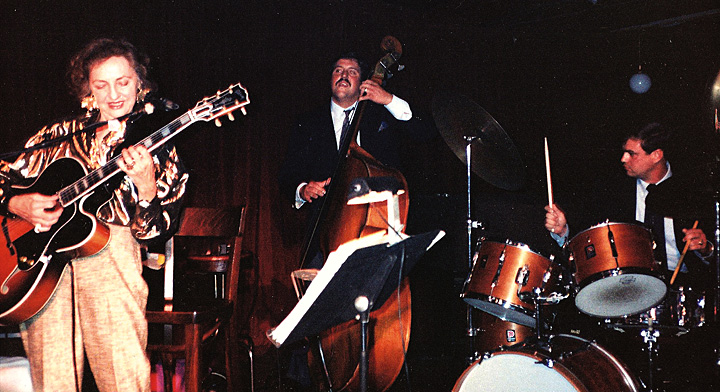 The Mary Osborne Trio in August '91, playing its final New York City appearance, at the Village Vanguard club, joined for a night by her sons, Peter Scaffidi (bass) and Ralph Scaffidi, Jr. (drums). For most of that week's gig, Osborne was accompanied by Dennis Irwin (bass) and Charlie Persip (drums).
Undeterred, Scaffidi looked to use his years of experience selling musical instruments, as well as building and marketing amplifiers and PA systems. So the company became Osborne Sound Laboratories, and focused on electronics. Scaffidi purchased a huge lot of Phillips and Eminence speakers to use in their newly designed Osborne amps. Mary personally tested each.
"Their plan, though, was to eventually refocus on guitars," said Ralph, Jr., and they did indeed, try.
"Dad hired Kerry Savie, who'd been with Rickenbacker, to design a solidbody guitar," added Pete. "It looked similar to a Les Paul Junior and sounded great. And electronically, it still holds up. I have one."
Ultimately, though, the venture wasn't to be, and Osborne Sound ceased operations in 1980.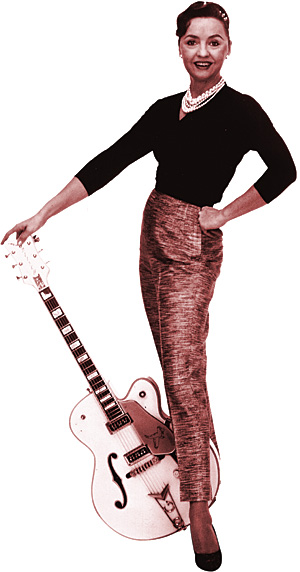 Coda
All the while the couple lived in Bakersfield, Osborne was gigging locally, teaching, and creating a career for herself. She landed a position on the faculty of Cal State Bakersfield, developed a close relationship with the local symphony, taught guitar at a school for blind children, and became a very visible and integral part of the city's music scene.
In 1977, she was asked by friend/jazz great Marian McPartland to a make a live album for McPartland's Halcyon label. The performance, released as Now's The Time, was also filmed for public television in Rochester, New York. Just Jazz Guitar writer Cort talked to McPartland, who called Osborne "…very gifted" and said, "It's a shame we didn't hear more from her." In '78, Osborne was invited to the first Women's Jazz Festival in Kansas City. On the bill was her's old friend, pianist Mary Lou Williams, and McPartland. In 1981, after Williams had passed away, Osborne, McPartland, Dizzy Gillespie, and Clark Terry played during a tribute to her at Carnegie Hall.
But another decade passed before Osborne joined Lionel Hampton onstage at the 1990 Playboy Jazz Festival, held at the Hollywood Bowl. And later that year, she played her last major concert at the Los Angeles Classic Jazz Festival. Her final public performance was at New York's Village Vanguard in August of '91. Afterward, Osborne was quoted in the New York Times saying, "I thought, 'Gee, it would be great to get to New York.' It was fun just thinking about it. Just in our little world of music, New York seems the same to me… There are a lot of jazz clubs where the musicians are still appearing, and you see the same names…"
Reviews of the Village Vanguard show were excellent, and on closing night she got to play a set with her sons, Pete and Ralph, Jr.
At the time, few knew Osborne was suffering from liver disease, a consequence of leukemia, which had been diagnosed years earlier.
"It was a type of cancer that progressed slowly, and she just maintained," said Pete. After her death in March of the following year, a scholarship was established in her name at U.C. Bakersfield. And shortly after that, Mary Osborne: A Memorial was released on Stash Records.
Osborne's legacy comprises more than her body of work. Her memory serves as a monument of artistic and personal integrity. Her tenacity and talent manifested into an unusually high degree of artistic development. And she exuded the dignity and courage of one who refused to abide sexism and racism in an era when such attitudes were all too common. She was a cultural and musical pioneer who will forever remain in the pantheon of our greatest jazz artists.
---
This article originally appeared in VG February 2011 issue. All copyrights are by the author and Vintage Guitar magazine. Unauthorized replication or use is strictly prohibited.
---
You can receive more great articles like this in our twice-monthly e-mail newsletter, Vintage Guitar Overdrive, FREE from your friends at Vintage Guitar magazine. VG Overdrive also keeps you up-to-date on VG's exclusive product giveaways! CLICK HERE to receive the FREE Vintage Guitar Overdrive.
---