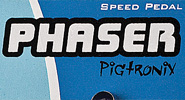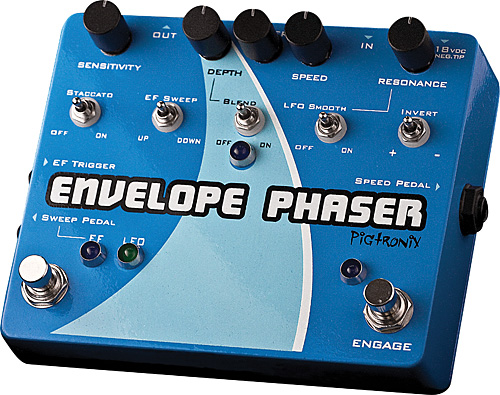 Pigtronix Envelope Phaser II
Price: $249 (street).
Contact: Phone (631) 331-7447; Pigtronix.com.
Pigtronix effects are known not only for their tones, but their sophistication. So it's no surpise that the Envelope Phaser II has a potentially daunting array of control knobs and switches, some with familiar names (Sensitivity, Depth, Speed), others less common (Resonance, Staccato, LFO Smooth)! But the good news is the clear and to-the-point user's guide makes it easy to tweak the pedal's functions to one's precise liking.
Running between a Gibson Les Paul and a Fender Princeton, the EP2 offered nice phase tones without touching a single control. Flicking a couple switches dials up its envelope filter, wah, and Univibe sounds. Manipulating the Resonance and Sensitivity reveals its vintage-inspired phase tones, while more-radical sounds can be had via the Blend control, especially when used in conjunction with the envelope filter and the LFO. Various combinations take the sound from filtered lo-fi to analog synth to all-out mayhem. And the LFO switch helps the pedal sound like everything from Jerry-Garcia-styled Mutron tones to Hendrix-flavored Univibe. It'll even cop the famous phase tone of U2's "Mysterious Ways" without having to find a 20-year-old Korg A-series rack unit! And for as wild as this unit can get, it's easy to reel in – even at its most extreme settings, it always sounds musical.
Adding to its flexibility, the EP2 can be triggered by an envelope follower, LFO, or anything you can plug into the EF trigger jack. Plug an audio feed from a click track, drummer, or drum machine into the trigger input, and your phase is locked in with the tempo. An expression pedal in the Sweep Pedal jack will control the modulation for a phase-wah effect.
The EP2 is capable of producing plenty of cutting-edge tones, and excels at vintage-styled effects in the vein of Mutron and Univibe. And it'll reward quality time spent with unique sounds.
---
This article originally appeared in VG February 2011 issue. All copyrights are by the author and Vintage Guitar magazine. Unauthorized replication or use is strictly prohibited.
---