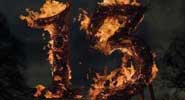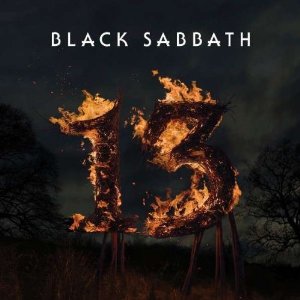 Cynicism wouldn't be out of place on your first listen to Sabbath's first album with Ozzy Osbourne in 35 years. Before you even spin it, you can bet that the band won't stray far from their classic sound and they don't – even without the great Bill Ward on drums. This is thanks in part to producer Rick Rubin, who is known for employing a back-to-the-roots formula for everyone he has worked with, from Johnny Cash to Metallica and now, the Sab.
That said, 13 is surprisingly good. In fact, it's very good, despite some problems with production. Rubin gives the CD a sound that evokes the heavy sonic textures of '70s metal, but it's overly compressed; unlike records that sound good at any volume level, you'll have to crank this one to achieve proper butt-kickin' results. Geezer Butler's bass is sometimes lost in the mix and, frankly, the drums sound thin and wimpy.
Fortunately, Tony Iommi's guitar holds things together well and his playing is spot-on, which is amazing for a guy who was battling cancer during the sessions. As usual, he has a bottomless well of heavy riffs, such as heard in the proggy eight-minute opener, "End Of The Beginning." Ironically, the single "God Is Dead?" is the weakest song on 13, as much for its silly lyrics as for the bone-dry presentation of Ozzy's voice.
Conversely, many of the better songs on this album are stuffed toward the end – and the absolute best material can be found on the second CD of bonus tracks. Maybe the rebooted Sabbath's finest moment is on "Peace Of Mind," a rocker where the whole band cooks in classic Sab style and Iommi leaves a trail of scored-earth guitar-manship in his wake.
"Pariah" is also another catchy stomper, while "Zeitgeist" and "Damaged Soul" evoke the cannabis-infused charms of "Planet Caravan" from 1970's Paranoid. The latter is a slow, bluesy track, featuring not only grinding riff-work from Iommi and Butler, but also Ozzy's long-missed harmonica playing. And for the guitar solo, Iommi lets his Hendrix-freak flag fly with no excuses.
So, while you may approach 13 with suspicion, give it a few spins to let it all soak in. Ward is certainly missed, but it's hard to argue with the magic that happens when you get Iommi and Butler in the same room with Mr. Osbourne.
All told, 13 is the heavy metal album of 2013, and if you count yourself a Black Sabbath fan, get it. Two caveats: avoid "God Is Dead?" and listen to the cool-ass bonus tracks first.
This article originally appeared in VG's October '13 issue. All copyrights are by the author and Vintage Guitar magazine. Unauthorized replication or use is strictly prohibited.