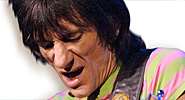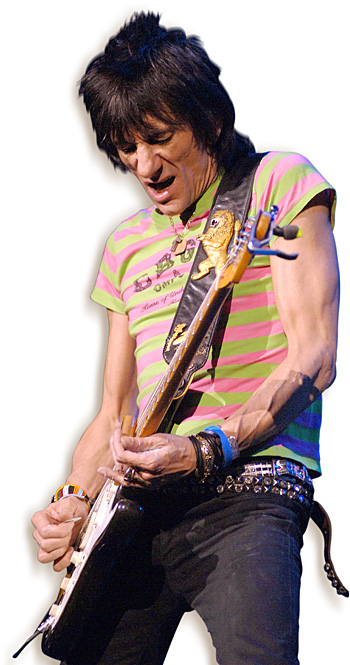 "I've always wanted to rock," gushes 63-year-old Ron Wood, whose journey from the shy 10-year-old washboard player in older brother Ted's '50s skiffle group to the renowned veteran guitarist in "The World's Greatest Rock and Roll Band" has been one wild joyride.
Born Ronald David Wood on June 1, 1947, in London's Hillingdon section to a family he describes as "water gypsies," like most of his British contemporaries, Wood was also smitten by the first wave of American rockers. By '64, the 17-year-old was proficient enough on guitar to join The Birds, an R&B-influenced outfit that was part of the first wave of English bands following the Beatles' lead. After little commercial success, the group disbanded.
Wood's first real break was joining the first edition of The Jeff Beck Group in 1968 as a bassist, along with a young gravely-voiced Rod Stewart on vocals. Following just two albums, Truth and Beck-Ola, Wood and Stewart left to join bassist Ronnie Lane, keyboardist Ian McLagen, and drummer Kenny Jones in The Faces. The band recorded hits like "Stay With Me," albums like A Nod Is As Good As A Wink To A Blind Horse, and their shows provided heady competition for rivals like Led Zeppelin, The Who, and The Stones.
Soon however, Stewart's career was sparked by solo smash singles like "Maggie May" and "I'm Losing You" and successful albums like Every Picture Tells A Story and Never A Dull Moment (featuring Wood's very prominent input) before ego problems did in The Faces in '75.
As fate would have it, Mick Taylor, the Stones' talented lead guitarist, departed, leaving an opening for Wood. Names like Eric Clapton, Rory Gallagher, and even Jeff Beck were thrown about as Taylor replacements, and though like Taylor, all were more technically proficient guitarists, Wood, with his spiked hair, gaunt arms, and exuberant stage presence, was the perfect foil for the equally hard-living Keith Richards. Thirty-five years later, Woods has logged more time with the Stones than his two predecessors combined.
An accomplished painter as well as musician who has collaborated with such an array of legends ranging from B.B. King to David Bowie to Aretha Franklin, Wood has more than proved his worth with the Stones. The band's most versatile onstage musician, fans are accustomed to seeing Wood switching from a seven-pedaled Emmons steel guitar (for songs like "Far Away Eyes" and "The Worst,") to a baby sitar – either the Danelectro original or the Jerry Jones reissue for rainy outdoor shows on "Paint It Black" and "Jumpin' Jack Flash." For the slow acoustic numbers, Wood enjoys the slide effects he elicits from a hollowbody Weisenborn ("No Expectations"). His acoustics include a Gibson J-200 and a Zemaitis adorned with silver. Other favorites include a custom Zemaitis electric he uses for rockers like "Rough Justice," "You Got Me Rockin'," and the classic "Can't You Hear Me Knockin'." He also favors the unique "BBB" (black B-bender), a Ron Wood signature Fender Telecaster.
Wood's most-used stage guitar is still his beloved '55 Fender Stratocaster, while he'll grab his prized original '52 Telecaster for classics like "Honkey-Tonk Women." And his readily identifiable slide sounds are partly the result of using slides fashioned by his guitar tech, Dave Rouze, using standard 3″ copper tubing.
While talk of a Stones tour in 2011 is being bandied about, Wood is focused on his new album, I Feel Like Playing (Eagle Records). His seventh solo effort, it's his first in nine years. To get the raunchy no-frill rock-and-roll guitar sounds he is famous for, Wood used his trusty '55 sunburst Strat, '64 white Firebird reverse, red '67 Strat, all cranked up through a '50s Fender Tremolux, a '56 Fender low-powered tweed Twin, a '58 high-powered Twin, and a new Fender Vibro-King. To get an early Hank Marvin/Shadow's sound when needed, Wood added a '60 Watkins Dominator.
With an impressive cast of fellow rock-and-roll renegades including ZZ Top's Billy Gibbons, former Guns 'N Roses axeman Slash, Red Hot Chili Peppers' bassist Flea, and Pearl Jam's Eddie Vedder, the album is exactly what one would expect from Ron Wood.
Why did you now decide to come out with another solo album?
(Record producer) Steve Bing actually started the project. I happened to be in L.A., and he said, "Hey, Ronnie. I would love to hear you play. I've booked The House Of Blues, and I've got (drummer Jim) Keltner, and Ivan Neville." I said, "Okay… cool." I hadn't thought about making any new tracks. So I got hold of Flea and brought in (longtime Rolling Stones backup vocalist) Bernard Fowler. We cut "Spoonful," and it all just snowballed from there.
Did you have a stockpile of tunes ready for the album?
I had some phrases that had been knockin' around my head, for awhile, like "Why'd you wanna go and do a thing like that for," and (sings) "Well, I don't think so." So, there were songs waiting to come out from phases. One day, I heard Bernard say, "Sweetness, my weakness." I said, "That's not a greetin.' That's a song." So he said, "You write it," and I did. We'd write songs in the morning, and cut them in the afternoon. Everything on the album came together very easily.
Some time ago, you said, "You don't make solo albums to have hits." Do you still feel that way?
Well, I've changed my way of thinking, because I hope to have one or two hits of this album. When the record company told me "Lucky Man" became the most requested song on Amazon, I went, "Wow! Fantastic! I've had a little flash of fame of my own."
How did Slash come to play on the album?
He was working in the next studio, and I'd bring him over, and say, "Come on, Slash. You know exactly what I want. Go ahead and play." Then Billy Gibbons would walk in saying, "Hey, man. I've got a great song for you called 'Thing About You,' and I'd say, "Come on then. Let's play it." We'd work a little on the arrangements, then just do it. I love that spontaneity.
People buying the album might expect to hear you doing all of the solo work. But you recruited other guitarists, like Slash and Gibbons…
Well, I'm doing solos, but sometimes I'd let Slash take half, then I'd do half, and then we'd both perform the last part together. I did that with Billy, too. But for most of the songs, I left room for me to solo.
It's nice to have a rapport with those kinds of guitar players, because they don't mind playing a rhythm or just a simple thing in the background. However, if I'd also tell them, "Let loose," they'd go, "It's your album. You do the flashy stuff." So, it's not like they were trying to steal the limelight, or that I'd be giving up my rightful place.
It's hard to explain; it's a give-and-take thing going on among musicians. For instance, I might like a little phrase Slash did, and later decide to keep it on the track.
You can tell where Gibbons comes in with his trademark crunchy guitar on "Thing About You."
That's really me being a Gemini (laughs)! You see, I'm very chameleon-like. It's me sounding like Billy Gibbons, and him sounding like me. We're weaving together in the solos, so that quite honestly I don't know where I start and leave off, where Billy takes over, and visa versa. It's nice to know it's not cut-and-dried, like he's doing this bit and I'm doing that bit. Weaving is something I've been doing with Keith Richards since we started playing together. It's an ancient musical form where we just "talk" to each other through our guitars.
The Stones have incorporated reggae for years, especially on some of your songs with them. "Sweetness My Weakness" is almost a tribute to Bob Marley.
It's actually an homage to Gregory Isaacs, and I'm really pleased with the way it came out. I didn't want to over-sing it. When you analyze that track, none of us is really playing a reggae beat. It just came out sounding like a reggae song.
When you were growing up in England, who were the first performers who inspired you, musically or visually, to think, "Hey, I'd like to do something like that with my life…"?
Oh, definitely the first was Fats Domino, with his record, "I'm Walkin'," and alongside him, Jerry Lee Lewis (W oods performs on Lewis' new album, Mean Old Man). The early Jerry Lee stuff was very important to the changeover in British musical tastes, blended with the influence of Muddy Waters, Howlin' Wolf, and Chuck Berry, and even earlier, Big Bill Broonzy and Leadbelly. It all crossed over from the music of Louie Armstrong and Bix Beiderbecke. I got all of the traditional jazz influences from (brothers) Ted and Art, who were eight and 10 years older than me, and turned me on to R&B. They had bands who backed up some of these blues guys when they came to England.
And you actually backed Memphis Slim when you were very young…
Yeah, that was my first gig away from my group, The Thunderbirds. We later found out that (singer) Chris Farlowe had a group with the same name, so we had to knock off the "Thunder" part and became The Birds. This old, black crooner came up and asked (whispers) "Hey, boys. Would you back me up?" We were teenagers who didn't know him from Adam. But he seemed like a gentleman, so we backed him for a bottle of whiskey. It was a real turn-on for me, though. Shortly after that, I got friendly with Bo Diddley at The 100 club.
I also used to go see Muddy Waters when he came to town. He always thought I was in the Stones. It was really funny when I saw him years later. I said, "Muddy, I'm finally in the band you always thought I was in." He said, "I knew you'd do it." (laughs)!
When you first saw The Stones perform at The Richmond Jazz and Blues Festival in '64, did you seriously think that one day, someone in the group would drop out, and you would be asked to join as a full-time member?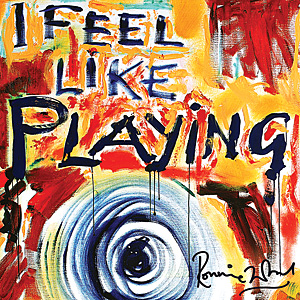 You know, I was just so captured by their performance, I thought, "Someday, I'm gonna be in that band." I was the last one out of this tent, and I banged my leg really hard on this huge tent peg. It really hurt, but I didn't think about the pain. I was just thinking, "Yeah, that's my band." I got to meet them, and funny enough, after Brian Jones died, when they were initiating Mick Taylor, I was going around the outskirts of (London's) Hyde Park, and right in front of me, Mick (Jagger) and Charlie got out of this car and called out, "How are you doing?" I said, "I'm fine," and they shouted back, "Well, we'll see you."And I said, "Yeah, sooner than you think." I was just in the right place at the right time when (five years later) Mick Taylor told Jagger he was leaving the band. Mick looked at me, and said, "What am I gonna do? Will you join?" It was so funny. It was like fate was playing the cards.
Of course, that must take you all of one second to consider…
Yeah, but Mick also said, "To be fair to The Faces, I don't want to split them up." I said, "Nor, do I." So Mick said, "Well, if I get really desperate, could I ring you up?" I said, "Of course." So about a year later, when I was in L.A., Mick rang me up.
This must have been in '75, but didn't Mick actually call you right after Brian left, and you didn't learn about the call until around five years later?
Yeah, that's right. He rang me up through Ian Stewart, the piano player/roadie we sadly lost around 20 years ago. Ronnie Lane told him, "No, Ronnie's quite happy here." When I found out, later, I said to him, "Why didn't you tell me about the call?" He said, "Because you're happier here, my boy!"
What do you remember about the first session you played with Keith Richards… as a bassist… on P.P. Arnold's 1966 recording, "Come Home, Baby?"
We were doing the session for Andrew (Loog) Oldham. I remember people like Keith Emerson on the organ, Nicky Hopkins on piano, and Keith on guitar. We also did some other things with Rod, like "Little Miss Understood," and P.P. Arnold's cover of Cat Stevens' "The First Cut Is The Deepest." (Ed. note: Stewart's version of "Cut" came many years later.)
It was really a great way of mixing and matching different genres of music together. Different bandmates from far afield all coming together. You'd get these random phone calls, "Can you be there at this studio?" You never knew who was gonna be there, or who'd walk in." It was like, "Wow, there's John Lennon over there," or someone like him. Those were really fantastic days.
So you were all close in those days.
Yeah, it was a great, thriving time. Everything would come to a head at the record company Christmas parties. You'd jump from one company to another, and party with people like Viv Prince and The Pretty Things, then go to The Who's office and party with Townshend and Keith Moon. All the members of The Small Faces would be up at Immediate Records. The Stones and Beatles would all be down the road. It was all mad. All everyone was thinking about was, "Wow, let's party!"
What do you think has made that generation of British musicians endure, still active and creative more than 45 years after hitting the scene? Certainly, none of them could have foreseen being this popular in 2010.
Well, we were all born with that imbedded thing, almost like being born with a guitar in your hands (laughs)! I was like that. That's what we all did. You wouldn't give up, even if in the back of your mind you thought you really couldn't play. You would just get up there and front it out, which is something I still do to this day. I've got a lot of front in me. I just jump in the deep end and play.
Your formative years in England must have been very exciting.
Back then, you'd bump into Jimmy Page, who was a top session guy at the time. Jeff Beck was a schoolmate of his, and he told me that Jimmy was the one who was playing the solos on all those hit records. Me and Jeff would be on a train, and we'd see Jimmy on the platform. It really was a small world. We'd go past Ealing Station coming home from school, and I'd see Keith Moon playing football. We were all just knocking around. But deep down, we had a dedication to playing music and sticking in there, never giving up.
If in 1964 some caricaturist had drawn a picture of what he imagined Mick Jagger would look like at 67, it would probably be of an old man with a cane. But of course, that's not the case.
It's like 65 has become the new 40. It's all truly amazing, the music and continual creativity, the ambition, always wanting to get better and taking on new things.
It's always that way for me in the art world with my paintings, going through phases. I'm always learning. It's the same with music; always striving to find new ideas.
How did you feel about the recent Faces' reunion shows?
They were both really good, actually. We did the O2 Festival in Goodwood, and another gig in Denmark with Mick Hucknall singing just like Rod did in the '70s. Mick sang well, and shut up a lot of people who said, "What? He'll never sound like Rod." Well, he did!
Is there any chance Rod will be involved in future Faces' reunions?
I just got an e-mail from Rod, and he's open to ideas. He said, "Hey, let's see about going out and playing again." So we'll see. We're planning shows in January with Mick.
The Stones are rumored to have a new album and tour planned for 2011. What's the latest on that?
We won't know until we've had our winter meetings, but we're all looking forward to them with itchy feet.
You've had an incredible 35-year run with The Stones so far. Can we assume you've forgiven Ronnie Lane for possibly preventing you from joining six years earlier?
To be truthful, if I had, I'd probably have become a junkie straight away, and would probably have OD'd… or I'd be dead now.
---
This article originally appeared in VG January 2011 issue. All copyrights are by the author and Vintage Guitar magazine. Unauthorized replication or use is strictly prohibited.
---
---