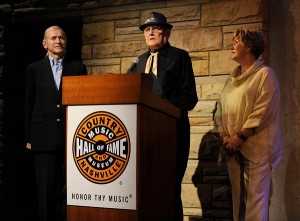 Chet Atkins coined the term "Certified Guitar Player" to describe an artist who personified the ultimate in performance skill and musical quality. Atkins personally bestowed the C.G.P. title on only four guitarists:  Tommy Emmanuel, John Knowles, the late Jerry Reed, and Steve Wariner.
In an August 13 program to mark the opening of the "Chet Atkins: Certified Guitar Player" exhibit at the Country Music Hall of Fame & Museum, Atkins' daughter, Merle, asked Steve Wariner to help her continue her father's tradition and read a proclamation that officially conferred the final C.G.P. title on Paul Yandell, who had been Atkins' bandleader and confidant for more than 30 years.
An accomplished player by the time he left high school, Yandell moved from western Kentucky to Nashville in 1955. He began his career with The Louvin Brothers, then played for Kitty Wells and Jerry Reed. He joined Atkins in 1975 and spent 25 years supporting his career.
As a top Nashville session player, Yandell also played on hit records with Atkins, Reed, Dolly Parton, Steve Wariner, Hank Thompson, Perry Como, Roger Whitaker, Les Paul, Woody Herman, The Everly Brothers, and Mary Chapin Carpenter. He also appeared on numerous TV shows.
Following Atkins' passing in 2001, Yandell released Forever Chet, which featured songs Atkins had performed throughout his career. Yandell's 2004 Dream Train featured many of his own tunes and was largely performed on the Gretsch Nashville Classic guitar he co-designed. Yandell released In the Groove in 2005 and Drive On in '06. In '09, he performed at the ceremony at which Atkins was inducted into the Musicians Hall of Fame in Nashville.