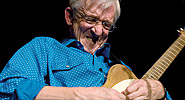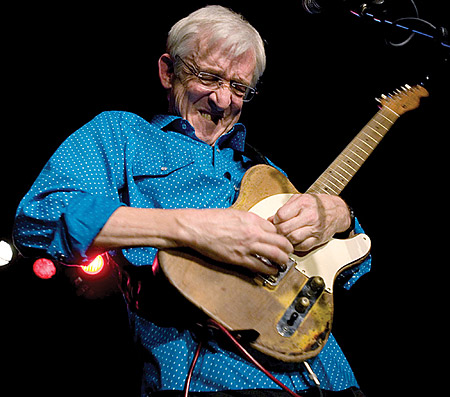 Trying to top 2006's Hammer Of The Honky-Tonk Gods, Bill Kirchen's eighth solo album, would seem a mighty tall order. Then again, he set what would have been a surprisingly high bar for anyone else with his '94 solo debut, Tombstone Every Mile.
Word To The Wise (Proper American) manages to push the Tele-toting "King Of Dieselbilly" ever-forward while reuniting him with a talented aggregation of colorful characters from his past. It's one of the few star-studded albums that doesn't yank the listener to and fro like an Easter-egg hunt of genres shouting "Celebrity over here!" It's organic approach feels as if Kirchen is simply leading an expanded combo, letting the rhythm guitarist step forward to sing one, then dueting with the group's female vocalist, etc.
"I wanted to be sure to only pick people that I a) had worked with, and b) liked," he says. "In some cases, I liked them for a real long time." Longtime Kirchen fans are likely to also be fans of people like Maria Muldaur, Dan Hicks, Nick Lowe, Squeeze's Paul Carrack, Elvis Costello, Asleep At The Wheel's Chris O'Connell, departed harmonica ace Norton Buffalo, keyboardist Austin de Lone, the mysterious Blackie Farrell, and, of course, Kirchen's original bandleader in the Lost Planet Airmen, George "Commander Cody" Frayne.
Of getting these talents to "the gig" on time, as it were, as Kirchen hop-scotched the globe, he reflects, "I thought I was lucky to be able to be there, and I liked the fact that [producer] Paul Riley came over to America and traveled around with me, harvesting some of the stuff. The only ones we weren't there for were Elvis' vocal in Vancouver and Norton Buffalo's harmonica. I tried to do my homework and figure out what keys would be best for people. I did a lot of recording in my house, too. I would use Logic, and I had a couple of good microphones."
In addition to collaborations with his wife, Louise, and Austin bassist/songwriter Sarah Brown, Bill and Blackie (whose songwriting partnership goes back to "Mama Hated Diesels") pulled a new rabbit out of their hat with "I Don't Work That Cheap."
"The inspiration was Bo Diddley and 'Who Do You Love,' trying to write a brag song," Kirchen explains. "It's a cartoon, basically. And I got that line from Johnny Gimble – 'You can't pay me what I'm worth; I don't work that cheap.'"
The title tune, on which Kirchen duets with co-writer Dan Hicks, features some jazzy picking on Kirchen's OO-18. "That just jumped out. On the Cody bus, we didn't listen to rockabilly or rock and roll, and very little hard country – that, I did on my own. We listened to swing and Western swing almost exclusively. I won't claim to have learned it, but I assimilated some of it. I guess it's guys like Tiny Moore and Johnny Gimble and, to some extent, Eldon Shamblin and Junior Bernard – although I don't sound much like him."
But the axe that's so synonymous with Kirchen – he immortalized it on Hammer – is, of course, the Telecaster. "The main one was my Big Tex guitar that Eric Danheim makes (see this month's "Builder Profile," page 88 with Lollar pickups," he details of his Big Tex '55 T. "I didn't take my old Tele to England, but when I got back home I used it on some of the recording. And at the very end, I got a little bit of the Rick Kelly guitar [a Kellecaster] on there. It's got a big, huge, fat neck, Don Mare pickups, a pine body and neck, and no truss rod. Bear in mind, all of the Martins I have don't have truss rods, either; it's not like they're mandatory."
Kirchen decided to give the Fender he's played for 40 years (now so worn maybe an inch of its once-sunburst finish remains) a much-deserved retirement. "One reason is I wanted a wider neck. I never liked real skinny necks, because I grew up playing acoustics. Secondly, I've done so many four-fret, two-full-step neck-bends with it, I have to adjust the truss rod almost daily. Thirdly, it's got value to it, and at some point you think, 'Maybe I'm silly taking it around.' Also, I was interested in going back to honestly single-coil pickups, as opposed to the Bardens. Bear in mind, that was the first Tele I ever had. I didn't choose it; it chose me. I noticed that my three favorite guitar players – James Burton, Don Rich, and Roy Nichols – all played Teles. So I traded my SG for it."
On songs like "Valley Of The Moon," Kirchen displays his mastery of the underrated art of taking a half-chorus and tossing it to the next guy. "It wasn't until the past 10 years or so that I found myself in the position of playing longer solos, taking three or even four choruses in a row. I never really did that in any band; it was always a tight little thing. I still almost have mixed feelings about that. I enjoy it when I do it, but the long soloing is not something that comes naturally to me. I think more in terms of saying your little piece – get in and get out. Have a little tune that'll break the tension of the vocal." He laughs, "On 'Shelly's Winter Love' and 'Husbands And Wives,' it's not really time to go, 'And now, ladies and gentlemen!' No foot up on the monitor or hair whipping back and forth."
One notable exception is "Man At The Bottom Of The Well," where Kirchen's atypically distorted guitar perfectly complements Costello's pleading vocal. "We went hard on that one. I think I'm using my Talos amp cranked, with the Talos Ass Bite. It's this pedal with two knobs – one for Ass, one for Bite."
Having recently become a grandfather, the 62-year-old member of the D.C. Music Hall Of Fame will soon be moving back to his one-time home base of Austin. "It's granddaughter driven, but, also, when I'm in Austin I end up sitting in with someone almost every day of the week – which I never do around D.C. – and we go walking by the lake, riding my bike with my dog. It's just the way to go."
But there are no plans to quit touring. "I'll still hit the road and keep Johnny and Jack," he says of bassist Castle and drummer O'Dell. "I'll have to schedule a little tighter, and it'll cost more in plane flights. I'll just have to be a little more successful – but I don't see why I can't."
---
This article originally appeared in VG July 2010 issue. All copyrights are by the author and Vintage Guitar magazine. Unauthorized replication or use is strictly prohibited.
---