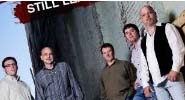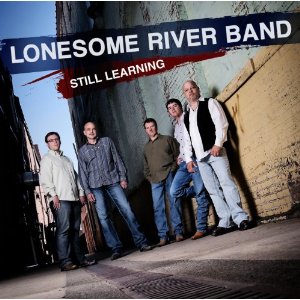 The Lonesome River Band has been around for 30 years. And while he wasn't a founding member, banjo player Sammy Shelor is the de facto leader of the band by virtue of tenure. On their latest album, the band delivers the same driving sound that has made them fan favorites.
The Lonesome River Band's roster has included bluegrass luminaries including Ronnie Bowman, Dan Tyminski, Adam Steffey, Kenny Smith, Ron Stewart and Rickie Simpkins. The current lineup includes Brandon Rickman (guitar and lead vocals), Andy Ball (mandolin and vocals), Mike Anglin (bass), Mark Hargrove (fiddle) and Shelor (banjo, harmony vocals).
As its oldest member, Shelor is the lynchpin. His right-hand precision infuses every song with a solid rhythmic pocket, and his playing is unique due in part to his ability to be ever-so-slightly on top of the beat without speeding up. Rickman, who has two solo albums under his belt, adds four songs to the mix, including the title tune. His bluesy "Forty Days in The Desert" combines pentatonic licks with old-testament narrative. On "As Wild As I Get," Rickman weaves a tale of youthful hi jinx with adult love. The melody is hauntingly delicate with perfect harmonies and gently restrained mandolin fills from Andy Ball. Lonesome River's cover of Ashby Frank's "I've Seen the Blues" combines carefully crafted vocal harmonies with hot solos to form a nearly perfect bluegrass song.
If you are a Lonesome River fan (and what bluegrass fan isn't?), you'll enjoy this disc. If you don't have Lonesome River albums in your possession, it's time to start.
---
This article originally appeared in VG's Jan. '11 issue. All copyrights are by the author and Vintage Guitar magazine. Unauthorized replication or use is strictly prohibited.
---