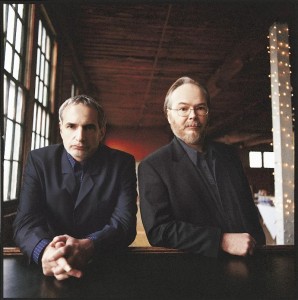 Rock & Roll Hall of Famers Steely Dan dazzled the public and critics alike in 2009 with their classic-albums-in-full "Rent PartyTour." Now the band is responding to overwhelming popular demand andreturning to give fans more Steely Dan action with a new summer tour, Shuffle Diplomacy Twenty Eleven.  This year's tour, which kicks off in Seattle on July 2 and concludes in Boston on September 28, will showcase greatest hits and deep cuts alike; plus select cities will feature performances of complete albums plus fan voting online to determine a night's set.  Steely Dan masterminds Walter Becker and Donald Fagen have announced this year's program will also include special guests, and an idealistic strategy for World Peace.  Acclaimed jazz artist Sam Yahel is on board as the tour's main support act.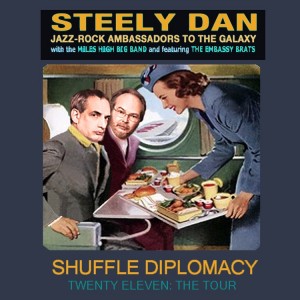 For Shuffle Diplomacy Twenty Eleven, Donald Fagen and Walter Becker are back with their awesome group of players, now dubbed the Miles High Big Band, and their saucy backup trio, the Embassy Brats. The Band and the Brats include Keith Carlock (drums); Jon Herington (guitar); Freddie Washington (bass); Jim Beard (keys); Michael Leonhart, Walt Weiskopf, Roger Rosenberg and Jim Pugh (horns); plus background singers Carolyn Leonhart, Cindy Mizelle, and Catherine Russell.
For more, visit www.steelydan.com.
STEELY DAN 2011 U.S./CANADA TOUR DATES
Sat. July 2 – Seattle, WA – WaMu Theater
Sun. July 3 – Portland, OR – Arlene Schnitzer Concert Hall
Tues. July 5  – Saratoga, CA –  The Mountain Winery
Wed. July 6 – Santa Barbara, CA – Santa Barbara Bowl
Fri. July 8 – Los Angeles, CA –  Greek Theatre
Sat. July 9 –  Los Angeles, CA –  Greek Theatre
Tues. July 12 – Tulsa, OK – Brady Theater
Wed. July 13 – Thackerville, OK – Winstar Casino
Fri. July 15 –  Indianapolis, IN – Murat Theatre
Sat. July 16 – Detroit, MI –  Fox Theatre
Tues. July 19 –  Cincinnati, OH – PNC Pavilion
Wed. July 20 –  Toledo, OH – Toledo Zoo
Fri. July 22 –  Toronto, ON –  Molson Amphitheater
Sat. July 23 – Canandaigua, NY – Constellation Brands
Mon. July 25 – Danbury, CT – Ives Center
Tues. July 26 –  Lenox, MA – Tanglewood
Fri. July 29 – Mashantucket, CT – MGM Grand at Foxwoods
Sat. July 30 – Atlantic City, NJ – Borgata Event Center
Tues. August 2 – Columbia, MD –  Merriweather Post Pavilion
Thurs. August 4 – Durham, NC – Durham Performing Arts Center
Sat. August 6 – Atlanta, GA –  Chastain Park
Sun. August 7 – Atlanta, GA – Chastain Park
Wed. August 10 – Bethlehem, PA – Musikfest
Fri. August 12 – Highland Park, IL – Ravinia Festival
Sat. August 13 – Highland Park, IL –  Ravinia Festival
Mon. August 15 – Interlochen, MI –  Kresge Auditorium
Wed. August 17 – Louisville, KY – Palace Theater
Fri. August 19 –  Nashville, TN – The Woods at Fontanel
Sat. August 20 – Tuscaloosa, AL – Tuscaloosa Amphitheater
Sun. August 21 – Orange Beach, AL –  Snowden Grove Amphitheatre
Wed. August 24 – St. Louis, MO – Fox Theatre
Thurs. August 25 – Kansas City, MO –  Starlight Theatre
Sat. August 27 – Milwaukee, WI – Riverside Theater
Sun. August 28 –  Milwaukee, WI – Riverside Theater
Tues. August 30 – Minneapolis, MN – MN State Fair
Wed. August 31 – Omaha, NE – Orpheum Theater
Sat.  September 3 – Aspen, CO  – Jazz Aspen
Fri.  September 9  – Upper Darby, PA –  Tower Theatre
Sat. September 10 – Upper Darby, PA – Tower Theatre
Tues. September 13 – New York, NY – Beacon Theatre
Wed. September 14 – New York, NY – Beacon Theatre
Fri. September 16  – New York, NY – Beacon Theatre
Sat. September 17 – New York, NY – Beacon Theatre
Tues. September 27 – Boston, MA – Wang Theatre
Wed. September 28  – Boston, MA  – Wang Theatre