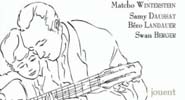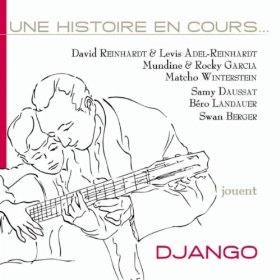 In honor of the centenary of Django Reinhardt's 1910 birth, the tribute albums are being released as quickly as Django ever played a two-fingered arpeggio. This one from France may be the most exciting, with yet another new generation of Gypsy jazz phenoms and tracks from Django's kin, David Reinhardt and Levis Adel- Reinhardt.
The disc title translates roughly as "A Living History." With seemingly more CDs of Gypsy jazz released last year than ever before, it's certainly a thriving genre. And as this album proves, there's third and fourth generation of Romany guitarists strutting their stuff.
David Reinhardt is Django's grandson and the son of Babik Reinhardt, who was himself a stylish jazz guitarist. David is 20-something and adept at both Gypsy jazz and modern jazz, acoustic and electric. He's been a name on the Paris jazz scene for almost a decade, playing in traditional Hot Club groups as well as leading an organ trio.
Levis Adel-Reinhardt is the grandson of Django's brother, Joseph Reinhardt, who married into the equally famous Romany musical clan of the Adels. Just in his early teens, this marks Levis' first commercial recording. Together, the cousins trade solos on Django's bebop-influenced "Blues for Ike" and "Vamp."
Other standouts here are the Reinhardt's cousin Noé Reinhardt, who plays impressive versions of "Dinette" and "Hungaria."
The duo of Mundine and Rocky Garcia perform with one foot keeping time in tradition, the other leaping into the future. They are grandsons of Mondine Garcia, patriarch of the famous Manouche duet that's played at the Parisian Gypsy jazz mecca in the Clignancourt flea market for decades, La Chope des Puces. And Rocky is none other than Ninine Garcia's son.
Others here include traditionalist Béro Landauer, Matcho Winterstein, Samy Daussat, Fred de Charco, and newcomer youngster Swan Berger. The history is indeed alive and well.
---
This article originally appeared in VG's Aug. '10 issue.  All copyrights are by the author and Vintage Guitar magazine.  Unauthorized replication or use is strictly prohibited.

---