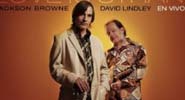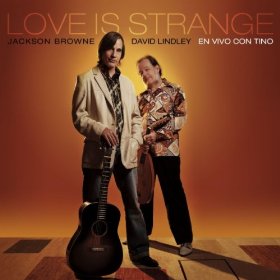 In his 40-year recording career, Jackson Browne has used a battalion of guitar greats, from Clarence White to Mark Goldenberg. But from '71 to '81, his guitarist (and fiddler and steel player and, sometimes, his whole band) was David Lindley. In the 19 years since Lindley launched his solo career with the classic El Rayo X, he and Browne have reunited for various projects and causes, and it's always been a reminder that, no matter who else comes and goes, he is Jackson's accompanist – in fact, even when he's not there, he's part of Browne's sound.
In 2006, Browne and Lindley toured Spain – initially with percussionist Tino di Geraldo rounding out the acoustic trio (hence the CD's subtitle "En Vivo Con Tino" or "Live With Tino"). The promoter of the Barcelona Guitar Festival suggested inviting some guests, so various musician friends sat in there and at other remaining dates.
With songs already re-imagined – Lindley sometimes choosing a different instrument than he played on the original recording, as well as finding a space in material that post-dated his tenure with Browne – and Javier Mas' "rehearsing is for cowards" philosophy, the results are fascinating.
Lindley did for lap steel what Los Lobos did for accordion; he made it a rock instrument (look around and note the propensity of such previously obscure makes and models as Weissenborns and Rickenbacker Bakelite lap steels). Not surprisingly, he plays acoustic Hawaiian slide on eight of the double-disc set's 17 songs – beginning with a more pensive rendition of 1993's "I'm Alive" and including Lindley's signature "Mercury Blues" (with Browne on baritone guitar).
On "Call It A Loan" and "Looking East," Lindley plays bouzouki and oud, respectively – the latter aided by di Geraldo's tablas. Lindley plays haunting fiddle on "The Crow On The Cradle," as he did when Browne performed it at 1979's No Nukes concert in Madison Square Garden – this time with Carlos Nunez on whistle. "Take It Easy" has proven a perfect bluegrass fiddle hoedown in pared down, unplugged contexts over the years, and this is no exception. Later in the program, Kiko Veneno sings a syncopated Spanish translation of the song, "Tu Tranquilo." "Late For The Sky" (with a reserved, lyrical guitar solo courtesy Lindley) is the only song on which Browne plays piano; everything else is strings and percussion.
After Lindley reprises his memorable falsetto on a medley of the title tune and "Stay," "The Next Voice You Hear" segues into a hypnotic jam – Mas' archelaud trading solos with Raul Rodriguez' tres – to close this 100- minute master class in songwriting and the art of accompaniment.
---
This article originally appeared in VG's Aug. '10issue.  All copyrights are by the author and Vintage Guitar magazine.  Unauthorized replication or use is strictly prohibited.

---