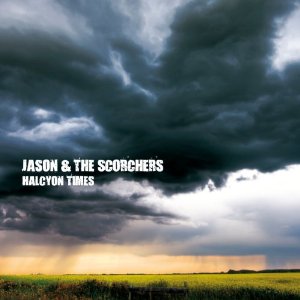 It's an unlikely story that cow-punk pioneers Jason and the Scorchers would be releasing an album in 2010. It's even more unlikely, so early in the year, to say it may end up being one of the year's best records.
Original members Jason Ringenberg and Warner E. Hodges are the lynchpins for the great music on Halcyon Times. Joined by Pontus Snibb on drums and Al Collins on bass, along with numerous friends including ex-Georgia Satellite Dan Baird (on acoustic guitar and vocals), they give JATS fans a healthy dose of the stuff they have long loved about the band, including scorching lead guitar from Hodges. From the first track, "Moonshine Boy/Releasing Celtic Prisoners," it's evident that no prisoners will be taken in this stomper with frantic guitar that toes the line between rock and country and has a funny biographical lyric.
Hodges' strengths as a guitarist are many. He manages to stay completely in control even while his solos sound set to careen. If a song calls for an unearthly country bend, it's there. If a soaring melodic solo is in order, it appears. If chugging, Keith Richards-style rhythms are needed (as on "Deep Holy Water") it carries the song. While the rhythm guitar forms the basis for that song, his short solo is an amazing mix of single lines, country bends, banjo rolls, and everything-in-between that manages to encapsulate a lot of what his playing is about.
Singer/guitarist Ringenberg is, of course, the voice of the band. His vocals, while every-man in nature, are as distinctive as the band's sound. He wraps himself around lyrics about working-class problems to the intricacies of the music industry and can cover whatever style the band adopts, including the frenetic mix of country and rock JATS is often credited with helping create, or a simple country-folk tune. There's no mistaking who's singing the song.
The new rhythm section proves up to the task and the production of Hodges and Brad Jones captures the band's spirit.
Here's hoping 2010 proves a big year for a band that missed well-deserved recognition the first few times around.
---
This article originally appeared in VG's Jul. '10 issue.  All copyrights are by the author and Vintage Guitar magazine.  Unauthorized replication or use is strictly prohibited.
---