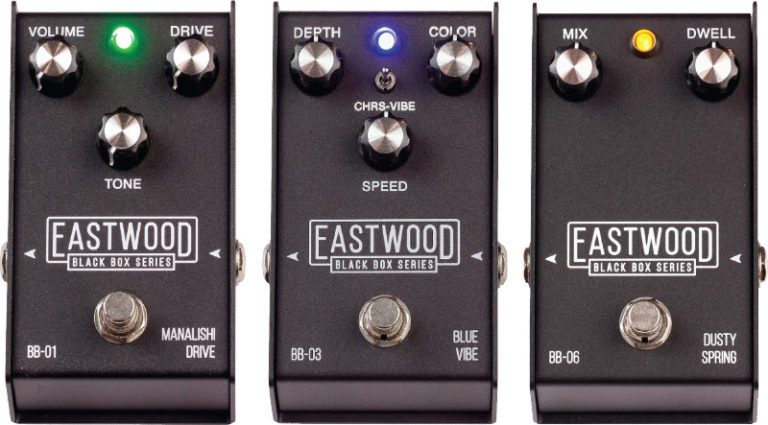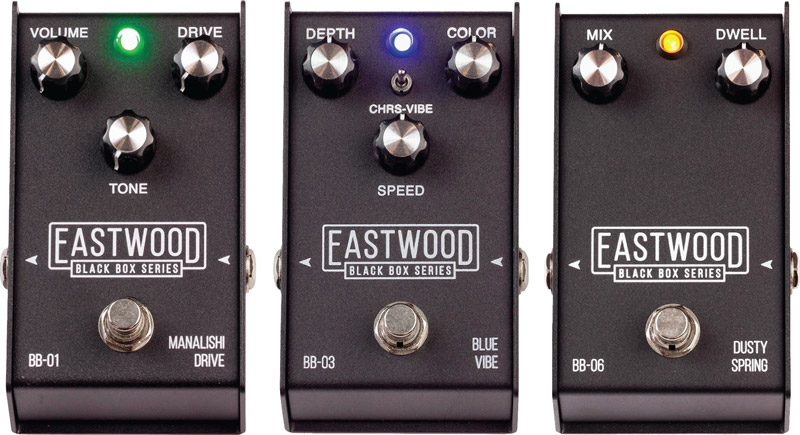 Eastwood Guitars promises retro-themed gear at wallet-reassuring prices, as seen in their new Black Box Series of stompboxes. Among the first flight are the BB-01 Manalishi Drive, BB-03 Blue Vibe, and BB-06 Dusty Spring reverb.
The Manalishi Drive is rife with Tube Screamer vibe, evoking the Japanese circuit that has powered thousands of albums and gigs. The Manalishi is all about potent overdrive, either to pump-up an already dirty tone or take a clean signal and give it a crunchy bath. There are simple controls for Volume, Drive, and Tone, for adding just a dab 'o dirt or full-on amp attitude. The resulting sounds are big and warm, improving the beefiness of tube, solid-state and – surprisingly – even modeling amps.
The Blue Vibe is inspired by the timeless Uni-Vibe; if you love the sounds of Hendrix and Trower, it evokes their swirling, aquatic tone. Knobs for Depth, Color, and Speed control the modulation parameters, while the Chorus/Vibrato switch lets you explore Jimi tones and edgy vibrato. Better yet, while many Uni-Vibe clones command big money, the Blue Vibe is affordable for most any player – and sounds like you're onstage at Woodstock.
The Dusty Spring is a digital reverb with a Leo-style voicing, notably from pre-CBS Super Reverb circuits. The box has just two knobs, Mix and Dwell – one to combine dry guitar signal with reverb, the other to determine the depth of its cavernousa tone. If you want a full surf-rock effect, max the controls and dig the sopping-wet sound of the early '60s. Or dial it back for subtler flavors, adding spacial dimension to your tone.
You'll also find two delays and a compressor in the Black Box Series, all evoking a utilitarian sensibility and doing their jobs well. They're all also true-bypass and won't break the bank. Any questions?
---
This article originally appeared in VG's September 2022 issue. All copyrights are by the author and Vintage Guitar magazine. Unauthorized replication or use is strictly prohibited.