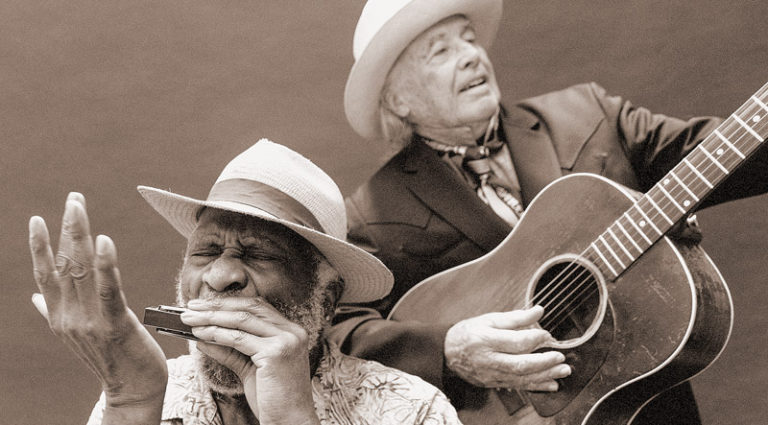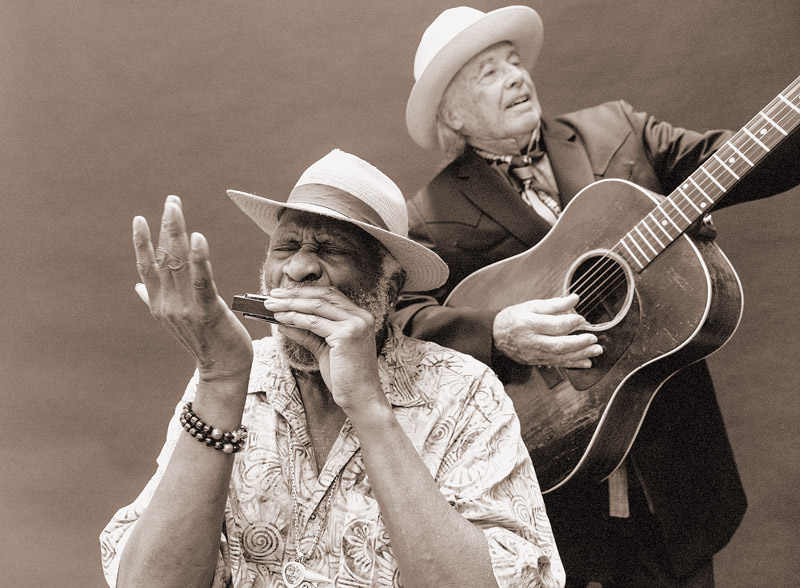 Despite (or because of) the huge Folk Boom of the late '50s and early '60s, these days "folk" is almost a dirty word in some circles. It's replaced with "singer/songwriter," as if that's a genre, not a job description, or "Americana."
I was a kid when the boom thrived, which was perfect because little kids haven't compartmentalized or developed prejudices in music. I heard my parents and their friends break out guitars and mandolins and banjos, singing "Michael, Row The Boat Ashore." Through them, I heard Leadbelly, the Kingston Trio, Peter, Paul & Mary, Dylan, Jesse Fuller, the Limeliters, Joe and Eddie, Clarence Ashley, Woody Guthrie, Flatt and Scruggs, and Pete Seeger.
The Folkways label released Get On Board in 1952, as "Negro Songs by the Folkmasters" – the duo of guitarist Brownie McGhee and blind harmonica wizard Sonny Terry with the addition of gospel singer Coyal McMahan. So it was already in my father's collection before I was born. I'd call it life-changing, but I didn't yet have a life to change; there's no time when its mix of blues, folk, gospel, and work songs wasn't already wafting through our house. Consider the comical image of a redheaded four-year-old in a NorCal suburb singing, "Jump down, turn around, pick a bale of cotton." Never mind that I didn't know what a bale of cotton was.
Now, Taj Mahal and Ry Cooder have released a tribute to Sonny and Brownie with the same title, marking the first time the Rising Sons partners have recorded together since Mahal's eponymous '68 debut. It's a wonderful nod to two hugely important figures in blues and folk coming from two iconic practitioners of American music.
Because of the Folkmasters tag, even ardent fans are unaware of that entry in the Terry/McGhee catalog, and bass singer and maracas player McMahan is as obscure as it gets. So it was a pleasant surprise to hear Cooder reinterpreting the gospel singer's showpiece, "In His Care," on his album The Prodigal Son.
McGhee's guitar style was simple compared to Piedmont six-stringers like Blind Blake and Rev. Gary Davis. In a making-of video, Cooder says, "I saw him do it and said, 'I think I can do that.'" In addition to their instrumental interplay and ability to mix folk songs and blues, McGhee and Terry set themselves apart by harmonizing vocally – something few blues acts did. Sonny shouted while Brownie almost crooned.
The new effort features four tunes from the original album and seven songs from McGhee/Terry's later career, including "Drinkin' Wine Spo-Dee-O-Dee," which was an R&B hit by Brownie's younger brother, Stick McGhee.
On the new record, Cooder plays a 1946 Martin D-18 – a model McGhee used in later years (in '52 it was likely a Gibson J-45 in '52), and an Adams Brothers flat-top from the early 1900s. Ry also plays electric and mandolin, while Taj plays harmonica, piano, and a Gibson Keb' Mo' Bluesmaster gifted to him by the younger singer. Ry's son, Joachim Cooder, supplies percussion.
In the video, Taj says, "It was so solid. They meant what they said, they did what they did." Ry feels, "It was a perfect ensemble thing, two people." Of "Pick A Bale Of Cotton," Cooder states, "Some people might say it's politically incorrect; I don't know." Mahal laughs, "If it was, I wouldn't have done it with you."
He concludes, "What a great opportunity, to really come full circle."
I eventually saw Sonny and Brownie several times, but the first was the most memorable, at the 1969 Berkeley Folk Festival. It closed out the last day by having all acts perform short sets in the Greek Theater. When Terry and McGhee walked on, it was literally the lame leading the blind. As Sonny held onto his partner's elbow, while Brownie, who contracted polio as a child, slowly walked with his built-up shoe and pronounced limp. They did Big Bill Broonzy's "I Feel So Good," then "Whoopin' The Blues," even though stage hands were already telling them they were going too long. Their exit was as methodic as their entrance, but the crowd insisted they turn around and do one more. They encored with "Treated Wrong," featuring their trademark harmonies.
Back then, they were pleasant with each other and cut dozens of albums together, but in later years didn't get along. Sonny used an assistant to help him on stage, and they sat in opposite corners of dressing rooms – as far from each other as they could. Terry, whose solo album Whoopin' was produced by Johnny Winter, died in 1986 at age 74. McGhee, who passed away in '96 at 80, recorded Facts Of Life with Robben Ford and his brothers.
Folkways is now Smithsonian Folkways, and the original Get On Board can be obtained from its website, as a download or CD-R. I can't recommend it enough.
---
© 2022 Dan Forte; all rights reserved.
---
This article originally appeared in VG's September 2022 issue. All copyrights are by the author and Vintage Guitar magazine. Unauthorized replication or use is strictly prohibited.
---