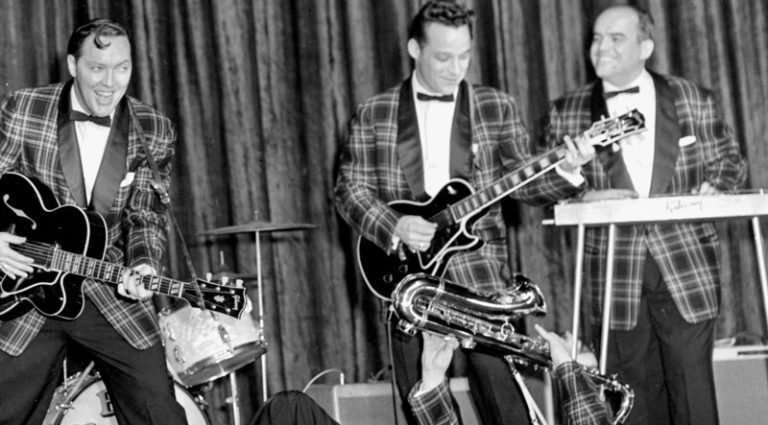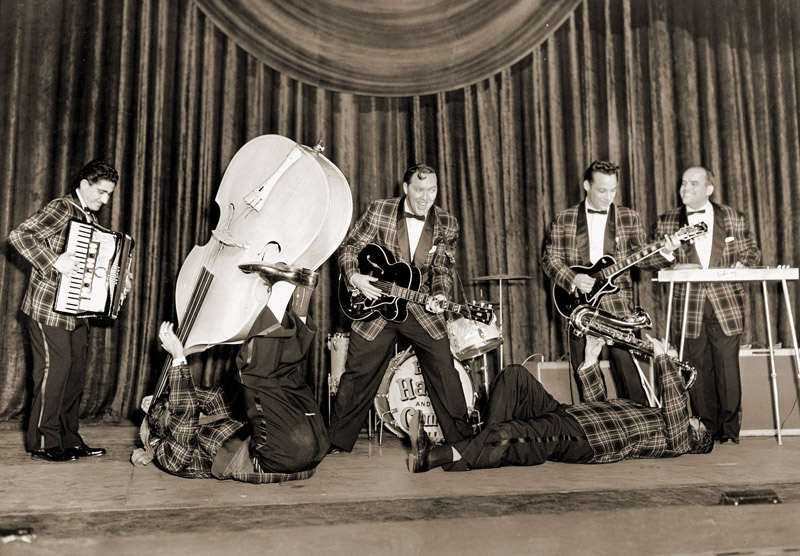 The ripples that anticipated a rock-and-roll tsunami were in motion in the 1940s, when pop, "race records," and country converged to produce rock's first wave. Until then, pop music ranged from Top 40 crooner fare and swing jazz to Latin and novelty numbers. Race records – blues, gospel, boogie-woogie and prototype R&B – and country/western, hillbilly, folk, and honky tonk typified the sound of black and white musical forms brewing in the south and southwestern U.S.
Each contributed to the rise of rock; during Charlie Christian's tenure with Benny Goodman (1939-'41), jazz brought riff-based tunes that had colossal effect on first-generation rock-and-roll guitarists – furthered by T-Bone Walker's merging of swing and blues. Other factors resided in the growing social/musical interaction of black and white populations and burgeoning youth culture. Francis Eugene Beecher was part of that beginning.
Born September 29, 1921, in Norristown, Pennsylvania, Beecher started on his sister's ukulele at age eight. By 12, he took up guitar at a time when there were no obvious role models, teaching himself through listening to cowboy music on the radio. In his teens, he studied with Eugene Claycomb at the Honolulu Conservatory of Music, and his first group was a country sextet called The Buckaroo Ramblers. He soon graduated to working with more-professional acts like the Four Sharps, a variety band led by singer/pianist Buddy Greco (veteran of Benny Goodman's bebop group).
The amalgam of jazz and country suited Beecher, who'd come of age in country music and by the late '40s was equipped (and inclined) to tackle jazz-inflected material with Greco, as heard on his '47-48 singles "Baby, I'm True to You" and "A Stranger in Town." When Greco's group disbanded, Beecher and the rhythm section joined Benny Goodman's "modern" combo; he recorded in the studio and performed on live broadcasts like "Toast of the Town," in '48 and '49, during the leader's excursion into bebop, leaving behind the albums Modern Benny and Benny Goodman at the Hollywood Palladium.
An established and influential player on the Philadelphia/Reading scene, in the fall of '54, Beecher was tagged to cover sessions for Bill Haley after the untimely demise of Danny Cedrone ("Fretprints," March 2019). His earliest contributions were to "Dim, Dim The Lights" (#11, November '54) where he was requested to simplify his approach and play a more-basic, country-inflected style that came to be rockabilly. As session player, he lent genre-defining guitarisms to Haley's Top 40 hits "Mambo Rock" (#17) and "Birth of the Boogie" (#26). He performed "Rock Around the Clock" with Haley on TV in August of '55, and formally became a Comet in time for film appearances in Rock Around the Clock and Don't Knock the Rock. The rock-and-roll art form, its guitar component, and Beecher's legacy were established with a string of Top 40 hits that heralded popular acceptance of the new music; "Razzle Dazzle" (#15, July '55) flaunted prominent guitar moments, as did "Burn That Candle" (#9, November '55), "See You Later, Alligator" (#6, January '56), "The Saints Rock 'N' Roll" (#18, April '56), "R-O-C-K" (#16, April '56), "Rip It Up" (#25, September '56), "Rudy's Rock" (#34, November '56), "Skinny Minnie" (#22, April '58), and the entire Strictly Instrumental album of '59.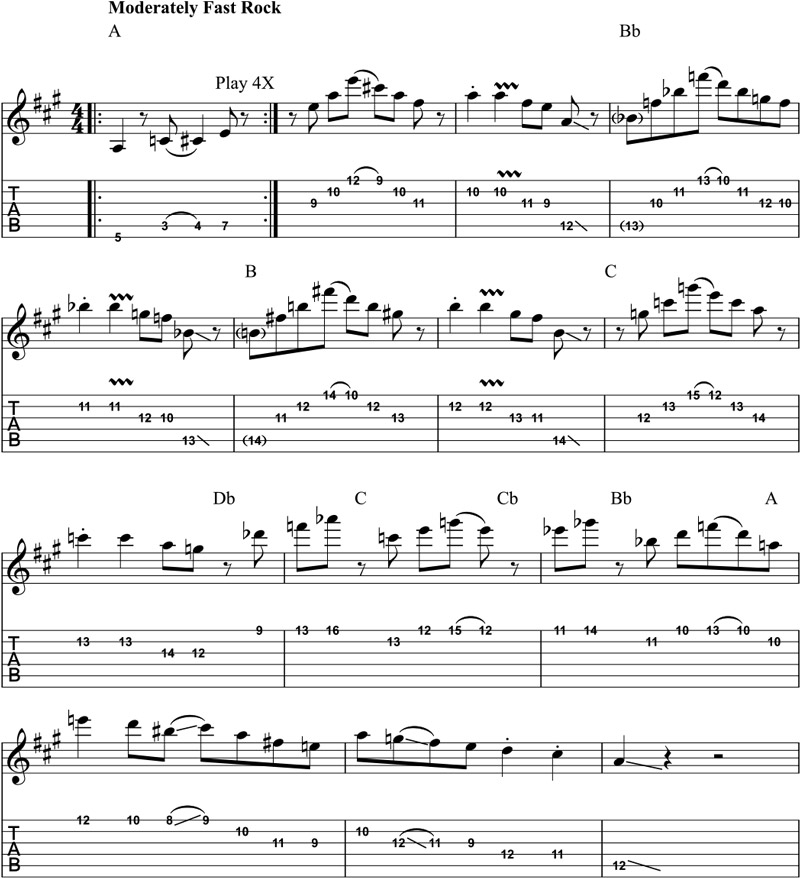 Rock-and-roll guitar in its earliest incarnation is capsulated in Beecher's intro to "Goofin' Around." This instrumental was a Beecher original and is prominent in the early biopic Don't Knock the Rock. He mixed bebop and swing-jazz sounds with boogie-woogie and Western influences, making for a potent brew. The opening melody is a familiar boogie riff in A, it gives way to series of arpeggio-based major-pentatonic theme melodies taken up in half steps from A to Db then back, reflecting the chromaticism of modern jazz. Note the fragmenting of the figures and syncopation while descending in measures 9-11. The phrase ending back in A is a classic Western-swing line, reimagined.
Moreover, possessing the ability to raise his voice into a child's range, Beecher was valuable as a novelty singer on "See You Later, Alligator," "Billy Goat," "Rip It Up," and conspicuously in "A.B.C. Boogie," a duet with Haley. He also wrote several tunes in the band's catalog, claiming composer credits on "Blue Comet Blues," "Goofin' Around," "The Catwalk," and "Shaky."
In '58, Beecher and the Comets (sans Haley) recorded for the East West label as The Kingsmen, releasing the Beecher originals "Catwalk" and "Week End" (later covered by Link Wray), which climbed the pop charts. He left the Comets in '60 to work with the Merri-Men, recording "Big Daddy"/"St. Louis Blues" on Apt, but rejoined briefly in '61 to participate in a live session that became Twisting Knights at the Roundtable. After his monumental innovations in Haley's band, he returned to Pennsylvania in '62 to lead a domestic life, extant in a 60-year marriage, working at a costume shop by day and playing local engagements at night with his quartet (guitar, sax, bass, drums). In '66, the group secured a residency at the Inn of the Four Falls, purveying Fran's blend of jazz, country, Latin and standards. He participated in Comets' reunions in '81, and in '87 appeared and recorded with a reconstituted Comets lineup until his official retirement in 2006. Already honored in the Rockabilly Hall of Fame ('97), in 2012, Beecher became a member of the Rock and Roll Hall of Fame by special committee, righting a wrong denied during the Haley/Comets recognition in '87. He played guitar into his 90s and was 92 when he died of natural causes on February 24, 2014.
STYLE
Rock-and-roll guitar was invented on seminal recordings with Haley and the Comets. Prompted by Haley, Beecher streamlined the bebop influences he brought to guitar solos and folded jazz rhythms into shuffling rockabilly grooves suggesting Western swing. This formula yielded commercial success and the sonic recipe for early rock. Fran is renowned for his mix of jazz, blues, and country, as well as their transplantation into the music. He was an adept and inventive soloist, demonstrated by his intricate licks in "Razzle Dazzle" and "Goofin' Around," and a solid ensemble player, providing counter melodies and bluesy/jazzy fills behind Haley's vocals throughout "Saints Rock 'N Roll" and "Dim, Dim The Lights." He was often called to double sax riffs, as in "Razzle Dazzle," "Burn That Candle," and the first verse of "R-O-C-K." Beecher's improvisations relied largely on single-note and double-stop phrases. On rare occasions, he alternated textures and approaches; "Skinny Minnie" is exemplary, where he juggles the fanfare of a tremolo-picked chord riff with double-stops and boogie-woogie bass-register lines. In Comets arrangements, Haley strummed rhythm on an acoustic archtop, leaving Beecher on electric to fill with melody, comp, punch partial chords, or add triads that often suggested repurposed big-band figures ("Rudy's Rock"), defining distinct rhythm and lead-guitar roles at rock's inception.
A versatile, colorful lead guitarist, the blues informed much of Beecher's innovation, and he was fluent with the swing, urban, and jump-blues vocabulary. In solos and fills, he tempered jazz inclinations with earthy blues elements, often juxtaposing them for an intriguing blend. Consider the Chuck Berry-inspired double-stops and T-Bone-based triplet runs, pentatonic/blues melody and string bends in "Blue Comet Blues" and "A.B.C. Rock." Though he favored a jazz approach in phrasing and tone, he routinely fused country and blues mannerisms with more-sophisticated ideas, driving the point further with his '73 reference to Howard Roberts, citing him as an influence "…because he plays with soul." That open mindset, guided by feel, is ubiquitous in Beecher's playing. Many of his landmark moments bear a similar blues-jazz-country pedigree and soulful execution. Check out the quick riffs in "Burn That Candle," "Saints Rock 'N Roll," and "Rock-A-Beatin' Boogie," which are reinterpretations of a swing-blues motif and a recurring idea in his solos. The line became a staple of rockabilly guitar, passed around and reprised by Brian Setzer in "Rock This Town." "Razzle Dazzle" features a serpentine fiddle-tune melody in a solo belying country roots, albeit tremolo-picked with an energetic rock attitude set into blues changes. In the "R-O-C-K" solo, his lead riff applied a single country-flavored pentatonic line to blues changes. Unlike Scotty Moore, et al, his country influence arose from Western swing rather than the Merle Travis/Chet Atkins school. Haley's songs were typically built on 12-bar blues and variants with characteristic I-IV-V chord progressions as is traditional in the genre, creating an organic repository for Beecher's improvisations. He clung to these precepts in "Catwalk," "Shaky" (which exploits a guitar riff reminiscent of "Peter Gunn"), "Goofin' Around," and "Blue Comet Blues." The structure, riffs and attitude in those pieces exemplify rockabilly's blues origins.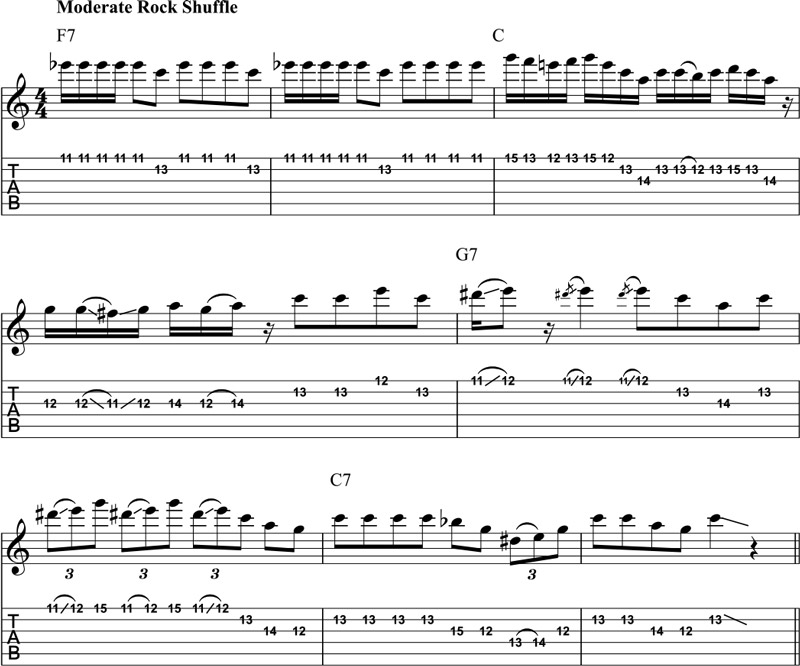 "Razzle Dazzle" continued the evolution begun with "Rock Around the Clock." In this flight, the virtuosity of Danny Cedrone in the earlier solo was answered by Beecher's intricate lines. Like many tunes in the Haley playlist, the piece is built on the 12-bar blues form, here in C. This excerpt, at 1:13, takes place over the IV-I-V-I changes of the progression; F7-C-G7-C. Note Beecher's quick tremolo-picked approach, which alternates attacking repeated notes for an aggressive feeling in measures 1-2 over F7 to a florid fiddle-tune lick in 3-4 over C. He completes the chorus with riff-based swing-blues ideas exploiting the C major-pentatonic and leading tones over 5-8.
Beecher applied jazz sounds sparingly (but effectively) with Haley, reflecting time spent with Greco, Goodman, and others. Several examples make the case; the opening phrases in "Goofin' Around" contain modulating chromatic lines leading to a breezy Western-swing landing phrase. The chromatic motion and content is modern and horn-like in conception, revealing his comfort with jazz melody cells. In "Saints Rock 'N Roll," he handled solo changes with the mentality of a bebop player, outlining the harmony with updated Dixieland jazz melodies. And the ending phrase of "Rock-A-Beatin' Boogie" boasted undisguised jazz connotations in its chromaticism and swing-blues delivery colored by an appropriately edgy overdriven tone.
ESSENTIAL LISTENING
Bill Haley & His Comets 20th Century Masters is a serviceable compilation containing most of the famed tracks with Beecher. Also recommended is Strictly Instrumental, which reveals his versatility and depth.
ESSENTIAL VIEWING
Numerous vintage clips of Beecher with Haley herald the arrival of rock. Among the best are "Goofin' Around," "Hot Dog Buddy Buddy," "Rip It Up," "See You Later, Alligator," from Don't Knock the Rock, as well as performances from "The Ed Sullivan Show," "American Bandstand," "Saints Rock 'N Roll," "Shake Rattle and Roll" and "Rudy's Rock" from Belgium ('58).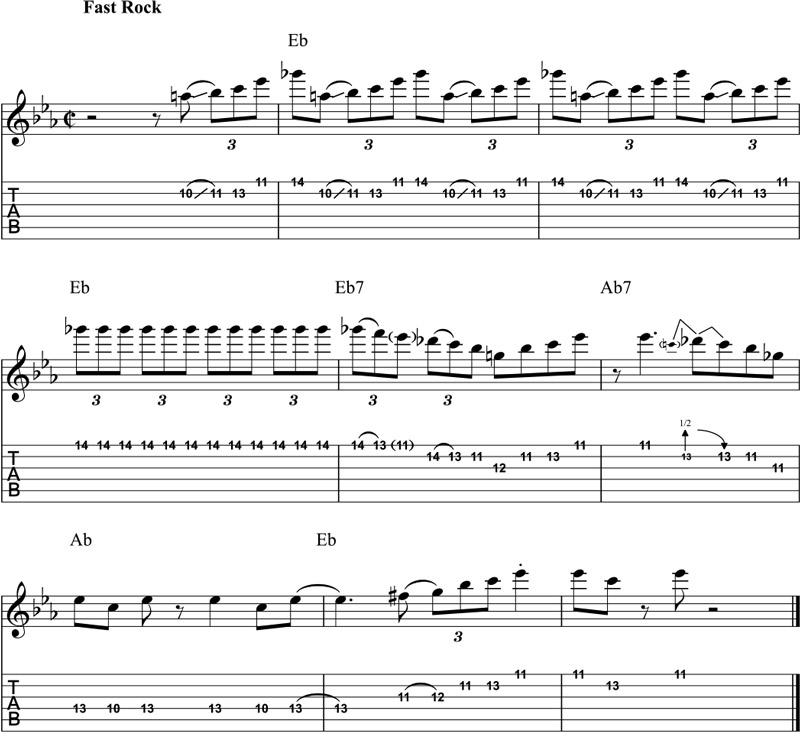 Rock guitarists from Alvin Lee and Jeff Beck to Brian Setzer and Eddie Van Halen have borrowed the energetic riff-based lines that open Beecher's "Rock-A-Beatin' Boogie" solo – if not the actual notes, certainly the intent of the assertive take-off phrase. This example is played over the first half of a 12-bar blues in Eb taken at a fast rock tempo. The solo begins with rapid flurries emphasizing a repeated blues motif in measures 1-3. Note the presence of A, C, and Gb in the melody. The repeated notes and bluesy descent in measures 4-5 set up IV chord (Ab7) sounds in 6 and 7. Note the half-step pre-bend and continued use of C. The return to I (Eb) is made with a slick major-mode swing-blues passage.
SOUND
Early on, Beecher played a Gibson L-5C with a floating DeArmond pickup, heard on Greco records. With Goodman, he switched to a '40 Epiphone Soloist Emperor with a DeArmond, also seen in his debut Sullivan TV performance of "Rock Around the Clock" with Haley. In '52, he purchased a new L-5CES. Haley's band was endorsed by Gibson, which provided Beecher with a number of Les Paul Customs, most notably a '56 with P-90s, the neck having Alnico magnets. In '60, he played a black '59 ES-345 on "American Bandstand," and had a blond '59 ES-350T. He strung both with Fender semi-flatwound jazz strings. In later years, he favored a cherry sunburst ES-137 Classic.
Beecher used a small tortoiseshell plectrum, adjusted his picking hand to play over the end of the fretboard for a mellower sound, and occasionally plucked with thumb, index, and middle fingers.
In the '50s, Beecher played Gibson's GA-70, GA-77, GA-200, and GA-400 combo amps, routinely at full volume. By '73, he preferred a Kustom Sidewinder with a 15″ speaker. Though largely a purist, he experimented with amp tones, tremolo effects, and dabbled with a wah pedal (though not on recordings).
---
Wolf Marshall is the founder and original editor-in-chief of GuitarOne magazine. A respected author and columnist, he has been influential in contemporary music education since the early 1980s. His books include 101 Must-Know Rock Licks, B.B. King: the Definitive Collection, and Best of Jazz Guitar, and a list credits can be found at wolfmarshall.com.
---
This article originally appeared in VG's July 2022 issue. All copyrights are by the author and Vintage Guitar magazine. Unauthorized replication or use is strictly prohibited.