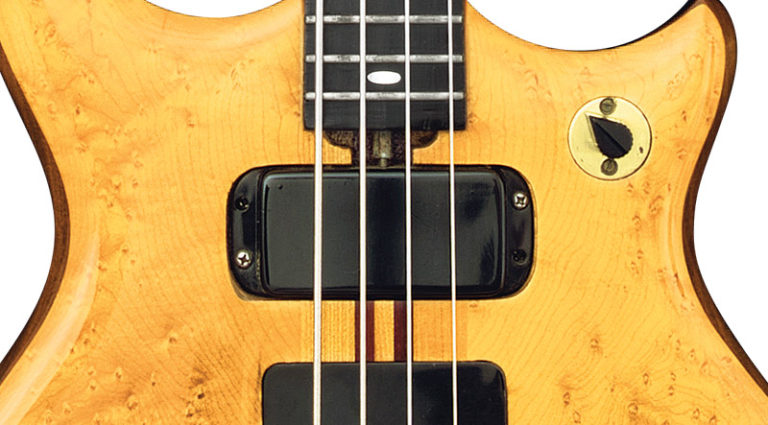 Like the engineers and musicians who, in the '60s and '70s, helped create legendary songs at FAME Studios and its offshoot, Muscle Shoals Sound, Frank Manno is a diehard music lover who pays little mind to genres. A New York City kid, he grew up with friends and family listening to virtually everything, he says, "From The Beatles to Cat Stevens and Sinatra to Benny Goodman."
At 14, his first guitar lessons were with a guy named Sam (he'd eventually learn it was Sam Andrews, from Big Brother and the Holding Company) and he'd sometimes sneak off with his dad's copy of The Roy Clark Guitar Method. Both deepened his eclecticism, as did taking up bass.
While long aware of the "Muscle Shoals Sound," Manno never studied the people behind it until he was tipped to this Alembic bass offered for sale through Shoals Guitar Boutique, Don Parker's retail store in the small Alabama town with a legendary rep.
"I was scrolling through Facebook, and saw it on Don's page," he said. "I was immediately awestruck, but the $15,000-plus price sobered me up – a little" (laughs). "Over a couple of weeks, he brokered a deal then drove eight hours to deliver it."
For more than a decade, the Alembic had served as the #1 instrument used by David Hood, a core member of the world-famous Muscle Shoals Rhythm Section, a.k.a. The Swampers, on a laundry list of high-profile sessions.
Hood is one of four men who became producer Rick Hall's FAME Studios backing players and later split to start their own studio. As a Swamper, he mostly used a beloved '61 Jazz Bass on sessions for Aretha Franklin, Boz Scaggs, Linda Ronstadt, Lonnie Mack, John Hammond, Wilson Pickett, Percy Sledge, Leon Russell, the Staple Singers, Mavis Staples, Etta James, J.J. Cale, Cher, and others.
In 1973, Hood got the chance to taste life on the road with the British group Traffic, and while it was largely rewarding, on a stop in New York City, the '61 and a Strat that Steve Winwood had been gifted by Eric Clapton were nicked during load-in.
Needing a quick replacement, Hood went to Manny's Music, on 48th Street, and scored a brand new Jazz – black finish, maple neck with black blocks. For the next three years, it and a duplicate were played on Swampers sessions for Rod Stewart, Art Garfunkel, Paul Simon, and many more artists; next time you hear "Kodachrome," know that's Hood on one of them.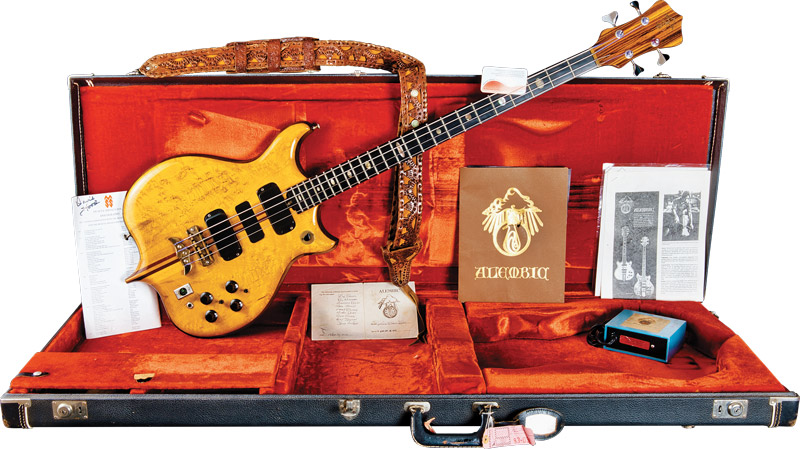 Ultimately, though, he didn't bond with either Jazz; while he never noted much difference in the weight of the '73 ash bodies compared to the alder of his '61, their overall feel and the Volume/Volume/Tone control arrangement versus the concentric "stack knob" of the original just weren't to his liking.
"I also didn't like the way the necks felt," he said. "They were a little narrower at the nut."
On another trip to New York in '76, Hood stopped again at Manny's, intent on finding something that might replace the '61 in his heart, head, and hands.
"By then, I'd been a customer for years, and one of the Goldriches – I think it was Henry – said, 'Hey, I've got something you should see,' and he showed me two Alembic basses in stands on the floor. I didn't know much about them except that the people who built them were associated with The Grateful Dead. I figured I'd check one out, so I took it home and started working with it."
To the best of his recollection, he paid $1,100. "They gave me a really good deal," he chuckled.
Designated simply "Long Scale Bass" in literature of the time, it was designed and built by a team that included Rick Turner, with soft edges, fancy carves, a trendy (for the time) laminated body with mahogany at its core, and a neck of maple and amaranth (purpleheart). Because builders at Alembic were fond of experimenting, the core of Hood's bass happened to be koa, its neck birch and amaranth. Add sophisticated active electronics, and it was a decided step up in form and function. But, that stuff didn't matter to Hood, who simply loved to play it and liked its tones.

"I didn't know what active electronics were," he said. "I knew it had different settings and there were switches by each Tone control, but I never used any of the Q controls full-on."
It immediately became his #1 instrument as he produced music by Leon Russell, Traffic, Willie Nelson, Boz Scaggs, Joe Cocker, Albert King, Aretha Franklin, Etta James, Cat Stevens, Paul Simon, Glenn Frey, Linda Ronstadt, Rod Stewart, J.J. Cale, Art Garfunkel, and others. That's it on Bob Seger's, "We've Got Tonight," "Mainstreet," "Old Time Rock and Roll," and "Fire Lake."
On rare occasions when an artist or another producer would ask for a different sound, he was ready.
"Sometimes I'd have to use a P Bass, sometimes a Jazz," he said. "But a lot of that was people walking in and seeing the Alembic, then asking me to play a Fender just because they were supposed to (laughs). If they never saw the Alembic, they'd never know I wasn't playing a Fender."
On a session for John Hiatt, a producer asked him to play a solidbody Gibson that was in the studio. He complied, but says, "It was a piece of crap."
In the late '80s, Hood began to suffer arthritis in his wrist and pain in his shoulders, and relied more on an ultra-modern Factor bass, designed by Phil Kubicki with ergonomics in mind and a neck made of super-lightweight graphite composite. In 2015, he fell and broke his left wrist. After having his right shoulder replaced and rotator-cuff surgeries on both shoulders, the double-octave/34″-scale Alembic was benched.
"It was really hard for me to play," he said. "So, I thought, 'Well, why do I have it? It's great, but I can't really play it.' So I decided to sell it."
Today, it remains in all-original condition, and Manno loves how smoothly it plays.
"You can coax a variety of tones from it," he said. "It's very comfortable, and even at 11 pounds, it doesn't feel too heavy. There were flatwound strings on it, so the frets are pristine."
Today, Hood mostly plays Lakland basses or a Factor. In '95, he became a member of the Alabama Music Hall of Fame, and as for the two '73 Jazz basses, he said, "One is at the Alabama Music Hall of Fame, the other at the Musicians' Hall of Fame."
All told, Hood's work has been heard on more than 500 recordings, including dozens of gold and platinum hits.
"You've sung along with The Swampers more times than you realize!" said Manno.
---
Do you have a classic/collectible/vintage guitar with an interesting personal story that might be a good fit for "Classics?" If so, send an e-mail to ward@vintageguitar.com for details on how it could be featured.
---
This article originally appeared in VG's June 2022 issue. All copyrights are by the author and Vintage Guitar magazine. Unauthorized replication or use is strictly prohibited.