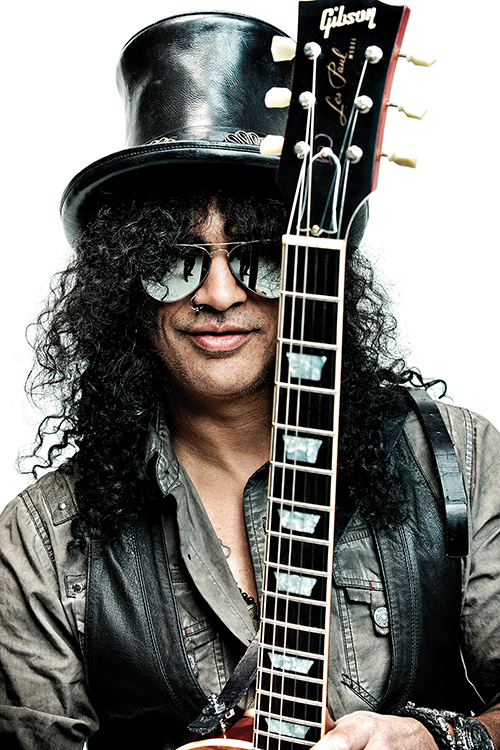 When a poll by BBC Radio tells you you've written the second greatest guitar riff of all time, (Jimmy Page's "Whole Lotta Love" placed first) it's got to feel good. "Sweet Child O' Mine" has some tasty licks, but Slash is not one to bask in past glories. You can find him on the road or in the studio with his own projects, or challenging himself with the cream of the crop among session pros. His new album, World On Fire, reunites him with Alter Bridge vocalist Myles Kennedy, and it's jam-packed with Slash's Les Paul work, cocked-wah soloing, and lots of pentatonic swagger.
How are you able to keep up your chops and manage everything else in your life?
I'm pretty much doing something with the guitar all the time. During the week I'm in the studio, jamming, doing some sort of a session, or working on songs. I'm playing all the time. I'm also on the road a lot. We're at the tail end of [opening on an] Aerosmith tour, and we have other engagements until our own tour starts in November. That goes through next summer. When I get home, I'll start working on the next record.
What was the process for writing World On Fire?
Myles and I stumbled on a way of doing stuff; I'll write the music, jam it with the band, and record a loose arrangement. I'll send it to him and he lives with it at his leisure. I'll bring some of the material in at sound check, but when he gets off the road with Alter Bridge, we get together, hash through the songs, and add finishing touches. We work on it together until it's done. We do a bunch of pre-production, then go to the studio.
Are you a disciplined songwriter?
I try to avoid having to sit down and work on a deadline; that's not conducive to being successful. I keep my guitar with me all the time, especially on the road, and if I come up with an idea, I record it on my phone. I stockpile these ideas, and by the time the tour is over, I've got more than enough to find an album's worth of material.
You played on Lee Ritenour's 6 String Theory album with Steve Lukather.
Steve Lukather called and asked me to come down to the session. I was like, "Dude, it's f**king after midnight. I'm home, I'm in pajamas. Are you serious?" When you talk about playing with cats like Lee Ritenour and Steve Lukather, I'm like, "Oh s**t! I gotta put my thinking cap on." I gotta present myself as not just the rock guy, but I have to come up with some cool s**t. Technically, I'm not a schooled musician. I'm not one of those guys who is sought out to be as technically proficient as Steve or Lee. It's an intimidating thing, but I love to be put into those situations because that's one of those challenges that you need to go after so you can make yourself a better player.
Ray Charles' producer called me in to work with Ray on "God Bless America." Ray recognized something in my style and brought me in for the movie Ray. In that situation, I worked with all these guys he'd been working with for years. I realized I was in over my head (laughs); this was full-on jazz, with guys who could play the stuff blindfolded and with one arm tied behind their backs. I didn't even know the chords. I improvised my way through it for the remainder of the day, then went home and studied the chord charts. When I went back, I had a better handle on it.
---
This article originally appeared in VG's December 2014 issue. All copyrights are by the author and Vintage Guitar magazine. Unauthorized replication or use is strictly prohibited.
---