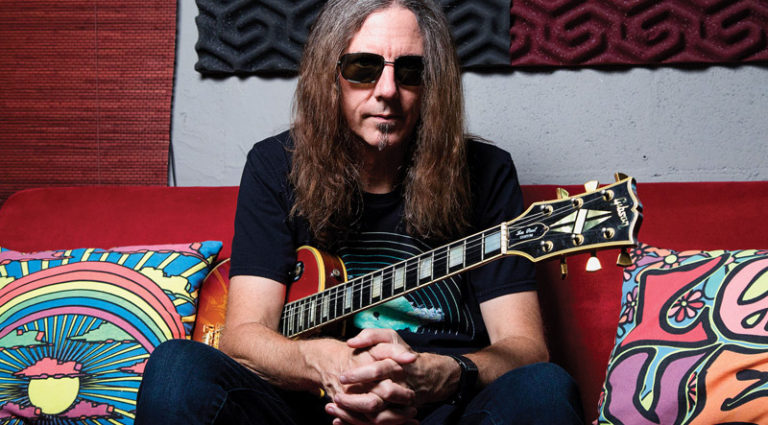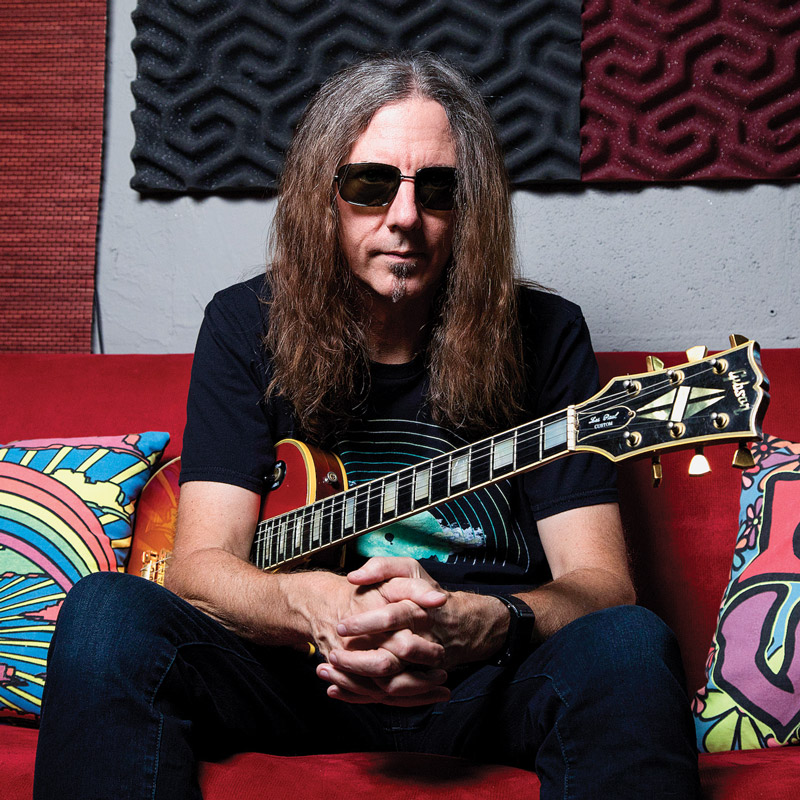 King's X guitarist Ty Tabor's latest solo album is a guitar-centric meditation on mindfulness and the complexities of existence. With a break from touring, he had time to whip out some of his coolest gear and use it to color the depths of his lyrical ideas.
Despite hardship and loss, Shades shows Tabor at the top of his game, digging deep with the best solo album of his career.
What was going on when you began work on Shades?
My dad was dying. King's X had taken off for a few months so I could go home to Mississippi to be with him during his last days. I came back, and King's X did one week of shows on a cruise to Florida. After that, Covid shut everything down. My dad died, Covid hit, and I had time on my hands. I decided to jump into work and do another album right away. I wanted to make good use of the time.
Did you have songs written, or did you compose from scratch?
I started composing from scratch, and I'll say about 70 percent of the songs were completely new, 30 percent were resurrected ideas I finally finished.
One of the songs was meant for King's X.
"Sister Genocide," which was released as the first single on Shades. We recorded it for the next King's X album. Every once in a while, we'll try a song and it doesn't jibe. If that's the case, we'll put it aside, and it might get resurrected some other day. I was looking at this solo album, knowing it needed a few more songs, so I put it on there.
Shades is a profound record. "One Drop of Water" is a good example.
It was something I was deeply feeling and wanted to get out. The whole idea of "One Drop of Water" is the realization of what we are. Each human being is just one drop in the pond. I was reflecting on infinite ideas and how big and small we are. Two songs were written about the passing of my father – "Best Day In A While," which was a true story, and "Ashes."
Did you do anything different in terms of arranging?
I'm always looking for something a little different, always building a song around a basic foundation I hope is easy to follow. Then I like to mess it up with little tweaks. I like surprising chords or changes you're not expecting. Not for the sake of doing it; I like a song to go somewhere, and I take a journey. I always look for different ideas. A lot of times I try all that and listen back, and it still sounds same ol', same ol' (laughs). It's hard to do, but I'm trying.
You're great at creating textural layers using clean electric guitar, acoustic guitar, and dirty electrics.
That's a philosophy I try to follow, but also break out of because it may not be the best idea for the song. I try to make every verse have something additional, like another sound. It may not be a note – it could be just a noise. I like to do things from part to part as it goes, builds, and never be identical. Each verse will be something new.
Was there a guitar you leaned on more than others?
My main guitars were a Les Paul Gold Top Standard, a Les Paul Special Edition I used a lot because it sounded really good, and a Guilford Ty Tabor signature model for a lot of the cleaner, jangly stuff. I also used my Fender Elite from the old King's X days on a couple of things.
How many Elites do you have?
I only have one left. All the others didn't sound as good. I just happen to have one that is super magic, and I've kept it.
How about amps?
I used my old Orange Crush Pro 120 and my Lab Series L5 for pretty much every song, and a Vox MV50 Rock. I also have an Egnater Rebel that really screams.
What's the status of King's X?
We have a lot coming up, with an album finished that will be out this year. We were supposed to do a show in April, but several months ago, I smashed two knuckles and broke the bone between them. It's not healing very well, but I've been in physical therapy and feel good about it; I'm starting to get it in normal positions again for the first time. It'll be fine later in the year.
---
This article originally appeared in VG's June 2022 issue. All copyrights are by the author and Vintage Guitar magazine. Unauthorized replication or use is strictly prohibited.