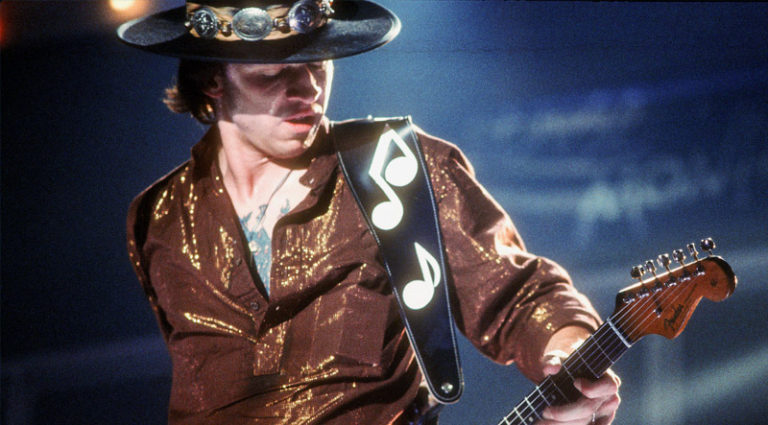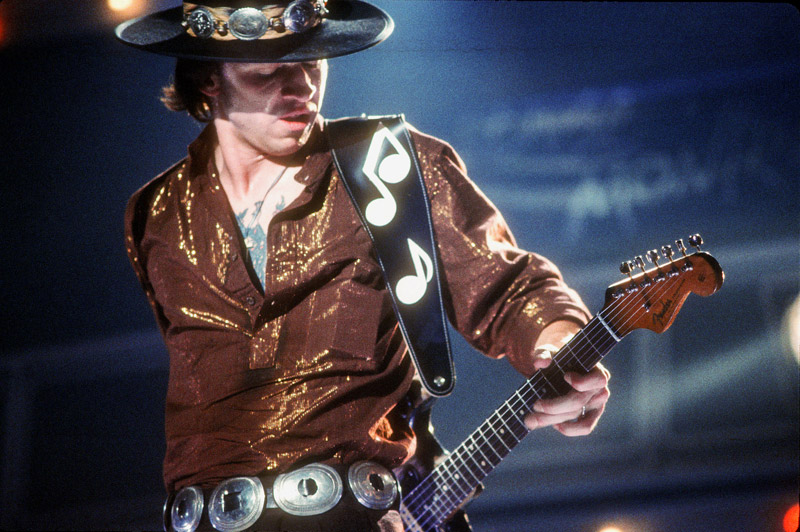 Music in the early '80s was dominated by the shiny blips and bloops of keyboard-driven new wave and the first rumblings of fleet-fingered guitar explosions of glam metal. The blues, meanwhile, was virtually forgotten, though its embers were being fanned by devotees like Dallas-born Stevie Ray Vaughan and his debut album, Texas Flood.
Backed by fellow Texans in a rhythm section dubbed Double Trouble – drummer Chris Layton had joined him in '78, while bassist Tommy Shannon jumped aboard in '81 after touring and recording with Johnny Winter a decade earlier (including at Woodstock) – Vaughan (1954-1990) crafted a superb balance of originals such as "Love Struck Baby," "Pride and Joy," and the instrumental "Lenny" (a tribute to Vaughan's then-wife), along with inspired covers of the Larry Davis title track, Howlin' Wolf's "Tell Me," the Isley Brothers' "Testify," and Buddy Guy's "Mary Had a Little Lamb."
Today, it's a storied work. But, its making was a hard slog.
Shannon remembers how, despite Vaughan's burgeoning reputation and the band playing sold-out shows in large clubs, record companies weren't all that interested.
"At the time, nobody thought the blues would sell," he said. "There was nothing out there like what we were doing. We had nothing to do with anything commercial or popular that was being played on the radio, so we stood out like a sore thumb."
But then they caught a few breaks. The first was playing a private party for the Rolling Stones, then, producer/record executive Jerry Wexler heard them at a record-release party for singer Lou Ann Barton (who'd played with Vaughan in an earlier band). Wexler urged his friend, Claude Nobs, founder of the Montreux Jazz Festival, to book them for his 1982 event. Nobs followed through, and Double Trouble blew the room away with sheer volume, in part because they'd inadvertently been scheduled to perform on the acoustic stage. To nobody's surprise, there were boos from the audience.
The following night, they jammed after hours with singer/songwriter Jackson Browne, who was floored and offered to let them record, free of charge, in his Los Angeles studio over the coming Thanksgiving weekend. All they had to do was get there, and they played gigs along the way to pay for the trip.
"We traveled in a milk truck – no windows on the side," Shannon recalled. "We had a bed rigged near the ceiling. If you hit the brakes a bit too hard, it would slide forward, then slide backward when you'd take off again. All of our gear was under it. We had a couch for a back seat."
Browne's studio was a warehouse with a cement floor and a few rugs, and engineer Greg Ladanyi wasn't interested in working with them. He also didn't want Richard Mullen, Double Trouble's sound man/guitar tech, to run the mixing board. So he walked out, and Mullen took over. Sorting those issues cost them a big chunk of their three days.
"The first day was going through those hassles, then trying to get sounds," said Shannon. "We set up like we played live, in a triangle. We had baffles, but not separate rooms, so there's a lot of bleed all over the mics. Stevie played through Jackson Browne's Dumble amp, which was one of the best guitar tones he ever had.
"We played like we were doing a live set; 'Testify' was really groovin', really cookin'. Stevie broke a string, but we didn't want to lose what we had going, so we punched-in the whole band. You just don't do that! But it worked, and we finished the song. We could play more than 30 songs at the time, so we narrowed it down to the ones we really liked. There was not a lot of planning on the record. That's one of the cool things about it."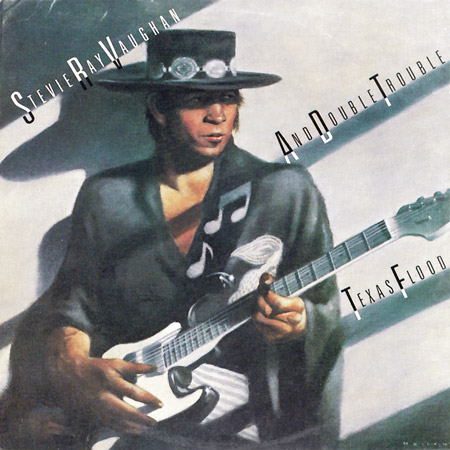 Using only half of the board's 24 tracks, they re-used Browne's pre-production tapes for Lawyers in Love, and actually ran out of tape while recording a haunting cover of Jimmy Wilson's "Tin Pan Alley" (which was re-recorded for the follow-up, Couldn't Stand the Weather; the initial version is available on expanded Texas Flood reissues).
When their time was up, they grabbed the tapes and headed home to Austin to record overdubs and Vaughan's vocals. Legendary talent scout and producer John Hammond heard the tapes and convinced Epic Records to sign the band. What was essentially a demo became the album after only a few overdubs and some remixing before Texas Flood was released in June, 1983.
Meanwhile, a simultaneous career earthquake was happening; rock legend David Bowie, who also saw Vaughan and Double Trouble in Montreux, asked Stevie to play guitar on his next album, Let's Dance, which became a worldwide hit with a title track that reached #1 in the U.S. With it, Vaughan's Albert King-style licks pushed blues back into the mainstream.
While Vaughan started rehearsals in preparation for the supporting tour, various issues including money and a reneged agreement to have him and Double Trouble open the shows proved to be deal-breakers. He walked away to focus on Texas Flood and developing his career with his close friends.
"Stevie was not happy doing the Bowie thing," said Shannon. "He was pushed to do it, and it kind of tormented him. When the Bowie band was rehearsing in Dallas, they were choreographing the show and there was a part where Stevie was supposed to walk down a ramp doing dance steps. Stevie was not that kind of showman. You'd see him move onstage, but it was natural. He wasn't trying to dance.
"If he'd have wanted to go on that tour, he would've, but at the last minute he realized that he couldn't turn his back on what he loved. He passed up traveling on jets and in limousines, playing in front of thousands and thousands of people, and doing videos. He turned all of it down to come back and tour with us in a milk truck. That's the kind of integrity Stevie had."
Shannon recalls that Texas Flood didn't benefit from a substantial promotional push by Epic.
"That record sold by word of mouth. People started saying, 'You've got to hear this!' They started playing it for each other. This organic excitement started, then the record company jumped on it. It wasn't, 'We've got to make this band big.' It took everybody by surprise. The people made it successful."
To date, Texas Flood has sold more than two million copies in the U.S. and another quarter-million worldwide. In 2021, it was inducted to the Grammy Hall of Fame.
---
This article originally appeared in VG's May 2022 issue. All copyrights are by the author and Vintage Guitar magazine. Unauthorized replication or use is strictly prohibited.