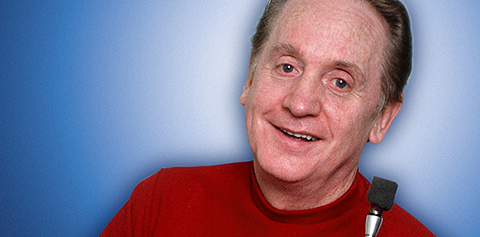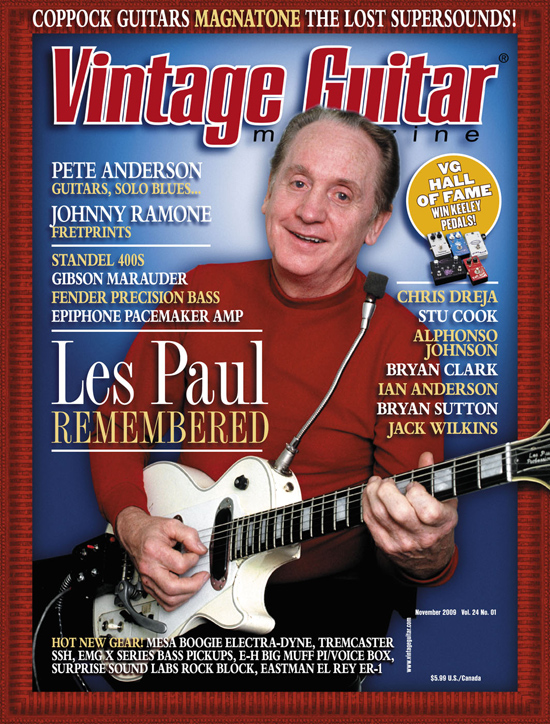 When news of the passing of Les Paul spread through the guitar community August 13, 2009, reaction was swift and heartfelt. Claimed by complications of severe pneumonia at a hospital in White Plain, New York, Paul was 94. His name is synonymous with Gibson's early solidbody electric guitars, and for a time he was one of America's most popular and accomplished electric guitarists.
Born Lester William Polsfuss on June 9, 1915, in Waukesha, Wisconsin, as a very young boy he would listen to his divorcée mother play the piano while he sat in the kitchen conducting an imaginary orchestra made up of pots and pans. The first instrument he played was a harmonica given to him by a worker repairing the street in front of their house; on lunch break, the man would play, and the sound caught the boy's ear. Seeing the kid stare at him every time he made it sing, the worker eventually handed over the instrument.
At age 11, Lester was given his first guitar – a Troubador flat-top from Sears and Roebuck. At first, he couldn't reach his fingers across all the strings, so he removed the low E then spent most of his spare time learning chords from a book. At the time, the guitar was far from being predominant in popular music, bowing to the tenor banjo, plectrum banjo, ukulele, piano, mandolin, and violin, but he happily whiled away countless hours practicing and keeping an ear tuned to famous guitarists of the day. Within a year, he was playing guitar and accompanying himself on harmonica, and he took to playing anywhere in Waukesha that would have him; his first paying gig happened when he was 13, with a group that billed itself as "Red Hot Red." At 16, he played his first radio show, on WRJN in Racine, Wisconsin, and at 17 was playing in Sunny Joe Wolverton's Radio Band in St. Louis.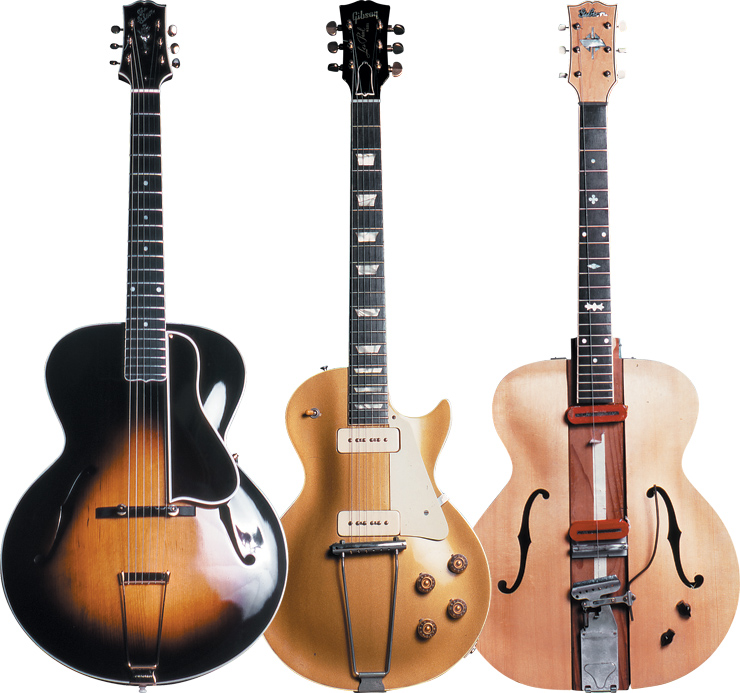 In the following years he would expand his musical undertakings and begin to experiment with ways to amplify his guitar. His first foray into experimenting with the construction of a guitar happened in 1934. While working at a radio station in Chicago, he learned that the Larson Brothers' operation was also located in the city.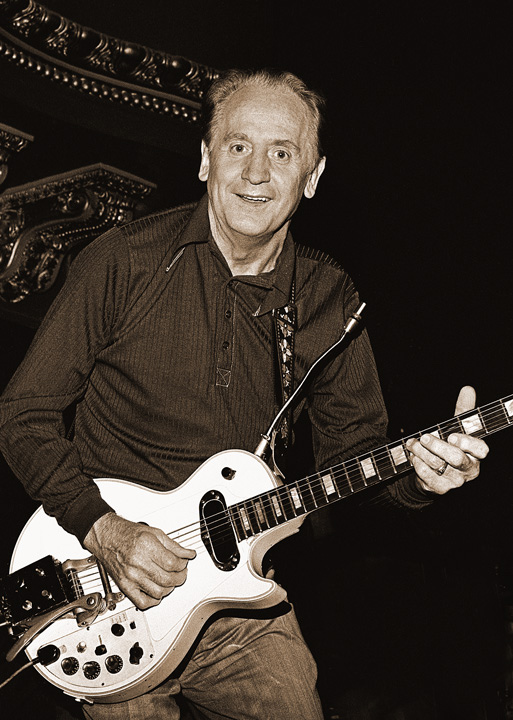 "I went to see them, and [we talked about making] a guitar with no f-holes," Paul told VG in a 2002 interview. "I tried to explain that I was going to put pickups on it."
But the Larson Brothers weren't interested.
In the late '30s, Paul moved to New York City and began to experiment further with building a solidbody guitar. He played guitar on nationwide radio with Fred Waring's Pennsylvanians, one of the most popular dance orchestras of the day. After being severely shocked while experimenting in his Queens apartment in 1940, Paul was forced to quit the Pennsylvanians and, while undergoing rehab, earned a living producing music for radio.
In '41, he approached nearby Epiphone, asking to use their shop to construct a "concept" electric guitar he described as "…just a 4″ x 4″ piece of wood with a pickup and an Epiphone neck." Dubbed "the log," Paul built it over three Sundays (so as not to disrupt the workforce), and recalled its debut in front of an audience.
"I took it to a tavern in Queens, and people looked at me like I was nuts. The sound and everything was there, but I found out that people hear with their eyes, so what you're playing has got to look like a guitar. So I thought, 'I'm going to put wings on it, and make it look like a guitar, and see if that makes any difference.' Geez, they went crazy!"
Paul subsequently built three similar guitars using Epiphone parts. The first of them, called "the clunker," was an experiment in progress. "I started thinking, 'I'm going to do more than pickups here," he said. "I'm going to change this and that,' and the guitar became an experiment. Next thing you know, it's the best damn guitar I've got." Other changed elements included re-bracing its body with a 3/8″ steel bar and pickups he wound himself. The end result was a very playable, good-sounding instrument.
Shortly after, he moved to Hollywood and was drafted into the Army during World War II. Permitted to stay in California, he played for the Armed Forces Radio Service and by '43 assembled a trio that performed live, on the radio, and on V-Discs. In '44 he began filling in for Oscar Moore alongside Nat King Cole, Illinois Jacquet, and other stars at the first Jazz at the Philharmonic concerts. Then, in the Les Paul Trio, he translated the dizzying runs and unusual harmonies found on Jazz at the Philharmonic into a slower, subtler, more commercial approach that included novelty instrumentals wherein he developed a trademark sound. The Trio's popularity grew and the act became regulars on Bing Crosby's hit radio show.
"I had the clunker and [was] making records with Bing, and Gibson was going nuts," Paul recalled. "They said, 'We'll give you a gold-plated L-5… whatever you want.' I told them, 'If you can beat this one, okay.'
"The surgery I did on the clunker was severe. And it just so happens I recorded 'How High The Moon,' 'Bye Bye Blues,' and everything from that period with it."
Paul recalls approaching Gibson's Guy Hart with the idea to build a solidbody electric, and for 10 years trying to convince the company to develop it. In the early '50s, Gibson elected to design its first solidbody, and Paul was asked to give input – and his name – to it. The late Ted McCarty, president of Gibson at the time, drove to deliver the first model to Paul and Ford, who were honeymooning in the Pennsylvania mountains. "Les played it, and his eyes lighted up," McCarty recalled. Shortly thereafter, Paul signed on as the namesake of Gibson's first electric solidbody, with design privileges.
"Everything about the looks of the first Gibson solidbody was discussed with Maurice Berlin and myself," Paul said. "And when we were finished he said, 'What color are we going to make it?' Without really thinking, because it never entered my mind that anybody would ask, I said, 'Gold,' and there were two other people in the room, another manager and Mr. Berlin's right-hand man, Mark Carlucci. One guy said, 'It's a terrible color to work with.' But M.H [Berlin] said, 'Gold it is.'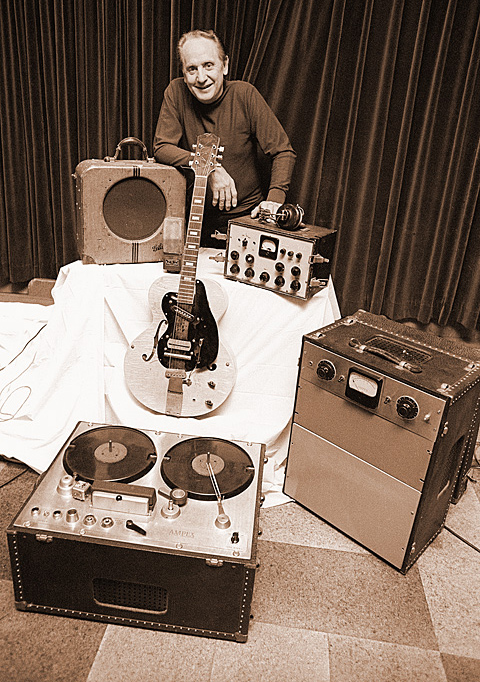 "Then they said, 'What about the other guitar?' I said, 'Black.' They asked why, and I said, 'I like to see the player's hands move…'
"Mr. Berlin and I talked about maple and mahogany bodies, and the Gibson people got them backward; the black guitar, which was the most expensive, was all mahogany, and the cheap guitar, with the maple top, cost the most to make.
"When I got my hands on the prototype, I found quite a few errors. I said, 'Why don't you… just make them all with a maple top and mahogany on the sides?'"
By 1946, Paul was doing nine "sustainer" radio shows each week for NBC radio in Los Angeles, playing jazz and pop. One day, Harry Brubeck, the station's program director, asked if he knew anyone who did a different style of music and could handle the workload. Remembering his days with his first groups, Paul offered to do the shows. Needing a "cowgirl singer," he asked Gene Autry (who was working for CBS radio at the time) whether he knew anyone. Autry suggested Paul give a listen to one of the ladies in Autry's Sunshine Girls trio. That girl was Colleen Summers, and when Paul called to gauge her interest, she admitted to being a fan of his music. The two connected and began working on material for the show.
Beyond his reputation as a brilliant jazz/country/pop guitarist, Paul also was experimenting with dubbing live tracks over recorded tracks, and altering playback speed. One result was his 1947 instrumental hit, "Lover (When You're Near Me)," which featured Paul playing eight guitar parts.
In January of 1948, Paul and Summers, whom Paul had given the stage name Mary Ford, were driving from Wisconsin to California when they encountered a storm as they passed through Oklahoma. Paul, who was ill with a fever, was lying in the front seat while Ford drove. On an overpass between Davenport and Chandler, the car hit a patch of ice and plunged 20 feet into a ravine. Ford and Paul were ejected through the convertible's cloth top while the car came to rest upside down in the river below. There was virtually no traffic passing by and the couple was discovered hours later, and only because they had knocked down a utility pole, which forced crews to search for a break in the electrical line.
PLAYERS WEIGH IN
Les' Heavy Influence
"When the sad news came of Les Paul's passing, we got to thinking. It's because of Les that we're able to do what we do. There's a line, from his innovative spirit to the birth of an art form, an entire industry, a new form of entertainment, a new means of expression, none of which would have been possible if Les had not done what he did.
"It's kind of like the big bang theory applied, in both a literal and figurative sense, to music. No Les Paul, no electric blues, no rock and roll, no ZZ Top. Les has been a life force in music for as long as any of us can remember.
"The idea that Les is not around anymore will take some getting used to but maybe we don't have to. We like to look at it this way: even though he's not here, there's more Les than ever in the world. You don't really have to try hard all that hard to 'pick-up,' so to speak, on this concept to get it." – Billy F Gibbons
"Les Paul gave me one of the best days of my life. I was on tour with Marilyn Manson in 2001, doing Ozzfest in New York. I was invited to see Les play at the Iridium. Jim Marshall was going to be there, too, and I said to myself "I can't pass this up." So when I got offstage I headed to the club. I looked a little out of the ordinary in the nice jazz club, still wearing the smeared makeup, and felt a little uncomfortable walking in. But I got to meet Les backstage before he went on, and we talked a bit. I then watched this genius of a man play jazz standards and old songs I didn't know, and loved every second of it. He was bringing people onstage, introducing them. Everyone knew these jazz standards and I was thinking, "Oh no… I hope he doesn't pull me up onstage," because every song someone did was amazing, and he still told them to keep practicing! Sure enough, about halfway through the set, Les said into the mic, "We have an unusual looking fellow here tonight and he goes by the name John 5. Let's get him up here and see what he can do." I felt like running out because I didn't know any of the songs. To make it worse, I had a Telecaster with me. The first thing he said to me was "Oh, you got one of those, huh? What do you want to play, young fellow?" All I said in a very quiet voice was, "How about some blues in E?" Everyone was skeptical, wondering how soon I'd be getting offstage. I started to play, and was so nervous, but somehow, the planets aligned and everything turned out. I played better than I ever had before. Les just stopped playing and watched me while I thought, "He's going to rip me apart." But when I stopped, the crowd went crazy and Les got on the mic. "Son, I've played with a lot of people and I don't get impressed easily, but you impressed me tonight," he said. "The world should hear you play guitar like that." I bowed down and kissed his feet – no joke! My father had died a few days before this happened, and I was having one of the worst days of my life. But that night, Les gave me one of the greatest nights of my life. His passing is such a sad thing, but what a great life he had." – John 5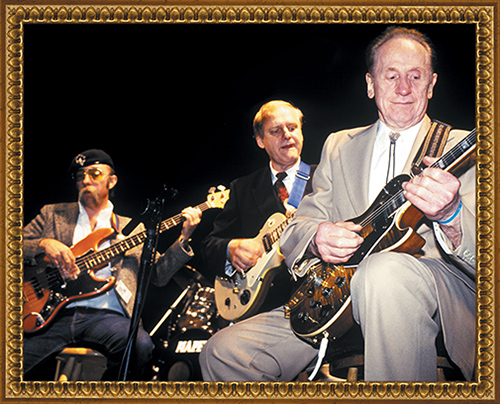 "Nobody in the modern music business would be where they are if it weren't for Les Paul. He invented the technology that propelled us all. I had the honor of seeing Les four times at the Iridium in New York City. It was always like watching American history unfold in real time. We as a nation don't produce people like Les anymore. He was an inventor, musical genius, husband, TV personality, rags-to-riches hero, and icon all in one. I am honored to be a small blip on the radar in the scope of Les' history. I have Les and the Gibson guitar company to thank for that ultimate bestowment. Rest in peace, Les Paul, for you are and always will be the supreme pride of American achievement and more importantly the hero of Waukesha, Wisconsin." – Joe Bonamassa
"Les Paul was an exceptionally talented man, one of the few individuals who was an amazing musician as well as an amazing technician, and used one to help the other in a unique combination that revolutionized the music industry like no one before him. I was fortunate to know him and humbled to play with him numerous times. I appreciated his company and his friendship. We could all learn a thing or two from his example of a fantastic, full life, endless accomplishments in his 94 years, and the fact he was never once afraid to go for it." – Slash
"I used to go to Les' NYC shows all the time. What an inspiration he was – always entertaining! He helped create the best guitar ever made, the Gibson Les Paul model. It was the first guitar I ever bought, and it's the guitar I still use to this day. He will be missed by many." – Gilby Clarke
"My first really great guitar was a new '72 Les Paul Deluxe my dad bought for me at Guitar Center, Hollywood, instead of buying something he was saving for. I owe him everything for that purchase, and I still have that guitar and would never part with it. It plays like a dream. I had the great honor of meeting Les, playing at all three of his tribute shows in the last few years and a photo I will cherish forever is Les giving me a high five in Cleveland a year ago. He gave so much to all of us and to recording and music and most of all, his heart. God bless him." – Steve Lukather
"In the last 20 years of his life, I got to meet Les Paul at various industry and charity gatherings, and he was just about the sweetest human being I've ever come across. Not once did he chide me for smashing guitars." – Pete Townshend
"Les Paul was an incredibly innovative guitar player. There is no one as important when it comes to guitar playing and multi-track recording! Oh yes, but that's just the man. Then, there is his other amazing legacy – the Les Paul guitar! It's truly a sad day to hear we have lost this giant of the music world, with his huge heart and wonderful sense of humor. I really don't know how he had the time to do all the things he achieved in one lifetime. Still playing shows 'til recently shows us how his passion for the guitar and music kept him the youngest 94-year-old musician ever born. I will miss that beaming smile and those encouraging words he always had for us players. Les, what an honor it is to have known you." – Peter Frampton
"What a wonderfully historical figure he was. A genius innovator. I feel so fortunate to have performed with him twice. He was charming, funny, and loved the instrument with a deep passion. Most people do not understand the tremendous contribution he made to the electric guitar and contemporary recording techniques. If it was not for Les Paul, we may all be playing acoustic guitars and recording in mono." – Steve Vai
"Les was a true legend. A unique guitarist and the inventor of unique effects that are such a huge part of the music we all love stand as testament to his importance in the music world. Of course we can never forget the solidbody electric guitar with his name on the headstock! He loved playing music, and respected the great musicians who used the instrument he made iconic. Les, you will be missed, and never forgotten." – Bruce Kulick
"Les Paul was by far the most influential guitarist in the last 100 years. His contribution, both musically and technically, to the world have driven modern music for decades. He created the tools of the trade for players of all ages and inspired millions with dreams of one day owning a Les Paul guitar. His gifts will reverberate for centuries to come in the hands of the players of the future. May God bless and rest Les Paul." – Don Felder
"The contributions Les Paul has given to the guitar and the recording industry will live on forever in the hearts of musicians, young and old, forever." – Dave Amato
"The Wizard of Waukesha – inventor, innovator, inspiration – Les Paul was one of a kind; killer guitar player, originator of many of the tricks we all do. One of the first people to overdub, Les had 12 tracks of guitar on "How High The Moon," as well as 12 tracks of vocals by Mary Ford. He invented the 8-track recorder, and pioneered multi-track technology. Then you get to the guitar, a true classic, that will remain part of his legacy for years to come. I was in New York recently with Bad Company, and had a Monday off. I walked to the Iridium to make reservations, and I was informed Les wouldn't be playing that night, as he wasn't feeling well. He will be missed." – Howard Leese
"Having known Les Paul since 1972, when we did our first interview, I had the privilege to spend a lot of time with him whenever he was in California. It was an honor and truly great life experience to share so many wonderful times with him. Lester, you influenced countless guitarists with your magnificent playing, and truly changed the sonic soundscape of music by your electronic innovations. May you rest in peace on earth as your spirit joins the greatest musicians in the sky. Play on, Les! – Robb Lawrence, author of The Les Paul Legacy
"My very first electric guitar was a Gibson Les Paul. I played it so much that I wore the frets out, and probably altered the shape of my spine from rehearsing so many hours with it. My preference for fixed bridges and out-of-the-way volume controls are directly influenced by my time playing a Les Paul. What a fantastic person, musician, and inventor to have on this earth. Thanks for spending some time here, Les! – Paul Gilbert
Ford was not seriously injured in the crash, but Paul broke his collarbone, shoulder, six ribs, and some vertebrae. He also fractured his pelvis, punctured his spleen, and smashed his nose. Most critically for his career, his right elbow was shattered.
Doctors debated amputating Paul's right arm – the normal course of treatment for a limb in that condition at the time – but one of the first doctors to see him knew of his music, and knew he needed that arm. After a couple of surgeries to fix it (including setting the shattered elbow in a position that would allow Paul to play guitar), Paul underwent 18 months of rehab and recovery.
While laid up, he acquired an Ampex tape recorder from Bing Crosby, and added a fourth head to the machine that allowed him to create sound-on-sound recordings. In December, 1949, Paul and Ford were married, and soon after, Paul came up with the concept of tape delay. These tricks, along with his innovative close mic'ing of vocals, were integrated for the first time on their 1950 hit duo, "How High the Moon." The couple had a string of hits for Capitol Records that not only included some of the most popular recordings of the early '50s, but established standards in contemporary studio production; the harmonic layering of guitars and vocals, along with Ford's voice and Paul's guitar effects, produced distinct recordings with unprecedented sonic qualities.
After getting back in the groove, he continued to play jazz shows on NBC radio while fronting a trio that included Ford. Their first gig was in Milwaukee, helping open a tavern for Paul's brother-in-law. Wanting to add another gig or two in the city, Paul drove down Milwaukee Avenue and spotted a club whose marquee advertised live music.
"I approached the owner and said, 'I'd like to play in your club.' He said, 'I've lost a lot of money on everything I've tried.' I said, 'We'll play for nothing,' and he said, 'Come on in!' So we went in, and three months later they were lined up around the block. I said, 'Mary, I think this thing is going to work.'"
Aside from their rising status as a live and recording act, Paul and Ford were also pioneers in the field of advertising, starting with a very successful radio/print campaign for Rheingold Beer and culminating with "Les Paul and Mary Ford At Home," a television program produced and sponsored by Listerine mouthwash and broadcast out of their home/studio in upstate New Jersey from 1953 to 1960. For five minutes every day, the two would act out a skit, perform a song, then go to commercial break for Listerine mouthwash or some other product. After the break, the show would resume with a second song, often an instrumental by Les. Each five-minute show was broadcast five times each weekday, and the audio portion of each show was broadcast on the NBC radio network.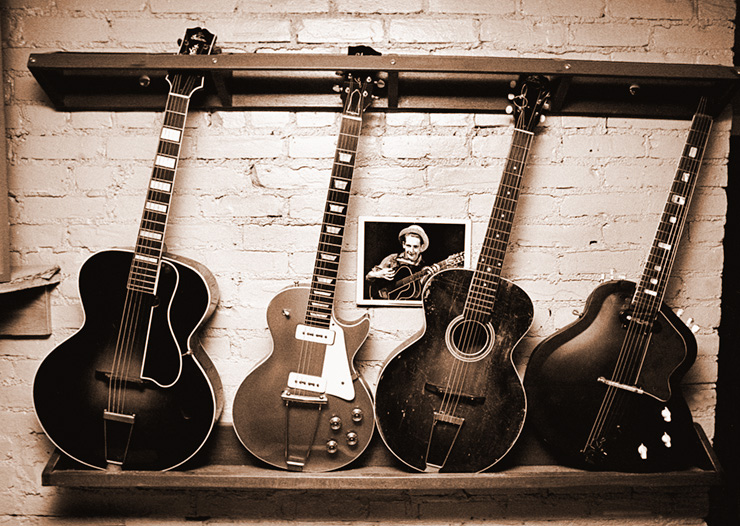 When rock and roll became the predominant form of pop music in the mid '50s, Paul and Ford's popularity began to wane with younger listeners, though Paul had a massive influence on a generation of guitarists. The couple divorced in 1964, after which Paul recorded for London Records before poor health forced him to take time off.
In 1977, Paul resurfaced with a Grammy-winning Chet Atkins collaboration, Chester and Lester. Then the ailing guitarist, who'd already suffered arthritis and permanent hearing loss, had a heart attack, followed by bypass surgery. After recovering, he returned to live performance in the late '80s and recorded right up until 2005, when he released the double-Grammy-winning Les Paul & Friends: American Made World Played, featuring collaborations with a veritable who's who of the electric guitar, including dozens of illustrious fans like Keith Richards, Buddy Guy, Billy Gibbons, Jeff Beck, Eric Clapton, and Joe Perry. In 2008, The Rock and Roll Hall of Fame paid tribute to Paul in a week-long celebration of his life which culminated with a live performance by Les himself. Until early this summer, he continued to perform two weekly New York shows at The Iridium Jazz Club in New York City.
Paul has since become the only individual to share membership into the Grammy Hall of Fame, the Rock and Roll Hall of Fame, the National Inventors Hall of Fame, the National Broadcasters Hall of Fame, and the Vintage Guitar magazine Hall of Fame, where he is also the only person inducted as both an innovator and a player.
He is survived by his three sons, Lester (Rusty) G. Paul, Gene W. Paul, and Robert (Bobby) R. Paul, daughter Colleen Wess, son-in-law Gary Wess, longtime friend Arlene Palmer, five grandchildren, and five great grandchildren.
---
This article originally appeared in VG November 2009 issue. All copyrights are by the author and Vintage Guitar magazine. Unauthorized replication or use is strictly prohibited.
---