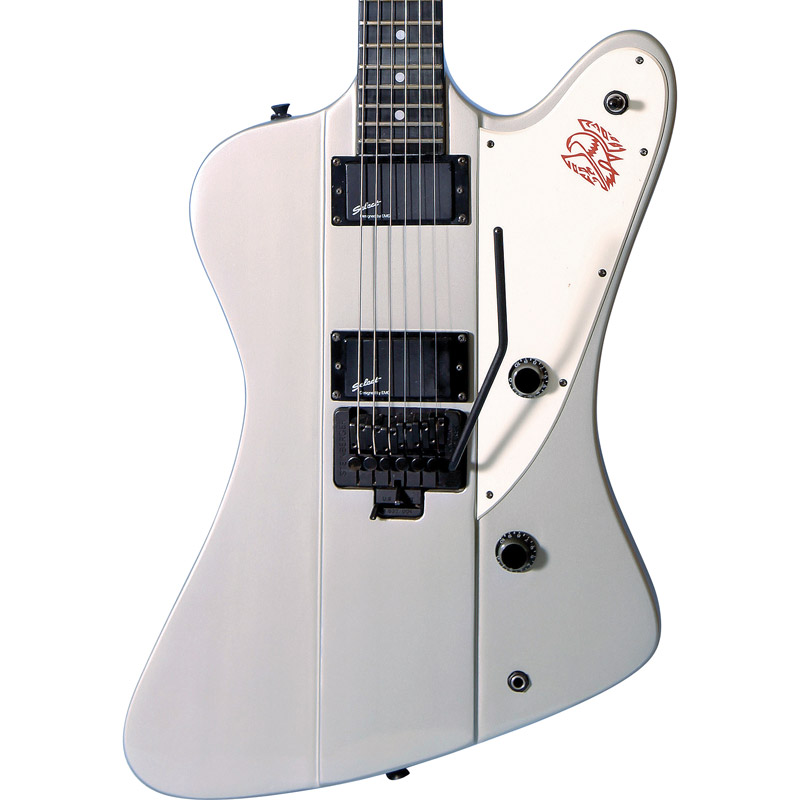 Gibson will forever be celebrated for its heritage of innovation, including guitars that didn't look like the common perception of guitars. And for all the influence some of its unusual creations have had on the instrument's evolution, they've rarely been successful. Take, for example, the Firebird.
Gibson started to push the envelope in 1958 with the Explorer, Flying V, and near-mythical Moderne. Consciously or not, their modernistic shapes and names reflected the emerging "space race"; in '55, President Dwight Eisenhower announced America's intent to put a satellite into orbit but the Soviets won the first lap when they launched Sputnik in '57. In January of '58, the U.S. responded with Explorer 1.
Unlike those craft, none of Gibson's space-age guitars really made it off the pad. But that didn't dissuade Gibson president Ted McCarty from trying again with another novel shape – one with more-earthbound inspiration.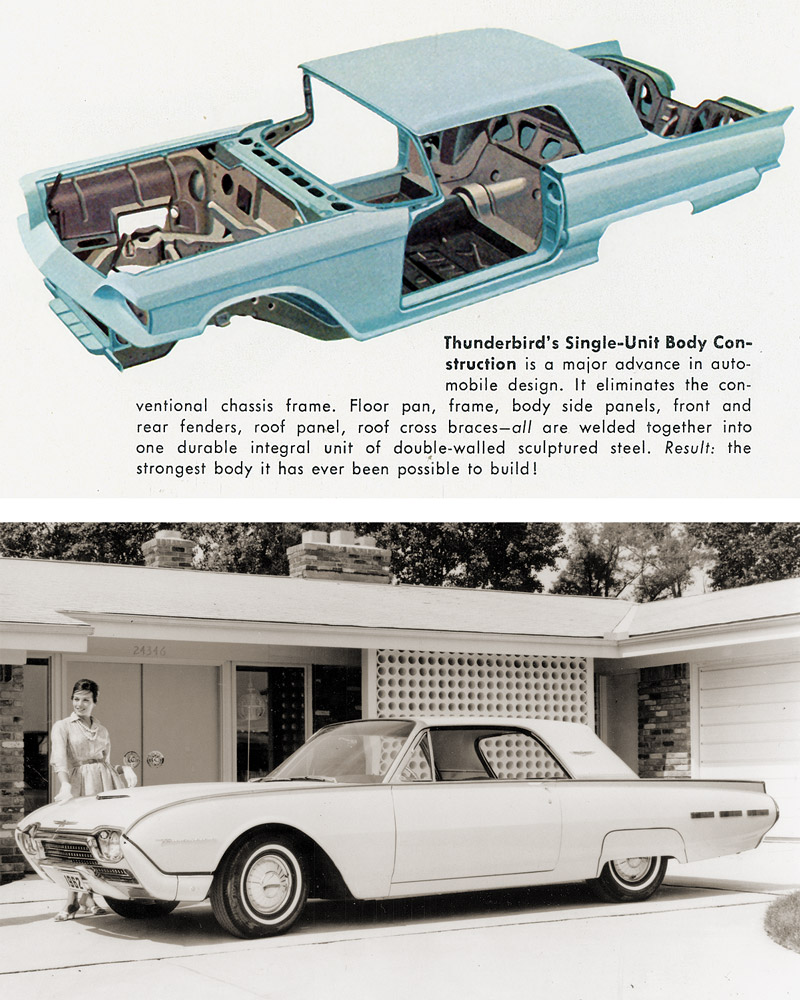 Wanting to borrow a dash of pixie dust from Detroit auto makers in their heyday, he hired automotive designer Raymond H. Dietrich (1894-1980), who had started a coachmaking company in 1925 that worked with Packard, Franklin, Erskine (Studebaker), and Lincoln. From 1932 until '38, he was the head of design at Chrysler, then freelanced, his major client being the Checker Cab Company of Kalamazoo, Michigan. In 1960, Dietrich retired to Kalamazoo, where he soon got the call from McCarty.
Having been a close friend of Edsel Ford (1893-1943), former head of the Ford Motor Company, it's easy to believe Dietrich was influenced by a Ford car – the Thunderbird.

Deriving a name and badge from Native American mythology, the T-bird debuted as a sporty two-seater in 1955. In '58, it became a four-seater with fins, hood scoop, and rear panels that suggested a supersonic airship! In '61, it morphed again into a larger vehicle that might now be described as "one big fin," or, perhaps, rocket. It also became a "unibody," meaning its structure was fabricated from a single piece of formed steel, without a frame. Analogous in its realm, the original Firebird was the first production guitar to employ neck-through-body construction. It also had a five-ply mahogany neck with walnut reinforcing strips and two mahogany "wings" for the body. The headstock was "reversed," with the tip pointing up. And while fewer indigenous peoples believed in the Firebird, there was nonetheless an explicit connection with its logo/badge.
Except for blues legends Johnny Winter and Clarence "Gatemouth" Brown, the Firebird fizzled with players. Like the T-bird, it underwent major changes that made it less-desirable before it was finally grounded by '69, the year multinational conglomerate Norlin Inc. purchased Chicago Musical Instruments (CMI) and its subsidiary Gibson.
Coincidental with the Norlin acquisition, production of Epiphone guitars, which had been Gibson's "budget" instruments since being acquired in '57, was shifted from Kalamazoo to Japan, where it stayed until the brand was retired in '85, just before Norlin sold Gibson to Henry Juszkiewicz and David Berryman.
Taking a cue from the competing Kramer Guitars, which accounted itself as "the world's largest guitar-maker" by including its Japanese Focus and Korean Striker lines, Gibson quickly revived Epiphone, transferring production to Korea. The first Korean "Epiphone by Gibson" guitars (1986) were largely a mix of unremarkable off-the-shelf OEM models typically offered by everyone at the time. But standing out in the crowd was another revival of the Firebird.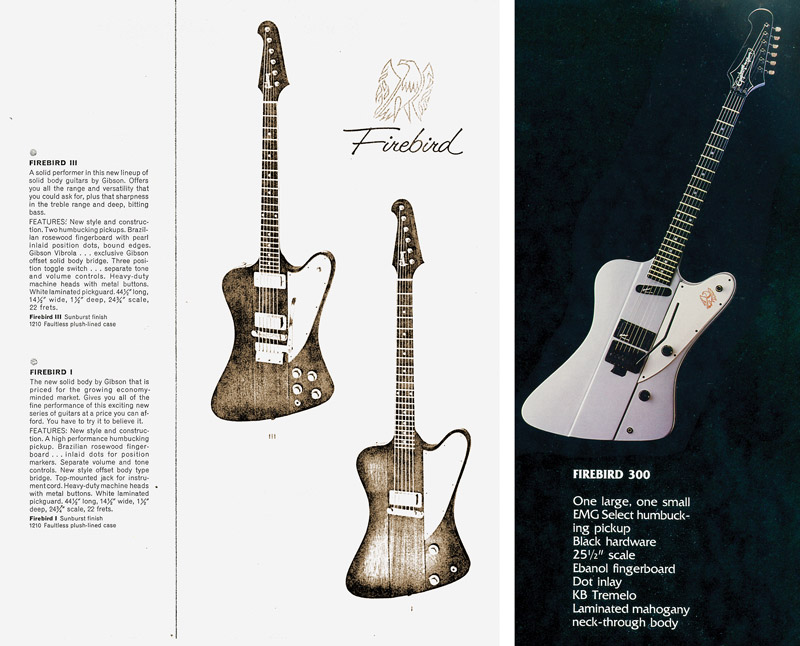 Though solid, well-made, and shaped similar to the '60s originals, no one would mistake an '80s version for the classic. The new Firebird had a one-piece mahogany neck, polymer "Ebanol" fretboard, standard tuners, and a Steinberger-licensed vibrato that could be locked to become a hardtail. It was offered in two versions – the 500 shown here with two passive EMG Select humbuckers, and the 300, with a smaller, slanted humbucking neck pickup that looked like a single-coil. Electronics were pretty basic, with master Volume and Tone on a three-way switch. The 500's EMG Selects are super-quiet and designed to maximize the performance of the rackmount multi-effects boxes popular in its day.
This first batch of Korean Epiphones lasted through '88. They were given no serial numbers or other way to date them, nor do we know how many were made. In '89, the more-familiar Epiphone "Gibson copies"– for which the brand is still known today – began to appear, with the innovative and distinctive Firebird, once again, was retired.
---
This article originally appeared in VG's May 2022 issue. All copyrights are by the author and Vintage Guitar magazine. Unauthorized replication or use is strictly prohibited.