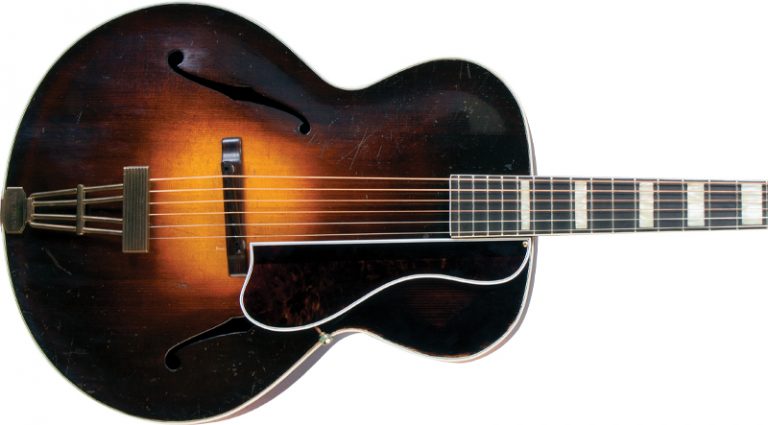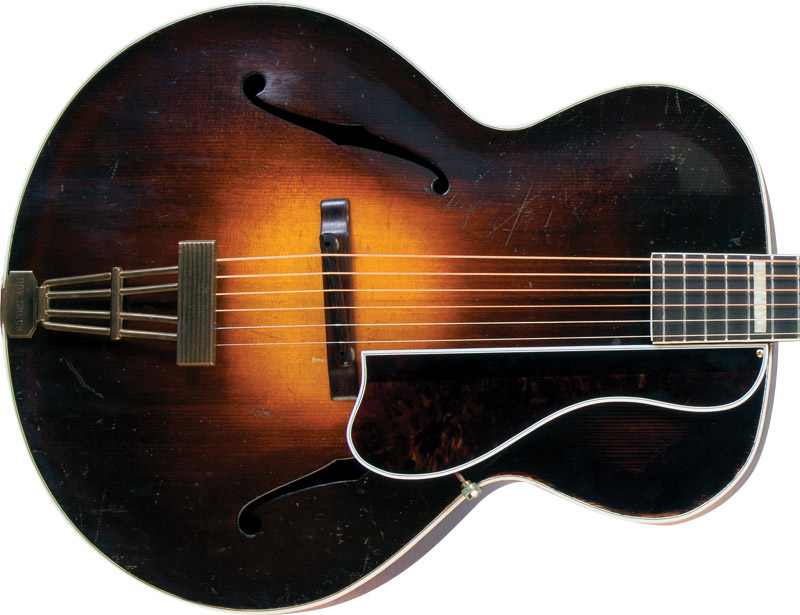 Player endorsements are part of the tradition of guitarmaking going back to its earliest use for public performance. LeRoy G.A. Schmeck, a.k.a. Roy Smeck, may be history's most-prolific endorser of fretted instruments.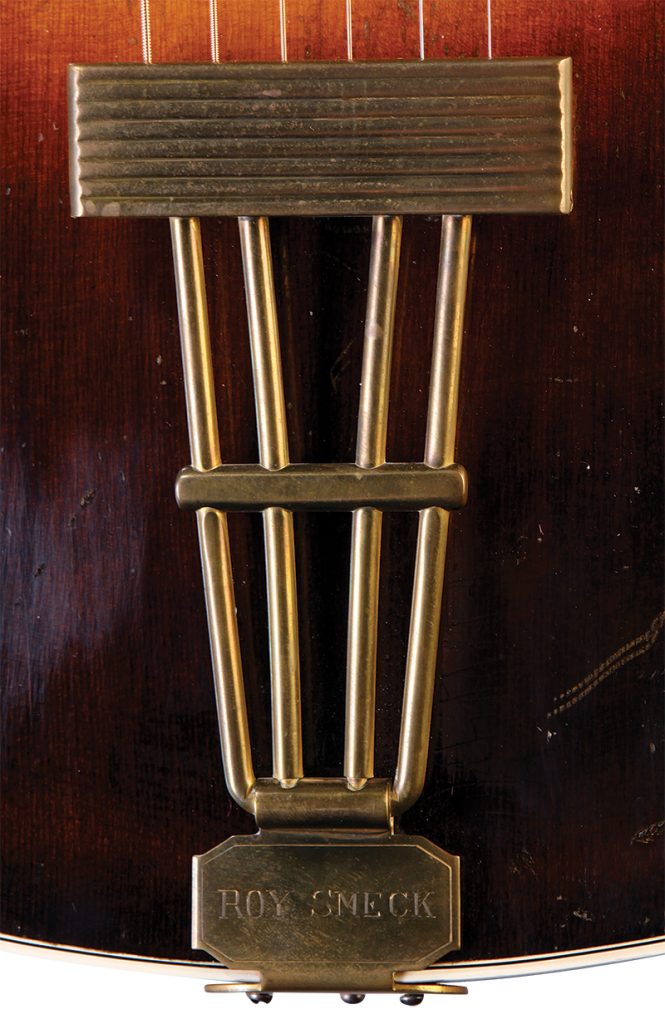 The list includes Washburn (Lyon & Healy) in 1924, the Harmony Vita-Uke and Vita-Guitar in '27, the Bacon & Day Roy Smeck Silver Bell banjo line in '28, and (after World War II) his return to Harmony.
Smeck (1900-1997) rose to fame as "The Wizard of the Strings," assisted by his 1926 appearance in the Warner Brothers short film His Pastimes, for which he used the new Vitaphone sound-on-disc system to synchronize sound with the film (the following year, it was used for segments of The Jazz Singer).
The guitar you see here is one of only 63 Gibson L-5s documented in 1933, an extremely difficult year for the company given its poor sales and layoffs due to the Depression. In fact, records show production that year was mostly confined to wooden toys, student-grade/entry-level instruments, and the first Kalamazoo models. Gibson was obviously seeking opportunity.
The details of the earliest Gibsons endorsed by Smeck are not known, but this L-5 may have been part of the deal. In '34, Gibson debuted the S-1 Roy Smeck Stage Deluxe and S-2 Roy Smeck Radio Grande Hawaiian guitars.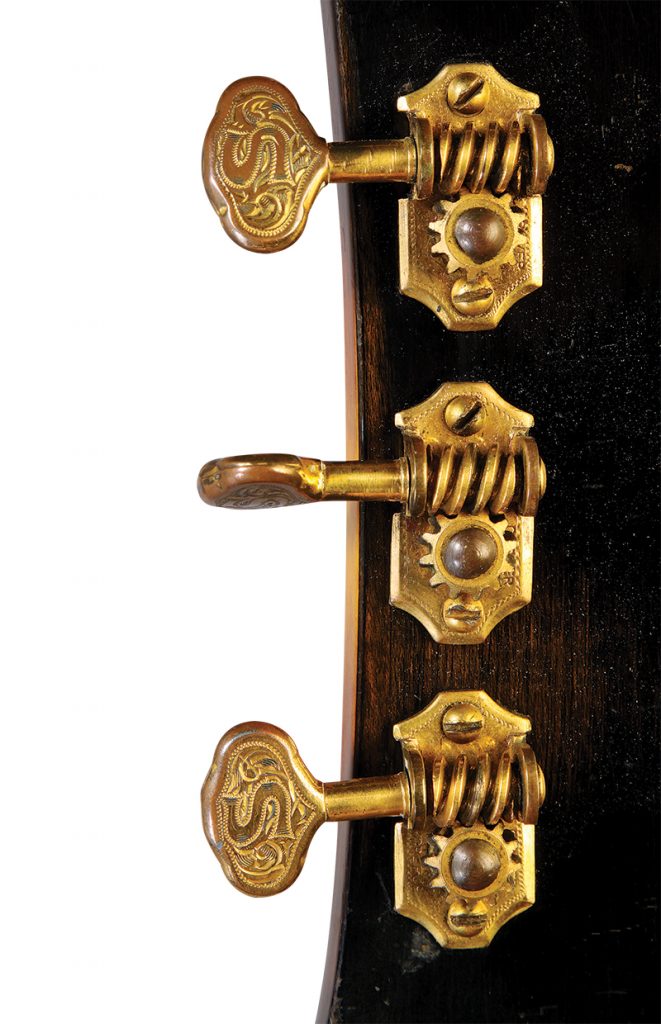 The ink-stamped factory order number (FON) indicates this guitar was produced in mid May of '33 while the serial number tells us it was likely delivered in early June. A close look reveals it's a standard production model with a few easily altered details including a Grover De-Luxe trapeze tailpiece of the type usually seen on Martin and Stromberg guitars of the period, a truss cover engraved with his name, and metal tuner buttons ornamentally engraved with the letter S. Any could be later additions, but the tailpiece appears to be similar in age to the guitar and is die-stamped with his name. Also, there's no indication any other tailpiece has ever been installed. The truss-cover engraving is rendered in a manner consistent with Gibson work of the period and the tuner buttons could have been engraved by Ihling Brothers Everard, a local subcontractor used regularly by Gibson.
In other aspects, the Smeck L-5 meets catalog specs, with a 16″ body, carved spruce top with f-shaped soundholes, figured-maple back and sides, elevated tortoiseshell-grain pickguard, removable/height-adjustable Brazilian rosewood bridge (some others that year were ebony), two-piece maple neck with dark wood center strip and adjustable truss rod, "snakehead" peghead, mother-of-pearl "The Gibson" script logo and flowerpot peghead inlay, Grover G-98 tuners, 19-fret ebony fingerboard (14 clear of the body) with pearloid block inlays starting at the third fret and single-ply white binding, multi-ply binding on the top and back edges, as well as the pickguard,  and gold-plated hardware.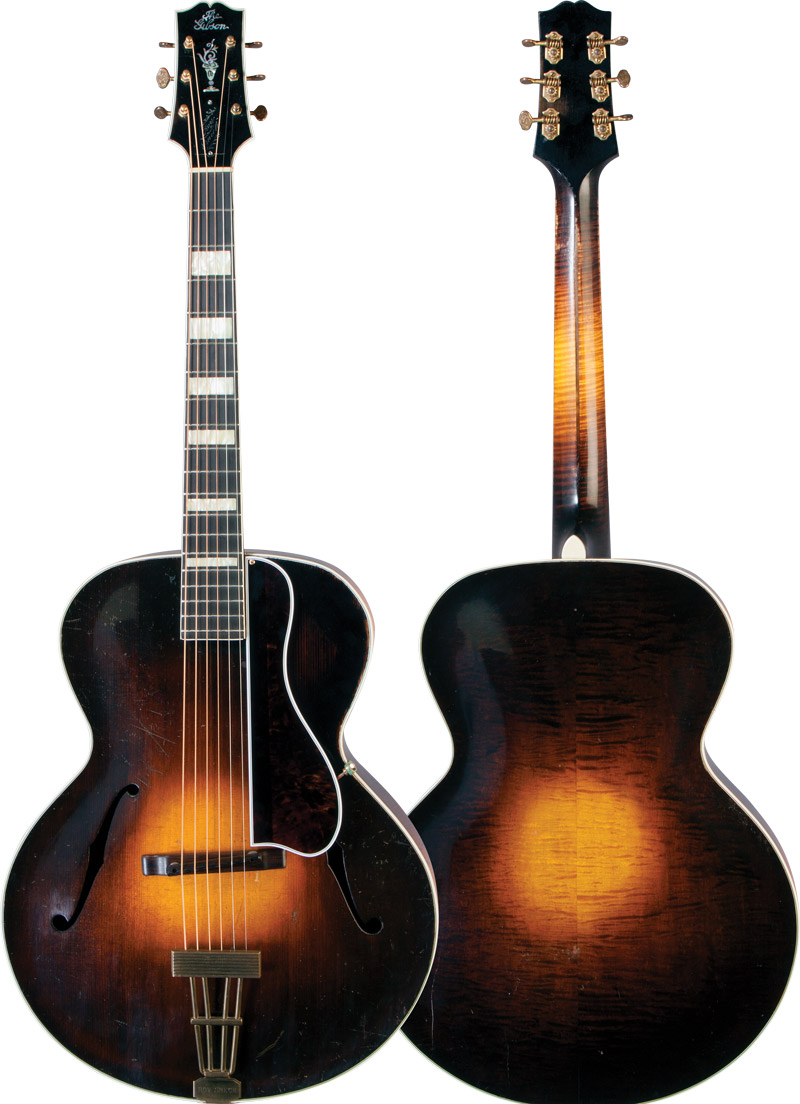 The L-5 was a strong recruiting inducement – at $275, the most expensive guitar in the Gibson catalog. By comparison, in '33 one could have bought Martin's 000-45 for $170, added a 12-fret slope-shouldered D-28 herringbone for $100, and still had $5 left. This is also an excellent example of how the original price does not translate to current market value; today, the two Martins are valued at more than 10 times the typical '33 L-5!
Throughout his life, Smeck taught music at his Upper West Side apartment in New York City. This guitar was purchased from Smeck in the late '30s and today remains in the family of the second owner.
---
This article originally appeared in VG February 2018 issue. All copyrights are by the author and Vintage Guitar magazine. Unauthorized replication or use is strictly prohibited.
---
---