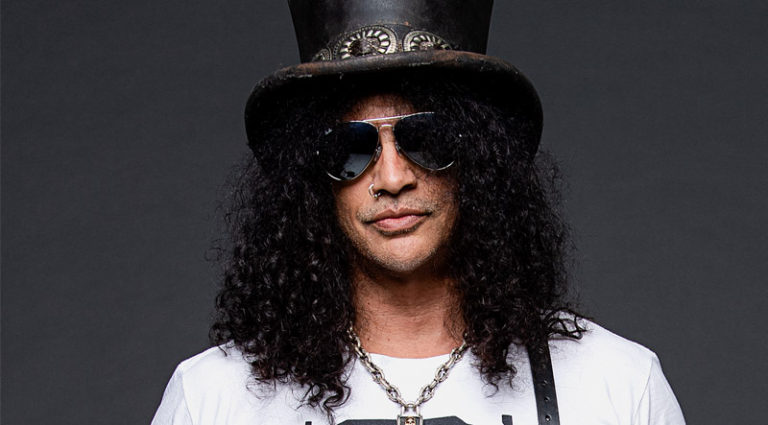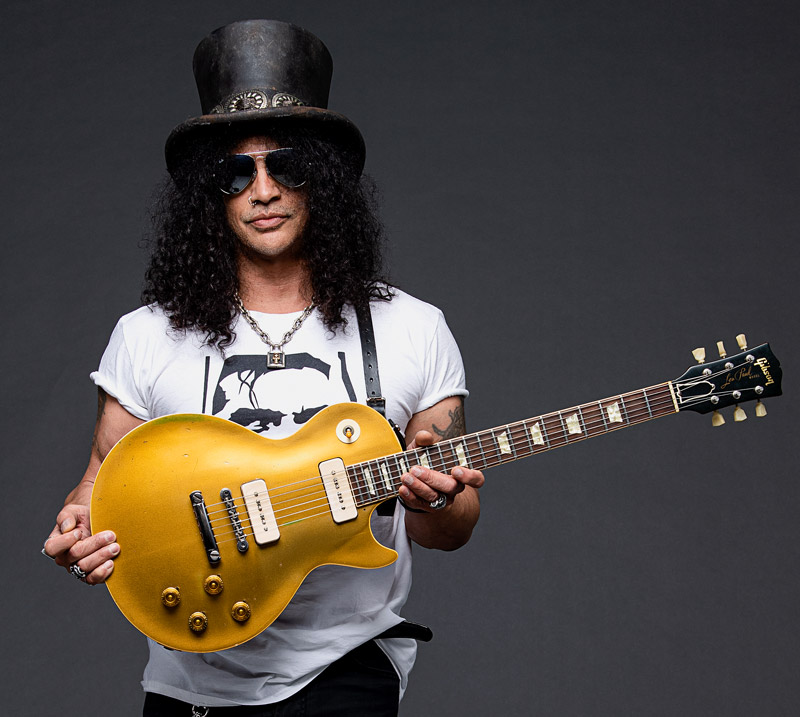 In the weeks before they gathered to record a new album in the spring of 2021, guitar legend Slash, frontman/songwriter Myles Kennedy, and their cohorts in The Conspirators had to pull the reins on their rock-star lifestyles.
In normal times, they'd have jumped on a jet in L.A. and been at Dave Cobb's RCA Studio A in Nashville a few hours later. But… pandemic. So, instead of traveling aloft at 500 miles per hour, the band chartered a bus and took the 65-mph scenic route – just them, the driver, and a cargo hold full of precious guitars and amps.
Bypassing air travel was, of course, the best way to play it safe heading into the studio – a place where time very much is money. But then that thing about "the best-laid plans" bit them in the ass when Kennedy became infected with coronavirus literally on the way to meet the bus, then didn't show symptoms until they'd been at Studio A for five days.
While Slash and the rest of the band – Brent Fitz (drums), Todd Kerns (bass), and Frank Sidoris (guitar and vocals).– all eventually contracted Covid, they finished recording before anyone fell ill.
We sat for a Slash chat to hear more about how the album, titled 4, came together.
What made you so intent on working with Dave Cobb?
I talked to a few people about good rock-and-roll producers, because they're few and far between these days. I like to work analog, which is old-fashioned, and I was given a couple names I wasn't familiar with – one was Dave. I looked at some of the stuff he did with Rival Sons, which I really liked the sound of. But I also liked how down-to-earth and raw his country stuff is, as well. So, he and I had a phone conversation and we hit it off – got into a deep discussion about Glyn Johns and recording live and all this other stuff.
Playing and recording live was important for you?
It always has been. I always was influenced more by live records than studio albums – that energy and spontaneity. And I've always done as much of that as I could get away with; every record I've ever done, bass and drums were recorded live with guitars, but then we'd replace the live guitars with overdubs, so I wasn't focused on my sound until I'd go back in.
That's been the norm, but I've wanted to record live with the band, keep the guitar tracks, and have the back line in the same room. Most engineers and producers scoff at that. The closest I ever got was working with Eric Valentine when we did the Apocalyptic Love record, which was the first studio album the Conspirators ever did. On that one, we played live in the room but I was in a booth with guitars coming through monitors, which of course didn't sound like standing in front of a Marshall.
On this record, we did an actual back line – baffles between cabinets and drums, all guitars and bass playing at the same time – I love that feel – and we left everything as-is, so there's little mistakes and this and that. To me, that's what's missing as we get further and further from what rock and roll represents.
How many guitars did you take to the sessions?
Not that many. I took the Derrig '59 replica I've been using since 1987, a couple '59 reissues, a '69 reissue Flying V, a '70s B.C. Rich Mockingbird, and a reissue goldtop. I used the Derrig for most of it, the V on a couple songs, one of the '59 reissues on a song, and a reissue Les Paul Custom on one. I did bring a real '59, but never used it.

Did the 'burst ride in the bus with you?
It did, yeah. The Derrig and the '59 both rode on the bus with us.
Why is the Derrig still your number one?
Guitars have personalities, and that one has a thing that has been there since day one. It's really hard to beat.
Does it have its original Seymour Duncan Alnico pickups?
It has Alnicos, but not the originals. Five or six years ago, Seymour and company wound another set that matched the old ones, which were fried and rusty. It was a seamless transition.
Was that guitar a custom build?
No. I was desperately in need of a Les Paul during the overdub sessions for Appetite for Destruction, and the then-manager of Guns N' Roses went to Music Works, in Redondo Beach, where Jim Foote had a couple of Kris Derrig guitars. So, our manager showed up at the studio with this one, and it was just f***ing magic; it had this thing. I did the record with just it and a Marshall 100-watt half-stack, and I've been tight with it ever since.
Which amps did you have in the studio this time?
I had just a couple 100-watt Marshall Jubilee heads and a couple cabinets with Vintage 30s.
What sort of input did Dave offer as you experimented with tones?
Dave's a guitar nut like me, and he knows what sounds good, but he let me do my thing. He'd go, "Check out this Marshall," or "Check out this guitar." But he recognized right away that the Jubilee with the Derrig was it. I experimented with other stuff but he'd say, "Nah, go back…"
What role do guitars and amps play in your creative process?
I have a studio here in L.A. where I do most of my work these days. I have [counts, "One, two, three, four, five, six, seven…"] a few Marshall heads (laughs), so I'll find one that sounds good in the moment and use it to write and do a demo. I experiment with other amps, but always end up going back to a Marshall. I'm not super-particular; once I get a decent sound, I'm fine. I usually stick to a 100-watt cab with Vintage 30s, two Jubilee heads, a Super Bassman head, and a Super Bass 100-watt head. I go back and forth, looking for a certain attitude.
Has plugging into a particular guitar or amp ever inspired a riff?
In the moment, a certain combination might produce something, but I don't find it entertaining to try a million things – I just want to get a sound that I can move forward. It's my job to catch a riff and make it something. The creative process is not technical for me.
Speaking of, The Conspirators have been together for 10 years now. How has creativity evolved within the band?
It has always been a very adaptable group that can function in almost any situation. But, as a norm, I write when we're on the road – make up stuff in my dressing room or hotel room, then take ideas to soundcheck. We'll jam to develop something, then keep going from gig to gig, maybe working on a song for that half-hour at a time. By the end of a tour, we've usually amassed a handful of good songs. I might have other stuff kicking around, as well. Then we get together and start working at rehearsals, which these days have been in my studio.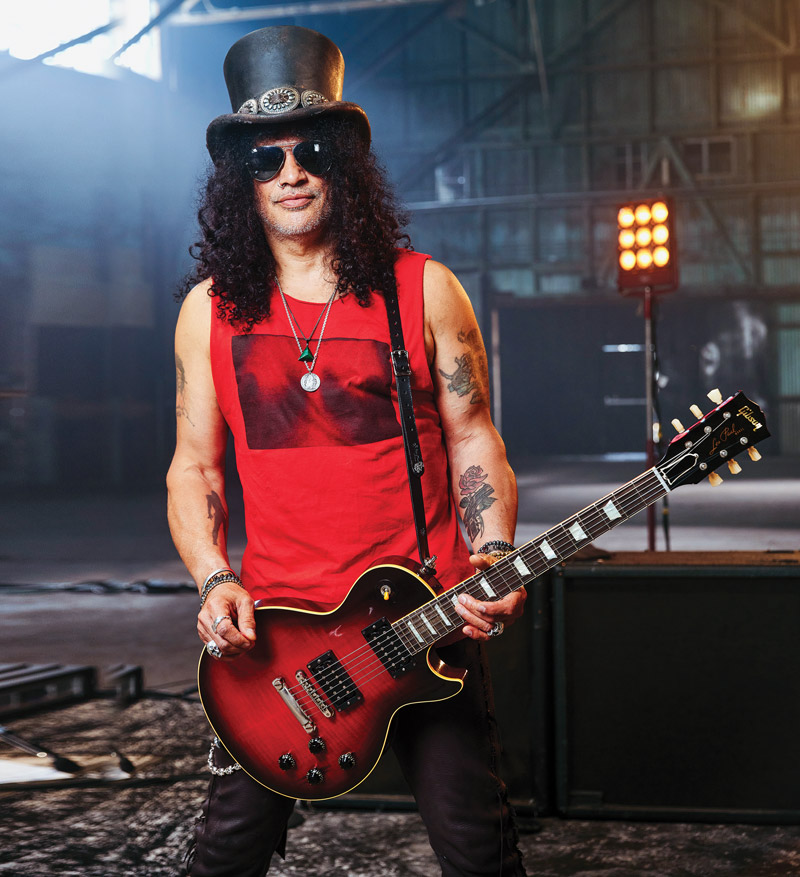 The pandemic screwed up the rhythm of that; we finished a tour and I was about to go out with Guns when it hit. Everything stopped, so I worked up loose arrangements and demos myself with a drum machine, then I'd send those to Myles and he'd send them back with changes or new ideas. Then I had Todd come over and put bass on it. Eventually, we got together to work out arrangements, then made travel plans for Nashville.
How do you describe Myles as a lyricist?
He's great – very heartfelt and pretty… I want to say "deep," but I don't want to sound too heavy (laughs). He gets on a feeling and fleshes it out. I try not to get too involved.
Why not?
I hate getting into lyrics. I've done it on occasion out of necessity, and it's not that I'm bad at it, but singing and lyrics are not a great outlet for me. I don't get off on it. Myles always has a handle on it – there've been a couple times when he's come to me for an idea, but they're few and far between.
Are there a few songs on 4 that best embody your guitar sounds?
The first song, "The River is Rising," is pretty indicative. It's just the Derrig and one of the Jubilees. "Spirit Love" has an interesting sound; I played electric sitar on the intro, running through a Marshall at full blast.
"Fill My World" isn't the type of song people expect on a Conspirators record. I came up with the opening riff at my studio, then the chord changes came later. I made a demo, but wasn't sure what the guys would think because it has such a sentimental feel. But I sent it to Myles, and he came back with this really heartfelt lyric. I thought it was about all the loss we've been suffering during this dark period, but then he told me it was about his dog (laughs). That was done with the Derrig, as well.
The last song, "Fall Back to Earth," is where we go a little bit left-field; while Dave was in the bathroom, I snuck guitar harmonies on the melody in one section.
Which songs do we hear the reissue V on?
I used that for "C'est La Vie" and "Actions Speak Louder Than Words." The V had this cleaner thing to it, and sounded great with the voice box. For the riff in "Actions," it was loud and raunchy but didn't have as much saturation as the Derrig.
Are you still adding guitars to the collection?
I'm trying to control that a bit (laughs). I am obsessed with guitars; I won't buy anything unless I have a use for it, but that happens a lot (laughs), mostly with Les Pauls because I just love finding a cool one.
What makes something cool?
The finish is one thing. I can be drawn to 75 variations on a sunburst (laughs). It's ridiculous. But I can also be interested depending on hardware and pickups.
You recently grabbed a vintage Gibson acoustic at Norman's Rare Guitars…
Yeah, I was doing a photo shoot while they pulled some guitars, and that one – a '63 J-45 – stuck. It sounded amazing, which is first and foremost what I look for.
How many are in the collection now?
I think we're in the realm of 200-plus, but a lot of that comes from working with Gibson on signature Les Pauls and other guitars. We've been doing that since 2005, and I've kept all of the prototypes.
You and the Conspirators will be touring with the new album. Are you psyched to get back on the road?
Yeah, I'm very excited. I haven't played live with the guys since 2019, and I miss them. Considering the way we recorded, it's going to be really fun to play the new songs. And I like the venues this band plays – a lot of theaters, which are perfect because they're big enough to do
a full thing but small enough to be intimate. And they usually have great acoustics. Guns N' Roses played the Apollo not long ago, but normally that band plays arenas and stadiums.

Gibson, Slash Launch Limited Les Paul
Album 4, Guitar 9
Coinciding with the new Conspirators album, Slash and his longtime friends at Gibson have created the Slash Les Paul Standard Limited 4 Album Edition. With a mahogany body and mahogany neck shaped to Slash's preference (based on a '50s Les Paul), it boasts a Translucent Cherry gloss-nitro finish on a flame-maple top. Tones are delivered with help from BurstBucker Alnico II pickups and hand-wired electronics with Orange Drop capacitors. Furthering the flash are keystone-buttoned tuners, an ABR Tune-O-Matic bridge and aluminum tailpiece, Slash's signature screened on the truss cover, his hand-sketched Skully logo on the back of the head, a specially designed hardshell case with compartment that holds a vinyl copy of the 4 LP, custom pick tin with eight picks, a "4" album-logo decal (for optional placement a la Slash/Pete Townshend), blank truss cover, and a signed portrait of the band.
The 4 Album Edition is the sixth Slash guitar in the current Gibson line, accompanied by three signature Epiphones.
---
This article originally appeared in VG's April 2022 issue. All copyrights are by the author and Vintage Guitar magazine. Unauthorized replication or use is strictly prohibited.