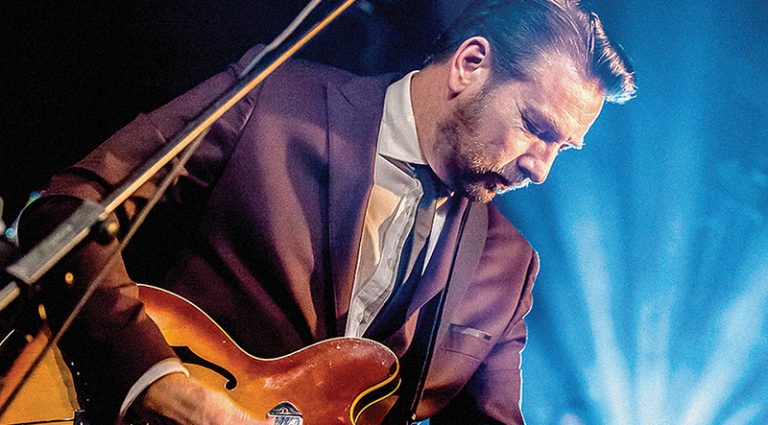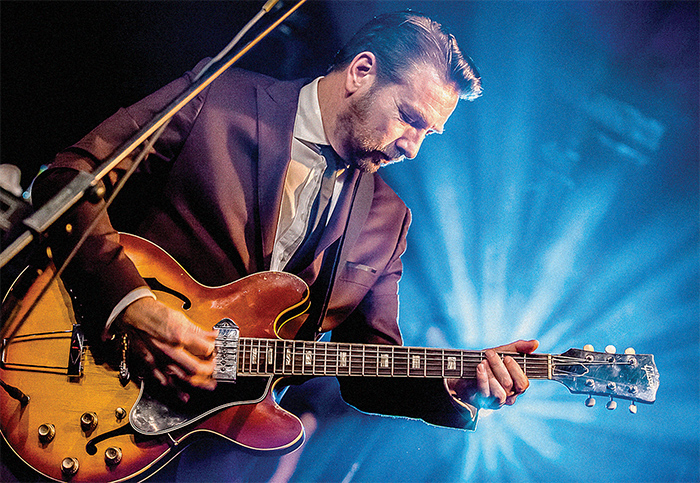 The New Mastersounds' latest album, Made For Pleasure, has the usual mix of soul, jazz, funk, and even a bit of reggae, and of course the band is tight and focused.
It may, however, surprise listeners that it was written and performed in the span of one week.
"That's pretty much how we work," said guitarist Eddie Roberts. "With one album, we tried to write in advance, but afterward, all we thought was, 'Why weren't we recording while we were writing?'"
Recorded in New Orleans, it was started on a Monday and finished Sunday. "We used to get done by Friday, but we're getting older and slower," he admits.
Born in Wales, his introduction to guitar came through a gathering.
"[I took] piano lessons when I was young, but one day I saw a guy playing guitar in a park, surrounded by people. I thought, 'That's for me – sort of a social piano.'"
That Christmas, he was gifted a guitar, but wasn't exposed to much music until his brother started collecting records; Hendrix was an early teenage influence, along with Black Sabbath and Deep Purple. Those bands citing jazz influences – and his brother's vinyl – got him interested in certain masters of the genre. Using money earned on a paper route, he bought records of his own, and still enjoys the Blue Note albums from the early '70s to the '90s.
In 1989, he moved to England to attend Leeds College of Music – the only music school in the country with a jazz program. There, he got involved with the club scene; DJs were vital to his learning.
"They were playing soul, punk, jazz… They'd feed me all this music on mix tapes, and I ended up being a part of the club scene by forming tailor-made bands. In 1995, I put together the Mastersounds. We were together for two years, disbanded, then the drummer and I started the New Mastersounds to play a club in '99."
An opening stint in the U.S. led to relocating in 2004.
"We were blown away by the audiences, which were into our soul-jazz and funk. We thought, 'This is where we need to be.'"
His rig is simple.
"I play a '65 Gibson 330 I bought at the Chicago Music Exchange a few years back," he said, adding (to shocking effect), "I don't own another guitar."
That means the band must be ready with a "party piece" for when Roberts breaks a string onstage.
"I keep them in my pocket and see how fast I can fix it. The band turns the groove around and I jump back in as soon as I can. My record is about 29 seconds!"
He uses a custom set of D'Addarios, .014 to .052, with the three heaviest being flatwound. His amp is a Fender Twin, and his effects are a wah and an Xotic EP Booster.
Given the Mastersounds tour so heavily (they've played about 95 percent of the U.S.), one might wonder what Roberts listens to in his leisure time.
"As much silence as possible," he said.
---
This article originally appeared in VG June 2016 issue. All copyrights are by the author and Vintage Guitar magazine. Unauthorized replication or use is strictly prohibited.
---