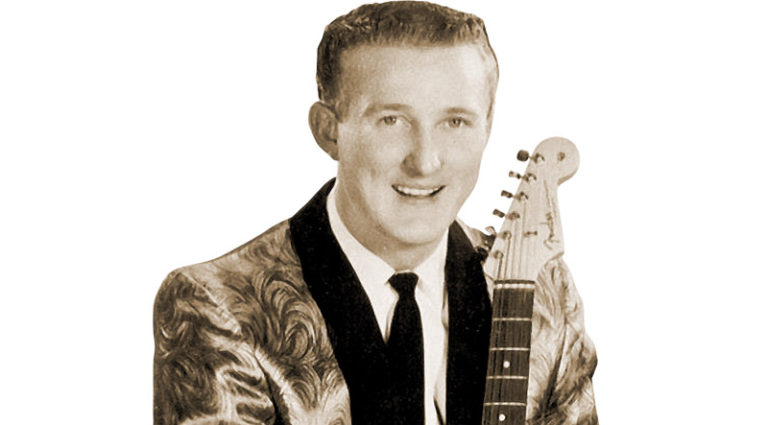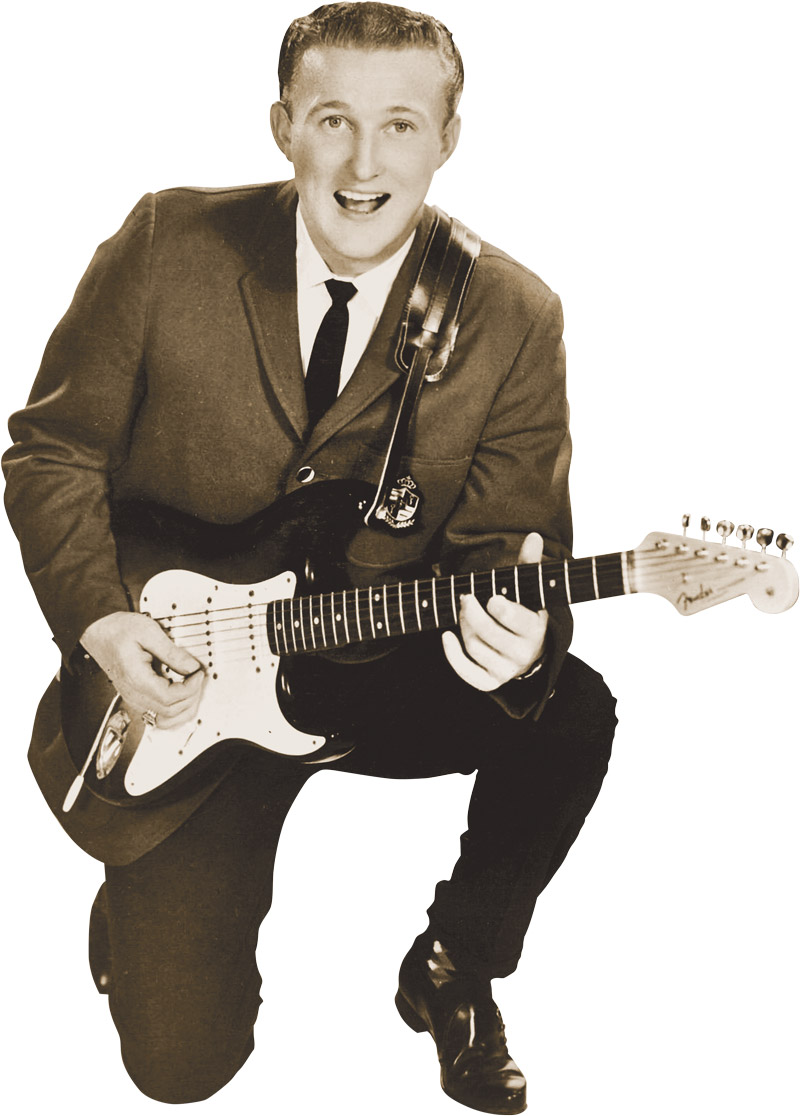 Don Wilson, co-founder and last remaining member of the Ventures' "classic" lineup, died in his hometown of Tacoma, Washington, on January 22. He was 88 and passed away from natural causes. • Born February 10, 1933, Wilson was exposed to stringed instruments at the age of eight, when his mother taught him chords on a tiple. He played trombone during childhood, and the tiple with friends who played guitar. Wilson switched to guitar in the early '50s while stationed in Germany with the U.S. Army.
Following military service, Wilson was working at his father's car lot when he met Bob Bogle, a construction worker who was also a guitarist. In early '59, Bogle helped Wilson hire on with his construction company; when traveling together for work, they'd jam in motel rooms using pawn-shop guitars. While Wilson's roots were in country music, both were fans of Duane Eddy and the burgeoning instrumental rock.
"We eventually went out on a limb and bought two Fender guitars," Wilson told VG in March, 1997. "The first recording we did was called 'The Real McCoy.' We wanted something a little different, so I did a Walter Brennan impersonation in the middle of the song. It did pretty well, locally, so that was encouraging."
Bogle and Wilson formed the Ventures as a duo – lead and rhythm – later recruiting Nokie Edwards on bass. After a Seattle radio station began playing their version of Chet Atkins' cover of Johnny Smith's "Walk, Don't Run" in 1960, the song reached #2 on Billboard's Hot 100, thrusting the group to the top of the international music scene.
The band's classic lineup evolved to include Wilson and Nokie Edwards on guitars, Bogle on bass (sometimes trading axes with Edwards), and Mel Taylor on drums. Wilson usually favored a Jazzmaster, performing as the rhythm player while Edwards handled most of the lead work.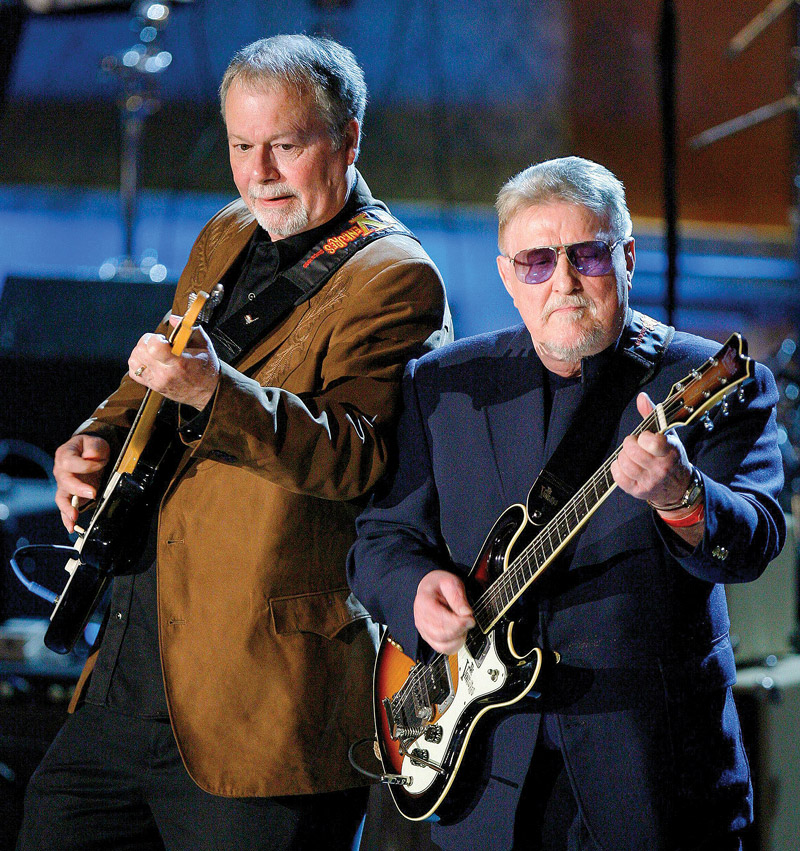 Through the '60s and early '70s, 38 of their albums charted in the U.S., along with 14 singles that reached the Hot 100; their final U.S. hit, the "Hawaii Five-O" theme, peaked at #5 in 1969. They specialized in creating instrumental versions of the latest hits, and devised quirky and timely album concepts like 1961's The Colorful Ventures, on which every song title includes a color, and Ventures in Space, from '63, which played on NASA and the space race. One of their most-popular albums was, Surfing, their take on the surf-music genre, released in May of '64. In '65, they released The Ventures' Christmas Album, which charted over the following four holiday seasons. Later in the decade, they cut four albums capitalizing on the popularity of psychedelic rock. To date, they've sold more than 100 million records and inspired many others in the instrumental-rock and surf genres.
"We glommed on to every trend, which was what instrumental-rock bands needed to do," Wilson said. "While we preceded surf music, [Surfing] was one of our biggest [albums].

"I've heard DJs call 'Walk, Don't Run' a surf song, and I've heard the Ventures described as playing 'the California sound,' but we came from Seattle. A lot of people even identify songs like 'Wipeout' or 'Pipeline' with us instead of the Surfaris or Chantays, who did the hit singles, for the simple reason that we had those songs on a lot of compilation albums."
There was also the series of instructional albums for aspiring players, on which Wilson, Bogle, and Edwards demonstrated how to play Ventures favorites.
"Those did very well," Wilson recalled. "In fact, they were the first, if not only, instructional albums to make the charts."
Under the aegis of Wilson and Bogle, the band invested in the Mosrite guitar company. The Ventures Model guitar and bass were keystone instruments in the lineup, though the association lasted just five years before coming to an acrimonious end in 1968. In '96, Fender created a limited-edition signature line with a Stratocaster, Jazzmaster, and Jazz Bass sporting a translucent black finish, gold hardware, and block fretboard markers. Later, the band endorsed Wilson Brothers instruments, which was led by Wilson's son, Tim.
In late 2001, the Ventures released a Wilson-penned song titled "Be Strong America." Proceeds from sales of the CD that followed went to families of victims and families of first responders in New York City.
While the world experienced numerous musical fads, the Ventures stayed true to their craft and even achieved demi-god status in Japan, where they've toured regularly for decades. Wilson retired from touring in 2015; in his later years, he continued to follow modern music and remained an advocate for "tasteful" guitar music.
"That's where it's at," he said. "Some players may be great technicians, but sometimes they don't have the feel for what they're doing, you know?"
---
For more on Don Wilson and The Ventures, read Dan Forte's "Check This Action" column in this month's "Hit List."
---
Remember Don Wilson
Fans and Friends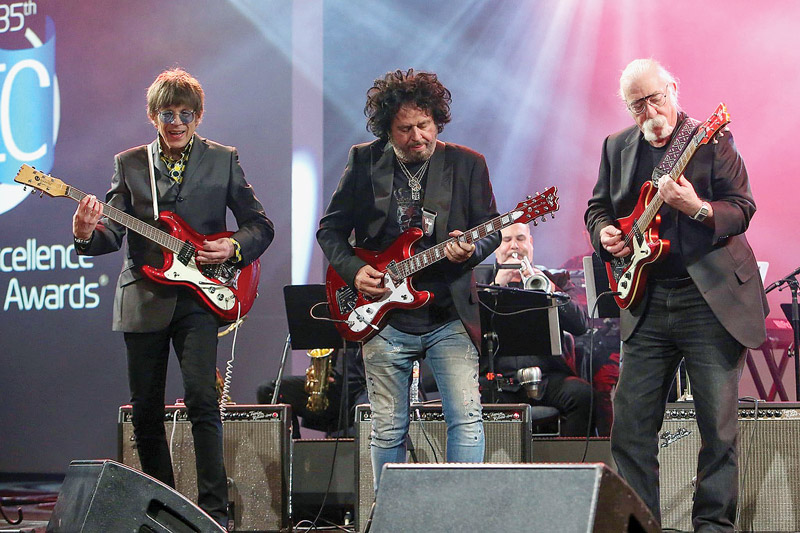 "I remember being 15 years old just starting to play guitar and seeing Don and Bob Bogle on stage in 1962 in Japan, where my father was stationed in the Air Force, and dreaming about being a guitar player. In 1981, when Nokie Edwards got sick, I got a call at 2 a.m. to fly to New York. It was a tremendous thrill taking the stage with Bob Bogle, Mel Taylor, and Don Wilson at the Mudd Club. And when I started touring, it was always gratifying to introduce Don to an audience; he was such a great artist and performer. Don influenced a generation of guitar players; most were just regular guys, and some became famous.
"Don's innovative style of playing came from his experiences with Bob when they started out as a guitar duo. In the early days, Don had to play very rhythmic and strong, because they didn't have a drummer. Later when they became a quartet with a drummer, his style never changed, and that unique rhythm-guitar drive became a prominent characteristic of the band's music.
He will be remembered as a special contributor to the guitar and music of rock and roll." – Bob Spalding
---
"I remember hearing the riff from 'Walk Don't Run' on the radio when I was pre-teen living in South New Jersey. Then, I saw The Ventures on 'The Dick Clark Show.' I'd go to the record store in Pennsgrove to order music by The Ventures. The cover of the 45 with 'Perfidia' and 'No Trespassing' was a photo of the band – Don and Bob were playing an A barre chord and Bob an A7, with Nokie posed on his knees, playing a Precision Bass. I wrote Don's mom, Josie, and she would send me Ventures promo records and photos I have to this day.
"Don playing the beginning chords of 'Walk Don't Run' with such energy really stayed with me. The song was written by jazz guitarist Johnny Smith and recorded by Chet Atkins, so The Ventures doing it gave us young players a great history of guitar music. Don knew all the chords and kept the music together for Bob Bogle, Nokie Edwards, or some guest to play the leads.
"I've known Don personally since the late '70s. When I spent time at Don's house, he showed me many of the rhythm parts on his earlier recordings. My favorites are the Dolton Records period, and I got to play many of them in my early bands. Don had such a distinctive style, and you don't hear any mistakes on their recordings!
"Don's work was so important to me as a player. I urge all guitarists to listen, especially those just starting." – Seymour W. Duncan
---
"I was living in Mexico when I first heard 'Walk, Don't Run,' and just went crazy. Abraham Laboriel and I formed a surf band called the Tarantulas. He was 12, I was 11, and we were getting gigs. I joined the Ventures Fan Club and sent Bob Bogle a letter, and he wrote back. He said, 'You should buy a Fender Jazzmaster.' Which I still have.
"The Ventures decided that they were going to play melody. What a concept! I think that changed the whole focus and created a reality for guitar players – learn the melody from the song.
"From the fan club to getting to know the guys to producing records by them and playing with them, it was a special relationship. Don and I became really close. I helped put together the Lifetime Achievement Award at NAMM for him; Steve Lukather, Elliot Easton, and I played red Mosrites. I did one record with Duane Eddy and the Ventures playing together. That was fun. I had a lot of love for the original clean recorded stuff, but I also wanted to take them into another place. Open the aperture, have some fun.
"When they started, they didn't have a bass player or drummer, so Don's aggressive, powerful, percussive style grew from that. That was the agar-agar in the petri dish that grew that style of playing.
"Rhythm guitar is an art, and there aren't a lot of great rhythm players. There's no doubt Don was the master and crafter. All-encompassing rhythm-section guitar – that's his invention. He's royalty!" – Jeff "Skunk" Baxter
---
"I first heard Don and 'Walk Don't Run' in the early '60s. I was already playing guitar and it was an exciting new sound. Radio at that time was not very guitar-centric, consisting mostly of girl groups and the Bobbies, Fabians, and Frankies from Philadelphia, so this was important for me to hear. It wasn't long before I was collecting Ventures albums!
"Don had a major influence on the way rock-and-roll rhythm guitar is played. If fact, it was the first time many of us heard the differentiation between lead and rhythm guitar. It sounded exotic, and at first we thought you needed a different guitar – a 'lead' guitar and a 'rhythm' guitar!
"Don and The Ventures instilled in me a lifelong love of 'twang.' But more importantly, they taught us how to be a band in the years before The Beatles – and what a lot of fun that still is!
"Luke, Skunk, and I played 'Hawaii Five-O' with a full orchestra at the 2020 NAMM TEC awards on our Candy Apple Red Mosrites! We were playing for Don and his wife, who were sitting close to the stage. When we finished, Don's wife gave the three of us each a gift bag with a Ventures hat and other goodies. They were such sweet people.
"What was Don's most important contribution to the Ventures' music? He made it swing!" – Elliot Easton
---
"Once I saw the Beatles on Ed Sullivan, anything with an electric guitar is all I wanted to see and hear. So, I loved all that surf-guitar stuff – The Ventures, Dick Dale – it was wonderful, beautiful, loud guitar music. And if you wonder how important Don was, try to imagine if he stopped playing, and see what it sounds like. People don't pay enough attention to being a great rhythm player anymore. Back then, it was what we learned first, not last.
"Every once in a while, my playing references Don. Many years ago, I did guitar parts on Michael Jackson's 'A Stranger in Moscow,' and there's a bit at the end where I do this surf thing. I remember saying, 'We need to get a Ventures guitar sound for this,' which meant with nice reverb and playing the low strings with the pick near the bridge. I love that sound." – Steve Lukather
---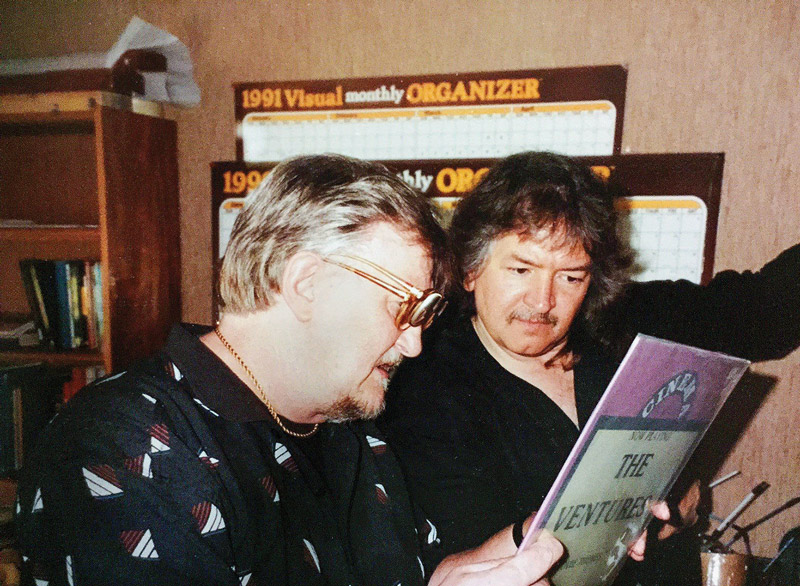 "I was 13 years old in 1960 and just beginning to learn guitar. I only had 10 lessons when 'Perfidia' started to climb the Top 40 radio charts, and it was the first tune I wanted to learn – 'Walk, Don't Run' was added to my young repertoire later. I learned the chords first, and still have the tablature from those lessons. It was Don's full, down-stroked barre chords that pretty much defined how rhythm guitar can be used to move the lead along, instead of just voicing chord support. Whenever I play rhythm guitar for an up-tempo instrumental today, using a similar chord sequence, I tend to drop into a Don Wilson style. That's his lasting effect on me." – John Blair, Jon and the Nightriders
---
"I first heard the Ventures when I was four or five years old and my teenage brother played his 45 of 'Perfidia'/'No Trespassing.' I don't remember which he played first, but the first time I heard the intro to 'No Trespassing' was the coolest thing I'd ever heard! It was probably the first time I was aware of the electric guitar, and for me it defined what an electric guitar is supposed to sound like. Years later, when I was starting a band, a friend played his 'Hawaii Five-O' record, and I remembered how much I loved that sound. At that point, I decided to pursue guitar instrumentals, and went home that night and wrote my very first song, 'Calhoun Surf.' 'Hawaii Five-O' and 'No Trespassing' were also in my set list.
"A few years later, I found myself sharing a stage with The Ventures at the Mudd Club, in New York City, and becoming friends. Fifteen years later, they recorded a version of 'Calhoun Surf' and we did more shows together, including a cruise. A few years ago, when I was undergoing cancer treatment, Don surprised me with a phone call to find out how I was doing and wish me well. Having a friendship with one of my lifelong heroes was indescribable. Don was a wonderful human being. He will be missed." – Danny Amis, Los Straitjackets
---
"Here's the thing about Don Wilson. Usually, the lead-guitar player in a band hogs the spotlight, playing a million notes, getting all the glory. The rhythm player is relegated to the background, fairly unimportant. Not so for Don Wilson, who practically redefined electric rhythm guitar in the new decade of the '60s. Don's rhythm playing was as exciting as the lead parts, and just as nuanced. That is a rare, rare thing.
"His rhythms defined the Ventures sound through three lead players in their hitmaking years. He was a powerhouse of rhythm guitar. No one played like him." – Deke Dickerson
---
"The Ventures were a red-hot band by the time I was born in the early '60s, and definitely not on my radar as a '70s teenager. Fast-forward to the '80s, when I was writing what became the book Legends of Rock Guitar. The moment I discovered the Ventures, completely outside the historical timeline, was an earthquake – the sound of their hip, melodic, and catchy-as-hell twang made them one of my favorite guitar bands.
"After the millennium, it became urgent to check their box off my concert bucket list. The chance came April 5, 2012, when they played the Birchmere club in Alexandria, Virginia, where – coincidentally (not) – I lassoed my family into visiting for spring break. As it turned out, this was Nokie Edwards' last U.S. tour. He perched on a stool for most of the gig, but his chops were nimble as ever. But the star of the show was Don Wilson.
"To the naked eye, Wilson was a wizened, silver-haired, 79-year-old gent who simply rocked the house. Dressed in black with shades and a block-inlay Jazzmaster, he was having a blast. He stalked the stage, bopping up and down with the beat, and gave that Fender a well-deserved thrashing of chords and riffs. It was prime Ventures.
"While it was wonderful to see Nokie still pickin', Don owned the Birchmere audience. The fact he was playing through a Mesa/Boogie Rectifier half-stack only made him that much cooler – we should all be so lucky as to rock so hard at that age, loving every minute of it. It was perfect. Twang on, Mr. Wilson." – Pete Prown, VG contributor/music editor
---
This article originally appeared in VG's April 2022 issue. All copyrights are by the author and Vintage Guitar magazine. Unauthorized replication or use is strictly prohibited.