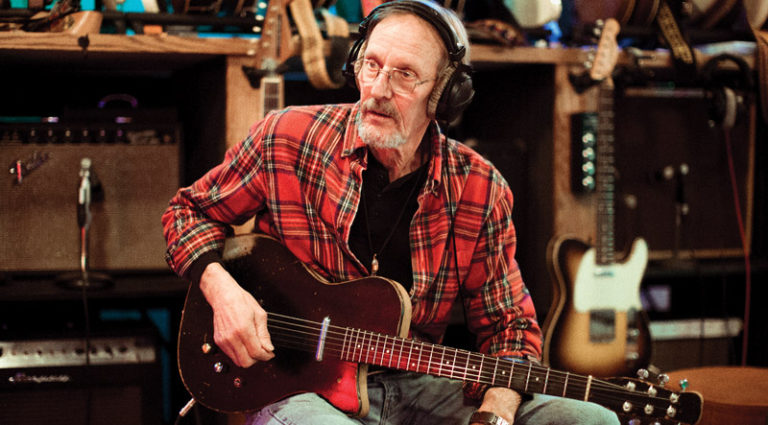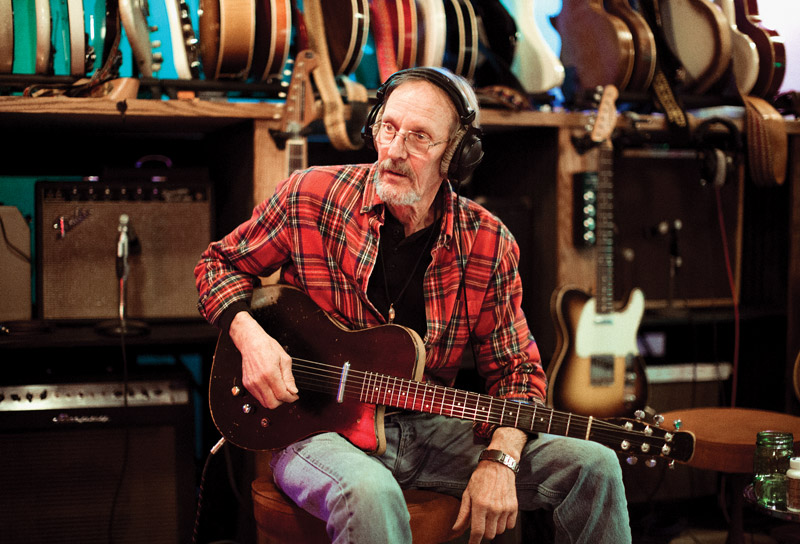 The Black Keys' latest album, Delta Kream, is a collection of blues standards from the Mississippi Hill Country. Drummer Patrick Carney and guitarist Dan Auerbach expanded their duo with a team of Hill Country specialists including virtuoso slide guitarist Kenny Brown. As the guitarist for R.L. Burnside and many other Northern Mississippi blues artists, Brown brings authenticity to the music while imbuing the songs with hypnotic slide work.
Is Northern Mississippi slide guitar different from other styles?
I don't know if it's different. The first time I ever heard slide was when I was 14. Mississippi Joe Callico, who lived next door, was teaching me. He pulled out a pocket knife, took his archtop guitar, and laid it in his lap. He had it tuned to what they call "Spanish tuning," which is open G. Later, another guy showed me how to put a slide on my finger. He tuned to D, E, and G. I've been doing that ever since I was a kid.
If there was something specific to North Mississippi, I would have to think about it. There was Mississippi Fred McDowell and Jessie Mae Hemphill. There was a guy named Stonewall Mays and Rainie Burnette. I listened to a lot of people, including Elmore James and Robert Johnson. I listened to everyone I could learn from, including the Allman Brothers. The Northern Mississippi feel is tied into the groove more than the chord changes. It comes from the fife and drum bands and being around that a lot of years ago.
How did you meet The Black Keys?
Years ago, they were on Fat Possum Records. I was with R.L. Burnside and the first time I met them was on a bus headed to the airport from a festival in Norway. We briefly met, but everybody was worn out from the night before. I put on the North Mississippi Hill Country Picnic, which is a blues festival here. They both came down for that, and later I got the call to play on a Robert Finley record. They did, too, and we were hired for three or four days. We recorded six songs in about five hours then did overdubs the next day. Four of those songs made it to the record, which was a great record to play on. I'm glad they called.
Did you have any influence over how the songs were chosen?
We sat down thinking about songs to do, and I made some suggestions. Guitarist Eric Deaton was there, too. Dan and Patrick made some suggestions, and we put our heads together. We pretty much sat in a circle and played (laughs). There was some isolation with the drums, but other than that, the mics were close on the amps.
Which guitars did you use?
On most of it, I used an old Silvertone and a '58 Danelectro, except for one or two others where I used a Mexican Strat from 1989. We did the record in 10 hours – five the first day, then finished the next with a couple overdubs.
Do you set guitars with a higher action for slide?
I keep mine set up where I can play slide or without, so I can swap back and forth. It's a little higher than most for people who don't play slide. I used to have an old Casino that I miss really bad and don't know why I sold it. It had real low action, but I played slide on it. Back in those times, I think I used .011 to .060 strings.
Which finger do you use for slide?
My ring finger. I have used my little finger; I left my slide at home once and had to use a lipstick case, but it would only fit on my little finger (laughs).
Your work on Delta Kream is going to attract students.
I have lessons online, which is something I do to keep the money coming in. Some of my students are pretty good. I did an apprenticeship thing with a girl here in Mississippi. When Corona hit, I taught her a lot of stuff. You always learn from teaching, so it really helps me.
Any new projects?
I'm digging out songs. I have some sessions with Dan, and I have some country tunes I did with Bruce Watson, from Fat Possum Records. I'm thinking of doing more of that, and I'm writing stuff for another record. We did the festival again this year, and other gigs are picking up.
Will you join The Black Keys on tour?
There are some plans for us doing a few shows. They're a lot of fun to play with.
---
This article originally appeared in VG's November 2021 issue. All copyrights are by the author and Vintage Guitar magazine. Unauthorized replication or use is strictly prohibited.