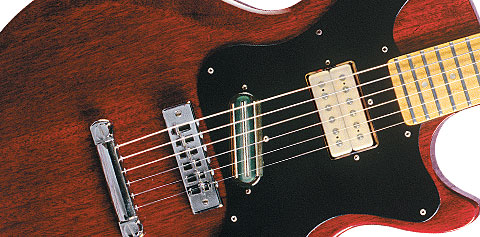 Every once in awhile, someone in Gibson R&D gets a brainstorm like, "I know! Why don't we make a bolt-neck guitar!" So they do. And the result is almost always interesting – and almost always a commercial flop. Call it "Les Paul syndrome."
Guitar aficionados are the beneficiaries of both sides of this coin. Not only do we get to nab a fabulous guitar, but we're also not likely to pay as much as it might really be worth! A case in point is this nifty 1978 Gibson Marauder Custom.
The '70s were tough on American guitar companies. Actually, the grief began just following the corporate feeding frenzy that gripped the musical instrument industry in the mid '60s. By mid-decade, guitar companies could sell any guitar they could get their hands on. This led to a lot of expansion by domestic factories as well as an explosion in imports, first from Europe and then from Japan. However, according to reports in The Music Trades, guitar sales experienced a contraction in '67, with a further reduction in '68. Besides all the corporate takeovers, Valco and Kay merged in '67, then closed down in '68. Many other American '60s guitar stalwarts bit the dust by the end of the decade.
Entering the '70s, the guitar landscape had solidified into primarily the major guitar American companies facing off a growing challenge by a host of improving Japanese manufacturers building their brand identities. At the same time, American guitarmakers were having identity problems. Part of this came from the competition, but a good deal of it came from the corporate cultures that owned them. Often, the managers in charge knew about commodity businesses but not so much about the subtleties of the music business, which is a bit of a different animal. Eventually, this would lead to a big sell-off in the early '80s, but that's getting ahead of our story.
Gibson had departed from its Les Paul guitars in 1961, switching to the SG, then returning to its venerable mainstay in '68. Yet the company felt it needed something new. The result was a number of new guitars, including several bolt-neck models like the Marauder, technically introduced in '74 but really entering production in '75.
Conventional wisdom has Gibson desiring to compete on Fender's turf with bolt-necks and "single-coil" pickups. This may be, however, except that beyond its bolt-on neck, there's not much Fender-like about the Marauder. There's not even a single-coil pickup, but rather a narrow humbucker at the bridge, giving this guitar something of the illusion of a Telecaster arrangement.
In fact, Gibson recruited pickup maven Bill Lawrence to give this guitar its horsepower. Born Willi Lorenz Stich in Cologne, Germany, he was a talented jazz guitarist who began working with pickups in the late '40s. He hooked up with German guitarmaker Framus as an endorser and performed under the name of Billy Lorento, which may have been actually owned by Fred Wilfer of Framus. Indeed, Framus built a Billy Lorento signature model. Seeing opportunity, Lawrence relocated to the U.S. and began designing pickups. Reportedly, he worked on pickups for Micro-Frets. And he definitely worked on the pickups used by Dan Armstrong in his "see-through" guitars Ampeg introduced in '69. Typical of many Armstrong pickups is the epoxy potting, used to reduce feedback. When Armstrong split with Ampeg and moved to England, Lawrence took over his shop in New York.
This is when Gibson enters the picture. Looking for something new and hip, Gibson hired Lawrence to come up with new pickups. His first assignment resulted in the L-6S guitar designed in 1972 and introduced the following year, a plain-looking but neat guitar. The second collaboration between Gibson and Lawrence was the Marauder.
Physically, the Marauder was a Les-Paul-shaped solidbody made of alder, maple, or mahogany. The body had a contour along the upper edge – no binding, no arch. The bolt-on laminated maple neck had a Flying-V-style tapered headstock. Fingerboards were rosewood or maple with pearl-dot inlays, though some may have had trapezoids.
But the real news was the pickup system. First, the Marauder had Lawrence humbuckers with his trademark epoxy potting. At the neck was a conventional-looking humbucker, and at the bridge was a slanted twin-blade small humbucker with cool green-wire insulation. The earliest Marauders came with a three-way select on the cutaway horn. Boring. In late 1976, the three-way was changed out for a blender that allowed you to blend your mix of bridge and neck sounds on a continuum – a very cool concept!
Shortly after their introduction, the mostly alder Marauders became the M-1 and a tobacco sunburst Marauder Custom was introduced. Circa '78, a maple fingerboard was introduced and the blender was given a chicken-head knob and moved between the Volume and Tone control, as seen here. Generally, enthusiasts describe these as having a more "Fender" sound, but really the pickups boosted high frequencies, unlike the more bassy Gibson humbucker. The sound was more delicate and subtle, especially with the blender function. This one has a black lacquered finish on the neck, making it especially playable.
Marauders were endorsed by Ace Frehley and Paul Stanley of Kiss. They did moderately well, but were not best-sellers. A little over 1,368 – maybe a few more – were made (in a wine red finish) between '75 and '79, with only 148 shipped in '78. The model was cancelled in '79, but a few more were made until '81 or '82. Not rare, but pretty interesting and very nice-playing, with a Bill Lawrence pedigree. You just have to get over the bolt-neck on a Gibson name!
---
This article originally appeared in VG November 2009 issue. All copyrights are by the author and Vintage Guitar magazine. Unauthorized replication or use is strictly prohibited.