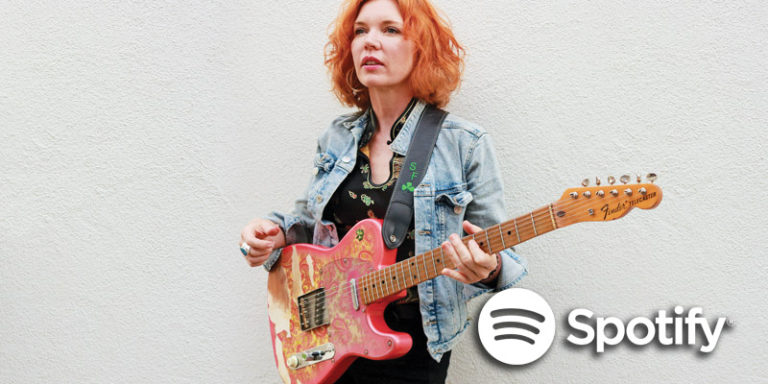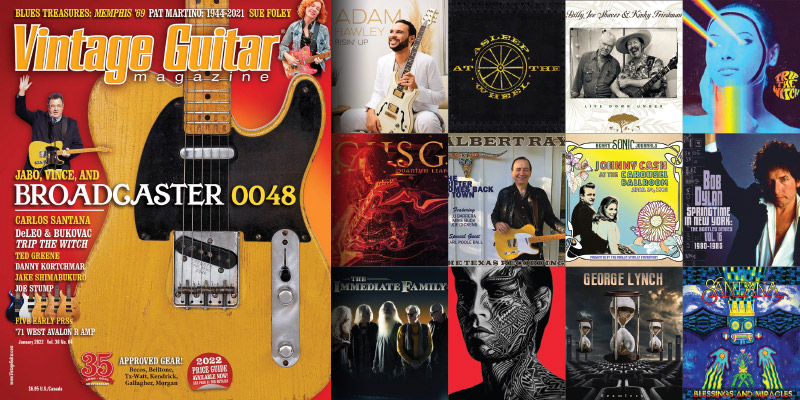 This month we feature Carlos Santana, Dean DeLeo and Tom Bukovac's Trip The Witch, Pat Martino, Danny Kortchmar's The Immediate Family, Jake Shimabukuro, Jules Leyhe, Sue Foley, Joe Stump, Earth, Wind & Fire, and many others!
Spotify is free, or available without ads via paid subscription. Go to www.spotify.com and search "Vintage Guitar magazine,"or if you already have an account Listen to the complete list HERE.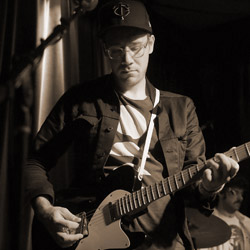 Don't miss Vintage Guitar magazine's monthly playlist on the music-streaming service Spotify. Each month, Karl Markgraf curates a playlist featuring artists and songs mentioned in the pages of VG, arranged in order to play along as you read the issue, or just enjoy on its own! Karl holds bachelor's degree in Jazz Guitar from the University of Northern Colorado, and works as a performing and recording artist, producer, and educator in New York.
---
Also New On Spotify
Also on Spotify is VG's "Have Guitar Will Travel" podcast, hosted by James Patrick Regan. The twice-monthly episodes feature guitar players, builders, dealers, and more, all sharing their personal stories, tales from the road, studio, or shop, and their love of great guitars and amps. CLICK HERE to listen.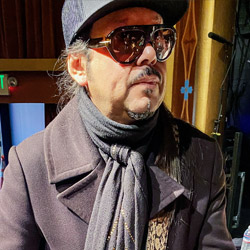 Eddie Perez
James Patrick Regan welcomes Eddie Perez to "Have Guitar Will Travel." Eddie's impressive career included backing Dwight Yoakam, which springboarded to his current gig with The Mavericks. Growing up near Pasadena, his family spurred a deep appreciation for music. Early on, he backed rockabilly singer James Intveld, then moved to Austin, where finding work as a guitarist wasn't always easy. His big break came with a call from Gary Allan, which led to gigs with Wynonna Judd, Connie Smith, Lee Ann Womack, and others. Each brought new twists to his style and philosophy. And of course they discuss the gear Eddie has used through the years, from vintage to his favorite modern guitars and amps. Please like, comment, and share this podcast!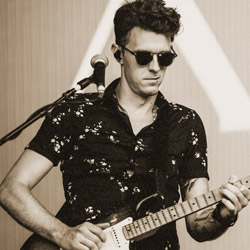 Eric Montgomery
Episode 67 of "Have Guitar Will Travel" features Eric Montgomery, guitarist/keyboardist for singer/songwriter Maren Morris. Host James Patrick Regan speaks with him about getting the gig, and the adrenaline rush of playing the Grammy Awards after just four shows with her. A Virginia native, he rose through the ranks working the Nashville scene. They also talk about his first guitar, current road gear, and his always-changing guitar collection. Listen Here! Please like, comment, and share this podcast!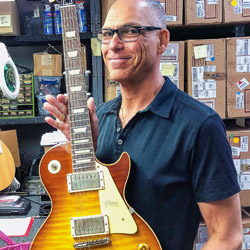 Sammy Ash
Episode 68 of "Have Guitar Will Travel" features guitarist, collector, and entrepreneur Sammy Ash, who grew up in his grandparents store, Sam Ash Music. With host James Patrick Regan, he talks about family and its ongoing role in the company founded by his grandfather, who immigrated from Poland and started the store in 1924. A teen in the '60s, he recalls the music he was hearing, and how The Beatles' appearance on "The Ed Sullivan Show" impacted the store. A de facto guitar collector since before there was a such a thing, he was there as the vintage market began to blossom and has experienced its ups, downs, and "situations." Listen Here!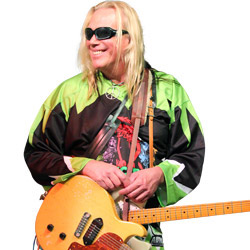 Have Guitar Will Travel, hosted by James Patrick Regan, otherwise known as Jimmy from the Deadlies, is presented by Vintage Guitar magazine, the destination for guitar enthusiasts. Podcast episodes feature guitar players, builders, dealers and more – all with great experiences to share! Find all podcasts at www.vintageguitar.com/category/podcasts.
Each episode is available on Stitcher, iheartradio, Tune In, Apple Podcast, and Spotify!