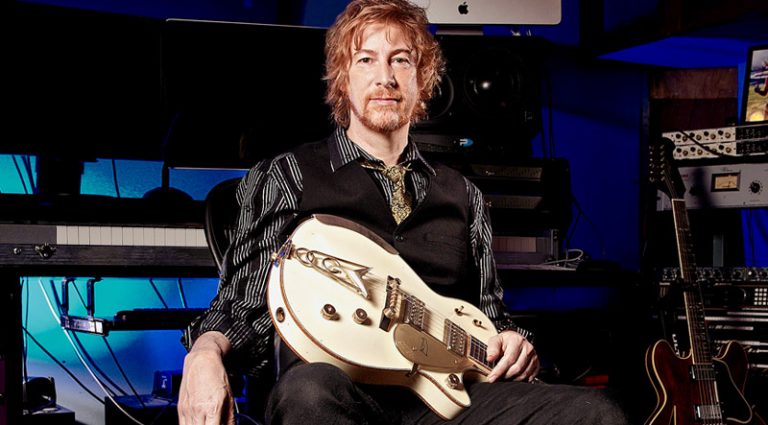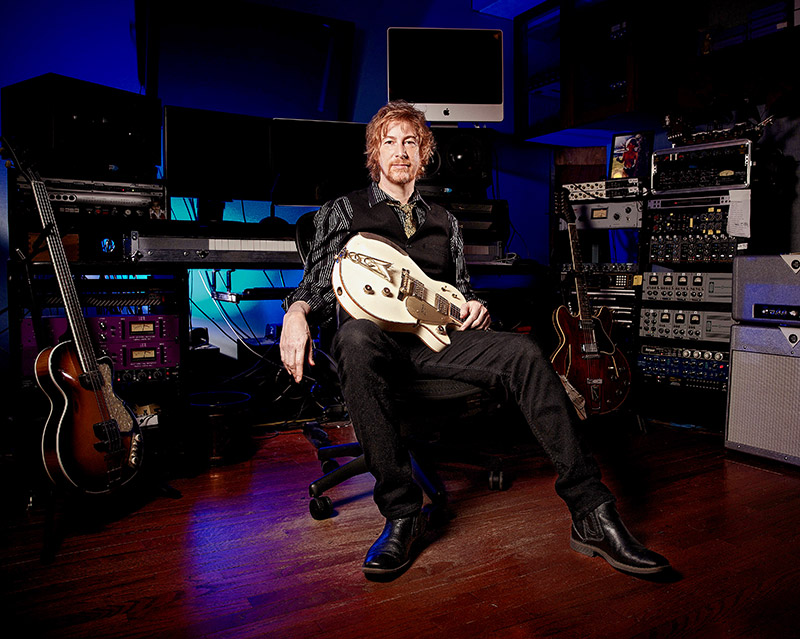 You might not recognize his name, but in the last 30 years, Lyle Workman and his guitars have backed Sting, Todd Rundgren, and Frank Black. He was also a member of Bourgeois Tagg, co-wrote its 1988 hit "I Don't Mind At All," and has scored soundtrack music for films like Superbad and The 40-Year-Old Virgin.
With his new orchestra-fueled solo album, Uncommon Measures, Workman has finally created the guitar master work anticipated by fans. The string parts were recorded at Abbey Road Studios, which has produced some of the most fabled records in rock-and-roll history.
So you're standing in Abbey Road, listening to your material being performed. Did you get chills? 
Hearing one's music being played by an orchestra is sublime enough, but to have that experience at Abbey Road was next-level. Although I had a 63-piece ensemble – with 40 minutes of orchestral bars to achieve in only nine hours – I was very much focused on the task. Complex material always takes more time. There was much to achieve, with little time to sit back and savor the significance – though I did have moments where it hit me just how incredible it was to be recording my music on such a grand scale and at an iconic studio with esteemed, experienced players. That kind of intensely focused work is exhilarating, and I loved every minute.
You're a soundtrack composer who has access to some serious L.A. ensembles. Does Abbey Road have its own orchestral sound?
In my opinion, Los Angeles and London have the best players. The room at Abbey Road has a very distinctive sound and when you're there, taking it in, it's clear, instantly, that it's a special place, almost as if the walls have soaked up all the great music throughout the decades and enhanced them somehow. It's beautifully lush and inviting. The sound of the ensemble does have its own sound too, and I think that stems from the players playing so much classical repertoire in several orchestras that perform frequently in London concert halls.
Did you record any guitar parts with the ensemble at Abbey Road, or was it entirely orchestral material?
I was there solely to record orchestra. Everything else was captured in studios in Los Angeles. All guitar was recorded in my own studio.
When we think of guitarists who also create orchestral works, names like Zappa, McLaughlin, Vai, Shawn Lane, and Trevor Rabin come to mind.
All are giants in my book. My evolution from rock to orchestral began in my early childhood with my love for the Beatles. George Martin's arrangements were integral to their music and set the stage for my enjoyment of orchestral textures early on. The sounds of '60s and '70s pop on the radio also contained orchestral elements I listened to during my formative years. As my guitar playing evolved, so did my interests, which veered into the headier forms of progressive rock and jazz-fusion. Then, when I wanted to hear the genesis of that music, I listened to the pure forms of jazz, blues, and classical music. Through it all, I've come to the conclusion that for me, the ultimate musical playground is the orchestral domain.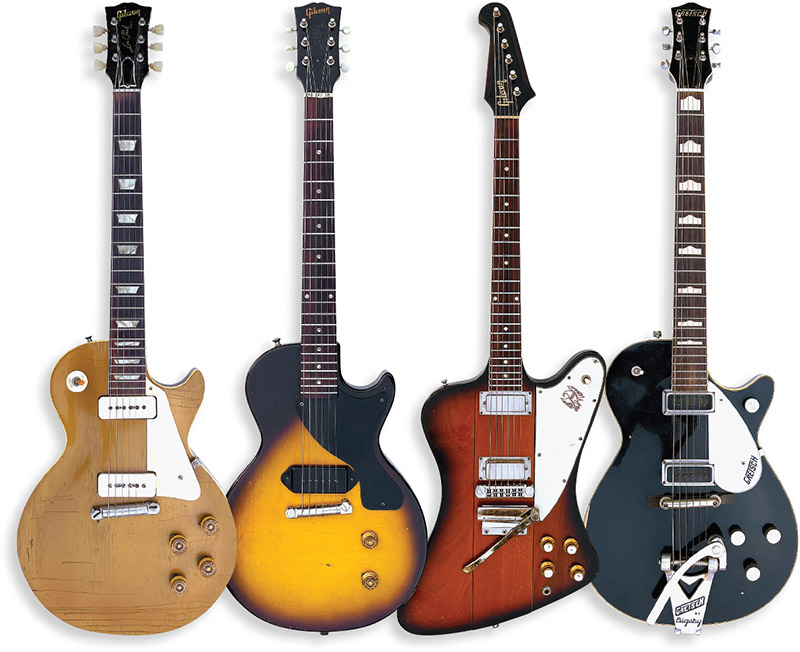 When he bought this '55 Les Paul, it had been painted black to mask a bad repair. "I had it restored by Gord Miller, who did an unbelievable job," Workman said. This '57 LP Jr. is one of Workman's first vintage guitars. "There's something to be said for placement of that pickup," he noted. "It's farther from the bridge than a humbucker Gibson, so it doesn't have that whiney tone around the seventh fret on high E string. It's fat-sounding all the way up the neck." "Though the Firebird is a gorgeous, elegant guitar conjured from the mind of a car designer, it's better on paper," Workman laughs. "It's neck-heavy and the tuners are fussy. There's also little meat behind the truss rod. But, the mini-humbuckers are sleeper pickups; you get balls like a humbucker, but a bite akin to a single-coil." This modern Gretsch Duo Jet was built by Stephen Stern. "Those he's building are even superior to the those from the '50s and '60s," Workman said. "I love this guitar so much and use it frequently. I also have a Stern White Penguin and it's equally excellent."
For "North Star," describe the process of writing a piece this complicated. Do you write a few seconds/minutes at a time, or do you have a theme in your head before you start?
Technically, I start writing by improvising on a guitar or keys until I land on something I like. Once I settle on the first section in its most basic form, I'll record it and then figure out where to go from there, adding sections until I have the whole song mapped out with the basic chords and central melodies. By then, I have an idea how to begin embellishing the piece, which may start with drums and bass, or I'll go right into orchestral arranging. It depends on the general musical style of the sketch. The process unfolds little by little and most often steers into unexpected places. For Uncommon Measures, I didn't have any preconceived concepts other than knowing that orchestra would be a substantial part of it.
In your chat with Vintage Guitar's "Have Guitar Will Travel" podcast, you mention not having gone to music school, yet your command of harmony and arranging is high-level stuff.
I began with enough innate ability to develop a good ear and taught myself to play by listening to records. But you're right, I didn't take the traditional degree route like Berklee or North Texas State. I went to West Valley community college, in Saratoga, California, where I learned how to read and write music. They had solid classes; I took theory, composition, and jazz improvisation, and learned the language of music.
How did you get into the broader world of classical and soundtrack orchestration?
Around the same time, I took an orchestration and arranging extension class at UCLA, which helped tremendously. My education continued out of the classroom through the opportunities I've had over the years to work with different artists, score films, and make my own records. Upon the advent of orchestral sounds in hardware samplers, I began writing pieces here and there, and employed orchestral writing any time I could. Then, when I started composing for film I was able to work with live ensembles and those experiences, along with the aid of great orchestrators throughout the years, helped me tremendously.
The slide guitar in "All the Colors" is reminiscent of Steve Howe, where he balances staccato leads with swooping steel lines.
I do love Steve Howe, though for slide my favorite is George Harrison. The way he played melodies and his tone was unique and fantastic. George's solos on Imagine, precisely on "How Do You Sleep" and "Gimme Some Truth," that's as good as it gets for slide tone. Of the current guys, Derek Trucks is simply out of this world.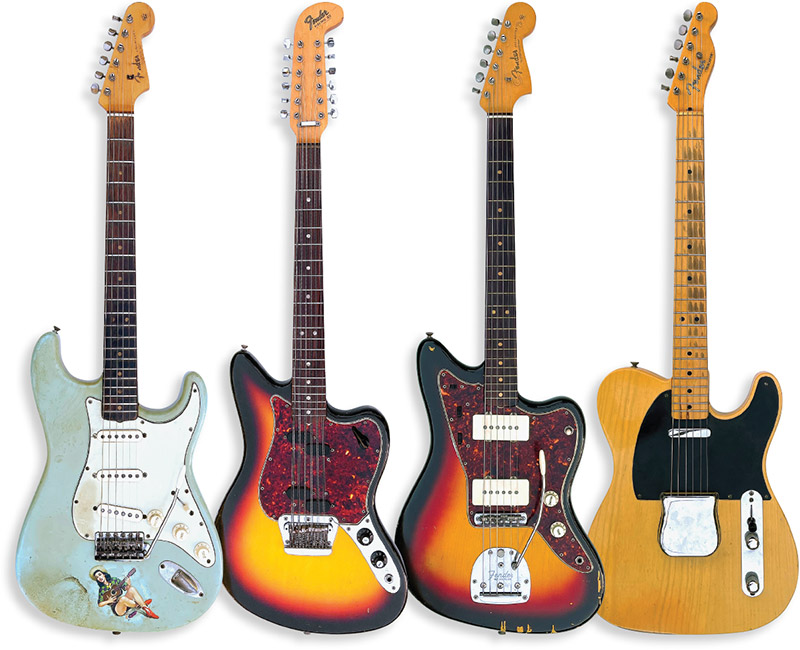 All-original except for the finish, Workman has had this '64 Strat for 20 years. "I record with it frequently and it's all over Uncommon Measures," he said. "$4K was a lot of money for a refin at that time – ah, the good old days! Odd thing is the treble pickup is reverse-wound with reverse-polarity, so it's hum-cancelling only in the #4 position. My tech offered to move it to the middle, but I'm not changing a thing on this instrument." Workman wasn't aware that Jimmy Page used a Fender Electric XII like his from 1966 to record "Stairway to Heaven," but he says that gives it bonus points. Workman calls his '63 Jazzmaster an "…excellent example. I rarely use it, but when I do, it always satisfies – like a Snickers bar!" Though bought from a dishonest seller who claimed it was all-original, Workman has kept this modded '52 Tele becaus it sounds great. "Those early pickups had a lot of output!" he said.
What about other guitar influences? Steve Lukather, Jeff Beck, and Allan Holdsworth come to mind as possibilities.
Yes to all. So many influenced me – John McLaughlin, Django Reinhardt, Jan Akkerman, and especially Steve Morse equally as a writer and his ability to play so many styles. For rock, Jimi Hendrix was my favorite, and still to this day the opening solo of "Power of Soul" on Band of Gypsys gives me the same rush as it did when I was 15 years old. I listened to Brian May, Pete Townshend, Adrian Belew, Elliot Easton, John Scofield, Robben Ford, Larry Carlton, and Albert King. Jeff Beck has gotten better with age and developed such a unique approach to the instrument – he's like a magician, but it's all real! I've listened to Blow by Blow, Wired, and There and Back countless times.
How about influential bands? We hear the entire post-Beatles explosion in your music – symphonic, prog rock, fusion, pop, FM rock, and so on.
We can't help but be influenced by the music we listened to while we grew up, and in many cases, learned how to play. For me it was also the Who, Led Zeppelin, Genesis, Peter Gabriel, Yes, Mahavishnu Orchestra, Zappa, Queen, Stevie Wonder, the Police, Focus, Jan Hammer Group, ELO, XTC, Todd Rundgren, and the Tubes.
In "Imaginary World," you improvise over evolving chord changes. How do you go about recording a break like that?
The solos are improvised and spontaneous, but I'll punch in here and there if I feel anything can be improved. Having so much of the chordal and melodies set, I make sure to leave space for improvisation, and encourage the musicians to be creative within the structures. Improvisation is conducive to such a high level of self-expression. When a musician creates on the spot, over and over in real time, that experience is uniquely personal and gratifying and has its own lane in music. On the other hand, some aspects of composing must be set in place, for example the orchestral parts, where everything is charted well in advance.
There's as much acoustic lead guitar as electric, as in "Rise and Shine." Do you approach acoustic any differently from electric?
I don't have a different mindset between the two, though it's natural to play them differently based on musical style. I do expect to get something different out of them when I'm writing. I use microphones like a vintage Neumann M582 tube condenser paired with a Sound Deluxe large-diaphragm. It does take a while to figure out how to get a good sound on acoustics and of course, the sound of the guitar and the room are factors.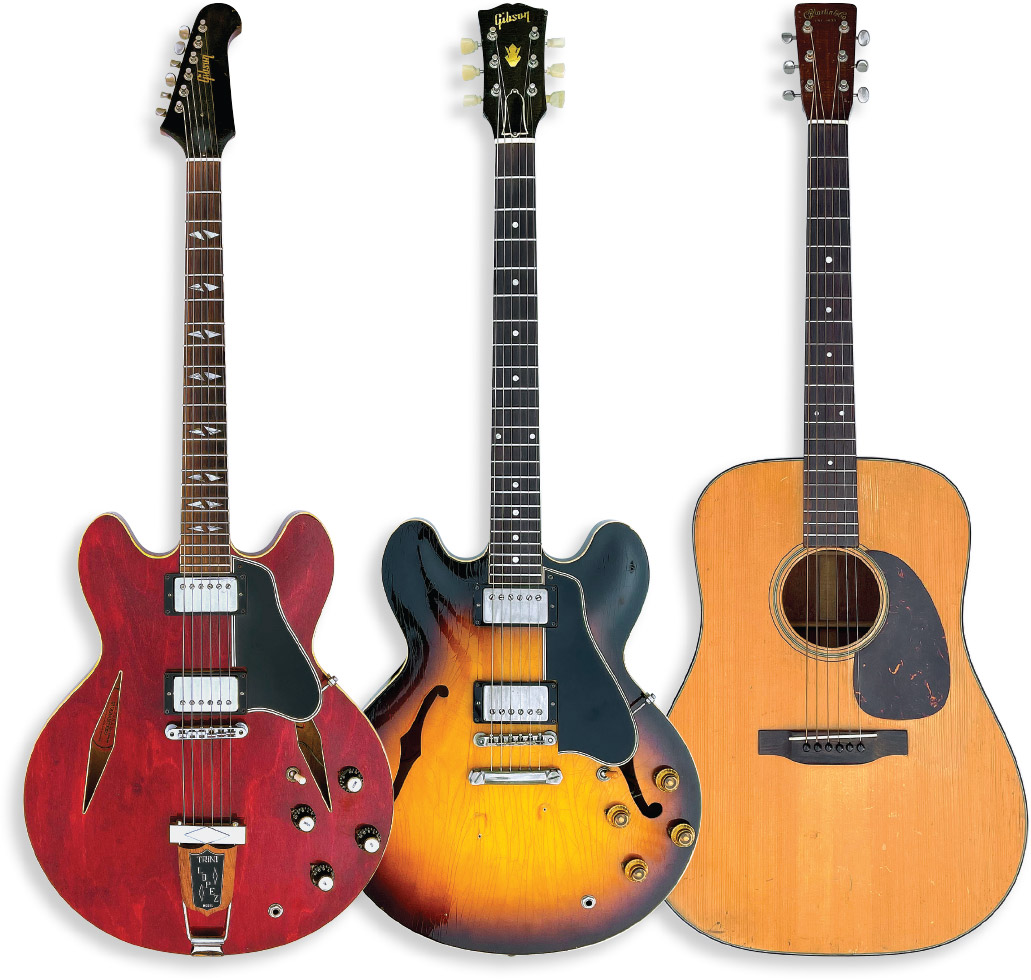 This '66 Trini Lopez stays set up for slide because it sounds so good in that role. Workman bought this '59 ES-335 in 2008. "It had a stop tailpiece originally, but someone added a Bigsby then subsequently removed it," he said. "There's nothing more beautiful than a ES-335, especially with the Cherry finish. It's one of my very favorites." "This is essentially a D-28 with D-18 appointments," Workman said of his '56 Martin D-21. "It's a classic, and a complete joy to play and record."
Which guitars did you use on the album?
For electrics, I had a '63 Strat, '59 ES-335, a Gretsch Duo-Jet made by Stephen Stern, '66 Gibson Trini Lopez for slide, '66 Fender Electric XII, Ron Thorn Strat, and a Mirage with a sustainer for "Our Friendship." The acoustics included a Jeff Traugott, Altamira D-Hole, and Rick Turner acoustic/electric baritone.
What about amps and pedals?
The amps were a '66 Fender Princeton, '69 Marshall Super Bass that was modified in the '80s, a '72 Marshall 50-watt head, and a Mojo 4×12 Marshall-style straight cabinet. Also, a few Divided by 13 heads and cabinets, and a Komet Concorde head. Pedals included an EBS MultiComp compressor, Line 6 DL+4, Strymon Mobius and TimeLine units, and an Eventide H9 multi-effects.
You have an array of top drummers on Uncommon Measures, such as Vinnie Colaiuta, Abe Laboriel, Jr., and Donald Barrett.
I love drummers and I'm such a fan of drumming, in general. Donald Barrett was a new find; I was looking for someone with "gospel chops" – someone who has played in churches where they honed soulful grooves mixed with insane chops. I worked with Vinnie and Abe when I was with Sting, as well as with another great drummer, Josh Freese. Matt Chamberlain is also on the record, and he's an incredible session drummer. Same with Toss Panos, who has played with Robben Ford, Larry Carlton, John Scofield, Steve Lukather, and Mike Stern.
"Our Friendship" is a beautiful finale, almost a benediction. Your guitar work is powerful, but avoids overkill. How did you keep that balance?
Thanks very much. In all cases, the music dictates how to play, and that's where the balance comes from. "Our Friendship" is the sole track on the record written by my incredible orchestrator, John Ashton Thomas, and he penned the perfect ending. The music called for the guitar to be strongly melodic, and I approached it like a lead vocal. An interesting bend or the right kind of vibrato has more impact and keeps with the emotional tone of the song, rather than going for speed and flash. 
If you could sum up the relationship between your guitar and the orchestra on Uncommon Measures, how would you capture it?
The guitar should never have its own agenda and always serve the best interest of the song. If the song is compelling on its own, then the guitar has the backdrop to shine even more.
---
This article originally appeared in VG April 2021 issue. All copyrights are by the author and Vintage Guitar magazine. Unauthorized replication or use is strictly prohibited.
---