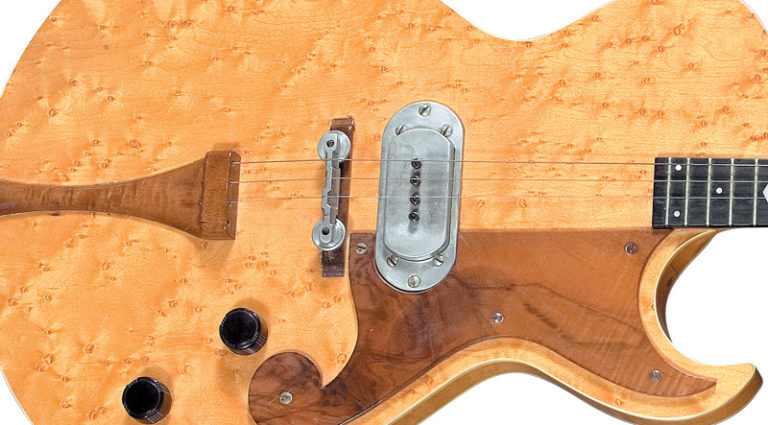 By the advent of the solidbody electric guitar in the 1950s, tenor guitarists were a dying breed. Consequently, electric tenors are relatively rare, and a tenor guitar made by solidbody pioneer Paul Bigsby is one of the rarest of all electric guitars. And if that's not rare enough, consider the setting of this story – this Bigsby tenor was used exclusively in a Christian music group, which is the last place one would expect to find an electric guitar of any sort in the 1950s.
Paul Adelbert Bigsby – "P.A." to his friends – was a late bloomer as a guitar maker. Born in 1899, he started his professional career as a motorcycle racer. Hired by the Los Angeles-based Crocker Motorcycle Company, which produced the most powerful racing and road motorcycles from 1932 to '42, when production ceased for World War II. Bigsby was a factory foreman and the designer of many Crocker components.
Bigsby was a fan of the Western music that began to flourish in southern California after the Depression and the Dust Bowl of the mid '30s forced many families to move westward from Oklahoma and surrounding states. Sometime in the 1940s, he met fingerpicking legend Merle Travis, who was also a motorcycle enthusiast. Travis was having trouble with his guitar's vibrato unit, which was the side-pull type designed by Doc Kauffman (Leo Fender's early partner). Rather than fixing the Kauffman unit, Bigsby designed a completely new "vibrola" with a simpler, more effective, up-and-down motion.
That vibrola alone would qualify Bigsby for a prominent place in the history of the electric guitar. Through the 1950s it was the vibrola of choice for those who played Gibson and Gretsch guitars.
At the same time, Bigsby began making his mark in the history of the pedal steel guitar. Earl "Joaquin" Murphy, a.k.a. the Charlie Parker of the steel guitar, had Bigsby build him a lap steel in 1947. Another legendary player, Wesley "Speedy" West (who replaced Murphy in Tex Williams' band that year), was right behind Murphy at Bigsby's door, commissioning a triple-neck with pedals in '48. The pedal steel came into its own in '54, when Bud Isaacs featured its pitch-changing/note-bending capability in mid-solo on Webb Pierce's hit "Slowly." (Previously, pedal steel players had used the pedals to change tunings, but not as an "effect.") Isaacs' instrument was a Bigsby.
In the meantime, Bigsby's friend, Merle Travis, had come to him in 1948 with an idea for a guitar he drew on a menu while the two were having lunch. The guitar would have the appearance of a solid body, with a thin body depth, flat top and back, and no soundholes. Ironically, despite Bigsby's influence on the development of the solidbody electric, to our knowledge he never built one; his were all semi-hollow. Perhaps the most innovative element of Travis' design was the headstock. It was an angular shape with the hint of a scroll and – most important – all six tuners on the bass side. Travis has said he'd seen the design on some traditional European stringed instruments, and it was used on guitars built by Johann Stauffer in Vienna in the early 1800s and on the early guitars of C.F. Martin in the 1830s. Regardless of where the Bigsby headstock design originated, its influence on Leo Fender's headstocks, which would appear in 1950, was unmistakable.
Had Bigsby chosen to build electric guitars at a production level, he might be known today as the most important guitar maker of the 1950s, rather than as a pioneer. Instead, it was Leo Fender who ran with the concept of a true solidbody guitar, while Bigsby continued to work out of a shop next to his home in Downey, California, building instruments and replacement necks to order for individual musicians. Between 1946 and '63, when he quit building instruments, his output probably totaled less than 100, at least two-thirds of which were steels. In addition to steels and standard guitars, he made a doubleneck for Nashville session man Grady Martin and a mandolin for Tiny Moore of Bob Wills' band.
Shortly after Merle Travis received his Bigsby guitar, he gave a public performance in Los Angeles that was attended by Eschol Cosby, a student at the Bible Institute of Los Angeles. Cosby had grown up in the southwest singing and playing at church revivals. After World War II, he enrolled at BIOLA and formed a band called the Christian Cowboys, which he fronted with his Gibson ES-150 and a Gibson mandolin. Cosby's son, Bobby, recalled the effect of Eschol's first Bigsby sighting. "One day he went to a concert and saw Merle Travis and said 'I've got to have that!'"
With a standard guitar and a mandolin already in his arsenal, Cosby ordered a Bigsby tenor, which he received in 1949. The price was $350, which was expensive and on a par with Gibson's top electrics, the ES-350 Premier in natural finish at $340 (plus case) and the natural-finish ES-5 at $390. The Bigsby's price would be extravagant compared to the solidbodies on the horizon. Fender's Esquire of 1950 was priced at $140, and Gibson's first solidbody, The Les Paul model, debuted in '52 at $210.
Cosby liked his tenor Bigsby so much that in 1951 he went back to Bigsby for an electric mandolin, for which he paid $400. The serial number of the tenor was lost when the rim area around the jack was replaced, but it would have been lower than the mandolin, which was serial number 51. Cosby later added a third Bigsby to his collection when he purchased a standard Bigsby guitar from a third party.
The top and back of this guitar are flat pieces of birdseye maple, 1/4″ thick, and glued to a sturdy grid of horizontal and vertical "braces" that extend from the front of the guitar to the back. The pickup, hand-made by Bigsby, is anchored by six screws that go into the support grid – not into the top – so functionally, this is a solidbody instrument. As a solidbody, the design pre-dates Fender's Esquire by two years. If considered a semi-hollowbody, which is a more technically accurate description, the design was even further ahead of its time, pre-dating the Gibson ES-335 by a full 10 years.
This instrument also pushed Eschol Cosby and the Christian Cowboys far ahead of their time in gospel music. "Their music was quite radical in Christian circles," Eschol's son, Bobby, said. "And he had to overcome a lot of prejudice to use the instruments he had. He was one of the very first people to use anything other than a piano or organ in Christian music." For Eschol, however, the Bigsby proved a double-edged sword. Any satisfaction he might have enjoyed by being a pioneer of the electric guitar in Christian music would be offset by the rock-influenced music and attitudes the electric guitar eventually brought with it. As Bobby notes, "In his lifetime, he was the trailblazer for a lot of people who took it far beyond what he thought was right."
---
This article originally appeared in VG's January 2009 issue. All copyrights are by the author and Vintage Guitar magazine. Unauthorized replication or use is strictly prohibited.