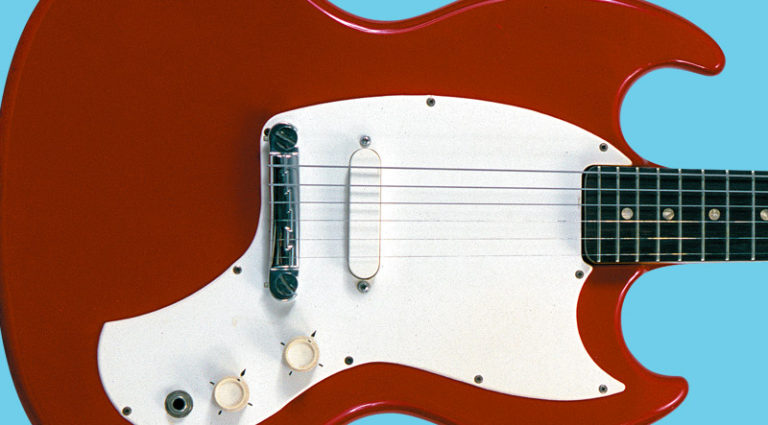 Collectible value in guitars can be defined any number of ways, and not just by having a popular brand name such as Fender or Gibson. That's certainly the case with this little guitar! Ask virtually any guitar collector for his or her favorite brand, and Kalamazoo is probably not going to be the first name to come to mind. Or the second, or the… Nevertheless, there's an awful lot more to this humble circa-1968 Kalamazoo U.S.A. KG-1 to make it special. Not the least of which is the fact that it features a good bit of technological innovation and is, well… actually a real Gibson guitar!
Kalamazoo was a budget brand created by Gibson around 1965, the height of the '60s guitar boom and lasting until 1970 or thereabouts. Gibson was, of course, located in Kalamazoo, Michigan, from the 1890s until the final transition of its headquarters to Nashville in 1984. Gibson previously used the Kalamazoo name on its budget acoustic archtop and flat-top guitars, mandolins, and banjos between 1933 and World War II. The Kalamazoo line also included a few electric archtops and some Hawaiian lap steels. There were even a few Kalamazoo amplifiers produced from 1938 to '40.
The Kalamazoo solidbody electric line was conceived at a time when guitar companies could sell just about anything they could make or lay their hands on. Gibson was one of the premium brands in the world and its guitars were expensive. In 1957, Gibson purchased arch rival Epiphone to be its "budget" brand – a bit of an insult, to say the least! Still, Epiphones had glued-in necks and were actually a mid-level brand by this time. Gibson wanted something truly inexpensive. The answer was to come up with the company's first bolt-neck guitars, a strategy Gibson has tried with little success frequently over the years. To distinguish them from the plethora of imported guitars dominating the lower end of the market, Gibson added "U.S.A." to the burned-in logo.
But simply making a bolt-neck guitar wasn't the whole solution. Gibson turned to an innovative, low-cost material to construct its Kalamazoos. Innovation was no stranger to Gibson, which was born of Orville Gibson's innovative carved, arched top instruments. Instead of solid woods, Gibson made its Kalamazoo line out of Medium Density Fiberboard, or MDF – a composite material made up of wood chips combined with wax and resin and then compressed by heat and pressure. MDF, better known to you and I as Masonite, was invented by William H. Mason in 1924. However, there were no commercial uses for MDF until the mid '60s.
Unlike the cheap furniture you get at the big-box store, MDF is more "engineered," denser and stronger. Kalamazoo guitars were the first instruments and among the earliest commercial applications of MDF!
The first Kalamazoos introduced in 1965 were basically copies of Fender Mustangs, which is pretty ironic considering Gibson's later objection to "copies!" There were four guitars and a bass. All were equipped with bolt-on maple necks, MDF bodies, and Melody-Maker-style single-coil pickups; the K-1 had one, the K-1a added a simple vibrato, the K-2 had two pickups, K-2a a vibrato, and the KB was a one-pickup bass. The electronics – including the jack – were mounted on a simple plastic pickguard (no laminates), to save on production. Tuners were primitive open-back strip-style. There was also a small-bodied mahogany K-10 acoustic. Finish options were Flame Red, Glacier White, and Las Vegas Blue. All usually shipped in a chipboard case. There was a matching line of solidstate Kalamazoo amplifiers, but they were defunct before this guitar was made.
The first line of Mustang-shaped Kalamazoos lasted until around 1968, when they were replaced by the new SG shape seen here. This was a simplified form of SG, without the contours on the cutaways, though there is a little beveling on the tips and a chest/belly contour on the back.
Despite the use of downscale materials and construction, these little Kalamazoos are pretty nice guitars. Find your back aching a bit after a night of jamming with a Les Paul? That won't happen with a Kalamazoo. The MDF is super light and surprisingly resonant. The neck is very thin for a Gibson, not quite a Kapa, but close. It's extremely well-made and easy to play. The cutaways and pocket placement let you play all the way up the neck and the pickups have pretty good output for small units. Combined with the MDF, this guitar is especially loud on the high-end, with a curious "funky" tone that rounds out nicely when you roll the tone control to treble. The response is clean and bright. Playing this guitar easily reminds one of picking the Fender Mustang that the first models were designed to imitate, and indeed that contemporary guitar filled a very similar marketing purpose. In short, this guitar has a unique voice you'll probably not find on any other guitar!
Kalamazoos have a stamped serial number on the back of the headstock that generally follows regular Gibson date ranges, though apparently there are plenty of exceptions. This example is stamped 529967 which, according to Gruhn's Guide to Vintage Guitars, put this toward the end of 1968. That fits with the style.
Are these Kalamazoos rare birds? Just how many Kalamazoos were built is unknown. While Gibson kept pretty good production records at the time, they didn't bother to track these lowly guitars. And lowly though they may be, these play extremely well and have a swell sound you couldn't duplicate if you tried! Plus, they're genuine Gibson-made and historically significant for their use of MDF. With prime timbers getting scarce and guitarmakers looking for suitable replacements, you might say that these little Kalamazoos were way ahead of their time! And certainly worthy of collectibility status… at a considerably lower price than guitars carrying the Fender or Gibson brand name!
---
This article originally appeared in VG's December 2008 issue. All copyrights are by the author and Vintage Guitar magazine. Unauthorized replication or use is strictly prohibited.
---