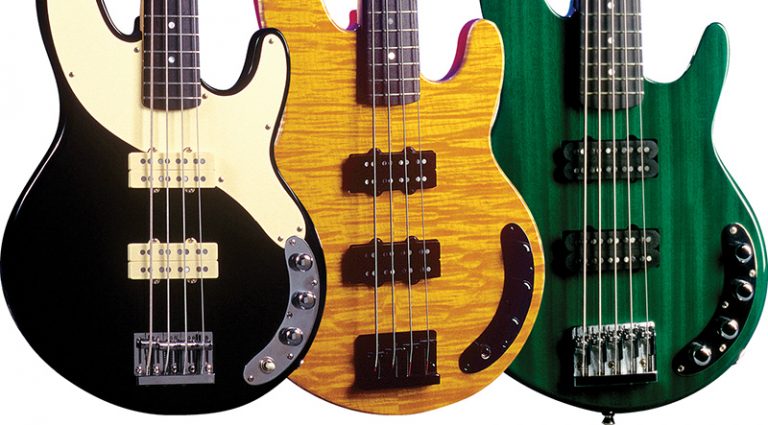 Alamo Music Products holds a unique place in the history of electric guitars and basses. The Houston-based company began its journey in the early '80s as Robin Guitars, importing retro-influenced instruments from Japan. By the end of the decade, it began U.S. production of instruments and soon after changed its name as it began making instruments carrying the Metropolitan and Alamo brands, along with Rio Grande pickups.
Robin produced basses for 15 years, and company co-founder David Wintz recently rummaged his archives and offered us a look at what he found.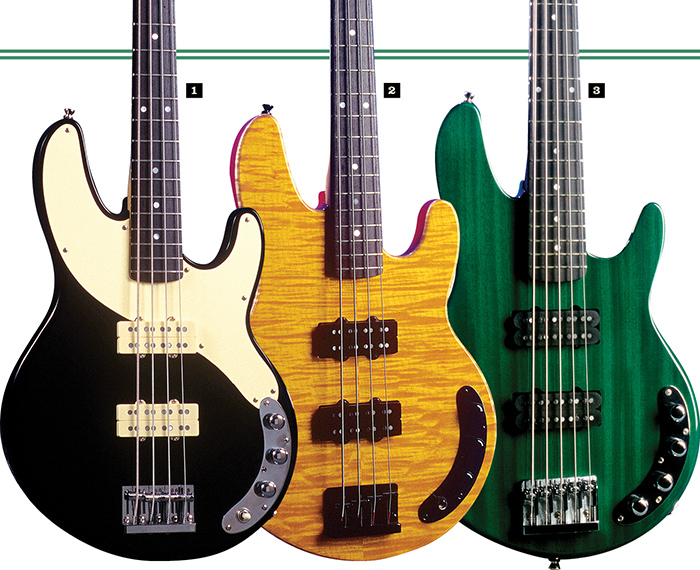 1) The company's first full-scale bass was the Freedom, made in Japan. The Freedom II had humbucking pickups; in the mid/late '80s, one of them was a favored stage instrument of Tommy Shannon, bassist for Stevie Ray Vaughan & Double Trouble.
"We drove to Austin Opry House, where they were recording Live Alive," Wintz recalled. "He was playing through this huge Peavey rig, and we put this bass in his hands during sound check. He said he couldn't believe it had such a huge sound."
2) Some Freedom models used American and imported parts. This four-string example, with ash body with an amber figured-maple cap, was built in the U.S. using an imported neck.
3 and 4) Five-string Freedoms were slightly different.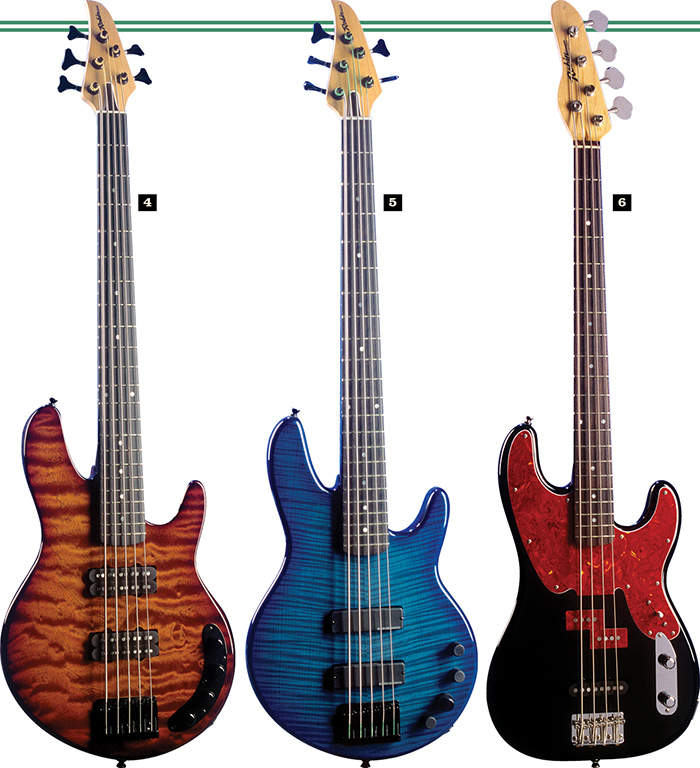 "All five-string Freedoms were 100-percent American," Wintz said. The two shown here (swamp ash body in green finish with chrome hardware, swamp ash body with quilted mahogany top and black hardware) have a rotary-pan pot with center detent rather than the three-way pickup toggle on four-string examples.
5) This teal example has a bookmatched flame-maple top and Bassline active pickups.
6) Earlier Robin instruments were noticeable because of their reverse headstocks, but the Ranger Bass started as an imported one-pickup/32″-scale instrument with a headstock shaped somewhat like an upside-down Fender head. In its domestic incarnation, the Ranger was given a 34″ scale and "P/J" pickup configuration. Wintz recalled that the red tortoiseshell material used for the pickguard and pickup overlay on this domestic Ranger is "rarer than you might think."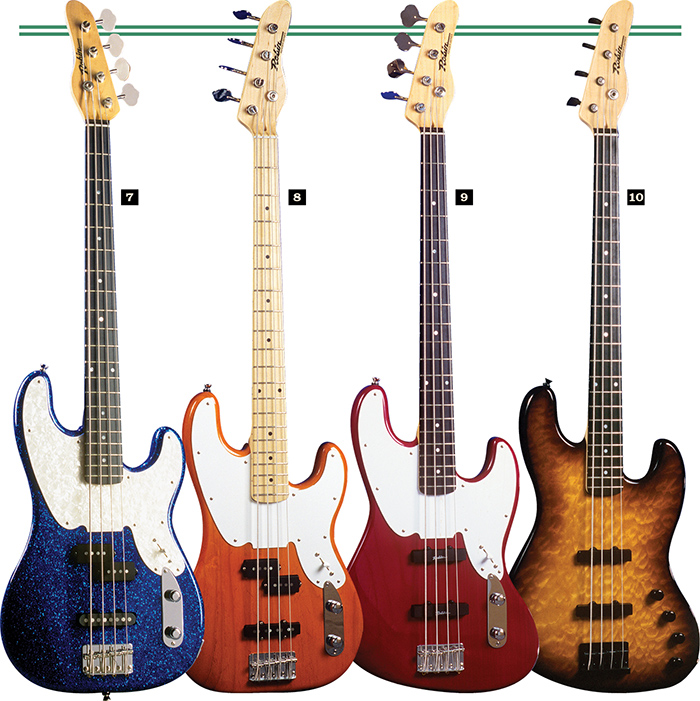 7) This blue-sparkle Ranger with a white pearloid pickguard validates Robin's custom capabilities.
8) On the other hand, this later example with standard headstock and translucent orange finish on a swamp ash body "…is about as stock as it gets," according to Wintz.
9) The Ranger series also included the Jaybird, with offset body and two single-coil pickups. It still had the retro-cool large pickguard, and the pickups on this cherry-finished example with a swamp ash body have a rare "Robin" logo (instead of "Rio Grande," which became the name of the company's pickups).
10) The Jaywalker was a fairly rare upgrade of the Jaybird, with a figured-maple cap on an ash body, and no pickguard. Its electronics included Bartolini pickups and active circuitry. Wintz averred that "only a handful" were made.
The company also dabbled with Jaybirds and Jaywalkers that sported reverse headstocks.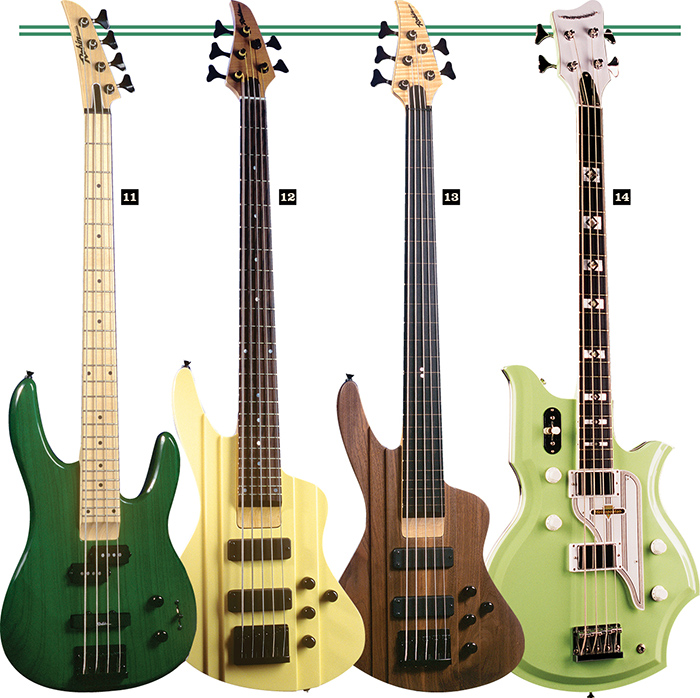 11) The Medley was another import that underwent a transmogrification when it became an American-made instrument. Aimed more at hard-rock players, it sported a 24-fret neck and more than one headstock shape during its days as a domestic model. This example has a swamp ash body, and what Wintz termed a "reverse blade" headstock silhouette.
12 and 13) The bouts of the Robin Machete had a stairstep cut; these five-string examples have a swamp ash body in Ivory finish and a walnut body with an oiled finish and minimalist custom fretboard inlay. The extremely offset body is very balanced, and Wintz said the headstock silhouette was the same as on domestic five-string Freedoms. The Machete retained the 24-fret bolt-on neck, and the five-string was given a tongue-type/five-bolt neck joint. Electronics on these examples include Bartolini pickups and active electronics.
14) The company experimented with the Metropolitan Tanglewood, based on National's iconic map-shaped guitars and basses. No more than a half-dozen were made.
Robin stopped building basses in 1997, and made guitars until late 2010. Today, Alamo Music Products continues to distribute Rio Grande pickups.
---
This article originally appeared in VG January 2016 issue. All copyrights are by the author and Vintage Guitar magazine. Unauthorized replication or use is strictly prohibited.
---