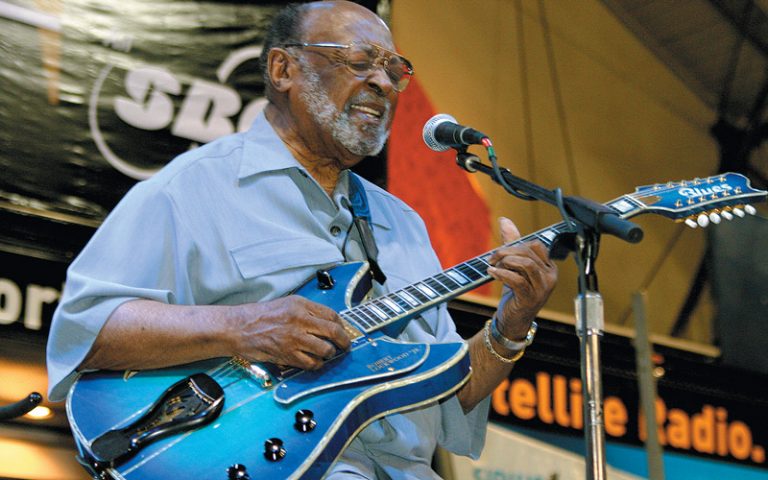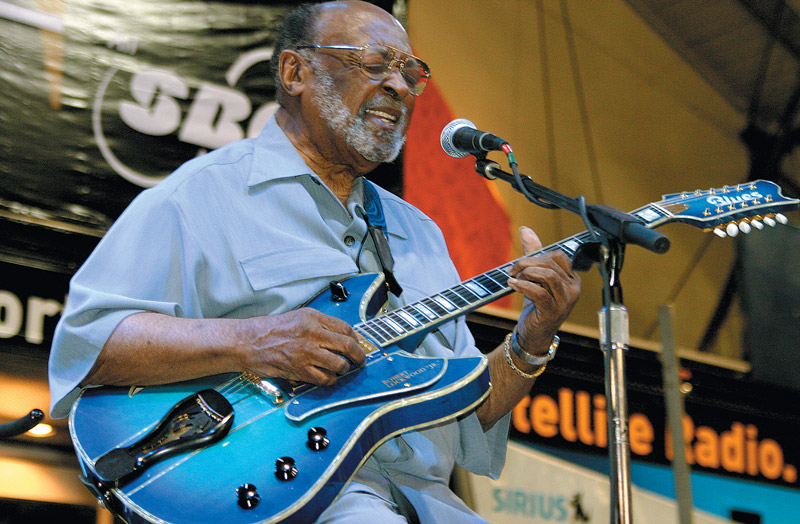 With the death of Robert Lockwood, Jr., the blues world lost one of the few direct links to Robert Johnson as well as one of the studio kingpins of Chicago blues' heyday in the 1950s and early '60s.
Born in Turkey Scratch, Arkansas, in 1915, Lockwood died November 21, a few weeks after suffering a stroke, in Cleveland, where he'd lived for more than 40 years. The 91-year-old was still playing guitar as good as ever right up until the end.
Lockwood was commonly known as Robert "Junior" Lockwood, in reference to his relationship with Robert Johnson, who allegedly lived with Lockwood's mother during the '30s and was somewhat of a father figure to Lockwood, even though they were separated by only four years.
Turning pro by age 15, he often played with Sonny Boy Williamson (II) on the "King Biscuit Time" radio show on KFFA in Helena, Arkansas – having made the transition to electric guitar several years before Muddy Waters and others.
His first recordings came in 1941, with his famous Bluebird Sessions in Aurora, Illinois, during which he cut the first incarnations of "Take A Little Walk with Me" and "Little Boy Blue," which continued to be staples in his repertoire.
A mainstay of Chess Studios during the '50s, he helped cast the die for Chicago guitar on recordings with Sonny Boy, Jimmy Rogers, Little Walter, Eddie Boyd, and others. He can be heard on such Little Walter tunes as "My Babe" and "Temperature," and (in tandem with Luther Tucker, who credited Lockwood as a mentor) on Sonny Boy's "Nine Below Zero," "Down Child," "One Way Out," "Fattening Frogs For Snakes," "Checking Up On My Baby," and "Your Funeral And My Trial," among others.
As Austin guitarist/producer Derek O'Brien states, "Any guitarist who's playing blues, the guy's stuff has leaked into it."
Junior Watson concurs: "He had the killer stuff going on. He was one of the most sophisticated of the bunch, yet raw, and was real advanced on the chords. He basically gave Little Walter his sound – Sonny Boy, too. I used to hear stories from Luther Tucker about how he showed Tucker a lot of stuff. He did those sliding chords on the 13th or the 9th chords, like a full-step up, then back down."
Duke Robillard elaborates: "He just had a different way of playing than other people. I think part of it was his natural knack, probably from his association with Robert Johnson and the whole Delta thing, but then he also really liked swing music and Tin Pan Alley tunes. So he had kind of a jazz element in his playing at the same time. Usually guys who play kind of Delta style don't have that, so it was a unique approach."
Robillard played with Lockwood and Honeyboy Edwards at 2004's Crossroads Guitar Festival. "We were hanging out before we did our show at the Crossroads Festival, and he played an old standard for me, 'Exactly Like You.' He did it fingerstyle, solo – kind of like a two-beat bass line and playing the melody – all on a 12-string! It was cool. It was a different sound. Playing solo or with a band were entirely different for him. I played a show with him in Ohio after the Crossroads Festival, and he was playing bop tunes. I couldn't believe it. The fact that he had that energy in him and was still exploring things at 90 years old was unbelievable. I'm thinking, 'This guy's unstoppable.'"
Although in recent years he favored a custom-built Japanese electric 12-string, according to Watson, "There's a picture of him in the old days playing an ES-295 with an ES-175 tailpiece and a wooden bridge, through a Gibsonette amp with [an 8″ and a 12″ speaker]. I think that's what he used on a lot of those sessions."
"The album that made the biggest impression on me was the one he did with Otis Spann, where it was just the two of them," says Duke, referring to 1960's Otis Spann Is The Blues, on Candid. "That just turned my head around. He's probably the first guy I heard in blues who was noticeably playing a II-V change, instead of a V-IV change. That really caught my ear. And his phrasing on that album. He was double-timing, but he had a way of doing the rhythm that made it flow differently – like when Coleman Hawkins double-times, and it's almost rolling. It's almost like a wheel that's out of shape; it rolls a funny way. It was angular."
Stories about Lockwood the curmudgeon are almost as legendary as those about Lockwood the musician. Harmonica legend Charlie Musselwhite fondly recalls, "We did one of those package tours together, and Robert would come to my room nearly every afternoon. I'd get this very demanding knock – like the police or something. I'd open the door, and he'd march right in without even being invited and sit down and start talking. I didn't mind at all. One time he started this long, rambling talk and kept referring to 'my teacher.' I knew he wanted me to ask him who his teacher was, but I wouldn't do it. He kept repeating 'my teacher,' louder and louder, and still I wouldn't bite. Finally, in frustration, he just about yelled, 'Do you know who my teacher was?' I said I didn't, and he yelled, 'Robert Johnson!' I said, 'Nice.' I think he probably wanted to punch me, but he maintained. We would often go through these games with each other. He could be an old grumpus, but I thought he was a great guy and I enjoyed every minute I spent with him."
Robillard also recalls an occasion when Lockwood took him to task. "Twenty years ago, when I would play in Cleveland, he'd come out and hear us, and he sat in with us a couple of times. He was always really friendly to me and really supportive – except for one time, when he told me I was stealing his licks. I said, 'You bet! I steal from the best.'"
In 1995, First Lady Hillary Clinton presented a National Heritage Fellowship to the blues giant, who also received honorary doctorates from Case Western Reserve and Cleveland State universities. In 1997, a street in Cleveland was named Robert Lockwood, Jr. Way, in his honor. – Dan Forte
---
This article originally appeared in VG's March 2007 issue. All copyrights are by the author and Vintage Guitar magazine. Unauthorized replication or use is strictly prohibited.