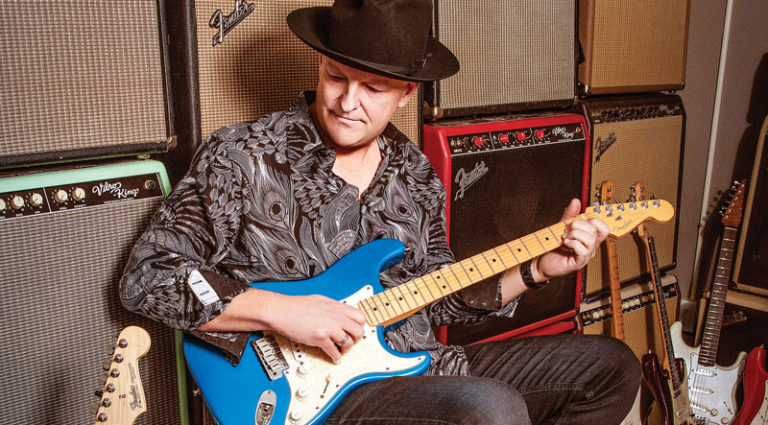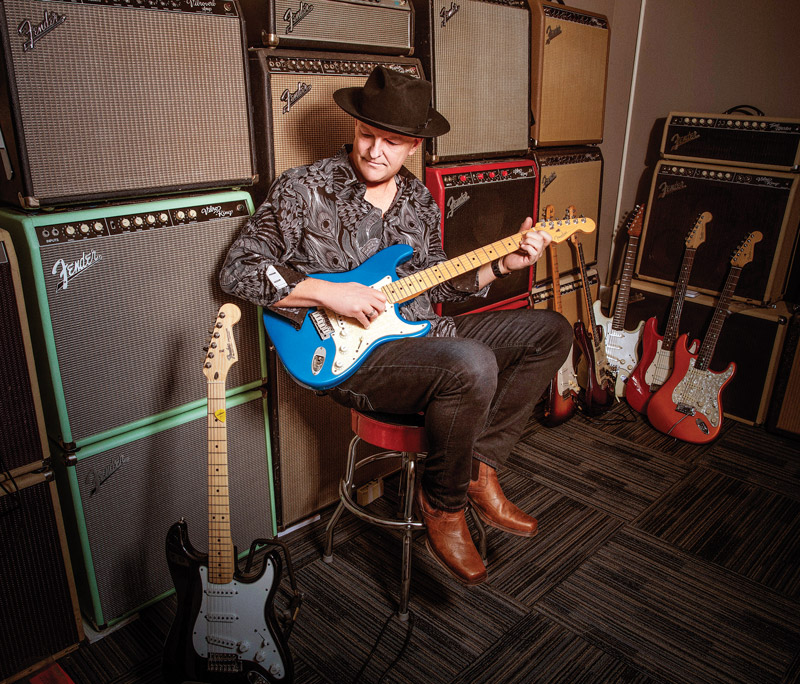 Albert Cummings' new album, Ten, carries a simple title while serving as an easy way to count discography entries, but it doesn't capture all that's on the line for the Massachusetts-based guitarist's artistic and career trajectory.
Recorded in Nashville, produced by Chuck Ainlay (Mark Knopfler) and backed by some of Music City's top session players, Cummings retains his blues-rock edge while expanding his sonic template.
This album is a clear departure from your previous efforts, employing sounds of country, Americana, and more.
It's definitely different. What's cool about this album is that I can play every song on my acoustic, just like I wrote it.
From a writing standpoint, it's definitely more personal. You dusted off several songs you've had for quite a while.
"Beautiful Bride" is one of those songs. I did that with Double Trouble back in 2003, with Reese Wynans putting some keys behind an acoustic part. But that was it. I never felt like I did that song justice.
Those familiar with your work might hear "Meet the Man" and think it's another example. It's evocative, almost gospel.
I have been sitting on that one since 2010. I wrote it the night my father died. I always wanted to record it and put it out, but it never felt like the right moment. But I knew it was time when I got to Nashville, in that studio with Chuck. The first thing Chuck said to everybody was, "Our main mission is to give Albert something he's never had." That song was instantly in my mind.
From a guitar standpoint, is there a favorite solo or moment on this album that stands out to you?
On "The Hard Way," I had this Tele – a Custom Shop that Greg Fessler built with a wide neck. I don't play it a lot, but it's got a good tone. They went overboard on it – the pickups, everything. It's sparkly purple, and just gorgeous. Anyway, there's one part in that song that's like a walkdown, and I just railed onto that Tele and did a lot of single-note holds, and it was very moody. I try hard to communicate with my guitar, and I can hear myself telling the story in that part. It's not much, but to me that was the favorite spot, when I can tell I was feeling the song and the message of the song, and talking about it with my guitar versus singing about it.
One of the most guitar-heavy tracks, "Sounds Like the Road," features your workhorse early-'90s Strat.
Robben Ford gave that song to me, but he doesn't even know it exists! I met him in a hotel lobby in Massachusetts; we were both playing The Narrows, in Fall River. I'd played the night before, and Robben was checking in while we were checking out, and I was star-struck. But, I spoke with him for a few minutes and he asked about some of the places we'd played. I told him how we were playing here and there, and he just said, "Sounds like the road to me." I walked out of there thinking, "Now that should be a song!"
How have you modded your Strat?
I've always loved that guitar; I'm gonna guess it's a '92. It's a Lace Sensor guitar, but I put a '59 humbucker in the bridge, a Texas Special in the middle, and a Tele pickup on the neck. I just put my third neck on it, which is odd, but I wear out truss rods. I'm not sure how.
You go heavy when it comes to strings.
I do. I play Dunlop strings, a custom set – .012, .016, .022, .036, .046, and .058. I tune down a half step to E-flat, and that makes a big difference. And, these strings don't break. I can get three or four gigs on a set.
Did you feel liberated to release something that's such a departure from your previous efforts?
This time I was like, "I'm sick of worrying about what somebody else is gonna like." I just want to play what I want to play, and if I get nailed for it, so be it. I've already seen some "Cummings has gone country" reviews. My blues stuff is still there, but I don't care about genres anymore. I'm sick and tired of the same five that everybody has to fit in.
---
This article originally appeared in VG's September 2022 issue. All copyrights are by the author and Vintage Guitar magazine. Unauthorized replication or use is strictly prohibited.