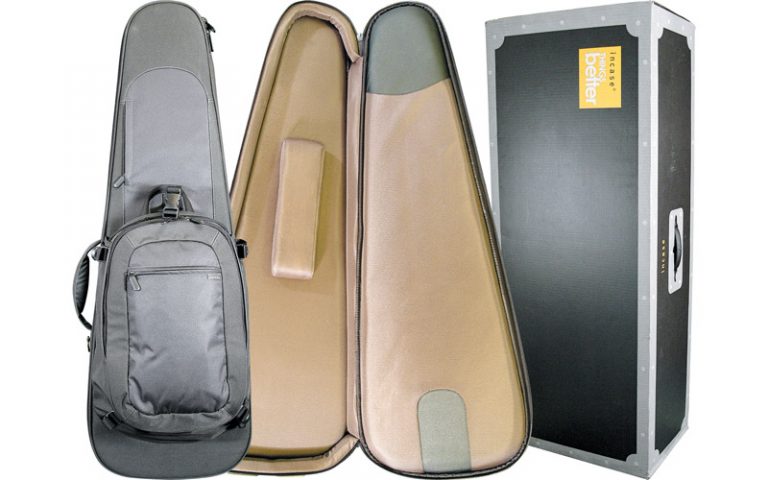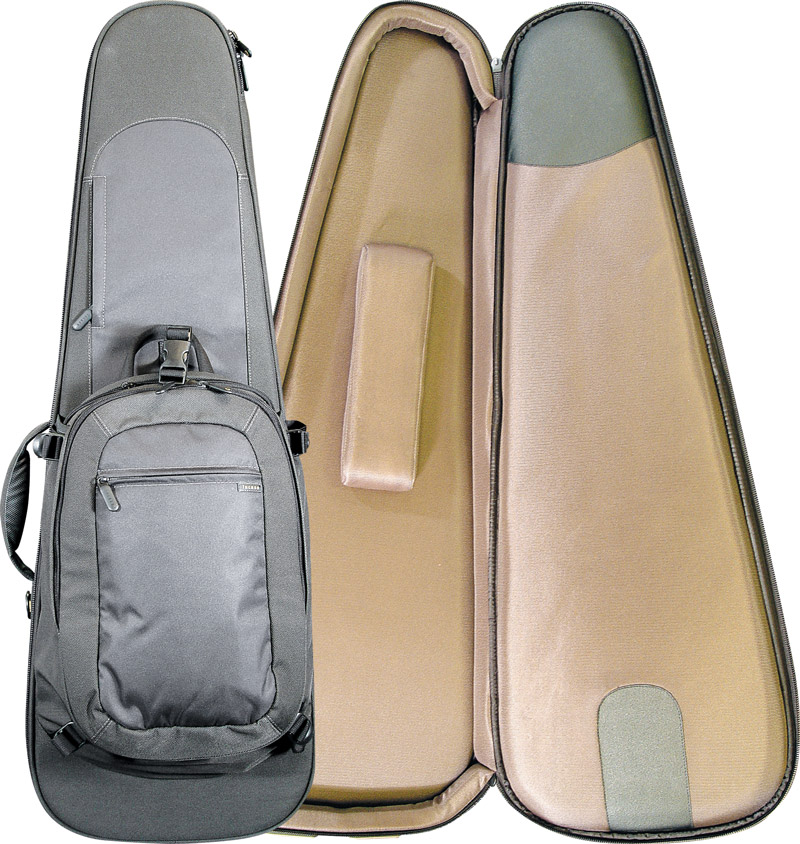 It wouldn't be a surprising reaction. "A $200 gig bag?" And one could reasonably assume the price includes a guitar. But it doesn't. It does include one of the best-conceived and well-packaged guitar products we've seen in awhile.
Indeed, the Incase company's Tour Bag impresses in many ways, beginning with the 12″ x 20″ x 50″ graphics-heavy box in which it's shipped. Given its dimensions, one might assume said box contains one of each bag – the company offers electric, bass, and acoustic models. But opening it reveals just one, though it is held in place with sturdy cardboard dividers and shares space with a T-shirt and baseball cap, the owner's manual, and some accessories. And you read right – there's an owner's manual for this gig bag. It has that many features.
After a quick read of the manual (printed on a glossy, coated stock similar to what you're more likely to see in a Porsche or Mercedes brochure), it's apparent this product isn't simply thrown together. It tells how Incase gathered input from amateur musicians and pros like Tad Kinchla, bassist for Blues Traveler. Designer Bobby Chang spent a year developing his gigbag/hardcase hybrid, and Kinchla field-tested eight prototypes. The final design toured with Blues Traveler throughout 2002.
The Tour Bag's features are numerous and innovative – like a breakout detachable backpack for a laptop computer, a rain jacket (for the case!), an internal neck support, a closet hanger, and a backpack shoulder strap that looks like a parachute harness. Particularly noteworthy is the impeccable quality of the all the materials and finishes; zippers are smooth and had large, easy to grip pulls like you'd find on high-end luggage. The water-resistant nylon outer shell is high-quality, with clean, tight seams and stitching. The breakout laptop backpack (Incase has been making laptop and other cases for years) measured 10″ x 16″ and had its own storage pouch on the case. There's plenty of room inside for a laptop, books, and accessories, as well as a zippered pocket for change, a detachable key ring, a spot for credit cards, and two zippered outside pockets.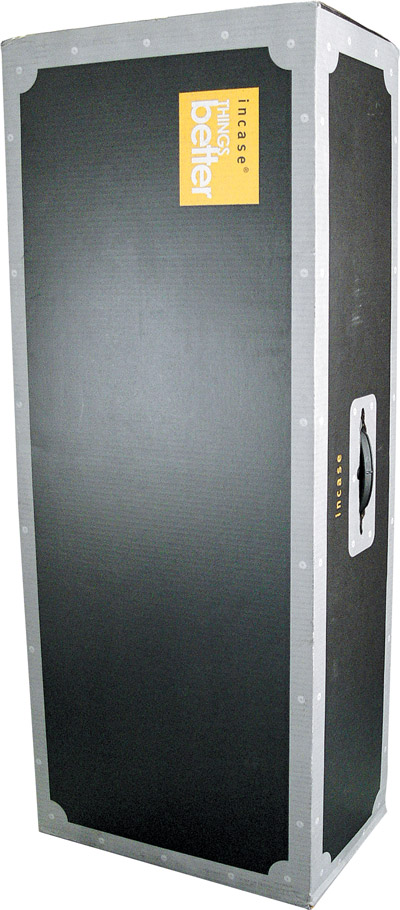 The shoulder straps on the breakout pack are wide, with thick padding that's very comfortable and easy to adjust. The case itself also had an expandable gear pack big enough for several cables, pedals, a tuner, headphones, etc. The slot for the backpack doubled as another pocket when the back was removed. This pocket is big enough for a stack of books, a jacket, or even a small pedalboard.
The Tour Bag comes with two shoulder strap "systems" – one conventional strap, so you could throw it over your shoulder on short trips, and an integrated double shoulder strap system like you'd find on a pro backpack. The double strap system consisted of two very wide and heavily padded sounder straps and two cross belts to hold them in place. Once adjusted, the double-strap system proved very comfortable, even with the case and the pouches full. The bag also had two carrying handles, one on the back toward the top, and one on the side. The side unit is a single, well-padded and contoured handle that lets you unzip the case without interference.
The guitar section of the case isn't like a conventional bag; instead of just two pieces of padded nylon sewn together, the sides of the Incase are 3″ deep. This, along with the wedge shape and adjustable neck support made for a nice, snug fit. We tried several different guitars – a Fender Strat, a Fender Flame (double-cut set-neck), a Hamer Studio, a Reverend Slingshot, a G&L ASAT, and a Keller Custom. They all fit well with an adjustment to the neck support. The sides made a big difference; it didn't feel like I was stuffing the guitar into the case. I just had to stand it up, lean it against my leg, unzip it, and remove my guitar – no having to find a place to set it (like with a standard hardshell case) or hassling with a Velcro handle and floppy zipper (like with a regular bag). The inside also features guards for the strings and bridge, made out of thick nylon, so the string ends or the bridge saddles won't wear through.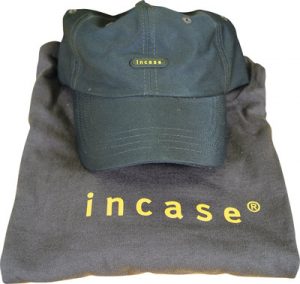 The Tour Bag's outer shell is some of the toughest nylon we've seen, and it's framed with protective piping and a rudder foot on the bottom. The foot has a recess in it that helps minimize damage to the strap button at the base of the guitar. And the protection didn't stop there; three layers of impact foam and a corrugated polypropylene board all contribute to the bulletproof quality. The case has a rigid feel to it. While you couldn't stand on it, you could certainly bang it around pretty good without having to worry about the contents.
Given its size and construction, it stands to reason that weight could be concern. But we found that if we had only a guitar and a few accessories in the case, it was fairly light. Once the pouches were all loaded, though, it could get weighty. But again, every handle, zipper, and strap is placed for ease of access and handling.
In all, $200 is a lot to pay for a gig bag, or even a hardshell case, but the Incase Tour Bag is so high-quality, well-designed, and loaded with great features, it's worth every penny. – Phil Feser
---
Incase Tour Bag
Type of Bag Nylon/foam soft case.
Features High-quality materials and workmanship, detachable laptop back pack, tons of storage for cords, pedals, etc., closet hook, dual shoulder straps.
Price $199 (retail).
Contact Incase Designs Corp, 1550 Rollins Road, Studio K, Burlingame, CA 94010, phone (650) 692-8200, www. goincase.com.
---
This article originally appeared in VG's February 2004 issue. All copyrights are by the author and Vintage Guitar magazine. Unauthorized replication or use is strictly prohibited.