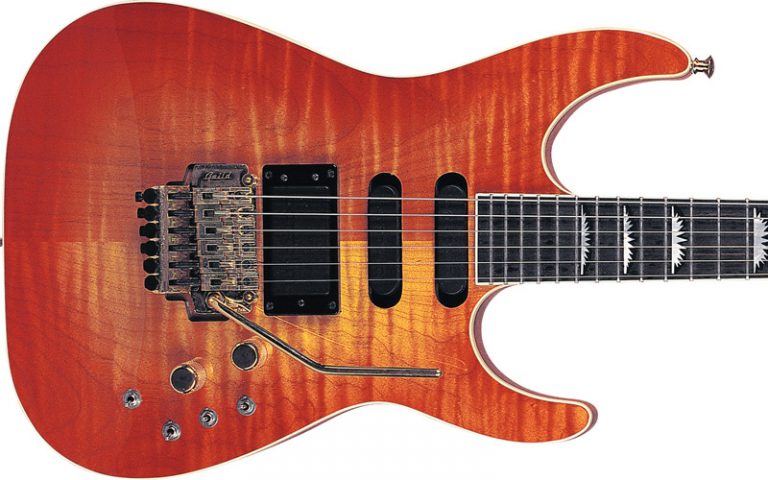 Every once in awhile you find a guitar that's almost too beautiful to play. It's just enough to sit there and admire it, not risking a ding. A good case in point is this drop-dead gorgeous 1988 Guild Liberator Elite, one of the last guitars to be produced before Guild got out of the solidbody electric game in the late 1980s.
Guild guitars, founded in 1952 amidst the implosion of Epiphone, had been a player in the solidbody game since 1963, though never with overwhelming success. A few Guild electrics, such as the Gumby-shaped Thunderbird and S-100 "Oak Leaf" (plus the thinline Starfires), acquired a sort of classic status, but never really achieved widespread adoption. With the Superstrat craze of the 1980s, Guild redoubled its efforts to capture part of the market owned by Kramer and produced some of its best-quality guitars, but generally with the same old results. It's from this period that the Liberator Elite derives.
The Guild Liberator Elite was a limited edition top-of-the-line introduced in 1988. Sitting above the set-neck Liberator (DiMarzios) and the fancier "seemless heel" Liberator II (EMGs), both poplar guitars, the Liberator Elite employed materials and workmanship equal to the best solidbodies. It had solid mahogany body with a bound, bookmatched flamed maple carved top. The glued-in mahogany neck had the "seemless heel," a two-octave bound ebony fingerboard, and wonderful pearl "rising sun" inlays. Pickups were active Bartolini units with an active onboard boost function. Pickups were controlled by three three-way mini-toggles with off in the middle and reversed phase orientation in either end position. This had one volume and one tone control, gold hardware, and a Floyd Rose double-locking vibrato. Finishes were amberburst, cherry sunburst, and transparent charcoal.
The Liberator Elite was a special guitar that plays like a dream. Active Bartolinis aren't everyone's cup of tea, but they're darn good pickups, capable of kicking butt with minimum noise – great for a rack system or recording. This one has a serial number of JK000187, suggesting it had 186 predecessors. Total production numbers are not known, but it's safe to assume that the Liberator Elite was made in limited quantities. Safe because all Liberators were limited.
In '88, the Guild Musical Instrument Corporation defaulted on bank notes, went into Chapter 11 bankruptcy, and stopped solidbody production. In '89, the company was bought by the Faas Corporation of New Berlin, Wisconsin.
After the sale, Guild continued to build acoustics and jazz boxes at its Westerly, Rhode Island, plant, but didn't return to making solidbodies until it reissued the S-100 and Brian May models in '94. In November '95, Guild was purchased by Fender Musical Instruments, and entered a new identity that once again includes American and imported solidbodies. They're swell guitars, but offer little of the chutzpah and class of the Liberator Elite, one of the most beautiful Guild solidbodies ever produced.
---
This article originally appeared in VG's February 2004 issue. All copyrights are by the author and Vintage Guitar magazine. Unauthorized replication or use is strictly prohibited.