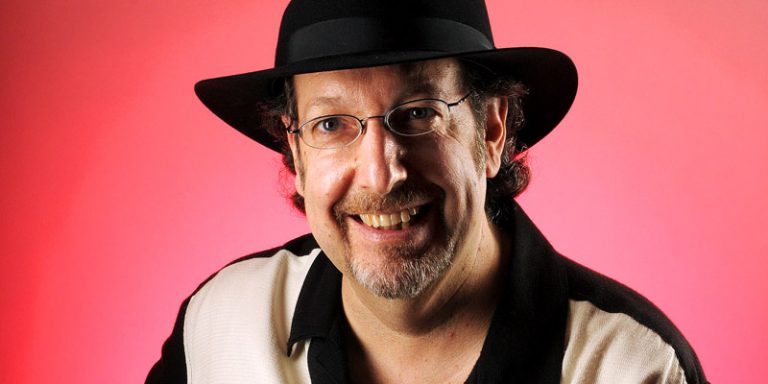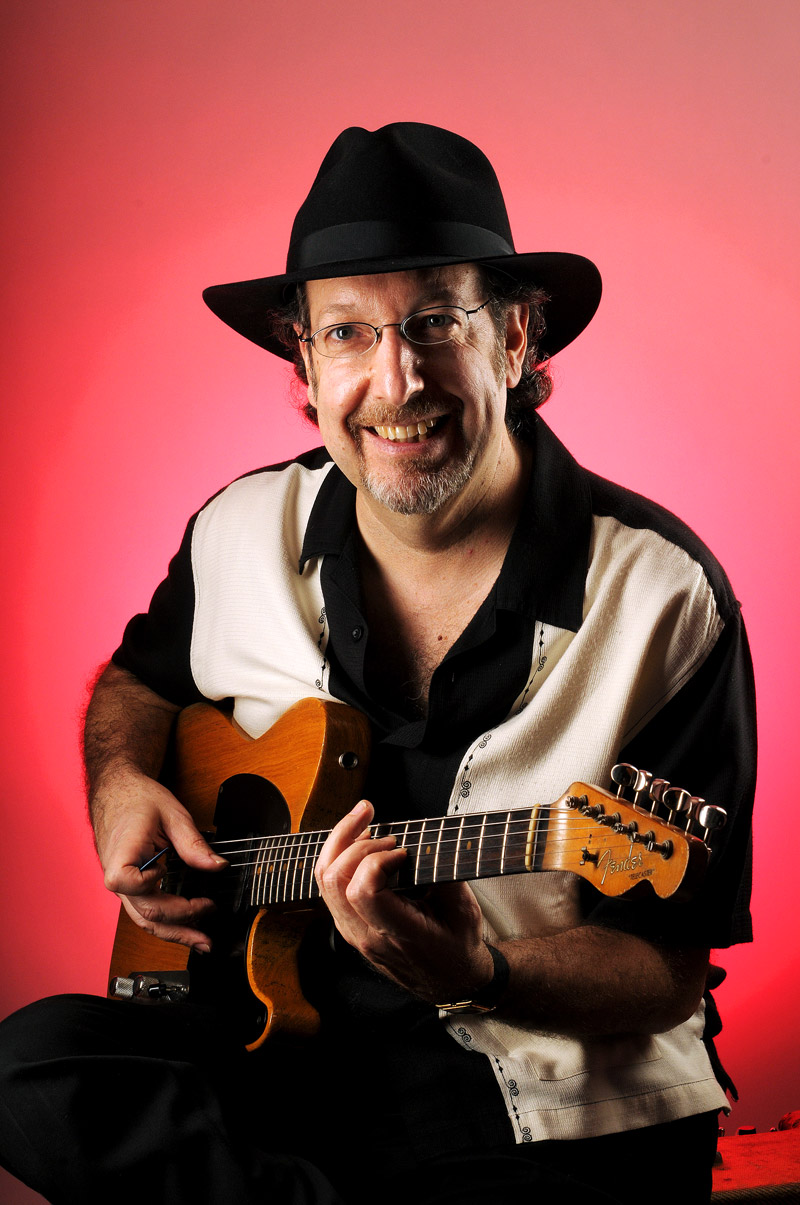 A fixture in the Washington, D.C. area for more than two decades, twangmeister Tom Principato and his band crank out impressive guitar-based music and has won almost two dozen Wammy awards from the Washington Area Music Association.
Principato was inspired by Telecaster masters like Roy Buchanan and Danny Gatton, both of whom gigged for decades in the D.C. area. He played on Blazing Telecasters, a live collaboration with Gatton.
The TPB recently released Raising the Roof, and Principato sat with VG to discuss his history and the instruments he has used while creating it. He has resided in Boston, Pittsburgh, and Austin and is now settled back in D.C., where he came of age listening to local legends.
"I really got interested in guitar from listening to my parents' records," he recalled. "Chet Atkins, Les Paul, Charlie Christian. My parents were in their 30s when I was born, and there was a lot of swing music in the house when I was growing up. I started playing guitar when I was 11 and struggled with it on into high school. I started playing in bands in '65, doing Ventures stuff and then later, British Invasion and Hendrix songs. Then I discovered the blues… B.B. King."
Principato's first guitar and amp came from Sears, and he bought them with money earned working a paper route.
"There was a thriving scene in D.C. even back then," he recounted. "In Georgetown were probably a dozen clubs that hired bands six nights a week. I didn't gig there, but I used to go to a lot of the shows. There were also a lot of church dances in the suburbs that hired local and regional bands, and the first guy I became aware of with local notoriety was Roy Buchanan. There was a terrific buzz about him, and he was starting to break when I graduated high school in 1970."
Given that scene, Principato said he and other aspiring guitarists at the time didn't feel the need to move to Nashville or Los Angeles to attempt to make it big.
"The only feeling I had like that came along in '71," he said. "I got a call from a friend who had gone to the Berklee School of Music, in Boston. He said the scene there was a lot better for blues and roots music. In Washington, Top 40 bands were doing the clubs in those days, and I was never really into that."
Armed with a Fender Esquire he modded with a neck pickup, a Gibson ES-335, and a blackface Fender Twin Reverb, Principato shuffled north to Boston, with plans to start a band.
"But that fell through quickly. The bass player and drummer went back to D.C., but I came across a blues harmonica player named James Montgomery, and eventually joined his band.
About a year later, I met up with other Washington guys on a visit, and they relocated to Boston. So we started a band called Powerhouse."
Powerhouse represented Principato's first experience with recording and intense gigging. The effort lasted four years and yielded one album, plus another of live tracks and leftovers issued after the band's demise.
When Powerhouse broke up, Principato returned to D.C. and formed a swing-guitar duo with Pete Kennedy. He also began taking informal lessons from Danny Gatton, and sat in at Gatton gigs. Other work came in the form of freelancing as a side man. In 1984, he began a solo career, and also launched his label, Powerhouse Records, and started another band.
"There was a lot of demand for the Powerhouse album, but it was out of print because the company had folded," Principato explained. "An opportunity came up to buy the master tapes, so I mixed it, pressed it, and put it out. I started the company to reissue that one album."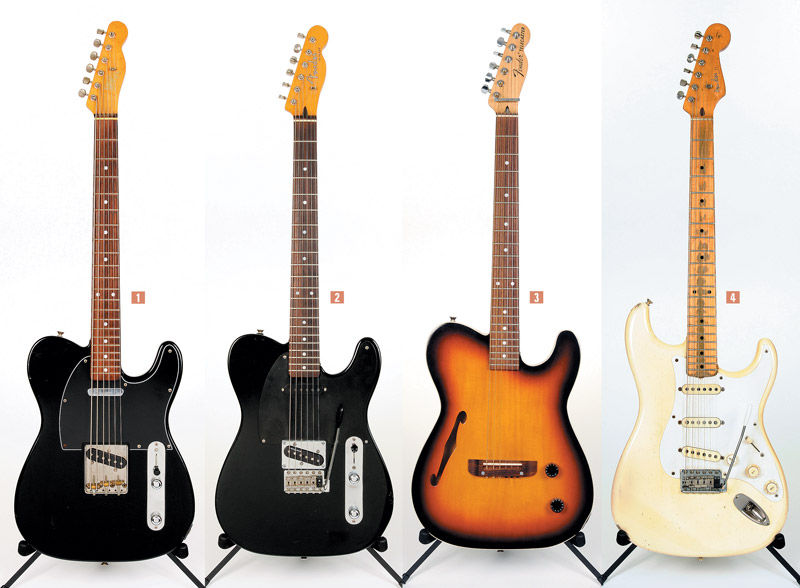 Asked if he considered Buchanan and Gatton influences, peers, or both, Principato reflects, "They were both definitely influences. Danny was more a mentor. I never considered myself a peer; in those days it was pretty brave to even consider stepping onstage with him. Even though it might have been a co-bill, it was a given around D.C. that Danny was the king."
Live sessions recorded by Gatton and Principato in 1984 languished in storage for several years before being released as Blazing Telecasters around the same time as Gatton's 88 Elmira Street.
Over the years, Principato has released 15 albums, including the collaboration with Gatton and another with Pete Kennedy. There are also two DVDs – one a Maryland Public Television show with Gatton, the other a career retrospective. He's also the author of Open-String Guitar Chords.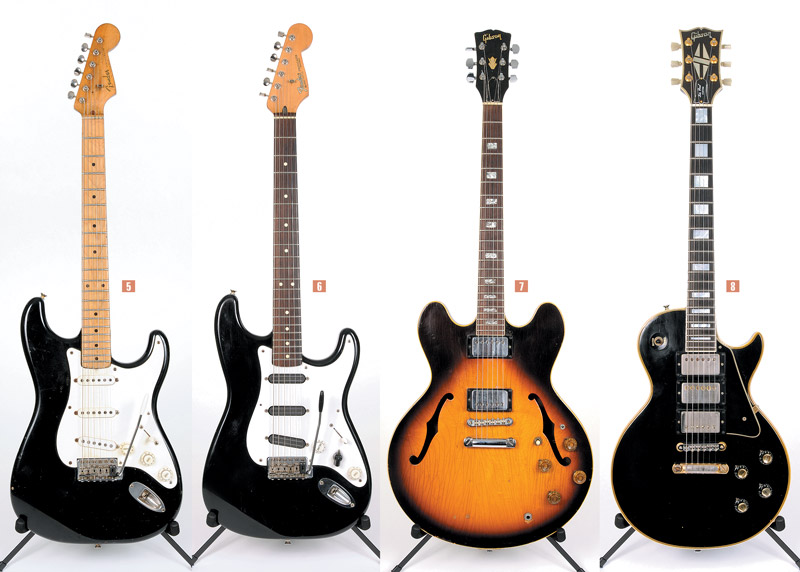 Today, Europe figures prominently in Principato's ongoing career. The reception to his material there is "…a wonderful thing. We've been going there for 20 years. The Europeans really appreciate art and the art of music. They focus on and enjoy a musical performance, with discerning tastes; art in Europe goes back centuries, so they're not interested in the flavor of the month, as with American pop culture. They find something good and support it."
Some of Principato's albums have a light conceptual vibe. Guitar Gumbo draws from New Orleans influences, while Not One Word… is instrumental. "The concept is to mix eclectic roots music," he observed. "I enjoy all styles and like crossing styles. I've been known as a blues artist for a long time, but I really haven't been a straight blues guy. I'm not interested in re-creating old blues records – I just want to re-create the feeling I get from them. I don't play jazz, but I get jazzy at times.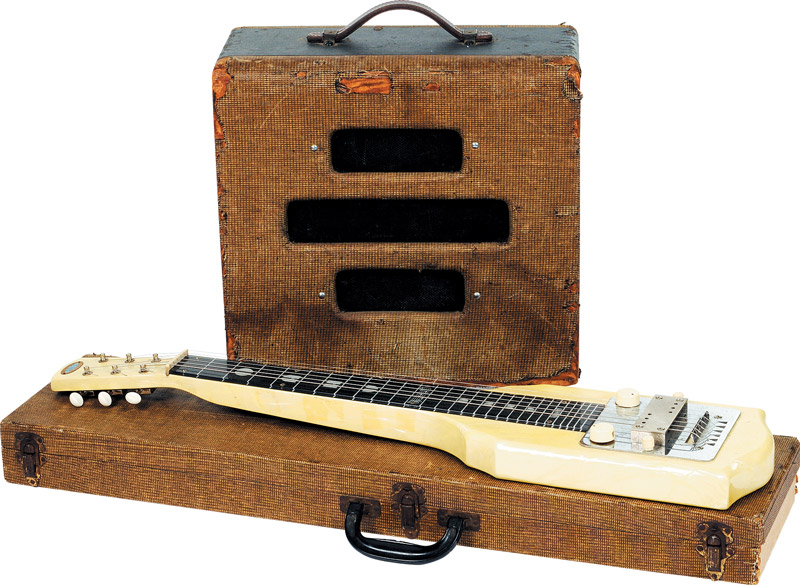 "I've always loved the New Orleans thing," he added in reference to Guitar Gumbo, which was released just before Hurricane Katrina. "I've been doing that stuff for years; my second album had a Sonny Landreth tune on it, but Gumbo was the first album with a lot of it."
If Raising the Roof was the first Principato album a knowledgeable or aspiring guitarist heard, they would indeed encounter tones reminiscent of Buchanan or Gatton.
"The main reason is because about five years ago I acquired the best Telecaster I've ever owned," he detailed. "I've had a couple dozen of 'em, and I stumbled on a 1960 model with a '57 Esquire pickup and a Bill Lawrence neck pickup. That guitar is a dream, hands-down the best one I've ever had. I've used it on all my recordings and gigs for the last five years."
Principato's primary recording amplifiers are tweed Fenders, much like Gatton.
"If I'm gonna play a Telecaster on a record, I'm gonna go for that classic Telecaster sound," he rationalized. "If I go on a gig, it's 50 percent Strat, 50 percent Tele. There's definitely a D.C. tradition to Telecaster playing. I consider myself a purveyor of that sound, but that doesn't mean I consider myself peers with players like Buchanan, Gatton, and others."

Raising the Roof contains further references to New Orleans, but Principato wanted to add a chicken-pickin' Telecaster sound to those rhythms, and he considers the results "…a breath of fresh air. And it seems to be working. Again, it's one of the cross-breeding things I like to do."
The album also contains instrumentals, including "Counts for Rita," written and first recorded by organist Jimmy Smith. Other Principato material often has a classic Hammond B-3 sound.
"I'm a frustrated organ player, and I've always loved Jimmy Smith," the guitarist chuckled. "I even played a Farfisa Combo Compact (organ) in a band in high school. Not only do I love that B-3 sound, I'm blessed to have (keyboard player) Tommy Lepson, who not only plays the hell out of one, he's a great singer, and he also owns the studio where we record."

The last track on the album is a live effort titled "They Called For 'Stormy Monday' (But 'Mustang Sally' Is Just As Bad)," which is relatable (and hilarious) listening for any musician who has ever played in a club and had to tolerate audience requests.
Other guitars in the Principato arsenal include several Fender Stratocasters, all of which have been modified.
"They've been wired with only a master Tone control, and the other pot, which was originally a Tone control, is a blend that adds the neck pickup. This allows me to get a couple of extra pickup combinations, like the neck and bridge pickup together. You can't get that sound with stock Strat wiring."

There's a 1985 Strat with Seymour Duncan Antiquity Vintage Staggered pickups. "The neck pickup is a Duncan Hendrix pickup with the upside-down staggered polepeices," he detailed. "I bought the guitar new from my buddy, Mike Lewis, when he owned a small music store in Charlottesville, Virginia, before he went to work at Fender. I've played the hell out of that guitar."
Another '85 Strat, in black, has a V-shaped maple neck from a '50s Strat. "I bought it in the '80s for $75," he said of the neck. "There's no date or anything on it, but it feels great."
His 1990 made-in-Mexico Strat has a rosewood fingerboard and Joe Barden vintage-style pickups. He installed a Fender TBX midrange boost on it and describes it as "…a great workhorse guitar." And of course there's the Gibson ES-335 he bought for $200 in 1967.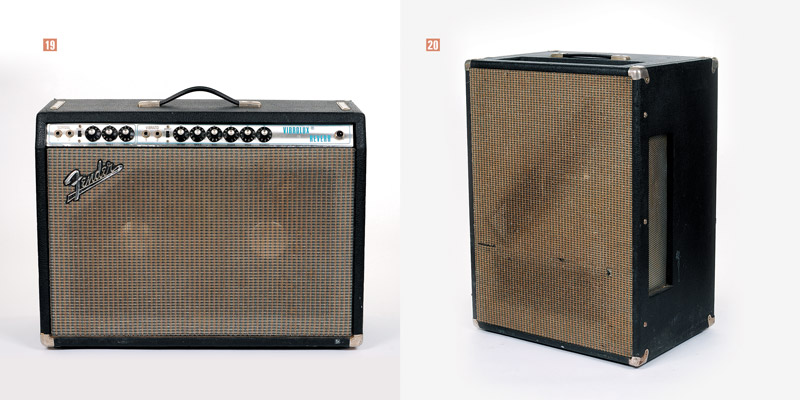 "When I was living in Boston in the '70s, I had Eddie Murray at Wurlitzer Music install the stop tailpiece," he said. "There's also a phase switch for that T-Bone Walker/B.B. King out-of-phase sound. It was stolen once, but I got it back! I think me and it were meant to be together, though I rarely play it."
He also owns a three-pickup '71 Gibson Les Paul Custom.
"The neck was broken and it was re-necked at Gibson with a newer neck without a volute," he noted. "I also installed a pair of real PAF pickups; I got them a long time ago for $10 each, out of a '61 SG Les Paul."
Another guitar Principato purchased from Lewis is an '80s baritone Telecaster parts guitar that is set up like a six-string bass or baritone. "What a wicked sound!" he says of it. "The thing records great. All of the strings are wound – the high E is a .22, low E is a .80."
He also waxed enthusiastic about his late-'90s classical Telecaster. "Nylon strings with a piezo bridge pickup system…" he said. "I've never seen another one – it's great to have a guitar that sounds like a classic without the big, wide neck. And it plays like a Telecaster!"
He also has a recent Telecaster on which luthier Mike Dove installed a Stratocaster vibrato. It's equipped with a Duncan Jerry Donahue bridge pickup and a Barden vintage-style pickup in the neck position.
Principato is a huge fan of Fender amplifiers, particularly tweed Pros. His first one was a '53. "I bought it out of the Washington Post classified ads around 1980 for $150," he recalled. "It's the version with 6SC7 preamp tubes. The controls are just Volume and one Tone; in a lot of ways you can't mess with Leo Fender's original ideas. And this is a shining example – it has been a real workhorse, and for a long time it was the only amp I used. Cesar Diaz tweaked the circuit, including changing the capacitor on the input of the microphone channel, making the sound rich and still darker than the bridge channel, with a beautiful midrange sound. It has a solidstate rectifier and I've replaced the original 15″ speaker with an EVM 12L, which suits the color of this amp perfectly. I like using high-efficiency speakers in lower-power amps for a tighter low-end and clearer high-end."
He also owns a '54 tweed Pro, a '57 Pro bought from Cesar Diaz, and a '58 Pro. There's also a '58 4×10 Bassman. "The model everyone fawns over," Principato noted with a chuckle. "It's a killer amp, especially with a Telecaster. But I prefer the sound of the Pro."
His '65 blackface Vibroverb is fitted with an EVM 15L speaker and was also Diaz-tweaked. "It's wired so you can get reverb and tremolo in both channels, and I prefer to use the first channel; it's fatter."
He also owns a mint '63 brown Concert, a '60 brown Super ("I like its sound better than a Concert."), and a '71 silverface Vibrolux of which he says, "I think its reverb sounds better than the blackface reverb – but the jury is still out." He is even a fan of Fender add-ons. Along with a '60s Vibratone Leslie, he owns three reissue Fender tube reverbs he says sound better than the originals; in the studio, he prefers them over dedicated studio reverb units. And of course, there's a plethora of stompboxes and outboard devices.
Tom Principato is carrying on the tradition of the D.C. Telecaster sound. And the fact he owns a successful record label adds to the validity of his musical sojourn.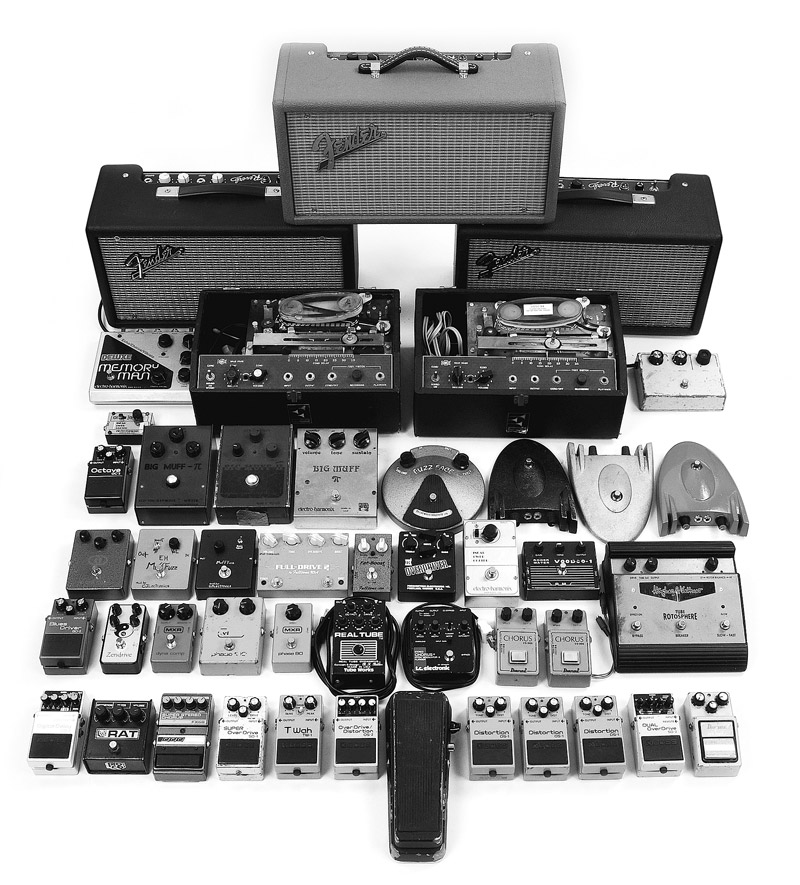 ---
For more information, go to tomprincipato.com
---
This article originally appeared in VG's June 2008 issue. All copyrights are by the author and Vintage Guitar magazine. Unauthorized replication or use is strictly prohibited.