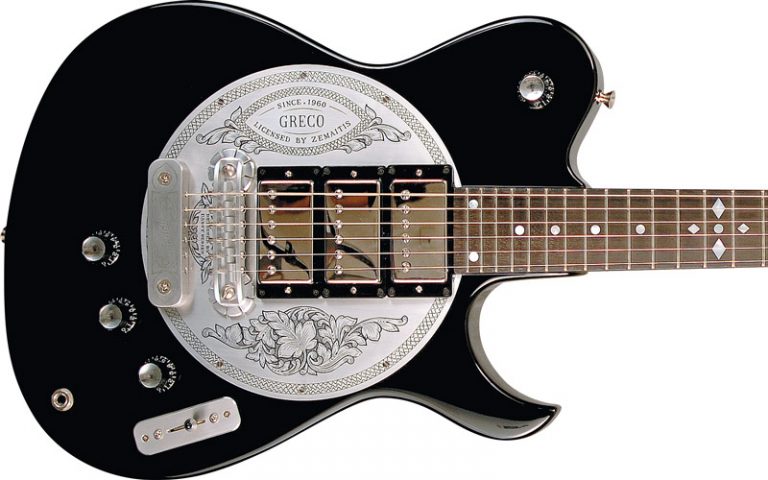 Looking to score one of those legendary guitars made by the late British luthier Tony Zemaitis? Yeah, so are we. But given that Tony's work today occupies its own unique space in the "axe strata," chances are it won't happen for any of us anytime soon.
But that doesn't mean you can't get close – real close, in fact. Because although Tony is no longer with us, his spirit most definitely is, in the form of Zemaitis Japan, the company that bought the Zemaitis name after Tony's passing and has since proven beyond redoubt its commitment to making high-quality guitars that offer the same unique character as the original (see our January '05 review of the Zemaitis S22 metal-top).
We recently took a turn on the company's GZ-3200DF. Built by Greco, the established builder in Japan that earned a reputation long ago for its top-quality guitars (early on, they specialized in copies of Gibson and Fender designs), these axes offer players a shot at a Z-branded guitar at a price point significantly lower than the $6,000 (or more) it'll take to get into the top-tier Zemaitis models, and way below the tens of thousands it'll take to score a vintage example.
The GZ-3200DF's one-piece mahogany body recalls the classic design of the Fender Telecaster, but with unmistakable Zemaitis flare, and its one-piece mahogany neck is appointed with a beautifully grained ebony fingerboard inlaid with mother-of-pearl dots and diamond shapes that exhibit no gaps or filler. The polished frets fit with near perfection and boast round, smooth ends. The neck is a wide C shape with a 25″ scale. The bone nut is nicely fitted, and the Schaller M6 tuners need no introduction.
Cosmetically, the GZ-3200DF is a striking instrument, with a headstock sporting a silver-plated truss rod cover and diamond logo overlay. The black finish is immaculate, and the brushed aluminum disc and tailpiece are tastefully engraved in the Zemaitis tradition. The bridge and pickup selector plate are made of the company's Duralumin alloy, and the guitar's three DiMarzio DP103 PAF humbuckers have nickel-plated covers. Controls include a master volume and three tone pots, along with a five-way pickup selector. The electronic components are all high-quality.
Playability on our test GZ-3200DF was fantastic. We set the action to our taste – very low – and string-bending was insanely smooth, thanks in no small part to the highly polished frets. And at 8 pounds, the 3200DF is light enough so it won't wear on you over the course of an evening gig.
To test the GZ-3200's tones, we used an all-tube Peavey Valve King head with matching 4×12″ cab, and a Fender Blues Deluxe reissue.
We first plugged into the Valve King set for high-gain output. The GZ-3200DF's bridge-position DiMarzio sounded very fat and round, with low-mid response to spare and big, fat bottom, complemented by crisp, snappy high-end. The bridge/middle position offered more low-end, with less sparkle that made for an overall darker, funky blues tone you don't hear on many guitars. The sparkle returned to the mix when we moved the selector to the middle position; a mid-position pickup is a very different animal compared to running neck and bridge pickups simultaneously. Going to the middle/neck position again cut high-frequency response while boosting lows.
The GZ-3200DF's 24-fret neck pushes its neck pickup closer to the bridge than most guitars, further contributing unique tone. The guitar's overall sustain is tremendous, and pickup output is balanced, with even tonal response across frequencies.
Plugged into the Blues Deluxe set to clean with slight breakup, the bridge-position pickup again offered nice low-end response with that trademark PAF spit and sparkle. In the bridge/middle position, it got notably darker, and in the middle, sparkle and purity were back in play. The middle/neck position again proved much more dark, with less sparkle. The neck position was pure and PAF-flavored, with big bottom and nice sparkle.
The GZ-3200DF plays and sounds amazing and offers fantastic versatility, especially for the rock/blues player. Its workmanship is absolutely top-notch, and though it is not one of Zemaitis' higher-end instruments, it's a model of fit, finish, and tone, and compares favorably with anything in its price range. But does the GZ-3200DF live up to the Zemaitis name? Shadoobee, you betcha!
---
This article originally appeared in VG's November 2006 issue. All copyrights are by the author and Vintage Guitar magazine. Unauthorized replication or use is strictly prohibited.
---
The Zemaitis GZ-3200DF