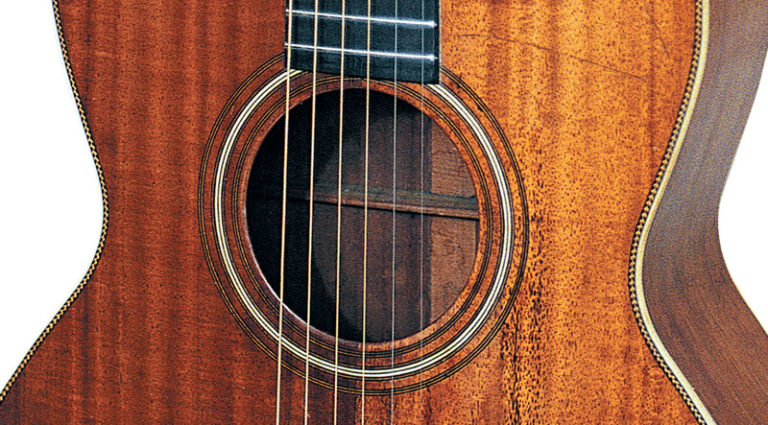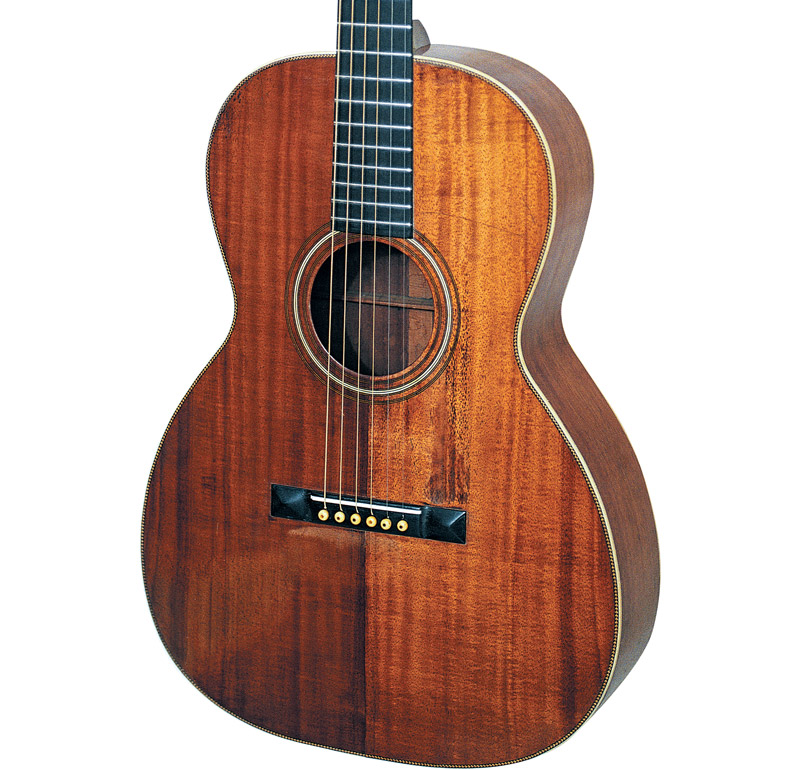 During the 1920s and '30s, Martin made a considerable number of guitars with bodies constructed of Hawaiian Koa wood. The Hawaiian music craze was in full swing and the demand was strong for ukuleles and Hawaiian-style guitars played with a steel bar, as well as standard-style guitars constructed of Hawaiian Koa wood.
The vast majority of Koa instruments built by Martin were ukuleles, though quite a few Koa wood guitars were made, particularly styles 0-18K and 0-28K and a very few 00-18K and 00-28K models. The pre-World War II Martin literature did not show any 000-sized Koa wood instruments offered as standard catalog models.
Mike Longworth's book on Martin guitars features very detailed production totals which show only one 000-28K ever having been made. In 2002 we acquired 000-28K (serial number 16347), made in 1921. We assumed this was the one and only 000-28K to have ever been made, and listed it as such in our catalog. But shortly thereafter we heard from the owner of 000-28K serial number 16253. When we called Martin to check on this, we found number 16253 was the one listed in Longworth's book appearing in Martin's records as a 000-28K, whereas number 16347 was listed in the records simply as a 000-28 with no reference to any special features. It appears that while Martin's records are meticulous and far more complete than those of any other manufacturer of guitars, they are less than perfect. To this day, however, we have not heard of any other Koa-wood 000-size pre-World War II Martins, so it's reasonable to assume that in all probability, these two are the only ones to have been made.

With the exception of having Hawaiian Koa wood top, back, and sides, the structural and ornamental features of these two guitars are otherwise typical of a 000-28 of the period. Serial number 16347 has a pickguard that appears to have been installed by Martin, though we are unable to determine if it originally left the factory with this guard or if it may have been installed later. It was not uncommon for owners to send instruments back to the factory for reconditioning, repairs, or customizing. As is typical of a 000-28 of this period, both guitars feature a 15″ wide body, 12-fret slot-head mahogany neck, unbound ebony fingerboard with slotted diamond inlays at positions 5, 7, and 9 (inlays beginning at third fret and extending to the 15th fret became standard in 1931), pyramid-end ebony bridge, herringbone top trim, "zipper" zig-zag back stripe, and white ivoroid binding on the top and back edge of the body. The typical style 28 of this period would feature an Adirondack spruce top and Brazilian rosewood back and sides. Koa gives a brighter sound with more sustain while the typical spruce and rosewood construction gives greater depth and more "punch." Both give excellent-quality sound. The differences in tone are a matter of personal judgment and musical preferences rather than good versus bad.
It's a tribute to Martin craftsmanship that both of these 000-28s have survived and are today in fine playing order. Perhaps even more significantly, however, it is a great tribute to the high esteem Martin owners have for their instruments. While most consumer products, even those considered "durable goods," have a limited lifespan after which they are usually discarded, guitars in general and Martin guitars in particular tend to be cherished by their owners and handed down through generations. Needless to say, dealers and collectors frequently encounter instruments which have been horribly abused, neglected, or severely damaged or even destroyed by amateur repairs or customizing, but an amazingly high percentage of older guitars have survived. This is particularly true in the case of the higher-end, more expensive models. While owners frequently neglected lower-priced instruments, they were more inspired by and had more of an incentive to care for the ones that were sufficiently expensive that they had to work hard to acquire them. Aside from any financial considerations, owners establish an emotional bond with a good instrument, and often treat it very much as though it were alive.
Forty years ago, prices of vintage instruments were extremely low by today's standards, and most were hidden in closets and attics if they were not being actively used. Today, with market prices having risen very dramatically, there is far more incentive for owners to offer these instruments for sale. As a direct result, while prices may be less affordable, there are far more good instruments being offered on the market and certainly far more that are well-documented in collections. There is no doubt that there are still more "sleepers" out there to be found, but after so many years of efforts by collectors and dealers to uncover these instruments, there are far fewer in the hands of owners who have no idea what they have. In the case of pre-World War II Martin D-45s, for example, the records show that 91 were made, including three with 12-fret necks and extended-length body.
The vast majority of the 91 D-45s have been accounted for, and I have seen all three of the 12-fret D-45s made in the '30s. The fact remains, however, that there are a large number of undiscovered gems still in the field. Collectors and dealers are by no means reduced to just recirculating previously known guitars. Based on my experience I believe the majority of the collectible instruments shown in company records, but not yet accounted for, are still out there waiting to be found.
---
Photo: Kelsey Vaughn, courtesy of Gruhn Guitars.
This article originally appeared in VG's January 2005 issue. All copyrights are by the author and Vintage Guitar magazine. Unauthorized replication or use is strictly prohibited.