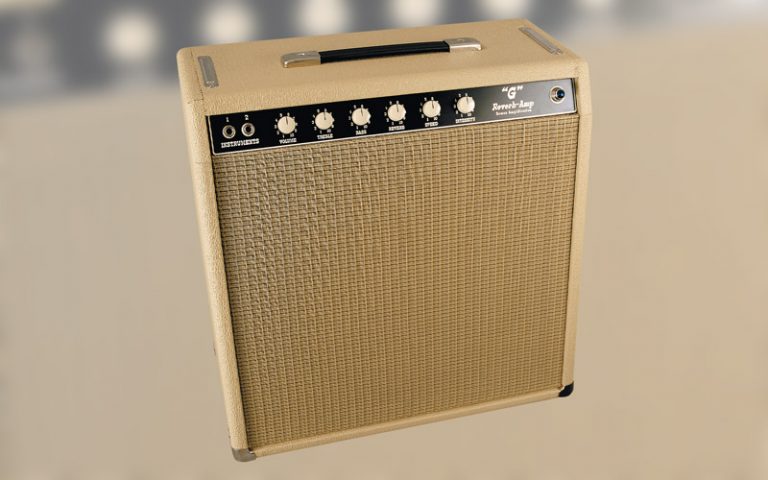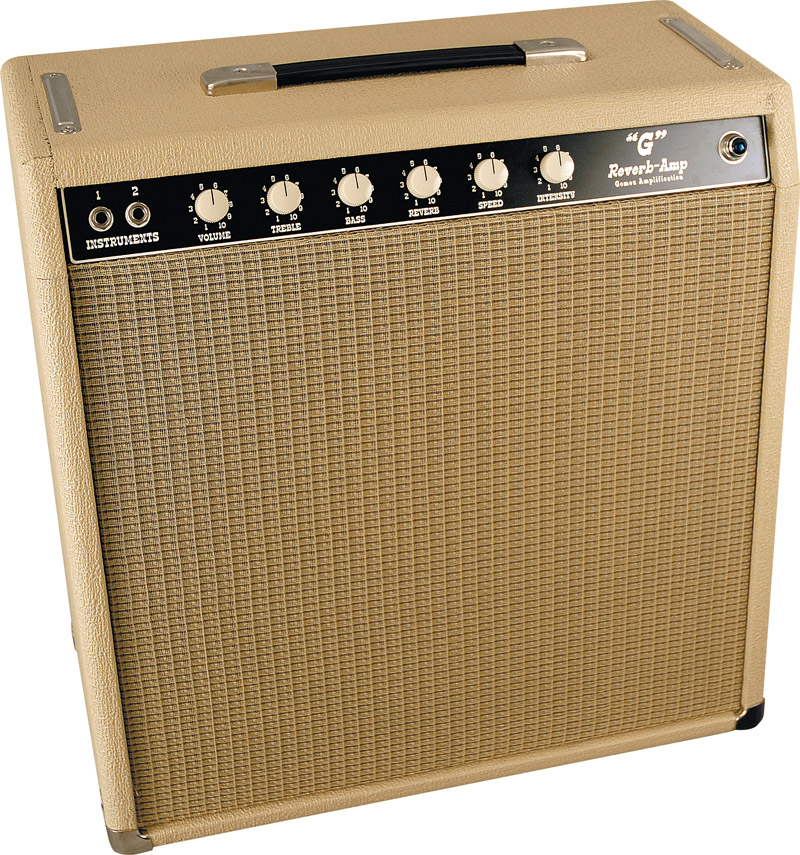 As amp builders go, Dario G. Gomez is about as fresh as they come. Though he has been repairing tube amps for many years, he started offering his own amp designs only about a year ago. His is a modest one-man shop, and though he has yet to build amp #100, Gomez is wise enough to know that only top-shelf components make for a top-shelf amp. His sole product is the surf-inspired "G" Reverb combo, but an expansion of the line is in the works.
The "G" Reverb is a 1×15″ combo with hand-wired tube circuitry, a Jensen Alnico-magnet speaker, tube-driven tremolo, sprin"G" Reverb, and a two-spring Accutronics reverb tank (a three-spring tank is a no-upcharge option) all connected with high-quality RCA cables.
Aesthetically, the "G" carries a certifiably classic '60s Fender style and vibe with its rough blond tolex, wheat grillecloth, chrome corners, simple strap handle, slanted black control panel with vintage-style cream knobs, blue jewel light, and very cool cream-colored Western-motif silkscreen. Under the tolex is a solid 3/4″ pine cabinet with dovetailed joints and a 1/2″ cabinet-grade birch plywood baffle.
You know what they say about first impressions? Well, the Gomez makes a good one, especially if you're a fan of compact, lightweight guitar amps. At 201/4″ (tall) x 201/4″ (wide) x 103/4″ (deep) and just 36 pounds, the "G" Reverb is small and easy to haul.
The tube layout in the "G" Reverb consists of a matched pair of JJ/Tesla 6V6 power tubes that help it produce 12 watts of output, a new-old-stock (NOS) RCA 5U4GB rectifier tube, three Electro-Harmonix 12AX7EH preamp tubes, and a NOS JAN Philips 12AT7WC reverb-drive tube. The control panel layouts included two 1/4″ input jacks (high- and low-gain), as well as knobs for Volume, Bass, Treble, Reverb and Speed and Intensity for the tremolo circuit. The back panel hosts a power switch (the amp does not have a standby mode), ground switch, fuse holder, and speaker-out jacks. Fit and finish on the "G" Reverb are very nice, with clean wiring inside and well-executed tolex application.
We sampled the "G" Reverb's tones using several guitars including a stock '66 Fender Jazzmaster, a Gretsch 6128 reissue with single-coil DynaSonics, a Gretsch 6119 reissue with Hilo-trons, stock '59 Dano U-1, Gibson Custom Shop Johnny A, Fender Robert Cray Custom Shop Strat, and a Fender Custom Shop 1960 Relic Strat.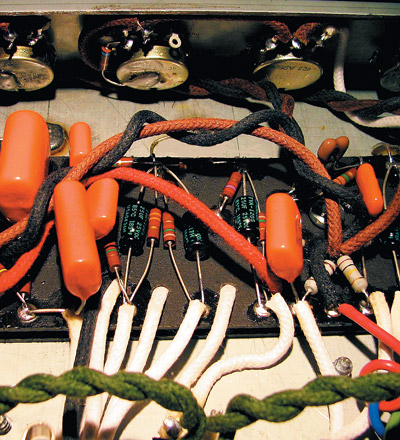 Starting with the Strats, we set the "G" Reverb's Volume at 9 o'clock and the tone controls at 1 o'clock.
We weren't surprised when the Gomez offered classic Fender sound, replete with sparkling clean highs, slightly scooped midrange response, and punchy low-end. The amp's passive Bass and Treble controls are smooth and subtle, requiring only minor adjustments to compensate for the differences in tone between various guitars and their respective pickup configurations. As we drove the volume to 11 o'clock, the clean tone grew a bit of hair, with complex musical overtones and bit of overdrive, while low-end remained punchy. Highs never got harsh, and low-end never "farted out," as 6V6-powered amps are often apt to do. With the volume at 2 o'clock, the overdrive and sustain became more abundant, but the amp stayed consistently open-sounding and we were able to clean up the tone quickly using just the volume control on the guitar, without losing spank or punch. This is a great attribute if you think solo boost at your fingertips is a cool thing. And Gomez's choice of an Alnico-magnet speaker was indeed wise; the smaller voice coil in the Jensen allows highs and mids to be reproduced more naturally, like a 10″ speaker, while the added surface area of the 15″ rounds out and reinforces low-end.
Plugging in the '66 Jazzmaster, we dialed in reverb and caught a mouthful of lush tone with '60s wet "surf" splash in the high-end response, without the unnatural, hollow sound that often muddies the tone of reverb amps. The placement of the reverb circuit in the amp's gain structure, the vintage 12AT7WC drive tube, and the Accutronics tank all contribute to the amp's outstandin"G" Reverb.
Not set to take a back seat, the "G" Reverb's tremolo circuit sounds equally as good, with a deep, silky-smooth vintage waveform that can go very deep and become quite intense without sounding choppy. Every guitar sounded excellent, with a full, natural tone.
The Gomez "G" Reverb's small size and light weight make for easy packing, but they sure don't make a small sound. To the contrary, the amp has a big, lively tone with some of the most impressive reverb and tremolo we've heard from a new amp. It excels as a surf amp, but its ability to get a little dirty when driven to do so makes it a smokin' blues amp, as well. – Phil Feser
---
This article originally appeared in VG's Nov. '06 issue. All copyrights are by the author and Vintage Guitar magazine. Unauthorized replication or use is strictly prohibited.