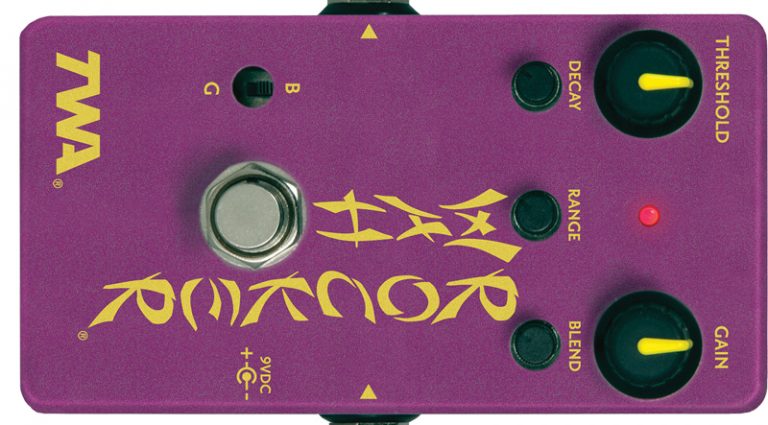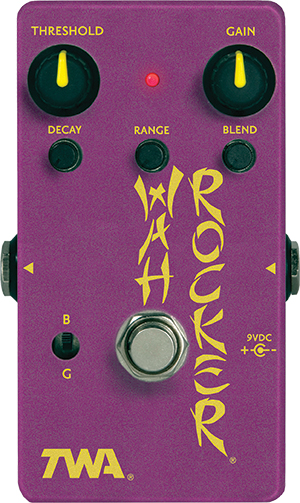 If it looks like a duck and quacks like a duck… it might be the TWA WR-3 Wah Rocker. Lovingly known as "the duck box," the Wah Rocker is based on the vintage Guyatone of the same name – with a few new wrinkles.
The WR-3 falls in the envelope-filter family, producing funky wah effects without the need for a moveable footpedal. Listen to '70s Jeff Beck, Frank Zappa, and Jerry Garcia (or modern ripper Guthrie Govan) for an idea of the funky sounds this pedal can emulate.
The WR-3's heavy-duty purple box is more than gigworthy and has standard input and output with TWA's S3 Shortest Send Switching for superior true-bypass. Controls include Thresh for filter sensitivity (i.e., the degree of funky filtering) and Gain for either unity or a bit of a boost, plus three mini knobs to tweak the filter a little more; Decay adjusts speed, Range tweaks frequency band, and Blend covers wet/dry mix. There's also an internal Guitar/Bass DIP switch accessible via a small flathead screwdriver to set the internal tones for each.
Plugged in, the WR-3 lives up to its name with all manner of rockin' wah tones. Dialing every knob to 12 o'clock is fine for most envelope-filter operations, eliciting the fat, silky tones that'll make any Grateful Dead jam come to life (Jerry was partial to the Mu-Tron III, of course). It works great clean, but can be used with a little overdrive for leads. Or go full-on distortion to emulate the wah sounds of Thin Lizzy's Brian Robertson. You won't want to use it all the time, but in the right spot, the Wah Rocker will seriously funkify your tone.
---
This article originally appeared in VG March 2017 issue. All copyrights are by the author and Vintage Guitar magazine. Unauthorized replication or use is strictly prohibited.