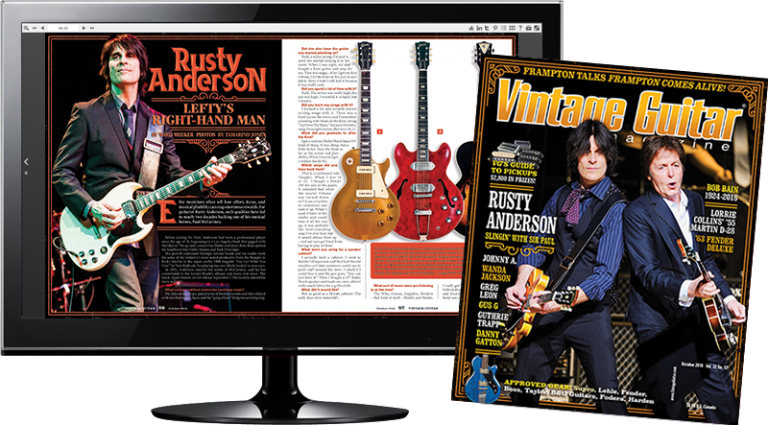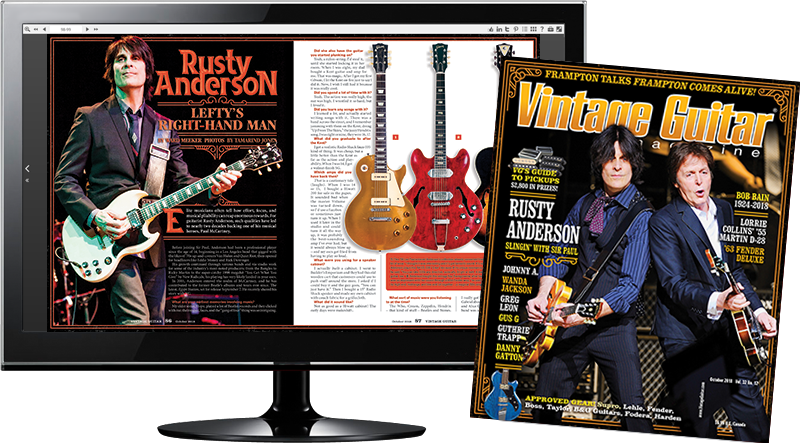 Find what's in this issue, enter the latest exclusive VG contests, or learn the 3 ways to get your Vintage Guitar fix! Don't forget to check out VG Classifieds and the playlist for this issue of VG on Youtube.
Table of Contents
Elite musicians always bring effort, focus, and musical pliability. For Rusty Anderson, they've led to nearly two decades backing one of his musical heroes. We also interview L.A. metal-guitar vet Greg Leon, who played the Strip alongside now-legendary fellow shredders. Plus, we tell all about the Jacobacci Major Ohio, a pre-production Fender Deluxe, the evolution of Martin's 000-42, and rockabilly goddess Lorrie Collins' Martin D-28. Other interviews include Guthrie Trapp, Wanda Jackson, Gus G, Johnny A., Ian Moore, Steve Kimock, and Matteo Mancuso. We pay our respects to studio legend Bob Bain, and introduce a new monthly feature – "Pop 'N Hiss," which takes a fresh look at the albums that made us want to pick up the guitar. The series opens with Frampton Comes Alive!. Let our "Hit List" reviews help you choose the best new music, and VG Approved Gear guide your next big purchase. You'll want to dig way into the October issue, available now!
36 12 Frets (Or More) Clear
The Evolution of Martin's 000-42
The exact origins of the design are lost to history, but guitars with 12 frets clear of the body arose for obvious reasons. We offer a look at how the 000-42 exemplifies "progress" to the 14-fret. | By George Gruhn and Joe Spann
40 Mother of Invention
The Jacobacci Major Ohio Label de Qualité
After World War II, GIs stationed throughout Europe exposed locals to American music propelled by electric guitars. Europeans wanting to play quickly learned that American guitars were hard to find – and expensive. Local makers responded with innovative designs. This is one of them. | By Michael Wright
44 Early Adopter
A Pre-Production Fender Deluxe
Amp-o-philes get excited by flagship Fenders like those with a "TV front" or wide (or narrow!) control panel. But, stepping stones and in-betweens like this one are often even more fascinating. | By Dave Hunter
86 Rusty Anderson
Lefty's Right-Hand Man
Elite musicians often tell how effort, focus, and musical pliability can reap enormous rewards. For this guitarist, those qualities have led to nearly two decades backing one of his musical heroes. | By Ward Meeker
94 Greg Leon
Hard-Rock Doyen, Wizard Amp Tech
For every player who reaches superstardom, there are a million stories of destiny turned sideways. Forty years ago, Greg Leon was an L.A. shredder who went toe-to-toe with Rhoads, Lynch, and Van Halen. Here's his story. | By Oscar Jordan
98 Rockabilly Flash
Lorrie Collins' Martin D-28
With its traditional body, flashy ornamentation, and hole in the top, Lorrie Collins' Martin D-28 says it all about rockabilly music in the '50s. | By Walter Carter

first fret
14 Reader Mail
18 News and Notes
Di Meola Receives Honorary Degree, Team Josie Winners; In Memoriam
18 Bob Bain
1924-2018
22 Ask Zac
22 Guthrie Trapp
The Adventures Continue
24 Wanda Jackson
Sweet Girl, Nasty Voice
26 Gus G
Fearless Guitar
28 Johnny A.
Me and My Guitars
30 Ian Moore
Looking For The Sound
32 Steve Kimock
San Francisco's Musical Chameleon
33 Matteo Mancuso
Internet Guitar Phenomenon
departments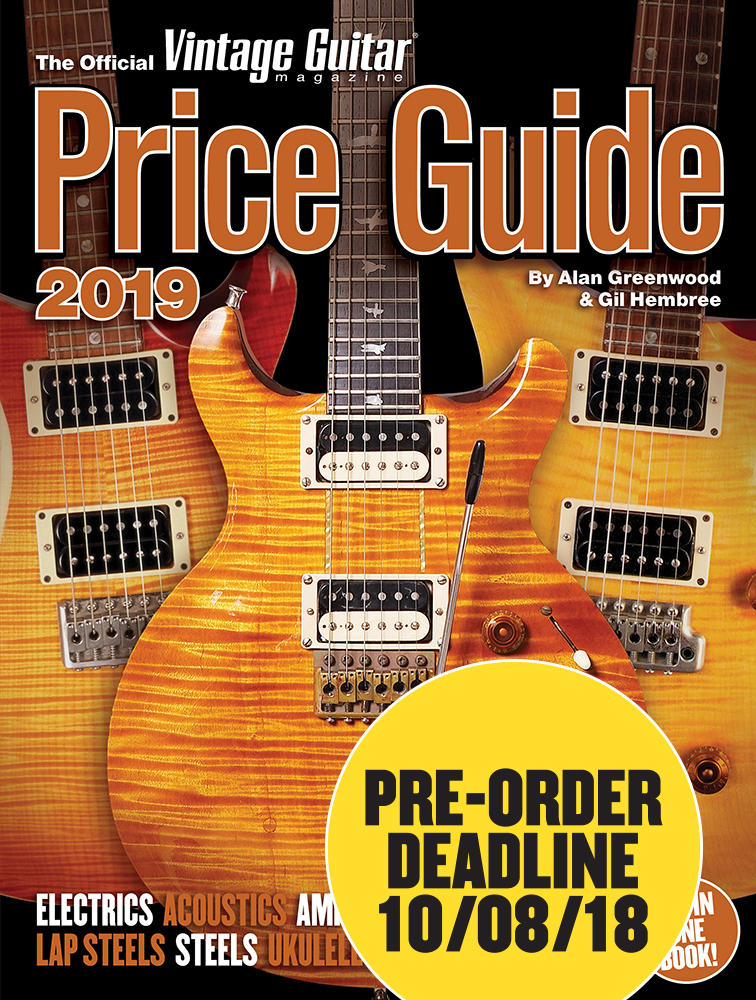 48 Vintage Guitar Price Guide
80 VG Guide to Pickups
84 The VG Pickup Giveaway '18
$2,800 in Prizes!
102 Upcoming Events
116 Vintage Guitar Classifieds
128 Showcase
136 Readers Gallery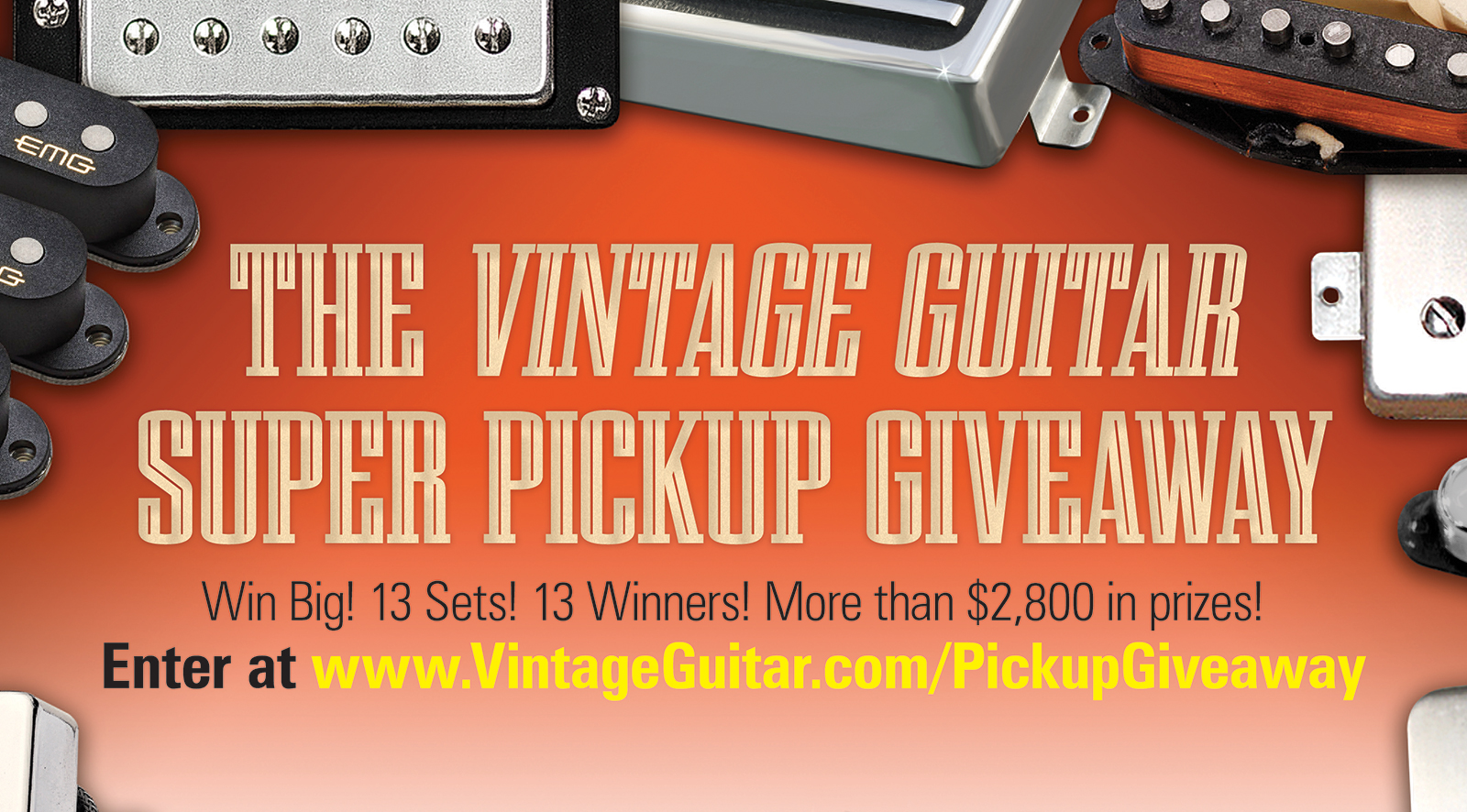 columns
52 NEW COLUMN! Pop 'N Hiss
Frampton Comes Alive!
54 The (Way) Back Beat
Patent Poaching: Innovation and Imitation, Featuring Gibson | By Peter S. Kohman
62 Fretprints
Danny Gatton | By Wolf Marshall
68 Acousticville
Great "Truths" of Collecting | By Steven Stone
70 Dan's Guitar Rx
Pickguard City | By Dan Erlewine
76 Shop of Hard Knocks
Sudden Death: Rebuilding an Output Transformer | By Will Kelly
reviews
108 The VG Hit List
Allman Brothers, Led Zeppelin, Pete Townshend, Steve Marriott, Chicago, Grant Green, Jinx Jones, Dokken, more!
109 Check This Action
All You Need Is Love | By Dan Forte
122 VG Approved Gear
Boss RC-3, Lehle Mono Volume, B&G Little Sister, Fender The Bends/Level Set Buffer, Supro Westbury/Hampton Baritone, Taylor K24ce, Fodera Imperial Deluxe, Harden Bluesmaster
123 Gearin' Up!
The latest cool new stuff!
FROM READERS
› Reader Mail
Send letters to ward@vintageguitar.com or mail to: Vintage Guitar, Inc. Attn: Reader Mail, PO Box 7301, Bismarck ND 58507.
› Readers Gallery
Check out the current issue Readers Gallery or VG's Online Readers Gallery
Send your photos to: ward@VintageGuitar.com or mail to: Vintage Guitar, Inc. Attn: Readers Gallery, P.O. Box 7301, Bismarck, ND 58507.
Readers submit photos with the understanding that they may be used in any VG, Inc. project. Due to the volume of photos we receive, we are unable to return them, please do not send us your only print.
3 WAYS TO GET YOUR VG FIX!
1. Print › › Receive the print edition by subscribing now. Order print copies of the current issue or back issues in the VG Shop.
2. App › › Download the FREE "Vintage Guitar magazine" app at the Apple app Store or Google play. Subscribe to Vintage Guitar through the app or Digital Subscription Service for access to a downloadable version of VG.
3. Browser › › Read for FREE in a web browser (Chrome, Firefox, Safari, etc.). The browser edition works on most computers or hand-held devices.